Want to purchase today's print edition? Here's a map of single-copy locations.
Sign up for our daily newsletter here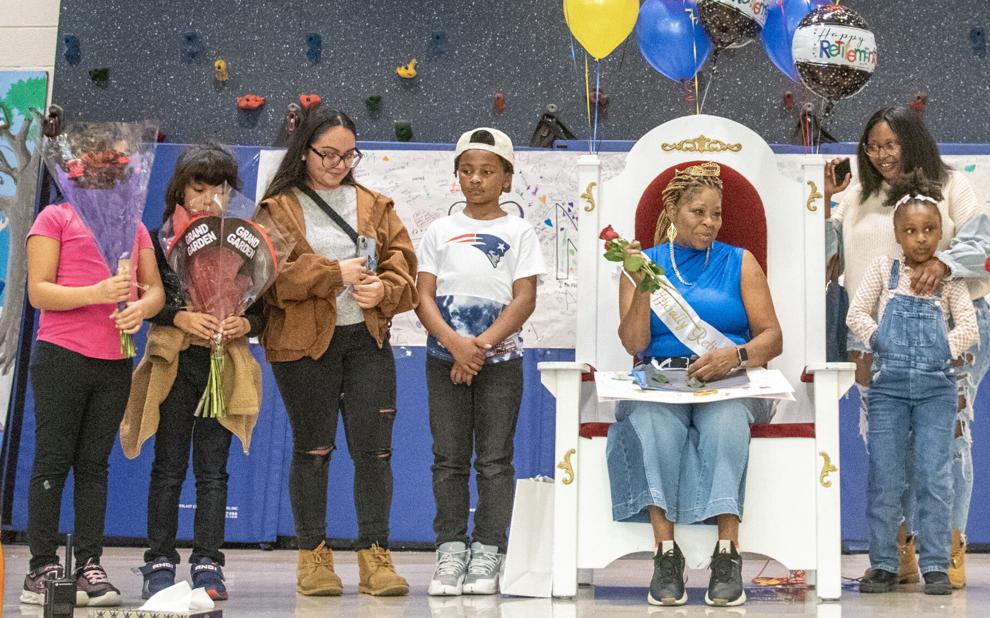 Paula Jackson, seated on the throne, who is soon to retire after 30 years as a custodian at Champaign's Westview Elementary School, is joined by her family on the school's stage Friday during a surprise appreciation assembly in her honor. From left are her grandddaughters Mia Jackson, 8, and Zoe Jackson, 9, daughter Celi Jackson, grandson Ziyon Partlow, 7, daughter Carmen Jackson and granddaughter Za'Ryiah Partlow, 6.
Robin Scholz/The News-Gazette
CHAMPAIGN — Paula Jackson thought she was joining students for a martial arts presentation when she entered Westview Elementary School's crowded assembly room Friday afternoon.
Instead, the school's principal, Nick Swords, asked her to take a seat while he thanked her, with tears in his eyes, for the nearly 30 years of service she's given as the building's custodian.
Jackson, who is retiring on Nov. 27, had tears in her eyes too after school staff pulled back a curtain and revealed on stage a white throne adorned with balloons and her family members holding flower bouquets.
"I have enjoyed all of the 30 years I have been here, with the kids, the staff, all the hard work that I have done. I've put in my time. It is time for me to relax," Jackson said, before bursting into song. "It feels good, yeah. It feels good!"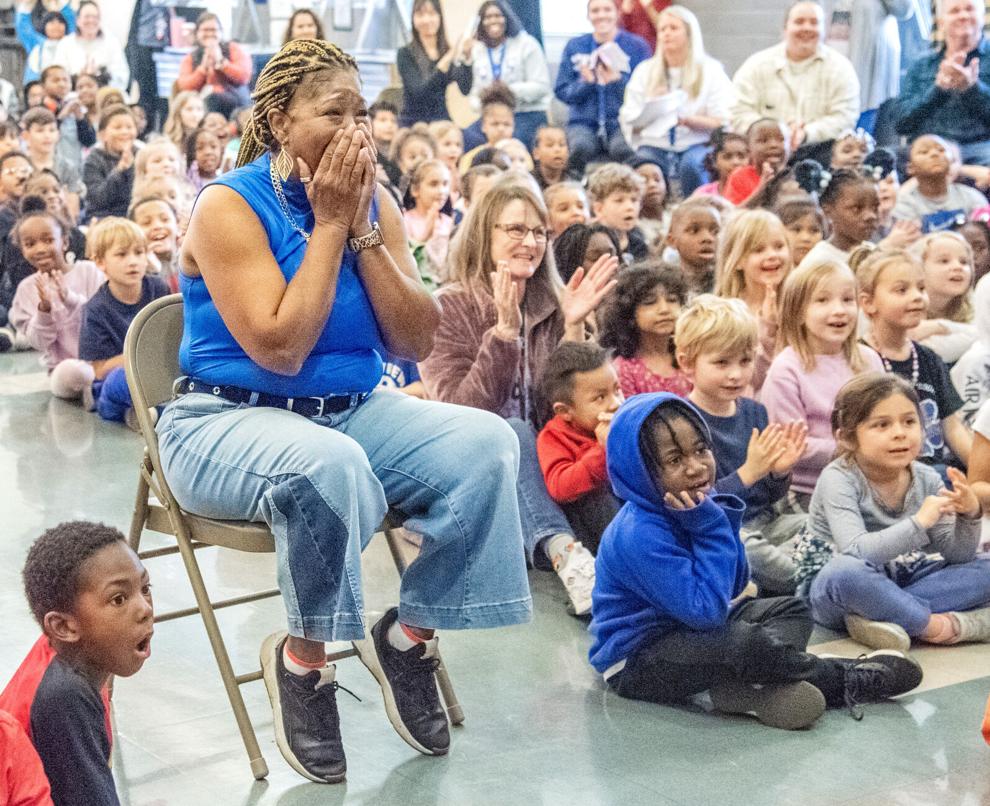 Paula Jackson, retiring after 30 years as a custodian at Champaign's Westview Elementary School, reacts to seeing her family emerge from behind the stage curtain at Friday's appreciation assembly at the school.
Robin Scholz/The News-Gazette
As the head custodian, Jackson was in charge of keeping the school building and grounds clean and stocked, and managing other custodians.
But Jackson has also gone far above and beyond what she was expected to do as a custodian, said Dan Nock, the school's assistant principal.
"She is seriously the captain of the ship; she's the catalyst that drives the education of success that happens here," Nock said. "She develops relationships with the kids, and it's just going to be really really difficult to fill her shoes."
"My custodians are educators, because if it wasn't for the clean building, students wouldn't be here; they'd be sick more and wouldn't want to come to school if this building was dirty all the time," Swords said.
"You are part of this family; you'll always be part of this family," he continued.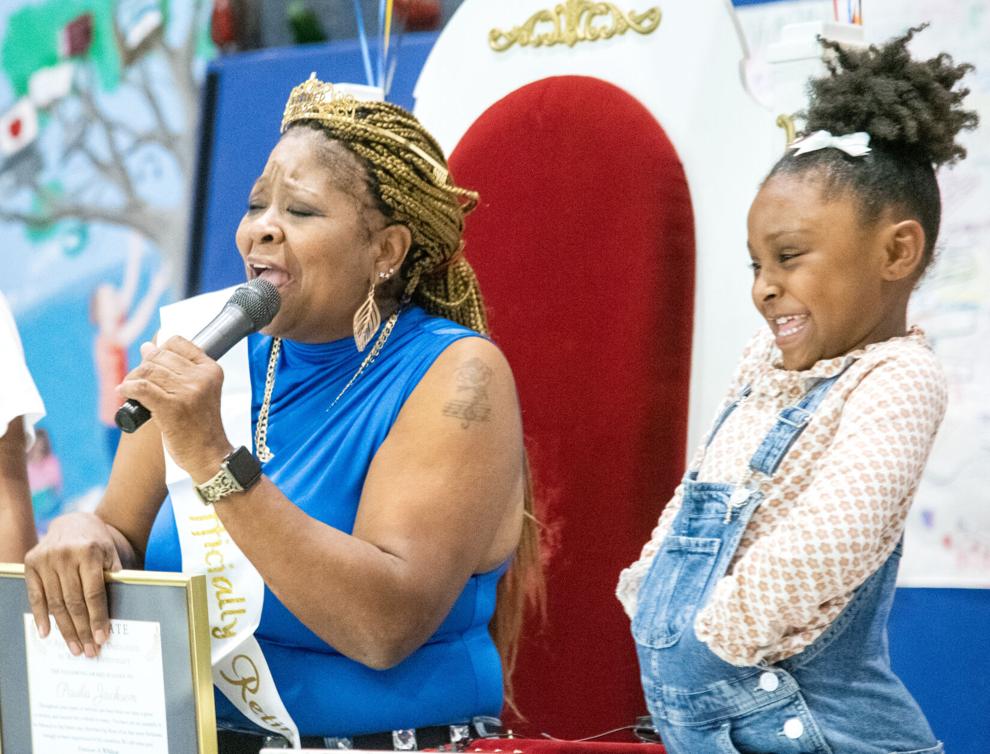 Paula Jackson, retiring Unit 4 building worker, sits on her throne and sings about how good it feels to retire as her granddaughter Za'Ryiah Partlow, 7, grins next to her on stage at an appreciation assembly at Westview elem. in Champaign on Friday, Nov. 17 , 2023.
Robin Scholz/The News-Gazette
Nock said school staff decided to organize the farewell after Sharee Tanksley, a teacher's assistant at the school, learned a month ago that Jackson was retiring.
Besides the flowers and balloons, staff also played a slideshow of pictures showing Jackson around the school, gave her a gift bag of her favorite foods, and students handed her bundles of letters.
Many of the kids screamed "Thank you Ms. Jackson," as they filed out back to class.
"It definitely was a school-wide effort, we were all part of it, and the kids were just so excited to celebrate her too," said Kellie Clinton, a school librarian who had every student at the school sign a goodbye banner.
Jackson said it was a total surprise when she learned the assembly was dedicated to her. Told it was a presentation from the Leaders for Life Martial Arts group, she thought she was going to be doing karate on stage.
"I feel sad that I am leaving the people that I love, and I feel happy that I am retiring, so I can rest," she said.