Want to purchase today's print edition? Here's a map of single-copy locations.
Sign up for our daily newsletter here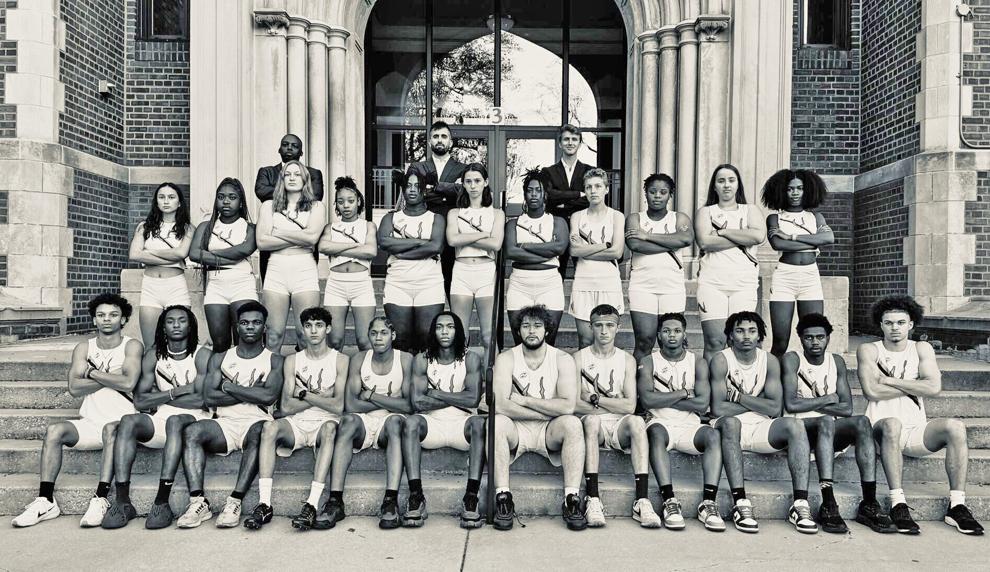 Urbana High School's track and field athletes pose for a photo in front of the school, above, in uniforms and style that emulates the team photo of the 1942 state runner-up team, top, that coach Forrest Farokhi discovered about a year ago.
Photos provided
Members of Urbana's 1942 track and field team pose for a photo outside the school. 
Provided
URBANA — The history of Urbana High School's track and field program isn't lost on its coach.
So when Forrest Farokhi was sorting through old pictures and plaques in the school's boiler room about a year ago, a picture from 81 years ago caught his eye.
"From what it seems, based on what I found up there, that Urbana was a force in the '40s, '70s and '90s," Farokhi said. "Dozens of football trophies, stuff like that. And so I found this plaque and I thought the uniforms looked classy."
The Tigers who qualify for the 2024 IHSA state meet will wear throwback digs from Leadaz that mesh what Urbana wore during its 1942 state runner-up campaign, with a nod to how society has changed in the last eight decades.
"It kind of just evolved into, 'Well, there's no girls in this photo, that's because it was in the '40s,'" Faroki said. "There's no other cultural background other than the White guys in this photo, let's make sure that we include all the different events from track.
"We want to do a cool uniform, but this is also like a nod to modern Urbana, which looks ethnically very different in the best of ways," he said.
Farokhi — whose father immigrated to the United States from Iran — appreciates the diversity of Champaign-Urbana, where he's coached the Tigers since 2015.
"I'm originally born and raised in South Carolina and Georgia, and 9/11 came around when I was in middle school, and my classmates in that area did not react kindly," Farokhi said. "It's something that I appreciate about being in Urbana, just getting to know all different types of kids and backgrounds. It's good stuff."
If recent seasons are any indication, the uniforms should be well-represented at the state meet, set for May 23-25 on the blue track at Eastern Illinois University's O'Brien Field.
Urbana's boys' program placed third in the 2021 Class 2A meet and eighth in last year's iteration. The Tigers' boys' and girls' programs sent qualifiers in 10 total events to the 2023 state meet.
"I think it represents us in a good way because they're throwbacks and also because I feel like it just represents the school and how much culture we have throughout the years," Urbana senior Marcus Goines said.
Leadaz founder Javae Wright jumped at the chance to add a bit of modern flair to the jerseys, which feature a large 'U' above the orange and black sash on the front.
"It's just a matter of just working with teenagers, man," Wright said. "They always have a way of letting you know what's hot and what's not … we wanted to keep it traditional with a modern flair so we kept the color lines the same and we just added a few accents to it."
As with other area schools – including Centennial and Champaign Central – Wright has worked closely with Urbana's athletic programs since the pandemic began.
"It was just such an honor and a privilege to be able to be a part of what (Farokhi) is building with the track and field program," Wright said.
"He's shown so much support with the Leadaz brand that I just felt that it was only right for me to get involved and make sure that the team had what they needed in order to see his vision be carried through."
Urbana has had special uniforms for its state qualifiers before. The throwbacks may make a brief appearance at the indoor state meet or at the Tigers' annual Gene Armer Invite.
But the chance to wear the throwbacks on the state's biggest stage adds a small incentive to the Tigers' quest for their best finish yet.
"We are looking for that trophy though and we're not talking about the small ones," Urbana senior Cedric Sabin said.
"We lost our 'big hitter' in (current Illinois runner) Jackson Gilbert, but I think our team is as strong as it's ever been this year and I think we're willing to show you all how that's going to play out."