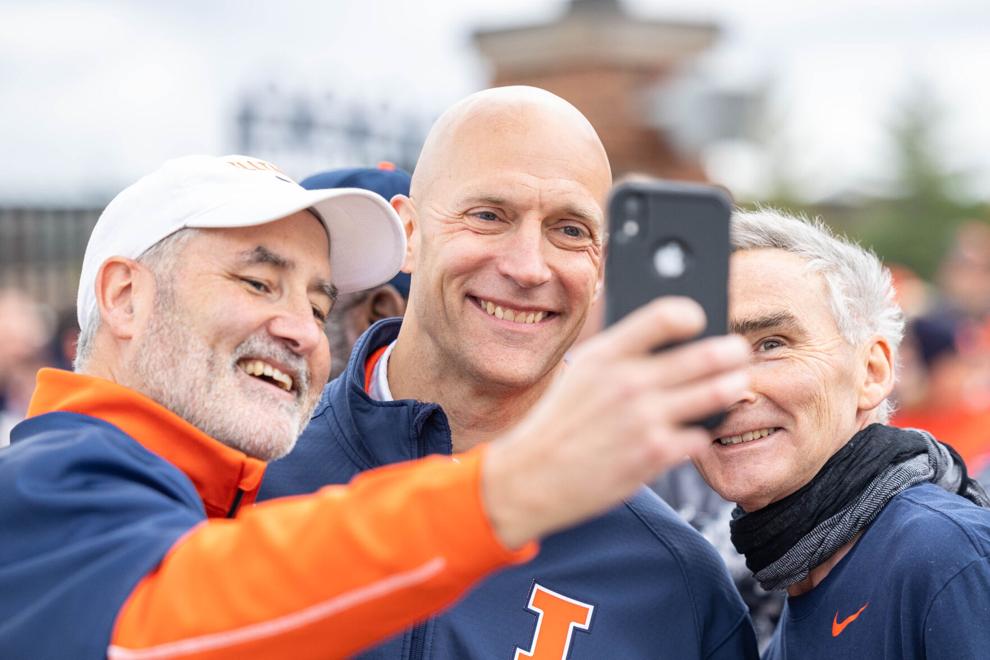 Buy Now
Illinois athletic director Josh Whitman smiles for a selfie with Illini fans.
Mike Heiniger/The News-Gazette
Want to purchase today's print edition? Here's a map of single-copy locations.
Sign up for our daily newsletter here
CHICAGO — At their final meeting of 2023, trustees on Thursday signed off on a contract extension for Josh Whitman, making him the second-highest-paid athletic director in the Big Ten.
Under the terms of the deal, the former Illini tight end's annual base compensation increases from $1.025 million to $1.5 million, retroactive to July 1, 2023.
Here's a look at how the new deal compares to Whitman's previous contract, obtained by The News-Gazette via open-records request.
RETENTION BONUSES
— Old contract: So long as he remained on the job, Whitman was to receive three $200,000 retention bonuses — in 2024, 2026 and 2028.
— New contract: He'll still qualify for those — and others — but at higher rates. The new schedule:
2024: $300,0002026: $325,0002028: $350,0002029: $300,0002031: $350,0002033: $375,000LENGTH OF TERM
— Old contract: Whitman's deal was set to expire in 2028.
— New contract: The new deal runs through the 2030-31 academic year — at least — with the strong possibility of two years being tacked on.
The university describes the contract as a three-year extension with two one-year "contingent extensions." Those would take effect in 2032 and 2033, "unless the university provides written notice of termination" prior to June 30, 2024 and June 30, 2025.
Our guys!! 🔶🔷🏈😤 pic.twitter.com/cb4YzwL08l
— Josh Whitman (@IlliniAD) November 11, 2023
BASE PAY
— Old contract: Just this past July, Whitman's base pay rose from $975,000 to $1.025 million.
— New contract: The increase to $1.5 million takes effect immediately, with Whitman's base pay jumping to $1.725 million on July 1, 2028. It "shall never fall below" that figure as long as he's the AD, according to the new terms.
In the Big Ten, only Ohio State's Gene Smith makes more in guaranteed compensation than either figure, at $2.06 million. With Smith retiring in June, Whitman would become the highest-paid athletic director among current Big Ten members, with the conference's four other million-dollar-a-year ADs all making significantly less, excluding retirement contributions, incentives and bonuses.
The six six-figure earners:
Gene Smith, Ohio State: $2.06 millionJosh Whitman, Illinois: $1.5 millionPat Kraft, Penn State: $1.285 millionWarde Manuel, Michigan: $1.25 millionMark Coyle, Minnesota: $1.050 millionChris McIntosh, Wisconsin: $1 millionPERFORMANCE INCENTIVES
— Old contract: No matter how many targets he hits — from $5,000 every time the football team or either basketball team beats an opponent ranked in the AP Top 25 to $40,000 if total fundraising dollars exceed $40 million — Whitman's potential performance incentive package was capped at $300,000.
— New contract: "Whitman's maximum performance incentive compensation shall not exceed $350,000" from July 1, 2023, through July 1, 2028, the new contract states, though no details on the amounts of individual incentives were provided in the abbreviated version in Thursday's trustee agenda packet.
Effective July 1, 2028, the max would be increased to $400,000.
IF WHITMAN LEAVES …
The extension includes new language (and associated penalties) should Whitman accept another job during the term of his deal:
— If he accepts an AD position at another Big Ten school, Whitman would be required to pay Illinois liquidated damages of $1 million for every year remaining in the term.
— If he accepts an AD's job at another NCAA Football Bowl Subdivision institution, that number drops to $750,000 a year.
— If he accepts "a senior executive leadership position in a professional or amateur sports league, conference, association or similar organization" anytime before July 2, 2028, Whitman would owe Illinois liquidated damages of $750,000.
After that, the penalty would be reduced to $250,000 for every year remaining in the term. If the term has less than three years on it, "Mr. Whitman's liquidated damages obligations will be eliminated."