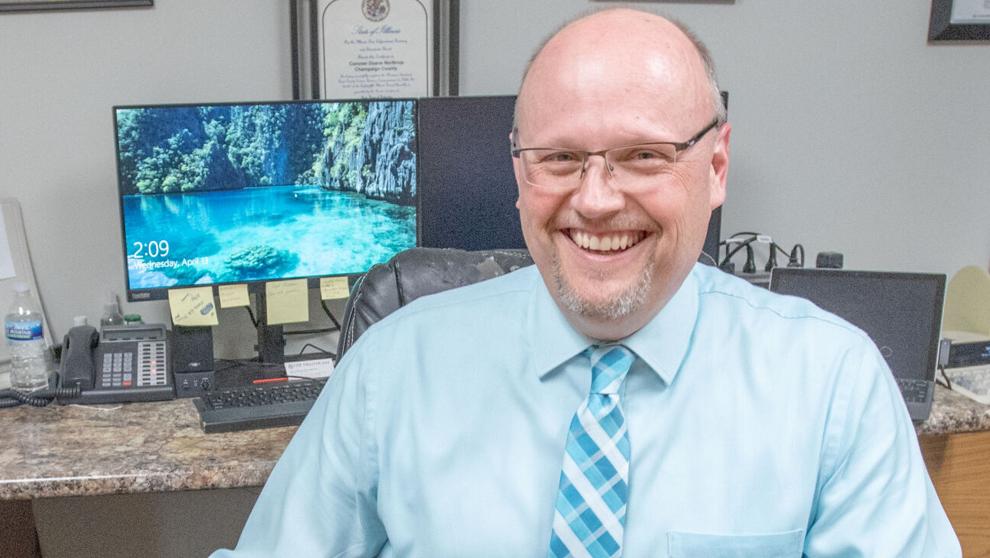 Duane Northrup is the sole Republican countywide office holder. He has been coroner since 2004, and before that was deputy coroner for three years. (Robin Scholz/The News-Gazette).
URBANA — Champaign County Coroner Duane Northrup plans to resign his office sometime this year to take a new job with the Mahomet-Seymour school district.
Superintendent Kenny Lee said the school board voted unanimously Monday to approve Northrup as the district's new buildings and grounds director.
Northrup, who would have faced another election next year, is the sole Republican countywide office holder. He has been coroner since 2004, and before that was deputy coroner for three years.
Neither County Board Chairman Kyle Patterson nor County Executive Steve Summers have received a resignation letter from Northrup, both said Tuesday.
But Summers said he knew Northrup was considering the new position.
"We haven't really had a lengthy discussion about it," Summers said.
He also said Northrup had told him the chief deputy coroner has been in that position for 13 years and would be able to run the department until the next election.
"My hope is he would stay on long enough to work with his current chief deputy until the party is able to come up with someone," Summers said.
Northrup said an exact date hasn't been set yet for him to begin his new job, but "I'm looking to start in Mahomet as soon as I can."
Because of the nature of his current job, he said, "I can't just walk out."
"I explained to them that there may be a little bit of an overlap," Northrup said.
He said he has several reasons for wanting to make a change, among them that he's been serving in the coroner's office for more than two decades. And he can't say he'll miss all the early-morning and late-night calls, he said.
"This job, obviously, can wear on you a little bit," he said.
Nor was he looking forward to another election, Northrup said.
"I'd already made a decision prior to this that I wasn't going to run for re-election, but hadn't announced it yet," he said.
Northrup said he has worked in both construction and upkeep of buildings, and formerly had his own construction business.
"This position came along, and it interested me and it fit with my prior experience," he said.
Leaving the coroner's office will be bittersweet, Northrup said, but he's seen coroners remain on the job longer than they should have.
"I want to leave on my own terms and have plenty of time to enjoy life," he said.
Once Northrup officially resigns, the county Republican party will choose an interim coroner to fill the rest of Northrup's term and Patterson will likely appoint that person, with the county board's approval.
Champaign County Republican Chair Jim McGuire said the party will have 60 days to give notice of an opening in the office and find a candidate for Patterson to nominate.
"It's an important office to make sure we have somebody who really has the background and experience and education to do all those things," he said.