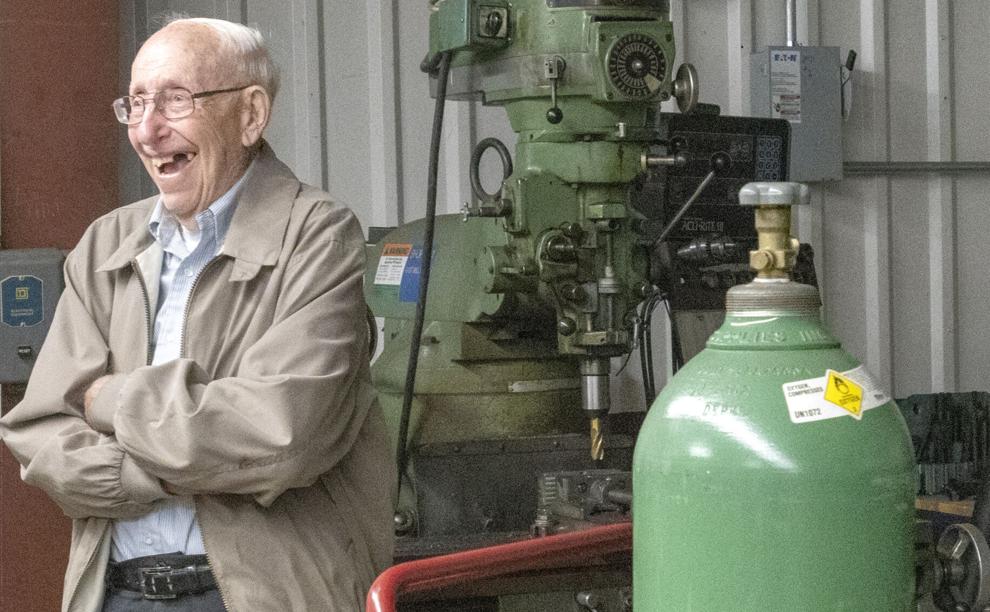 Buy Now
Kenneth Roellig laughs Tuesday as he talks about the old days in Tolono's Unity High School welding shop, soon to be named in his honor.
Robin Scholz/The News-Gazette
Want to purchase today's print edition? Here's a map of single-copy locations.
Sign up for our daily newsletter here
TOLONO — Kenneth Roellig has been instrumental in the success of Unity schools.
Thus, the Unity school board feels it's time he be honored for his contributions.
At tonight's meeting, the board will name the Unity High School welding shop after the former superintendent and middle school teacher in recognition of his 31 years teaching in the district and his work with Iron Workers Local 380.
It was there that the now-97-year-old helped to teach many Local 380 members as part of the ironworkers' apprentice program, which he was involved with for many years and served as apprentice program coordinator.
In addition to being a former administrator at Unity, he was a longtime junior high math and science teacher.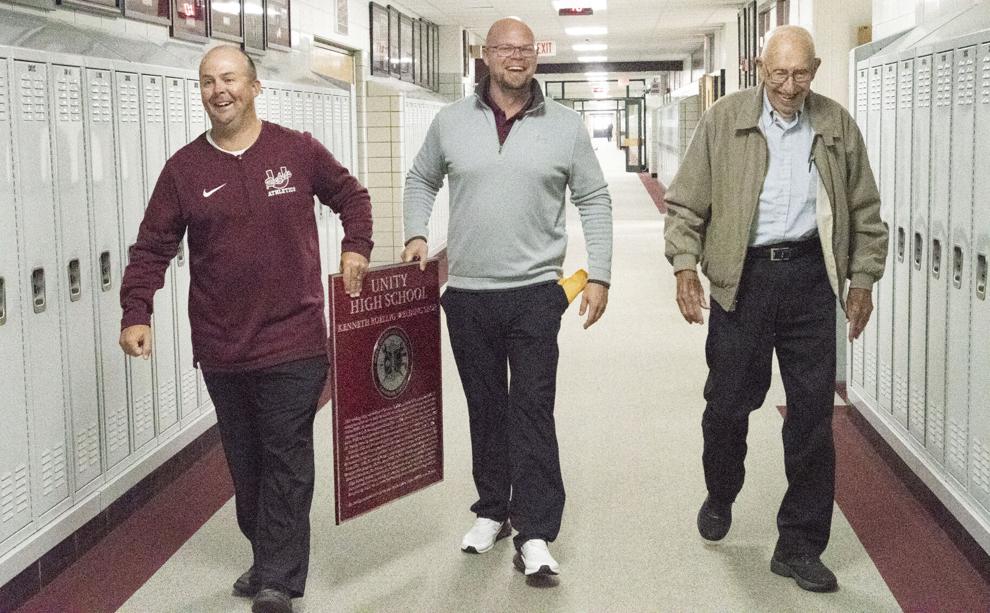 Buy Now
ABOVE: Kenneth Roellig, right, walks with Unity Assistant Principal Matt Reed, left, and Principal Bill Behrends through the school halls Tuesday, along with the plaque marking the dedication of Unity High's welding shop in Roellig's honor. LEFT: While visiting the welding shop, Roellig talks about the past.
Robin Scholz photos/The News-Gazette
Unity Principal Bill Behrens said the board will begin its meeting with the presentation of a plaque in recognition of the naming of the welding shop after Roellig, who will be present.
"I will say a few words on his behalf," Behrens said. "Mr. Roellig will speak and then the board president."
While the meeting continues, Behrens will take interested members of the public on a tour of the shop.
The apprentice-training program was a mutual-benefit arrangement for Unity and Local 380, which donated equipment and materials with which apprentice trainees as well as Unity students were able to work.
Industrial technology teacher Ryan Anderson said the equipment has since been replaced by new equipment.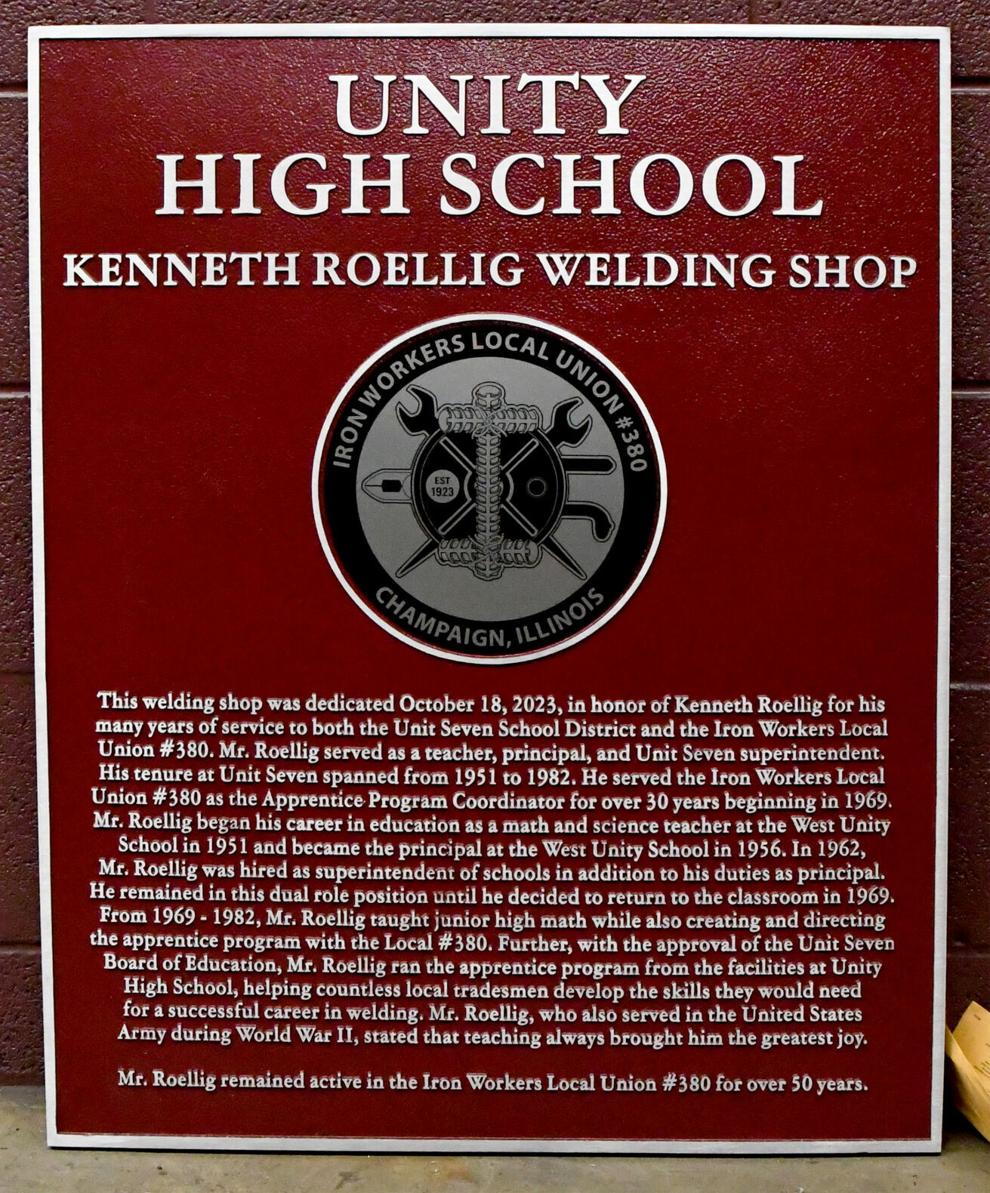 Buy Now
The plaque dedicating the Unity High welding shop in Roellig's honor.
Robin Scholz/The News-Gazette
John Benningfield, who was in the local's first apprentice class in 1969 and took over running it when Roellig retired as program coordinator, estimated the ironworkers used the Unity facilities about 12 years before moving to another location.
Local 380 now has its own apprentice-training building near union headquarters in Urbana.
When the union used the Unity shop, "They had a few welding machines and some stuff like grinders. The ironworkers had some stuff, so we augmented it," Benningfield said. "We used the shop building and the mechanical drawing room right across the street."
He said former Unity shop teacher Mel Allison also taught the ironworkers for many years.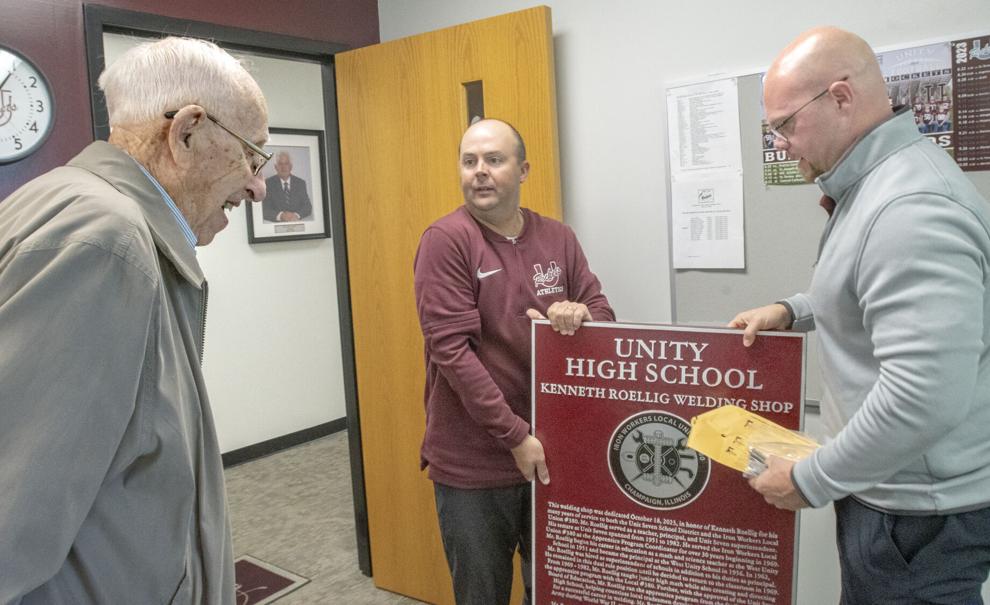 Buy Now
Kenneth Roellig, left, looks at the plaque dedicating the welding shop to him held by Unity Asst. Principal Matt Reed, left, and Principal Bill Behrends before the carry it to the shop to it's location at the school in Tolono on Tuesday, Oct. 17, 2023.
Robin Scholz/The News-Gazette
Benningfield, who plans to attend tonight's ceremony, said Roellig deserves whatever (recognition) they give him, and "then it wouldn't be enough."
This won't be the first time Roellig has been honored this year.
He was among the guests of honor during the winter when Local 380 celebrated its 100th anniversary. He was presented with a watch in commemoration of his service in the apprentice program.
The union approached him about developing the apprentice program because of his math-teaching ability. For about 50 years, beginning in 1969, he led the program.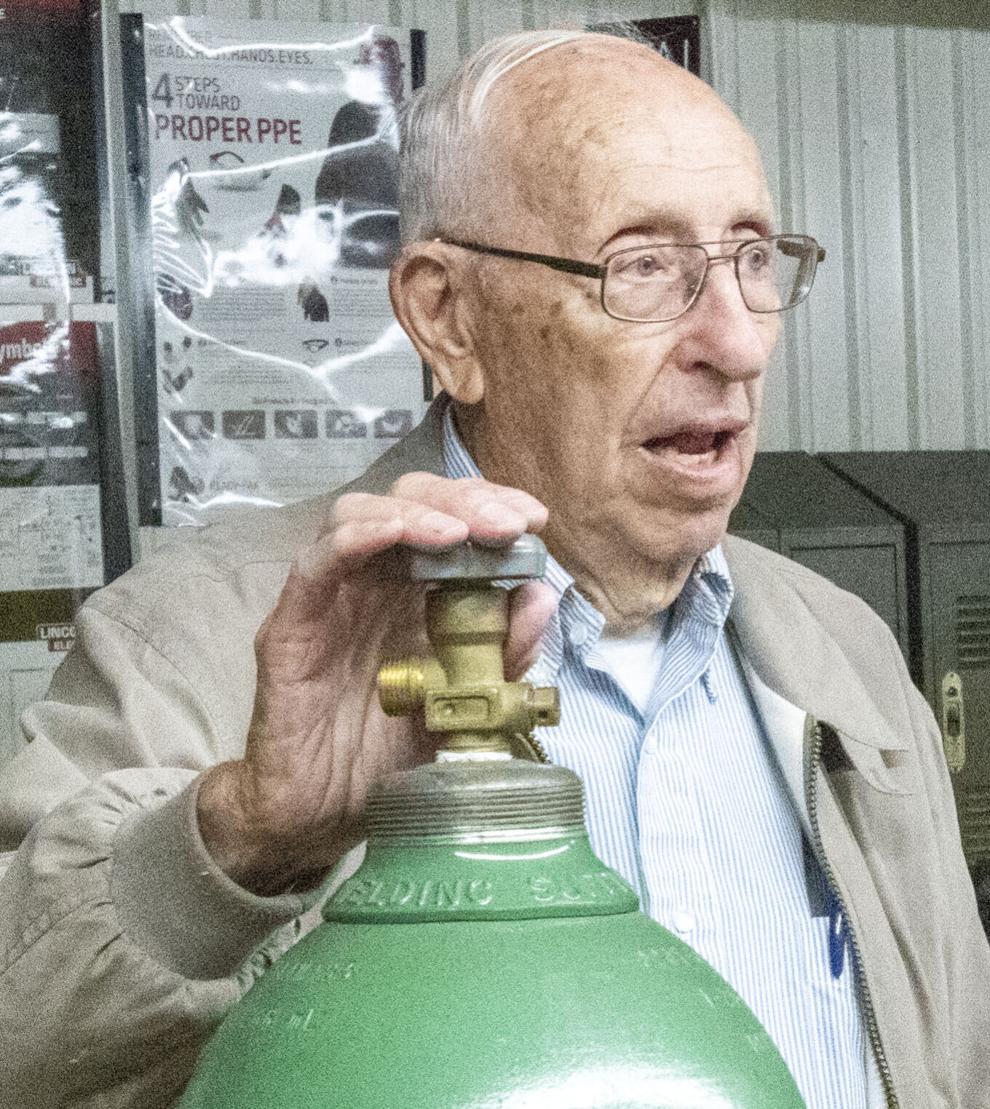 Buy Now
Kenneth Roellig talks about the old days in the welding shop at Unity in Tolono on Tuesday, Oct. 17, 2023.
Robin Scholz/The News-Gazette
For the Unity welding shop, "The ironworkers bought a lot of the materials and supplies and welders. We brought in scrap iron the ironworkers used, and the students could use it. It was a cooperation between the two," Roellig said.
Roellig, who served in the Army during World War II, began teaching math and science at Unity Junior High in 1951.
He became junior high principal in 1956 before being named Unit 7 superintendent.
"In 1969, I decided that I'd like to go back to teaching instead of being in administration," Roellig said.
Local 380 officials approached him that same year about starting the ironworkers apprentice program.
Roellig estimated he helped to train about 400 ironworkers.
"During the building of the nuclear plant at Clinton, we had a lot more people coming through our program," he said.
He retired from teaching in 1982.
Roellig, who will turn 98 next month, still drives and puts out a garden, although he admits it's not as big as it used to be.
His son-in-law, John Paul, said he is "amazed by my father-in-law's memory."
Paul said he believes Roellig's staying active for so many years has allowed him to remain physically and mentally sharp.
Paul said Roellig's grandchildren and great-grandchildren will be among those present at tonight's special occasion.