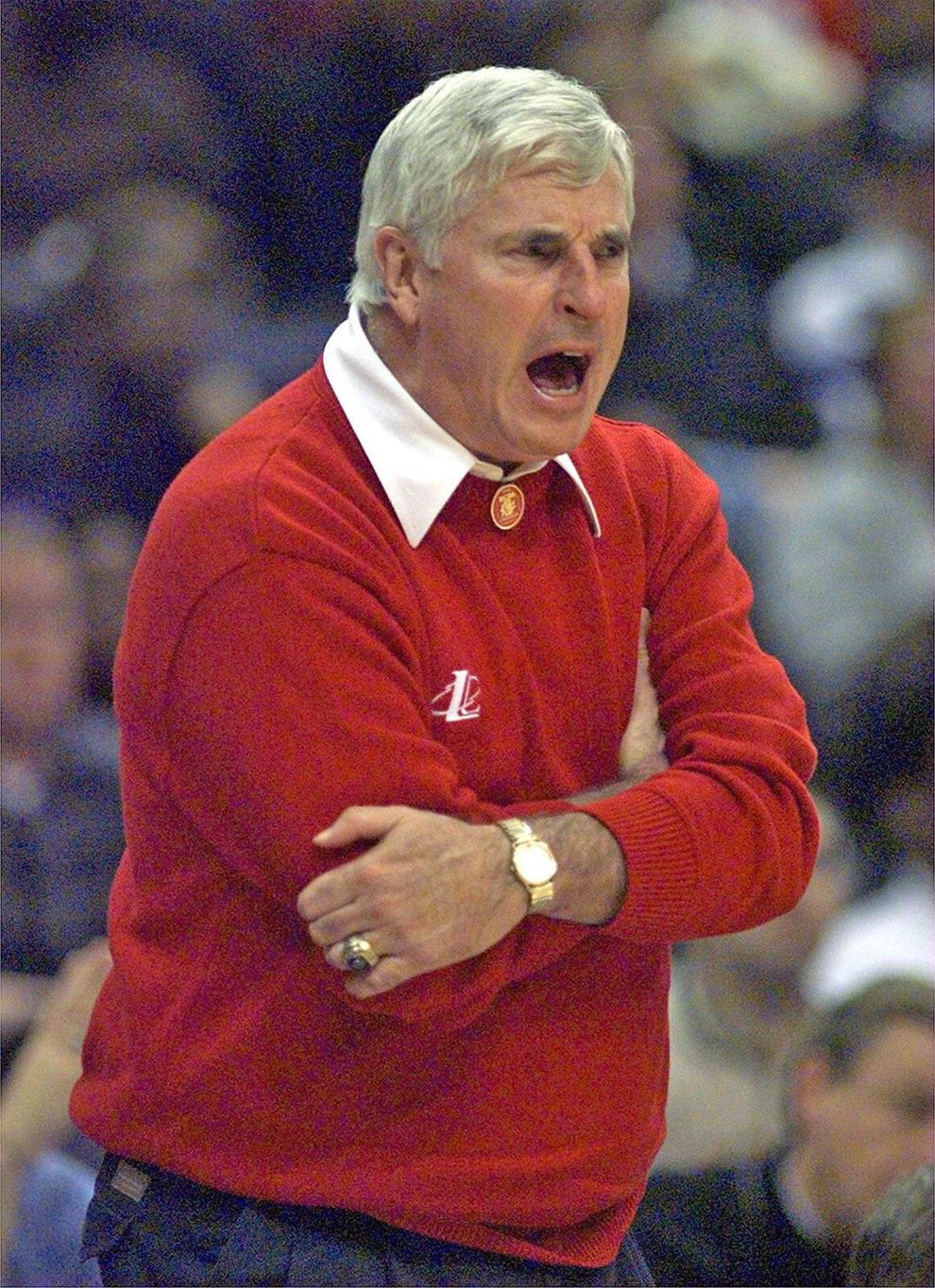 Bob Knight (Steve Deslich/KRT)
Want to purchase today's print edition? Here's a map of single-copy locations.
Sign up for our daily newsletter here
He's No. 1 all-time in Big Ten championships captured, No. 3 in NCAA Division I basketball games won and No. 4 in nets cut down at the conclusion of March Madness.
But there's another, more complicated side to longtime head Hoosier BOB KNIGHT — as any Big Ten ref of the '70s, '80s and '90s can attest to — which led to a difference of opinion over his legacy upon his death last week at age 83.
Editor Jeff D'Alessio asked five of the foremost college basketball experts during the General's career: Who's on your Mount Rushmore of coaches in the sport, and is a Knight a no-brainer?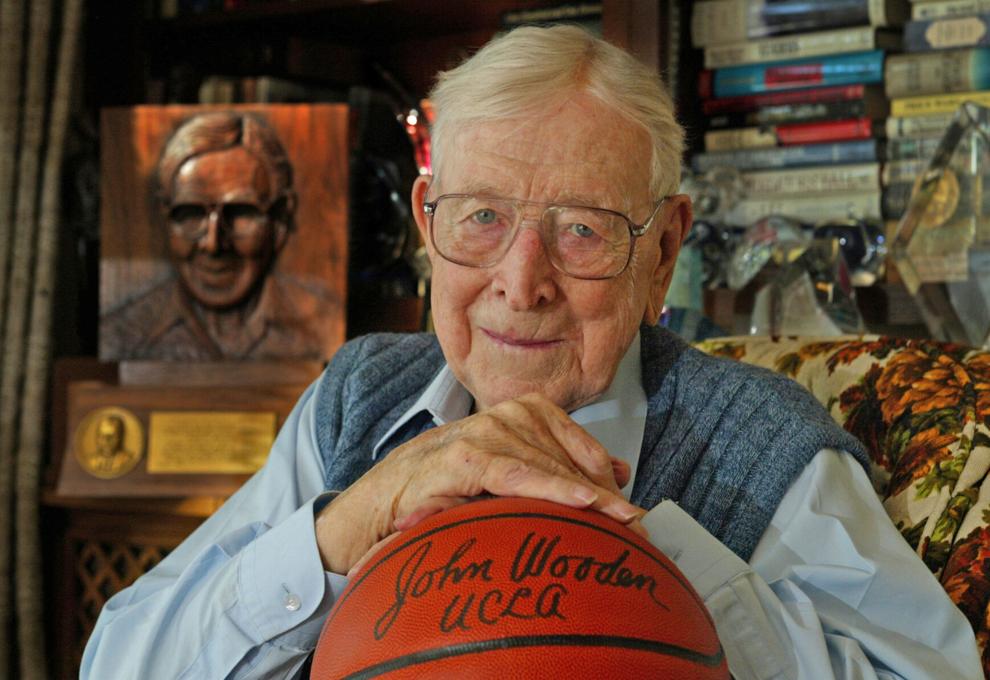 John Wooden (Michael Kitada/Orange County Register/MCT)
ALEXANDER WOLFFBest-selling author's 36 years writing about basketball at all levels for Sports Illustrated made him the longest-tenured writer on an all-star staff
"I'd put on my Mount Rushmore, more or less in order, Mike Krzyzewski, John Wooden, Dean Smith and Roy Williams.
"Last three out: Jim Calhoun, Adolph Rupp and Bob Knight.
"Still waiting on a bit more in the body of work for Bill Self and Tom Izzo, but they'd be in the conversation very soon.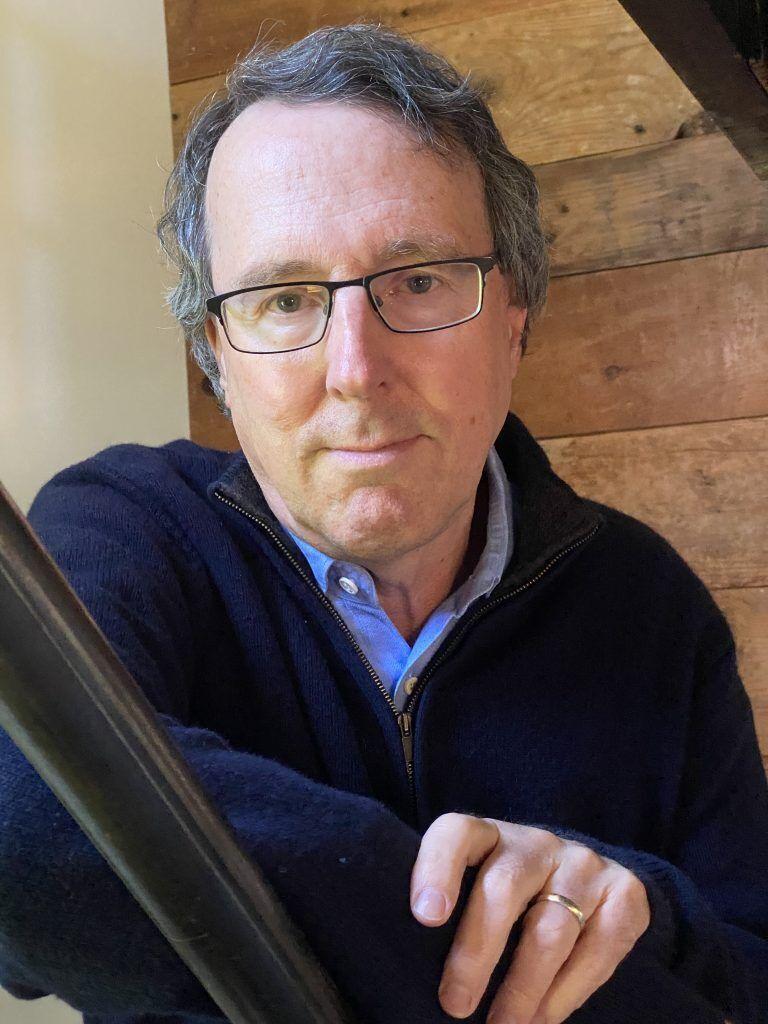 Alexander Wolff
"Knight is right at the threshold, but I'd hold against him that — and how — he tailed off later in his career. He won his final title in 1987 and coached more than two decades more. The ability to adapt is so critical in coaching, and the very best ones were so good at it.
"One of Knight's virtues was how he honored the coaching giants of the past — Bee, Newell and Iba particularly. But where K, Dean, Wooden and Roy all remade their approach when necessary, Knight seemed always to be looking backward, or at least stayed set in his ways.
"The decision to recruit a couple of jucos for that '87 team was the exception that proved the general rule. The diagnosis of a few of his assistants — that he burned his later Indiana teams out — seemed spot on to me, given IU's subpar NCAA tournament performances over his final years there."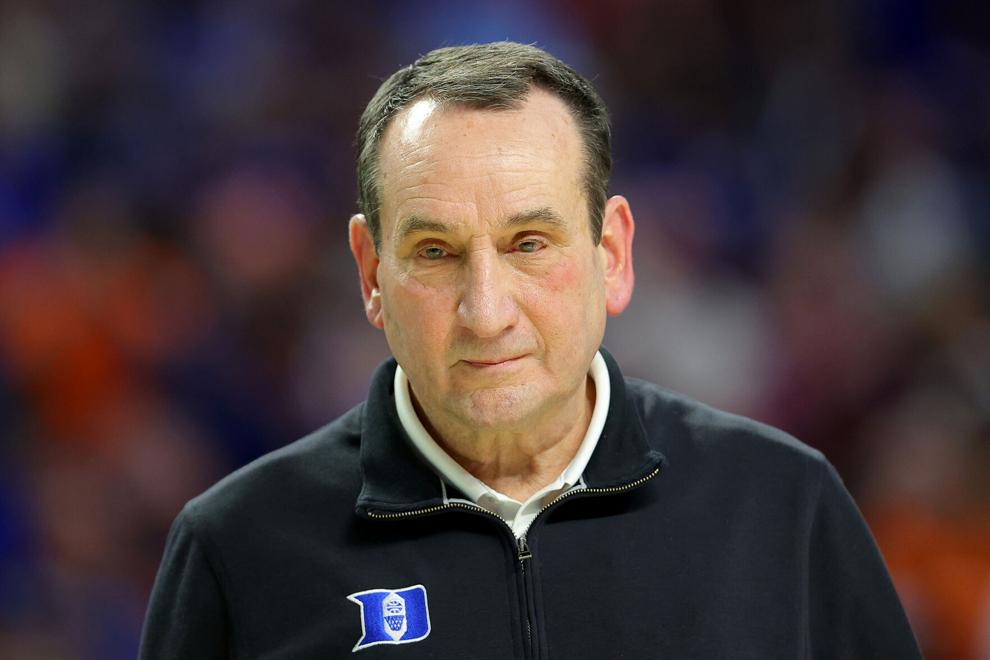 Mike Krzyzewski (Kevin C. Cox/Getty Images/TNS)
DAVE KINDRED
Longtime Washington Post columnist and 2000 winner of Basketball Hall of Fame's Curt Gowdy Print Media Award now living in the small Illinois city of Atlanta (pop. 1,692), where he was born 82 years ago
"John Wooden must be out front on any Mount Rushmore of men's college basketball coaches. Ten national championships. Four perfect seasons. Lew Alcindor becoming Kareem Abdul-Jabbar. Bill Walton still making noise. The record is irrefutable.
"But. But. That UCLA fan, the real estate money man named Sam Gilbert. That record is also clear. Wooden turned a blind eye to the sugar daddy's recruiting violations.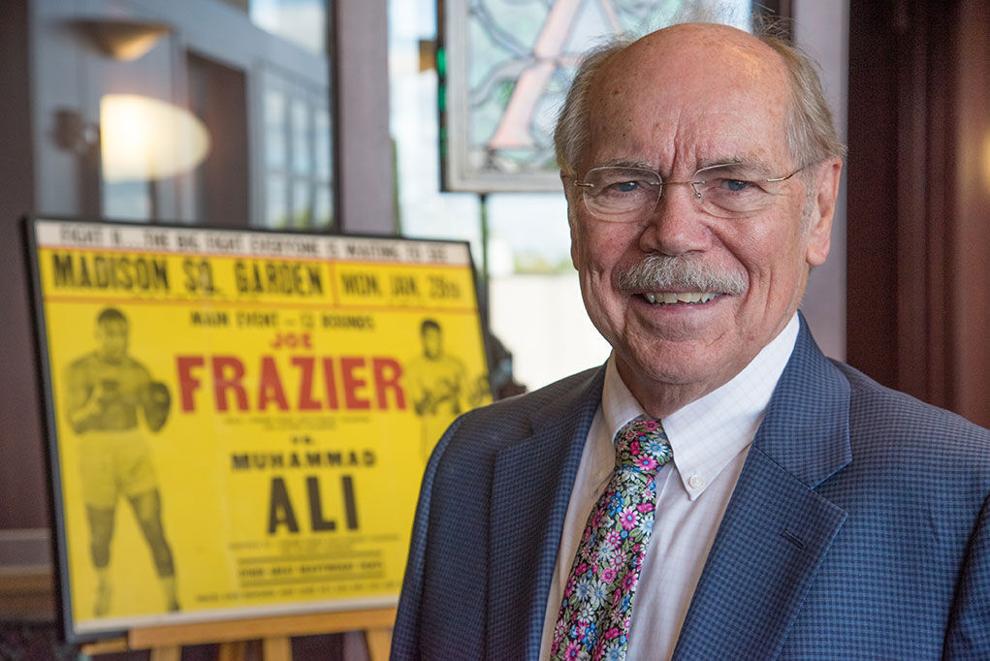 Dave Kindred (Photo by Marc Featherly for Illinois Wesleyan University)
"Next, Mike Krzyzewski. Five titles. He won big when players had to be students  and kept winning when the studs stopped in at Durham for a year's exercise en route to the NBA. Krzyzewski, once a Bob Knight player and assistant coach, took on all of Knight's brilliance and none of the darkness.
"Bob Knight, yes. Put aside the commotion. Knight created basketball teams that punished you at both ends of the court. Three national championships. The only perfect season ('75-76) in the last 47 years.
"I admit bias. I thought of Knight as a friend of 40 years who got all the big things right and the little things wrong. Once, talking about Wooden, he told me, 'I won't call him Coach. I call him John.' Knight thought of Coach as a title of honor. In his mind, Wooden didn't qualify.
"Only four coaches belong on this Rushmore. The fourth is Dean Smith. Two national championships. Across the last half of the 20th century, set the standard of excellence in the nation's best college basketball conference. He was Honor itself.
"On the bench: Adolph Rupp with four titles, Jim Calhoun with three, Roy Williams with three, Denny Crum with two and Rick Pitino with two, one of them vacated."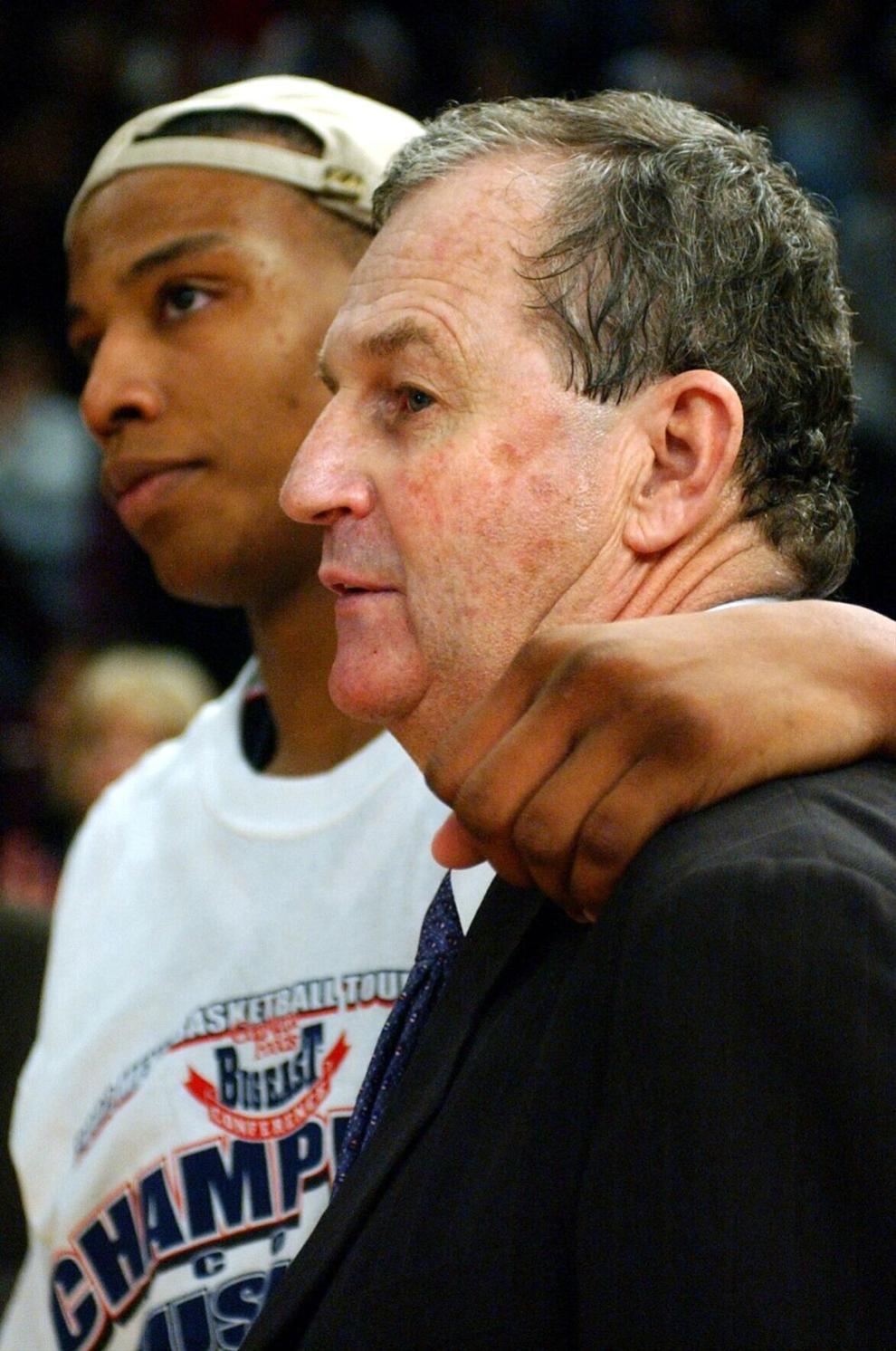 Jim Calhoun (John Woike/Hartford Courant)
MIKE DeCOURCYU.S. Basketball Writers Hall of Famer, Sporting News insider and BTN analyst has covered 32 Final Fours
"If constructing a Mount Rushmore of college basketball coaches, I think the easy places are to start are the winningest coach of all-time, Mike Krzyzewski, and the coach who won the most championships, John Wooden.
"Coach K was great for a longer period of time than any coach, ever, making a Final Four in 1986 and one in 2022, nearly 40 years apart. That's amazing to me.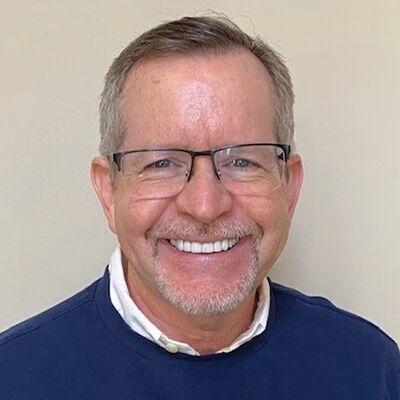 Mike DeCourcy
"John Wooden had most of his success in one furious stretch, from 1962 to 1975, but no one's ever reached such heights, or ever will again.
"That leaves two spots, and there are at least a dozen coaches who could fit them. I have to put Jim Calhoun into one of them. He's the most underrated coach of my lifetime. He won more titles than Dean Smith or Rick Pitino, and more games, and he built an elite program on a foundation of nothing more than mid-major success. He built something that could last.
"What grants the last spot to Bob Knight is his ability to win with lesser talent. It's not that he never coached great players. Scott May, Isiah Thomas, Steve Alford and Calbert Cheaney were all historically great college players, but we're talking about the last coach to win the NCAA championship without an NBA first-round pick in his rotation. That was all the way back in 1986. Thomas is the only one of his products to become an NBA All-Star.
"When Knight retired from Texas Tech in 2009, the coach who followed him was in trouble — that was his son, Patrick — because only Bob could win with the players that had been assembled."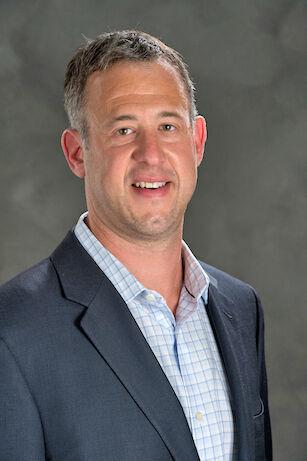 Jeff Goodman
JEFF GOODMAN313,000 followers track his every hoop scoop on the social media platform formerly known as Twitter
"Bob Knight is an absolute no-brainer to me on the Mount Rushmore. 
"John Wooden, Coach K and Knight are the three no-brainers for me. 
"The fourth is debatable. I might go with Dean Smith for the final spot."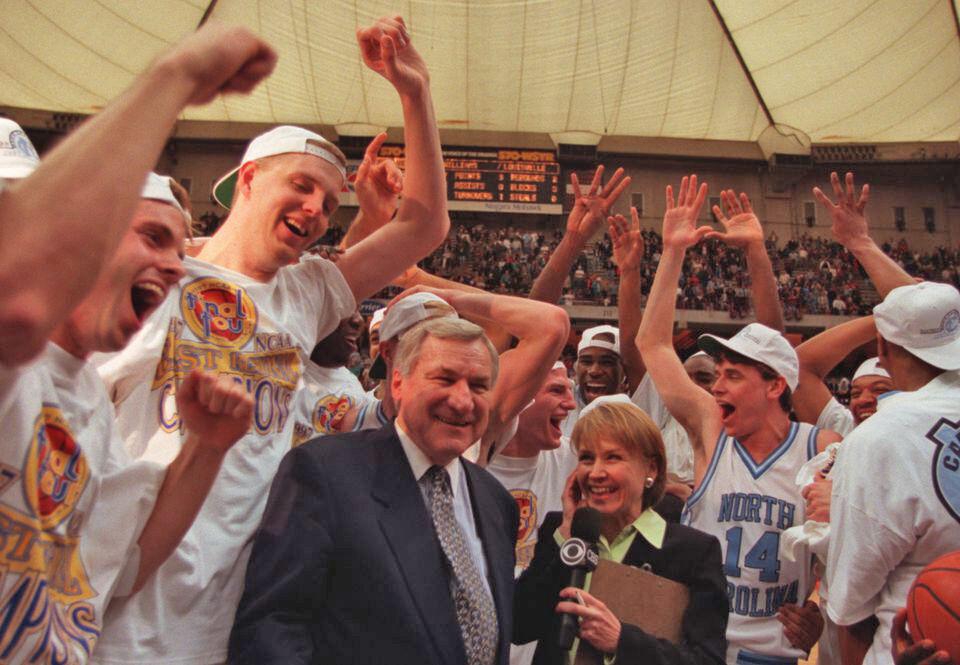 Dean Smith (Nicholas Lisi)
JOHN AKERSRetired, do-it-all publisher of the late, great Basketball Times
"My initial response was that of course Knight belongs on any Mount Rushmore of college basketball coaches, but I soon realized that it would have to be a five-faced monument for it to be so clear-cut.
"John Wooden and Mike Krzyzewski are the only no-brainers. Choosing between Knight, Dean Smith and Adolph Rupp requires some thought. All three won a similar number of games and titles and were innovators in the sport.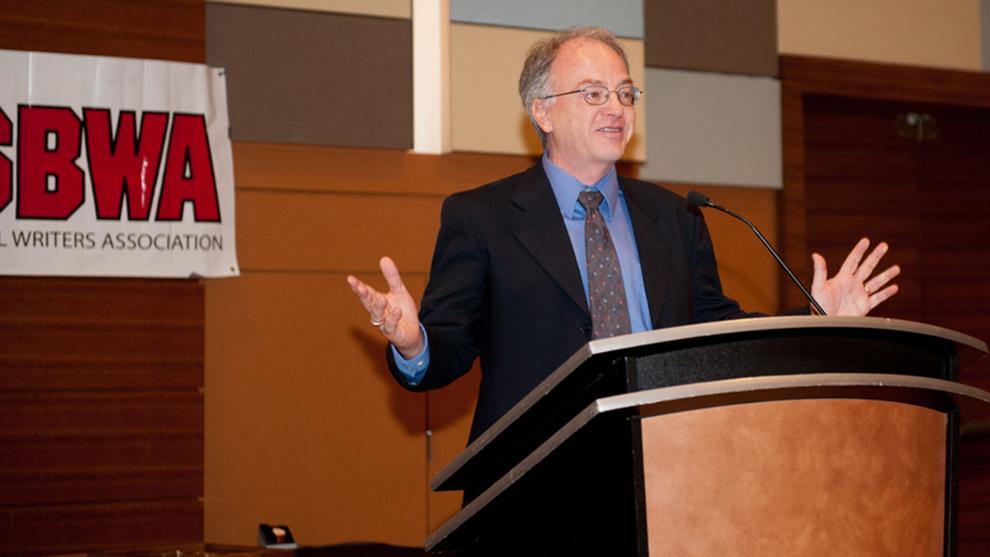 John Akers
"What makes Bob Knight and Dean Smith more deserving, for me, is the symbolic nature of the 1952-53 season, when Kentucky was essentially given the NCAA's first death penalty because of a point-shaving scandal and numerous NCAA violations committed under Rupp's watch.
"Say what you will about Knight's behavior at times but, like Smith, his teams never came close to inviting that sort of NCAA scrutiny.
"So, yes, Knight belongs on this Mount Rushmore, even if it isn't a no-brainer."