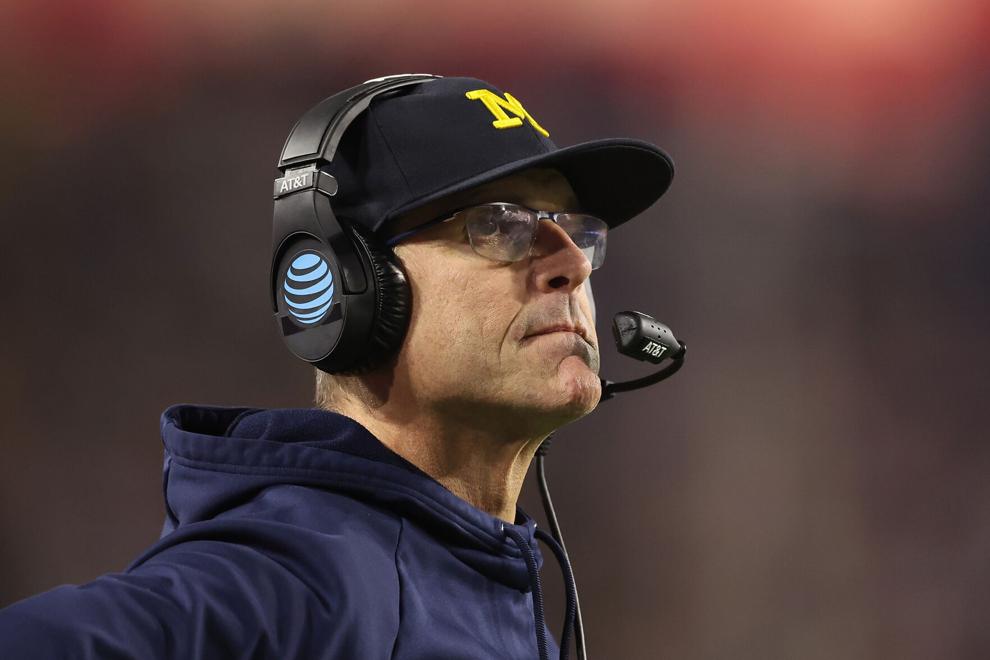 Per the ruling of Big Ten Commissioner Tony Petitti, Michigan football coach Jim Harbaugh is now serving his second three-game suspension of 2023.
Christian Petersen/Getty Images/TNS
On Town Hall Tuesday two weeks ago, Editor Jeff D'Alessio asked retired coaches what they made of the sign-stealing allegations against the now-suspended Jim Harbaugh of Michigan. Arriving after the buzzer was this response from BILL CURRY, the former Green Bay Packers great, ESPN analyst and head coach at Alabama, Kentucky, Georgia Tech and Georgia State.
"My dad was a national champion Olympic weightlifter, and a strength coach all his life, while juggling three huge careers. He was ahead of his times in most ways.
Bill Curry
"Needless to say, he had a huge impact on me. He made me watch him flush my steroids down the toilet prior to my rookie year in the NFL. I never touched them again.
"His view: 'If you cheat to win, you did not win.' My football coaches agreed. They include Bobby Dodd, Vince Lombardi, Don Shula, Chuck Noll and Bart Starr.
"I certainly was not perfect as a player, as I'm reminded by old opponents who swear I grabbed a jersey or leg whipped at times. I wish I had not.
"As a coach, I felt exactly like Dad. Whatever the rules are, we are going to follow them. That includes games, classrooms, social life and moral responsibility.
"No racism, no antisemitism, no misogyny, no abuse of women of any description.
"I'm surprised and thrilled now when men we coached 40 years ago call and remind of just these things. It's the greatest reward of having coached — by far."