Right-wing populist Javier Milei will become Argentina's next president after promising a dramatic shake-up of the state in a fiercely polarized election campaign held amid deep discontent over soaring inflation and rising poverty.
With 97.6% of the votes cast in Sunday's presidential runoff, Milei had 55.8% and Economy Minister Sergio Massa 44.2%, according to Argentina's electoral authority. Assuming that margin holds, it would be wider than all polls have predicted and the widest since Argentina's return to democracy in 1983.
On the streets of Buenos Aires, motorists honked their horns and many took to the streets to celebrate in several neighborhoods. Outside Milei's party headquarters, a hotel in central Buenos Aires, supporters were euphoric.
Massa, of the ruling Peronist party, conceded defeat and congratulated Milei, a self-described anarcho-capitalist who has drawn frequent comparisons to former President Donald Trump.
"Congratulations to Javier Milei on a great run for the presidency of Argentina," Trump wrote Social Truth. "The whole world was watching! I am very proud of you. You will transform your country and truly make Argentina great again!"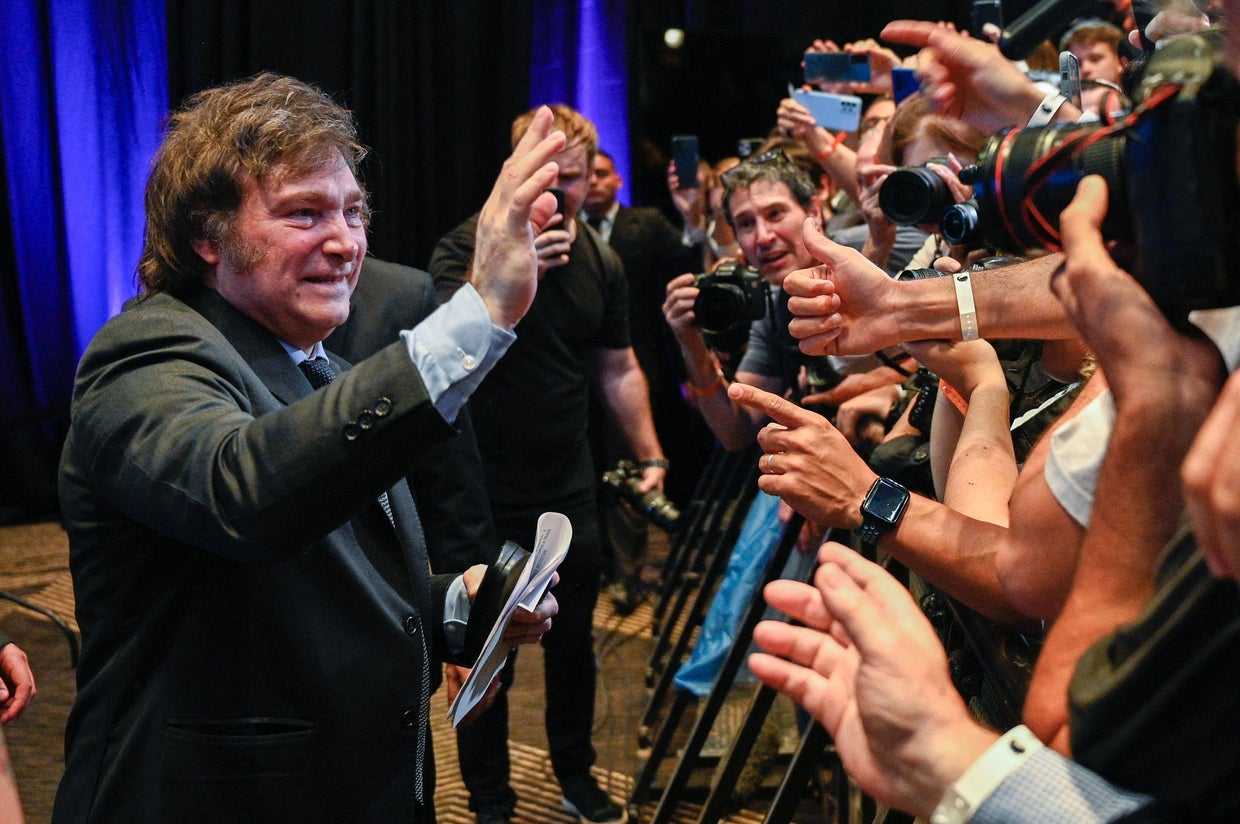 Javier Milei celebrates with fans in Buenos Aires on November 19, 2023. LUIS ROBAYO/AFP via Getty Images
"The Argentines have chosen another path," Massa said in his speech. "From tomorrow… guaranteeing the political, social and economic functions is up to the new president. I hope he does so."
With a victory for Milei, the country will move to the right and give power to a freshman lawmaker who started out as a TV talking head blasting what he called the "political caste."
Inflation rose above 140% and poverty worsened while Massa retained his office. Milei proposed reducing the size of the state and curbing inflation, while the government minister against whom he ran warned people about the negative impacts of such policies. The elections forced many to decide which of the two they considered the least bad choice.
"This is a triumph due less to Milei and his quirks and particularities, but more to the demand for change," said Lucas Romero, head of Synopsis, a local political consultancy. "What is expressed at the polls is the tiredness, the weariness, the protest vote of the majority of Argentines."
Massa's campaign has warned Argentines that his libertarian opponent's plan to eliminate key ministries and otherwise drastically shrink the state would threaten public services, including health and education, and welfare programs that many rely on. Massa also drew attention to his opponent's often aggressive rhetoric and openly questioned his mental acuity; before the first round, Milei sometimes carried a moving chainsaw at rallies.
"There were a lot of voters who weren't convinced to vote for Milei, who would have voted no or would have voted for a blank ballot. But on the day of voting, they voted for Milei because they were all pissed off," Andrei Roman, CEO of Brazil-pollster based Atlas Intel, he said by phone. "Everyone was talking about the fear of Milei winning. I think this was the fear of Massa winning and the economy continuing as it is, inflation and everything."
Milei accused Massa and his allies of waging a "campaign of fear" and rejected some of his more controversial proposals, such as easing gun controls. In his latest campaign ad, Milei looks into the camera and assures voters that he has no intention of privatizing education or healthcare.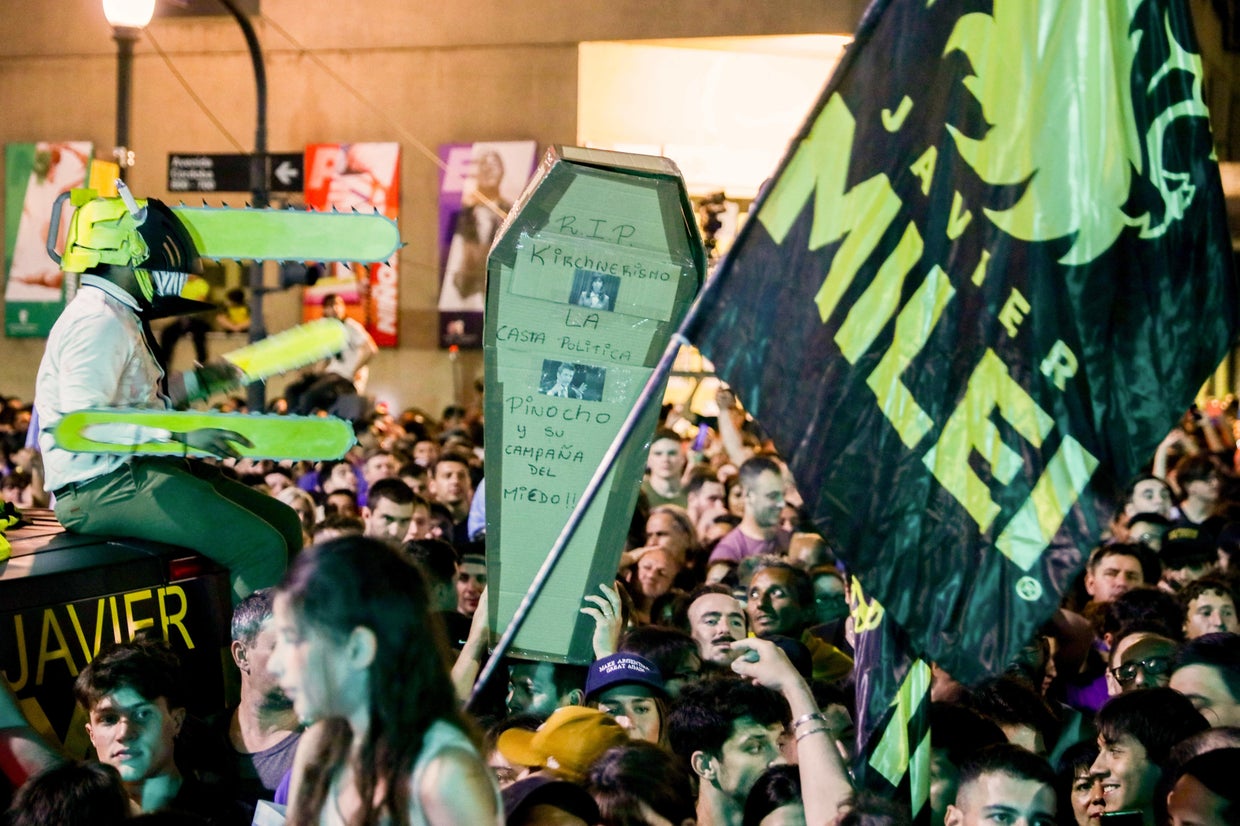 Supporters of Javier Milei celebrate the results of the presidential election runoff outside the party headquarters in Buenos Aires on November 19, 2023. EMILIANO LASALVIA/AFP via Getty Images
Milei's messages resonated widely with Argentines angry at their struggle to make ends meet, particularly young people.
"The money covers less and less every day. I am a qualified person and my salary is not enough for anything," Esteban Medina, a 26-year-old physiotherapist from Ezeiza, on the outskirts of Buenos Aires, told The The. Associated Press on the sidelines of a Milei rally earlier this week.
Another supporter of Milei is María Gabriela Gaviola, a 63-year-old entrepreneur who is doing everything she can to avoid closing her company, which produces veterinary products, amid soaring prices for the materials. And the government did not help, including Massa who has held his ministerial position for over a year.
"The production sector of this country is not taken into consideration. How long can a country that doesn't produce feel good?" said Gaviola, who has taken on two side jobs to keep his company afloat. "The truth is, I don't know Milei. I've heard him a little. I don't know him, but what I already know doesn't help me. I'd rather try something new."
Most pre-election polls, notoriously flawed at every stage of this year's campaign, showed a statistical tie between the two candidates or Milei slightly ahead.
Highlighting the bitter division this campaign has brought to the fore, Milei received both jeers and applause Friday night at the legendary Teatro Colón in Buenos Aires.
The acrimony was also evident on Sunday when Milei's vice president, Victoria Villaruel, went to vote and was greeted by protesters angry at her claims that the death toll from Argentina's bloody 1976-1983 military dictatorship is much lower to what human rights organizations have long argued. among other controversial positions.
The vote took place amid Milei's accusations of possible voter fraud, reminiscent of those by Trump and far-right former Brazilian President Jair Bolsonaro. Without providing evidence, Milei said the first round of the presidential election was marked by irregularities that affected the outcome. Experts say such irregularities cannot influence the election and that her statements were partly aimed at strengthening her base and motivating her supporters to become polling station monitors.
"Hope shines again in South America," Bolsonaro wrote on X, formerly Twitter. "May these good winds reach the United States and Brazil so that honesty, progress and freedom return to us all."
Brazilian President Luiz Inácio Lula da Silva congratulated Milei on social media, writing: "Democracy is the voice of the people and must always be respected. My congratulations to the Argentine institutions for conducting the electoral process and to the Argentine people who participated in the vote". election day in an orderly and peaceful manner. I wish the new government good luck and success."
More from CBS News