"Africa."
That was the reply from Champaign's Linda and Ron Hermann on where they most wanted to travel when retirement offered greater opportunities.
To steal a line from Johnny Cash, "They've been everywhere, man."
Africa remains their favorite destination.
"We've been there seven or eight times since 2007," Linda Hermann said, "to a number of different countries plus Madagascar," the island nation off the southeast coast of the continent.
The Hermanns prefer "active trips," where they can get out and immerse themselves in the surroundings.
Said Ron: "We've been kayaking in the Arctic and other places, float trips and things in the U.S., winter sports. We've been downhill skiing, cross country skiing, snow sledding, dog sledding, rappelling in sink holes in Belize and snorkeled in different places along the way.
"We did falconry on one of our trips over in Ireland and horseback riding."
But they've cut back on some of the more active pursuits as they've gotten older. No more pack trips on horses, not all of the hiking trips, no more sleeping on the ground.
Taking part in the trips via the Road Scholar program, which handles all the arrangements, the Hermanns have been to 80 countries in all seven continents on 54 trips with that tour company plus others with other tour companies.
The couple, who are both 76, started their traveling adventures in earnest about 20 years ago.
Ron is retired from the University of Illinois Foundation, and Linda is a retired math teacher at Urbana University High and Parkland College.
When they first started their expedition enthusiasm, finding a place they hadn't been to was a snap.
"You could stick a pin in the map, and we hadn't been there," Linda said. "As we travel more and more, the list of places gets smaller."
Is the thrill of travel still present?
"Oh yeah," she said.
But it's not as easy. Flying has become more difficult.
There weren't as many flying restrictions when they first started roaming in the '90s.
"Flying wasn't as costly," Linda said. "There weren't as many people jamming the airport. The airlines treated you a little bit better. After 9/11, they didn't treat you as well."
The Hermanns were on the Southern Ocean coming home from Antarctica in February 2020. They got home just in time as things began to shut down due to the COVID-19 pandemic.
They confined their travels to domestic sites the rest of that year. One stop was a dude ranch in northern Idaho, where they rode horses and took pack trips in the Rocky Mountains.
"We were really surprised people were going to northern Idaho because" much of the rest of the country was locked down, Ron said.
The Hermanns didn't venture back to international trips until July 2021.
"Not a lot of people were traveling then," Linda said.
When the restrictions were lifted, people started packing the airports.
She said they like the Road Scholar program because they "do a good job taking care of you, getting you to the events, the sights you want to see, what you want to do.
"They have the meals and know where you're going to eat and where you're going to sleep at night."
"We find that comforting," Ron said.
The Hermanns have visited some places they know they won't likely be able to return to because of the world situation such as Burma, China, Russia, Israel, Palestine, Jordan and Egypt.
Among the other nations they've visited in Africa are Botswana, Zimbabwe, Namibia, Kenya, Tanzania, Zambia and Rawanda.
The safaris appeal to them — "the big cats, the elephants, the birds," Linda said.
They've been pursued by a bear in Denali, Alaska, and have had some "not-good" elephant encounters.
"The elephants and rhinos turned out to be mock chargers. They back up before they get too close," he said.
A silverback gorilla was more aggressive, charging the safari leader and knocking him down.
The leader wasn't fazed, quipping, "Oh, they have to show who's boss now and then."
They've taken bush flights between camps, "which is kind of an excitement all its own," Ron said.
The precautions taken on a trip to Egypt impressed the Hermanns. They were accompanied by security wherever they went in the city and by military or police units outside the city.
The Hermanns caught the travel bug when Ron was stationed in the military in South Korea for a year.
Linda said their extended family has accompanied them on some multi-generation programs to Costa Rica and the Galapagos Islands. The couple has one daughter, Nell Madigan of Champaign.
The Hermanns hope to continue their life-long learning experience through traveling.
"We have just met so many interesting people," Ron said. "We've been exposed to sweat shops in southeast Asia that make you happy" you were born in the U.S. "We've seen poverty in third-world situations.
"It's interesting to see how people in Europe live when they're in such close quarters compared to us in the United States.
"If we want to go to another state, often times it's quite a drive, whereas in Europe you can be in three-four different countries without any hard travel."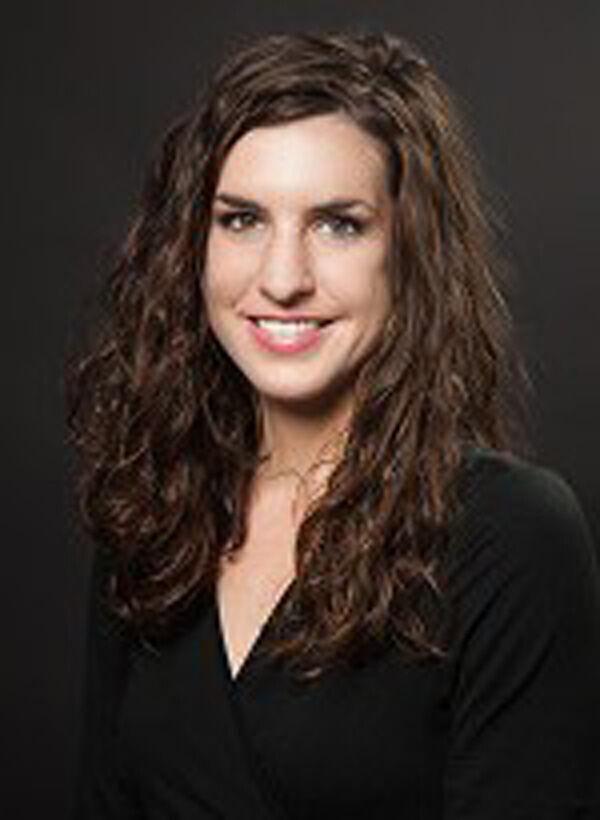 CARPENTER
Provided
Carpenter named boss of the year
Kara Carpenter, assistant director of international student and scholar services, has been named 2023 boss of the year by the Illinois Administrative Professionals organization at the University of Illinois.
Melissa Duong nominated her supervisor for the national award, which is celebrated during Boss' Week each year.
Christine Hopper, the group's 2022 boss of the year, gave a talk on the benefits of participating in organizations such as IAP, which includes University of Illinois professionals in civil service classifications.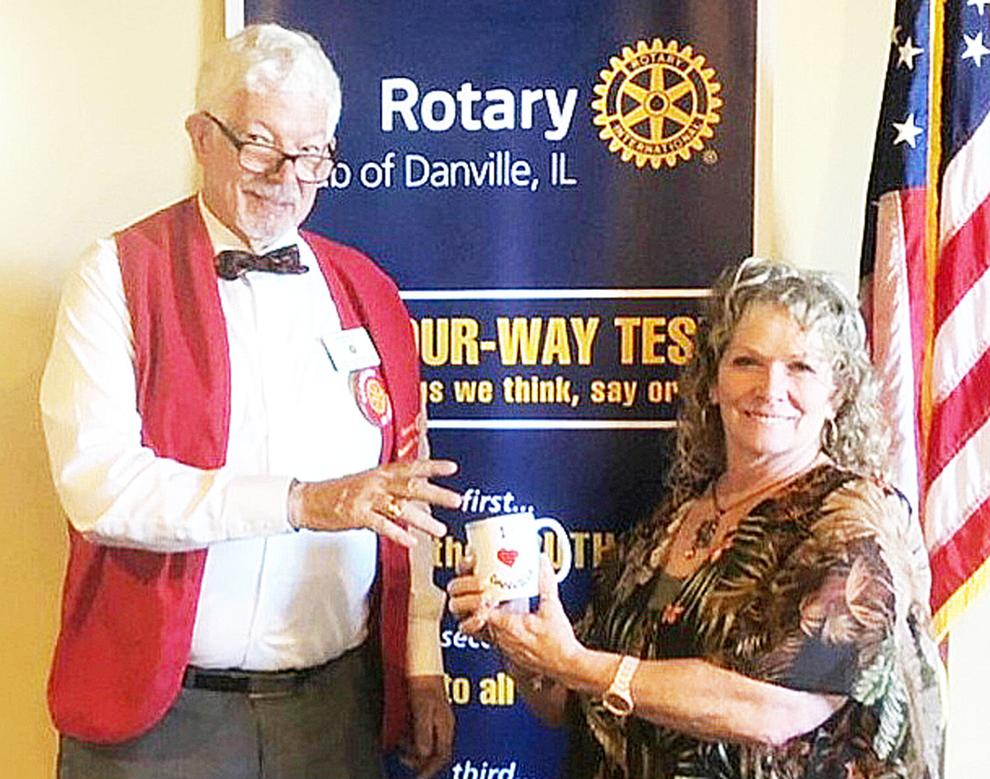 Wendy Lambert
Provided
Recovery center topic of program
Wendy Lambert, the CEO and founder of the STEP Recovery Center, met with the Danville Noon Rotary to tell some feel-good stories about how the center is turning around the lives of people with addictions and destructive life styles.
She is shown with the day's sergeant-at-arms, Bob McIntyre.
Since moving to its new location at 2500 Georgetown Road in Danville, the center is providing residential treatment for more than 20 people in need.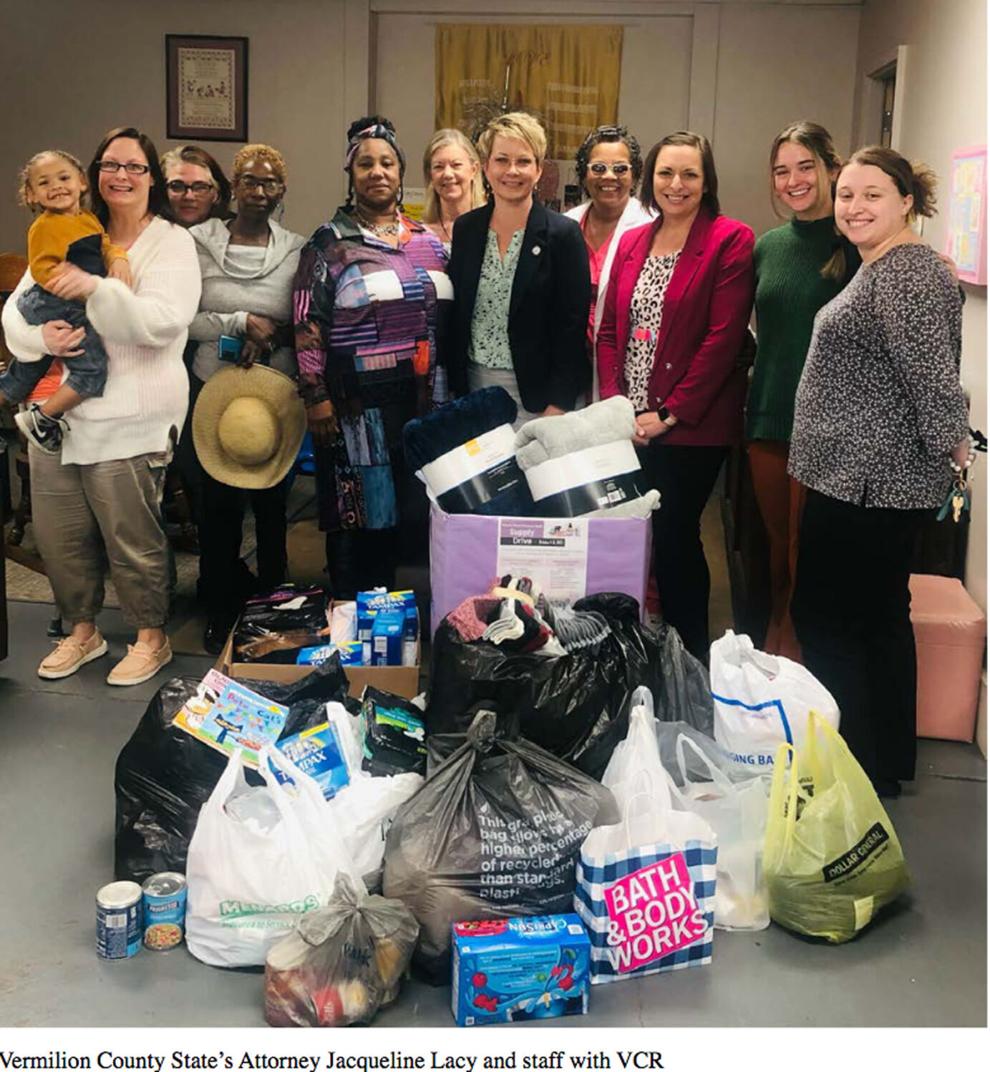 Vermilion County State's Attorney Jacqueline Lacy (center) and staff with Vermilion County Restoration Women and Children's Shelter.
Provided
Items collected for women's shelters
The Vermilion County State's Attorney's Office hosted its sixth annual Domestic Violence Awareness Month supply drive during October.
Items were collected to benefit Crosspoint Domestic violence and Transitional Shelter and Vermilion County Restoration Women & Children's Shelter (formerly Dayspring).
Donation boxes were hosted by community partners Mad Goat Coffee in Danville, Flowers on Main in Georgetown and The Pink Poodle & Unique Boutique in Hoopeston.
Collected items included bed linens, blankets, clothing, personal-care items, non-perishable food items and handmade winter hats.
The items were delivered to both shelters Nov. 15.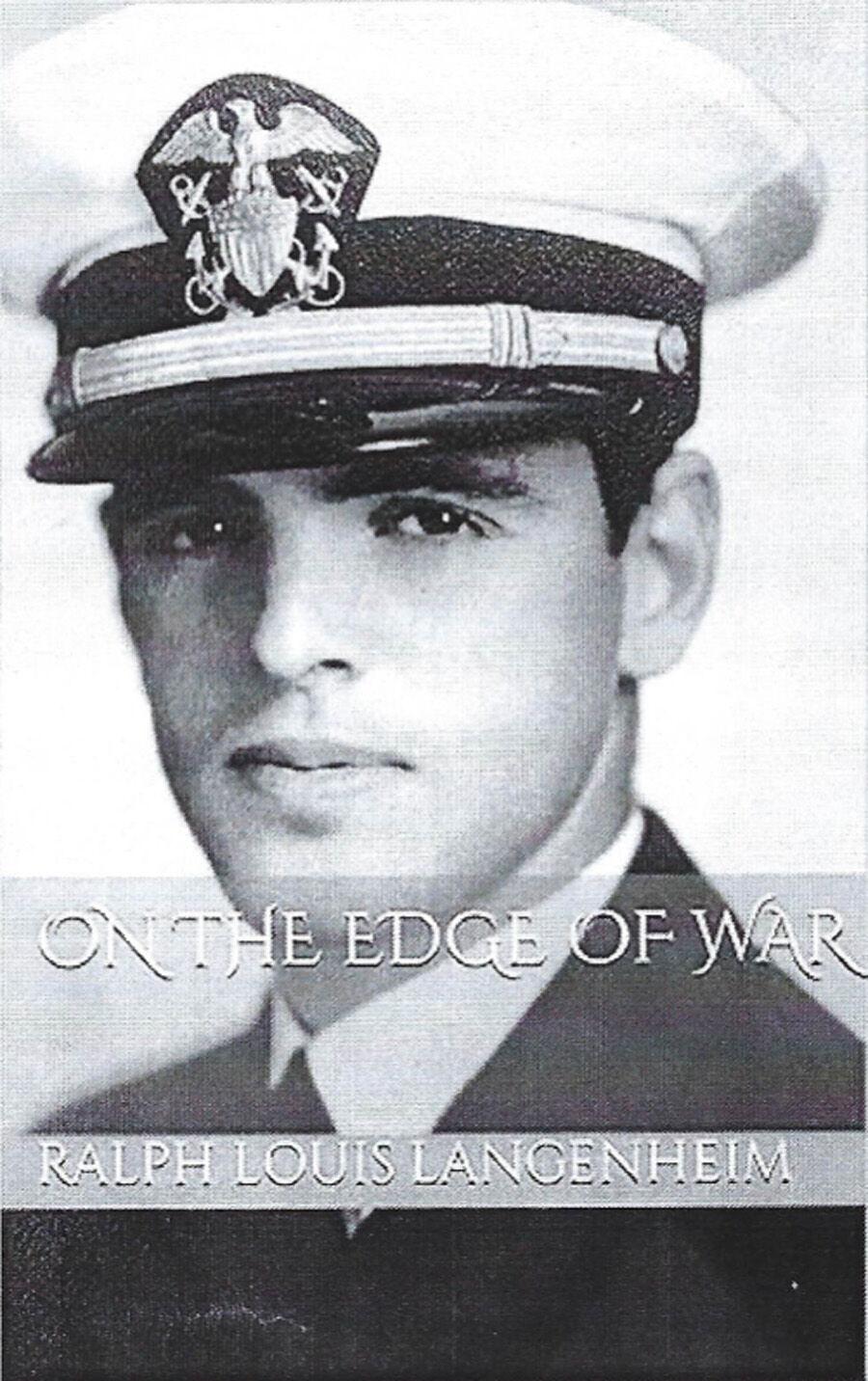 The Ralph Langenheim book, "The Edge of War."
Provided
Langeheim book available on Kindle
Ralph Langenheim's wife, Casey, has published her late husband's memoirs.
The book, entitled "The Edge of War," appears in Kindle form only.
All proceeds will go to the Veterans Assistance Champaign, Champaign County.
Mr. Langenheim served as an officer in the United States Navy during World War II.
He received training in the amphibious force and then assigned to a landing craft-infantry (LCI). His ship traveled around Gibraltar, the Azores, England and France. The ship was involved in D-Day and later the invasion of southern France. He later shipped to Kodiak Island in Alaska to prepare for an invasion of Asia.
A former geology professor at the University of Illinois, Mr. Langenheim was a longtime member of the Champaign County Board.
Mr. Langenheim died Aug. 3, 2019.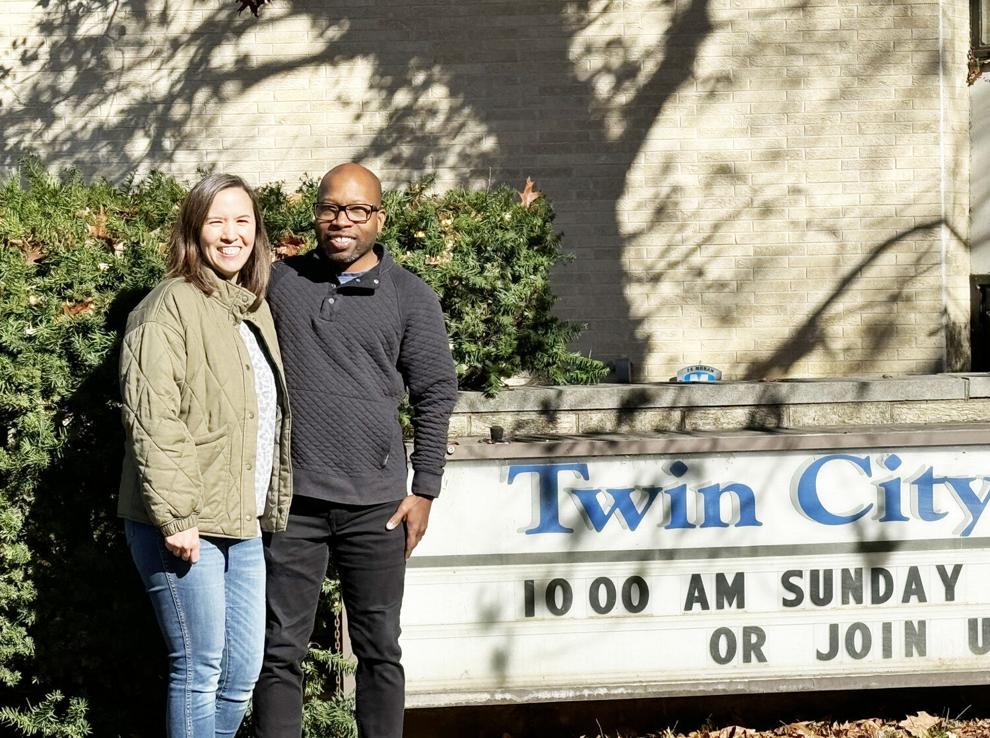 Becca and Bryan Scott of Twin City Bible Church, Urbana.
Provided
Twin City Bible Church celebrates 90th birthday
Twin City Bible Church, Urbana, recently celebrated its 90th anniversary with a large gathering at the Illini Union.
A number of alums were welcomed back.
Founded in 1933 during the Great Depression, the church has always been intentionally located close to the University of Illinois campus to reach students and townies.
In March 1936, the church rented the vacated Trinity Methodist Church at Springfield and Mathews avenues in Urbana. The church remained there until the building was condemned in November 1959. The church then moved to the YMCA.
In November 1960, the church purchased the site at Lincoln and Michigan avenues. Its first service there took place in November 1963.
The church had a second site called TCBC Midtown from 2012-18 to reach more people.
Supporting world missionaries and campus ministers has always been a high priority for the church.