Sign up for our new Kathy's Mailbag newsletter here
Drop in a question of your very own BY CLICKING HERE or by emailing Kathy Reiser at [email protected]
October is a little more than a week away, so it's only right that this week's Now & Then feature looks at the history of the building that houses this year's Spirit Halloween pop-up store.
There's lots more in the Mailbag, too: Do neighbors have any recourse when invasive plants spread? Was the 217's new 447 area code overlay really necessary? Will the lunch buffet at the Illini Union's Colonial Room ever return? And does Champaign County plan to upgrade its outdated pet registration system?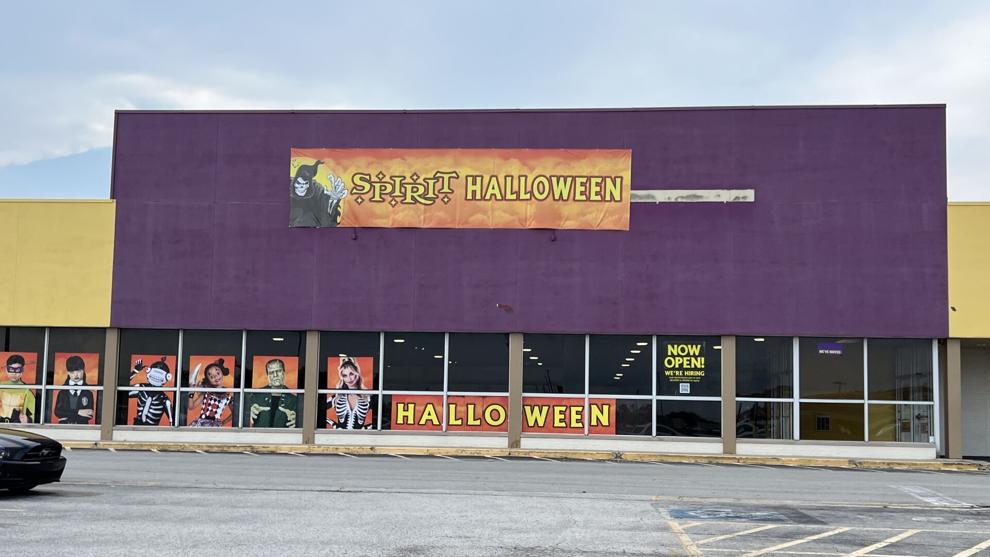 Buy Now
Kathy Reiser/The News-Gazette
NOW & THEN: Spirit Halloween
You must be a townie if you recall that Champaign's Ayr-Way discount store was the first retailer to open at 2002 W. Glenn Park Drive, in 1971.
One of the earliest chains of "discount houses" — pre-dating both Kmart and Target on the national scene — the regional Ayr-Way chain was an offshoot of the Indianapolis-based L.S. Ayres Department Stores. The Bloomington Road Kmart came first to Champaign in the 1960s, with the local Ayr-Way — Illinois' first — following in 1971.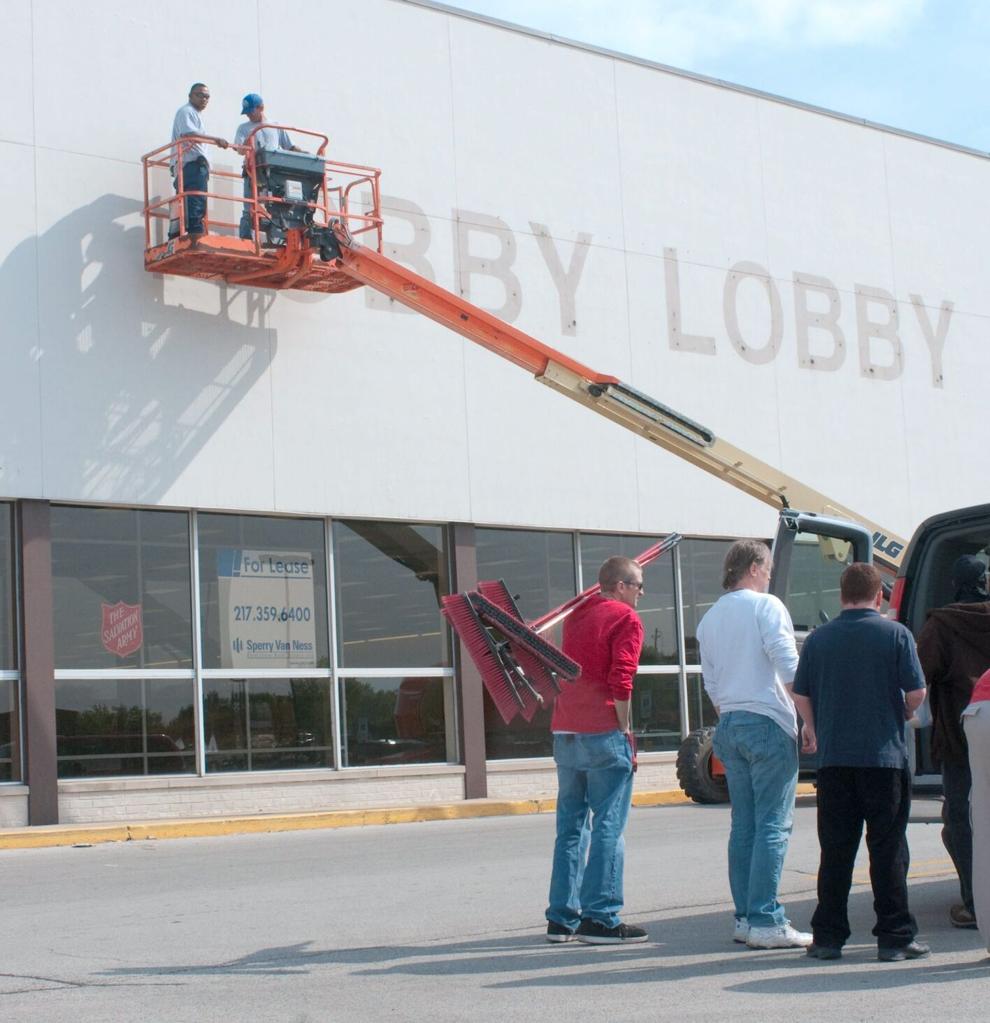 Buy Now
Robert K. O'Daniell/The News-Gazette
Dayton Hudson, Target stores' parent company, bought the Ayr-Way chain in 1980 and remodeled the Champaign location into a Target store. Target was the strip mall's anchor until the mid-1990s, when it moved to a new and larger store on Prospect Avenue. Hobby Lobby followed Target on Glenn Park Drive. And like the original Target, it outgrew the space. Hobby Lobby moved into the former Venture and K's Merchandise building near MarketPlace Mall in 2007.
More recently, readers may have shopped at the American Freight store located in part of the original Ayr-Way space. A Planet Fitness gym also was there until early 2023, when that business moved to Market Place Plaza.
This fall, the seasonal Spirit Halloween pop-up store occupies most of the original Ayr-Way store on Glenn Park Drive. Guess we'll have to wait a few years to find out whether future occupants believe any spirits stayed behind to haunt the place.
(Oh, and if you're curious about the grocery stores that once were located in the same strip mall, we'll cover those in a future Now & Then.)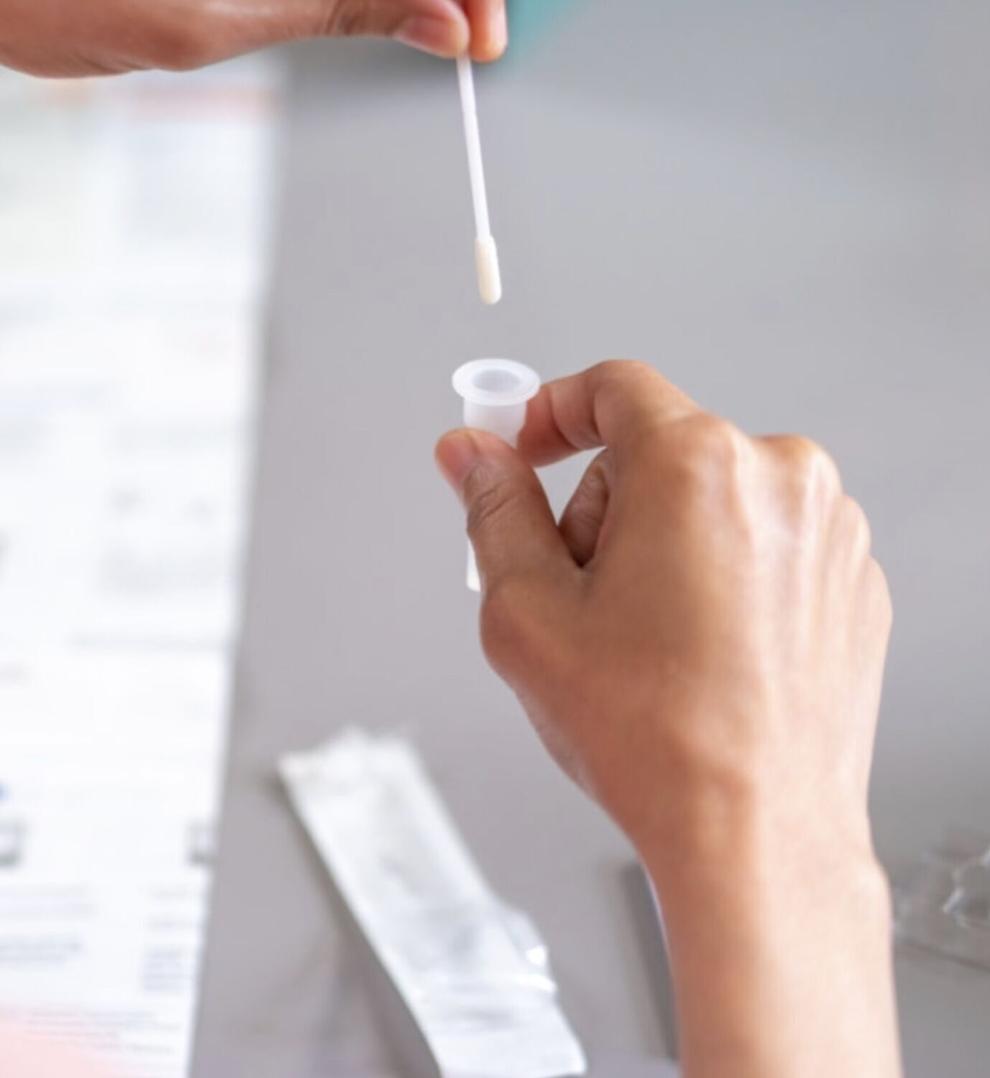 COVID-19 at-home test kits
"I saw on CBS News that some insurance companies are offering COVID-19 test kits to their policy-holders at no out-of-pocket cost, now that the feds are no longer giving them away. Is Health Alliance one of those insurers?"
Oh, but the federal government is getting back into the business of providing free COVID-19 test kits. On Thursday of this week, The News-Gazette carried an Associated Press article that said the Biden administration will put $600 million toward production of new test kits for home use.
The COVID.gov website says "beginning September 25, every U.S. household can again place an order to receive four more free COVID-19 rapid tests delivered directly to their home. Before you throw out 'expired' tests, Check to see if your COVID-19 tests' expiration dates have been extended." The FDA.gov website has details on which at-home test lots still produce results that meet standards for accuracy.
Before the announcement about the new round of freebie tests came out on Wednesday of this week, we had sent the reader's insurance-specific question to Brittany Simon, Carle Health's manager of public relations. She said most Health Alliance plans stopped covering the cost of over-the-counter, at-home tests once the federal Public Health Emergency ended several months ago.
In all cases, though, "tests administered by a healthcare professional (still) are covered under the plan's diagnostic testing benefit and the member would be responsible for any cost share as determined by their plan benefits."
Any member who has questions about their coverage, including coverage for over-the-counter COVID-19 tests, should call the number on the back of their Health Alliance member ID card to speak to one of Carle's local customer service reps who can help them understand their benefits.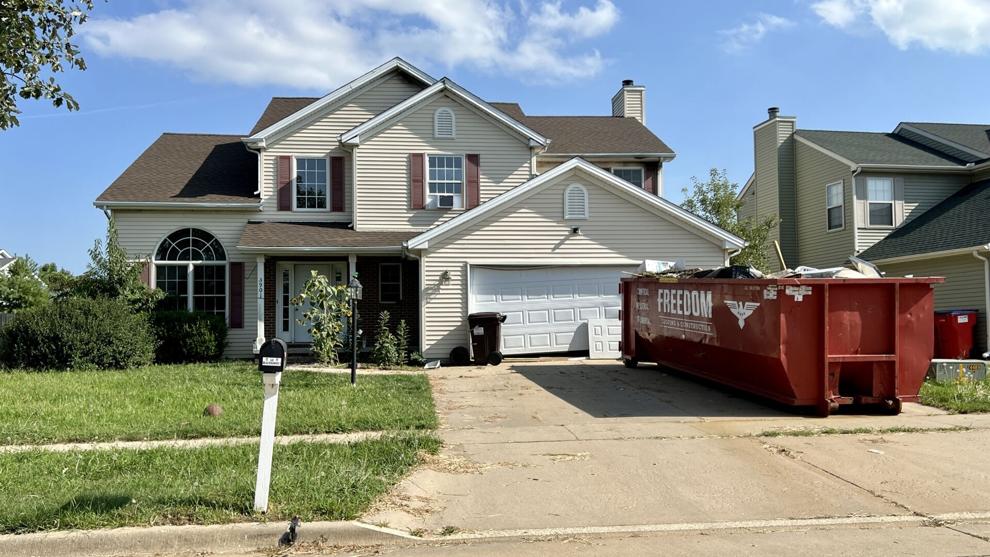 Buy Now
Kathy Reiser/The News-Gazette
Slooow rehab of fire-damaged home

"The home at 3901 Tallgrass Drive in Champaign suffered a fire in July of 2021. The property sold in October of 2022, and the listing suggested that the house was to be torn down. We were pretty shocked to see an attempt being made to rehab the home since it has mostly been roofless and open to the elements for the better part of two years. What sort of oversight is there on a project like this to ensure that the structure is safe for new occupants? Is there a requirement that the past fire damage be disclosed to a future buyer? What about renters?"
Champaign Building Safety Supervisor Randy Smith says a permit is on file for repairs to the home at 3901 Tallgrass Drive. "As with any building permit, plans are submitted for review and approved. Once approved, we perform a multitude of inspections to ensure the building is safe for those that will call it home."
When a building permit is issued for a rehab job, officials expect the work to begin (and progress) within six months. "After 180 days of inactivity, a permit can be considered void. After 160 days for instance, if an inspection takes place, it resets the clock to 180 days." Smith said permit extensions may be granted if needed, and they are "progress-based."
City code-compliance manager Tim Spear tells us the Neighborhood Services Department "has an open case on this property that is currently in our Legal Department due to the lack of progress. We are assisting to ensure that all required permits are obtained. 
"As far as I know, there is not a requirement for disclosures for a property that has had a fire for buyers or renters. The owner has the option to repair or demolish the structure. Our requirement is that the owner follows through with whichever path they choose," Spear said.
Updating county's pet registration system
"Can you find out if Champaign County Animal Control plans to update their antiquated system of pet registrations? It seems they only take registrations by mail or drop-off and payments must be cash or check."
That process should be getting easier in the not-too-distant future. Champaign County Executive Steve Summers said "Animal Control is in the process of updating their software to permit electronic payment for all fees and fines. At this time, I cannot say precisely when the new software will be up and running, but I'm confident that it will be sometime this year."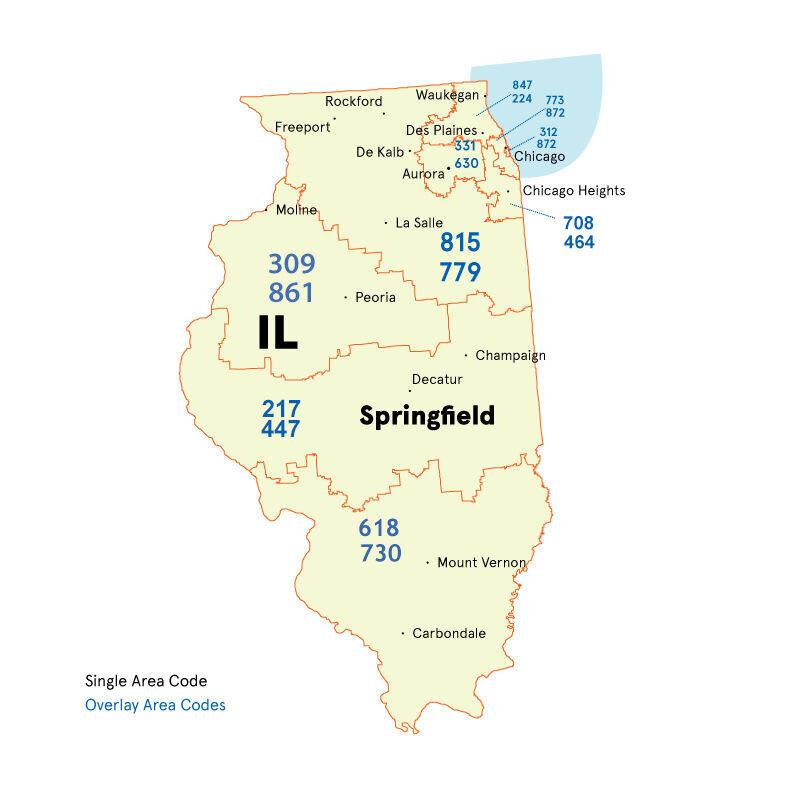 Provided
Was new area code really necessary?
"In 2021, a new 447 'overlay' area code was added to the geographic area covered by the 217 area code. Two years later, I don't think I've seen a local phone number that starts with a 447 area code. Were we really running out of 217 phone numbers?"
Illinois Commerce Commission spokesperson Cayli Baker says the new 447 overlay was not added specifically because there were not enough phone numbers to meet demand. "It's a little more nuanced. The overlay reflects that most/all of the prefixes in the area code have been assigned. There can be many numbers available in each prefix, but there is no room to add additional prefixes when necessary."
Unlike a location where an area code region is split and part of the former region is immediately assigned a new area code, the overlay is assigned to customers as-needed or based on demand. It can be months or years before the new area code will "show up" in the overlay region. Eighteen area codes are in use across Illinois, including the new 730 overlay that supplements southern Illinois' original 618.
"Often, the initial phone number blocks are requested to be reserved by VOIP operators that will hold on to the number for future customers and have not yet been assigned," Baker said. VOIP, or Voice over Internet Protocol, is a technology that allows users to make voice calls using a broadband Internet connection instead of a hard-wired phone line.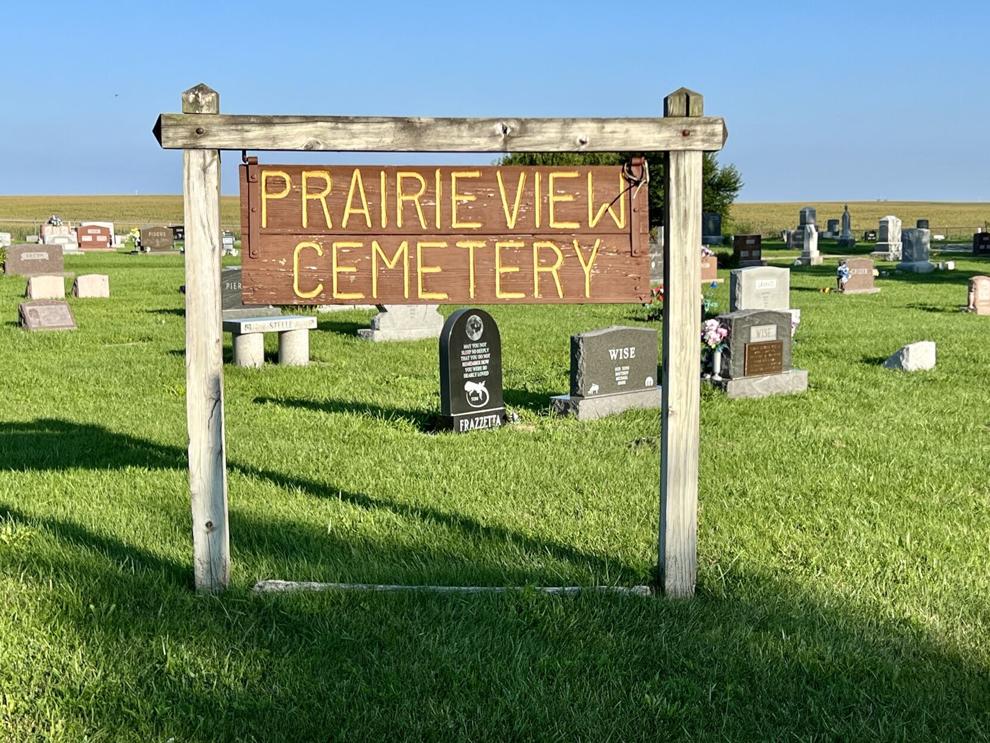 Buy Now
Kathy Reiser/The News-Gazette
County's role in local cemetery governance
"I know the county executive appoints trustees for certain local cemeteries. Why just some and not all of them?"
It's all governed by the County Cemetery Care Act, (55 ILCS 65/) and other Illinois Statutes, according to Champaign County Executive Steve Summers. With Champaign County's rather unique form of government that includes an elected county executive, that individual assumes the role of 'presiding officer' who appoints trustees to guide operations at certain cemeteries.
Summers said cemeteries with county-appointed boards tend to be those established by townships many years ago. He appoints trustees to two local cemetery boards (Clements and Stearns) and seven cemetery associations: Bailey Memorial Cemetery Association, Craw Cemetery Association, East Lawn Memorial Burial Park Association, Locust Grove Cemetery Association, Mt. Olive Cemetery Association, Prairieview Cemetery Association, and Yearsley Cemetery Association.
So what is the difference between a cemetery association and a cemetery board?
Under the Illinois Cemetery Association Act, (805ILCS320/), an association must be formally registered with the Illinois Secretary of State's office, and has six to 10 appointed trustees providing oversight. Duties of the appointees are to make rules, receive gifts and endowments for cemetery maintenance, sell burial plots, manage funds, hire and manage maintenance staff, and perform certain other duties for the association.
As trustees, cemetery board members have "charge and control of such grounds" in cases where ownership of the cemetery land has been legally conveyed to the county. Cemetery association members' duties are similar to those of cemetery board members.
If a cemetery has sufficient income to provide for it, board and association members may receive nominal compensation for their service. Summers said there is no line item in the county's annual budget for providing maintenance or other support to cemeteries — or their trustees.
And he said the county has no authority over any cemetery that is privately/commercially owned or located within the boundaries of a municipality.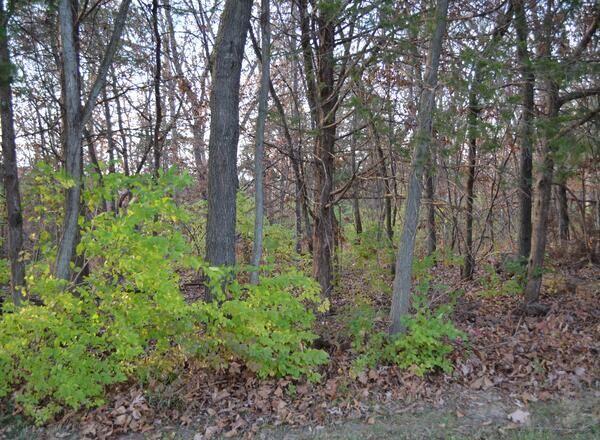 UI Extentions
Any recourse when invasives … invade?
"Do property owners have any recourse when a neighbor's invasive plants are taking over? A neighbor has a huge amount of bush honeysuckle — all over fences, and they keep mowing off about 100 honeysuckle starts in their yard. Isn't it illegal to let invasive go crazy and take over? If talking with the neighbors doesn't do any good, what can an adjacent property owner do?"
Good question. We posed it to officials at the Illinois Department of Natural Resources, and they wouldn't touch it with a 10-foot trellis.
Communications director Jayette Bolinski said "this sounds more like a legal question, and IDNR would not be willing to weigh in on something like that. We would only be able to point you to guidance on how to deal with a specific invasive plant species on your (own) property."
If the reader and neighbor live within a municipality, perhaps a conversation with the code-compliance officer could help the reader figure out whether any local ordinances might apply. But the code-compliance officer would not be able to offer any legal advice, either.
A University of Illinois Extension blog by horticulture educator Chris Enroth says bush honeysuckle "is considered one of the biggest threats to our native Illinois ecosystems" – so it's worth addressing before it gets out of control. How can you recognize it? Enroth says bush honeysuckle is one of the few woodland plants with green leaves come late autumn in Illinois.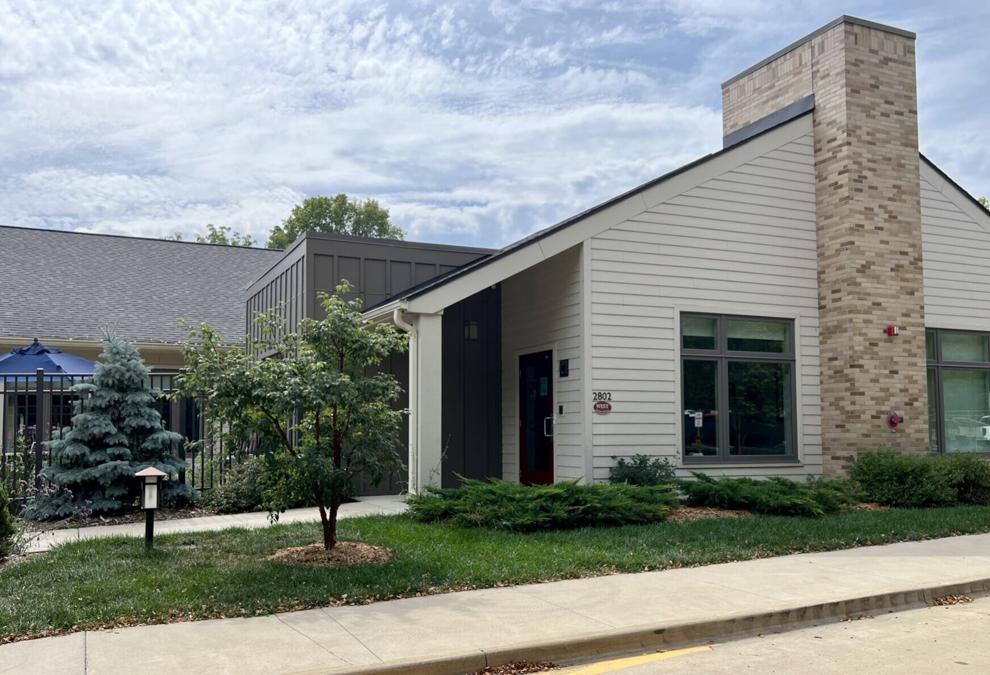 Buy Now
Kathy Reiser/The News-Gazette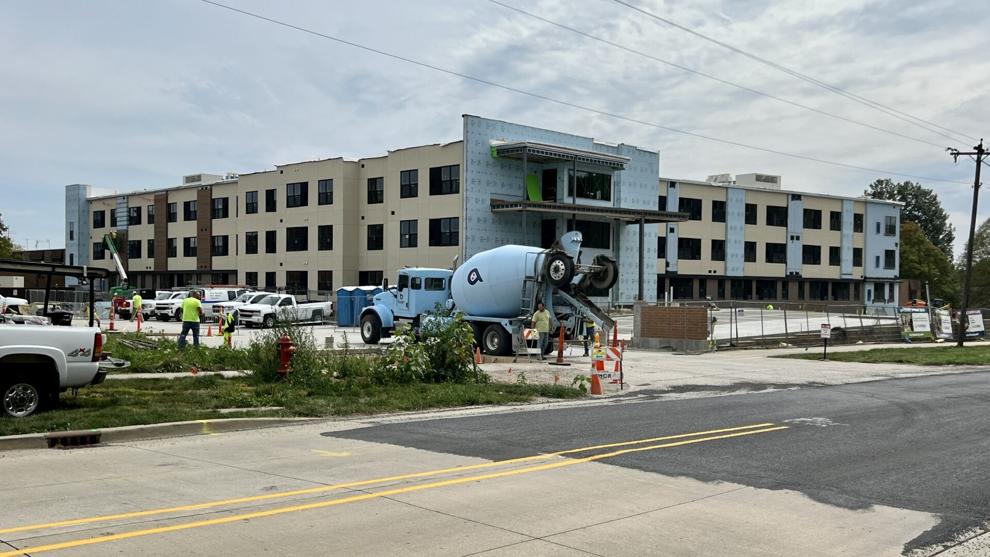 Buy Now
Kathy Reiser/The News-Gazette
Changes to dementia care at ClarkLindsey
"I see ClarkLindsey Village's new building will offer assisted living and memory care. But I thought their recently built 'Green House Homes' were for memory care. Will the Green Houses be repurposed? And how many skilled nursing beds will be left once they're done reconfiguring things?"
CLV spokesperson Karen Blatzer said one of ClarkLindsey's Green House Homes was "assisted living with a memory care designation and had a dozen residents. That home transitioned this summer to provide licensed skilled care just like the other Green House Home." The Green House Homes were designed to provide care in a homelike setting.
The new ClarkLindsey facility under construction on Race Street will include 38 catered assisted living apartments and 26 memory care assisted living suites. It will be completed in the spring of 2024. Several memory care residents will remain in their Green House Home until the new building is ready, according to ClarkLindsey's Ron Wilcox.
"Daily interactions are not just about giving or receiving care — but about building a deep connection," Blatzer said. "The first floor will be dedicated to memory care using the Montessori approach. It focuses on promoting independence, self-direction and a sense of purpose. In recent years, this philosophy has been successfully adapted for individuals with dementia, recognizing that they can still engage in meaningful activities and contribute to their own care," Blatzer said.
Together, there are a total of 24 long-term skilled care beds in both of ClarkLindsey's Green House Homes. There will also be 24 licensed skilled care beds in ClarkLindsey's Renewal Therapy when renovations to that space are complete later this year. In all, ClarkLindsey will have 48 licensed skilled care beds.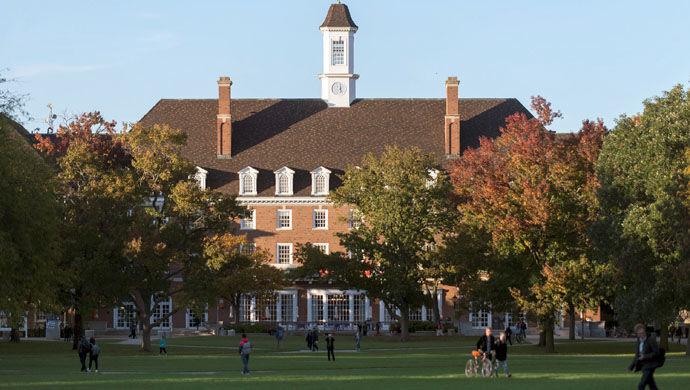 Stephen Haas/The News-Gazette
Colonial Room lunches at Illini Union
"The Colonial Room at the Illini Union used to offer a great lunch, but it closed to the public when the Illinois Street Residence Halls' dining room was being renovated. And then COVID-19 hit. Any chance it will reopen — and if so, when?"
I remember the Colonial Room, too. Terrific place for a hot buffet or soup-and-sandwich lunch. Though it always seemed to me that either a dietitian or an accountant must have decided that diners should use tongs to serve themselves … potato chips. It required a delicate touch to get more than one or two chips from the serving bowl to your plate in one piece.
But back to the present day. I checked with Illini Union marketing director Erik Riha, who says no, the Colonial Room lunches are not coming back. "Attendance had waned dramatically so when the ISR temporary dining came to the Union and then moved back to the renovated ISR, it was decided that it was not a viable option for University Dining to keep offering the Colonial Room lunch."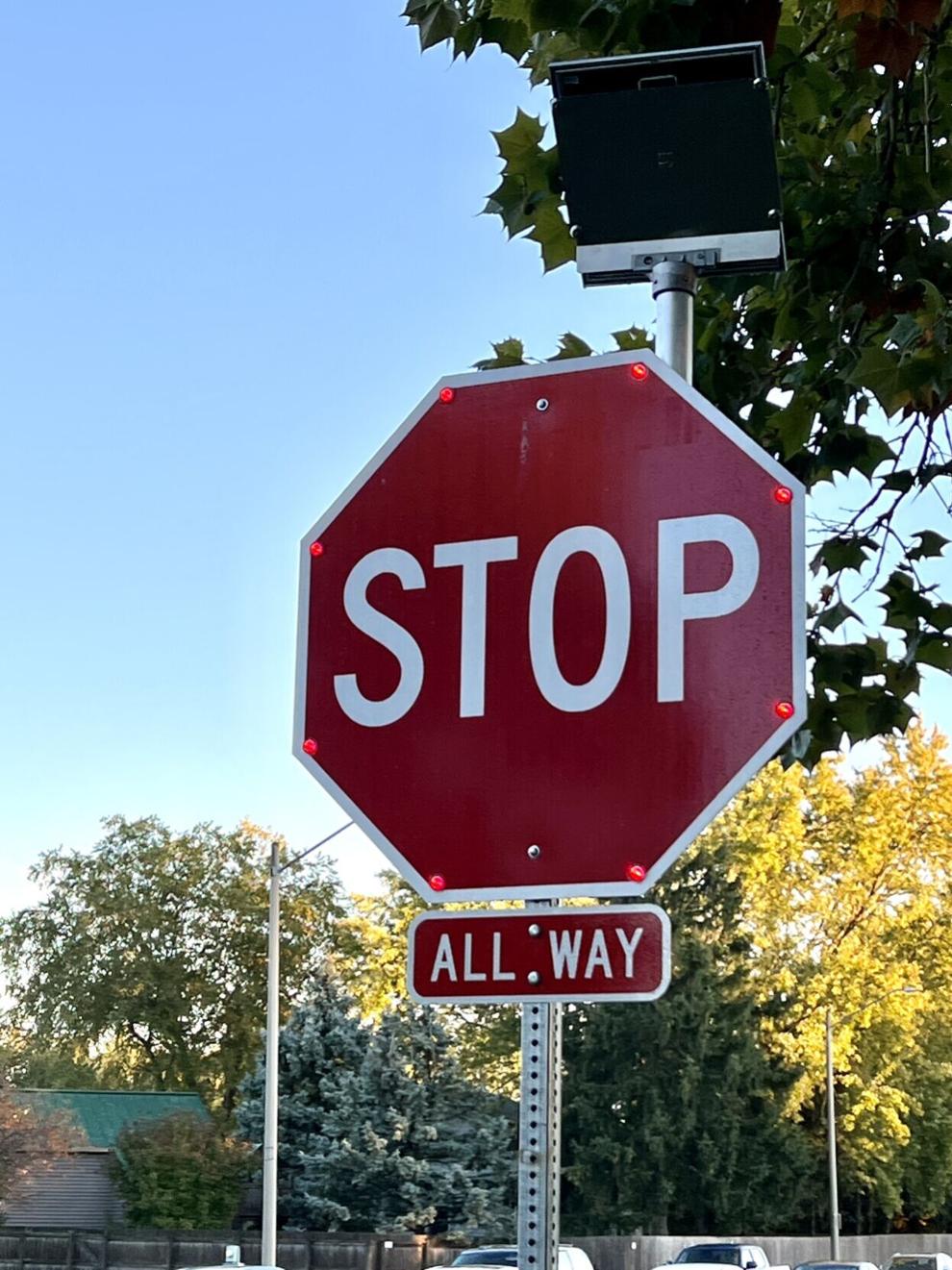 Buy Now
Kathy Reiser/The News-Gazette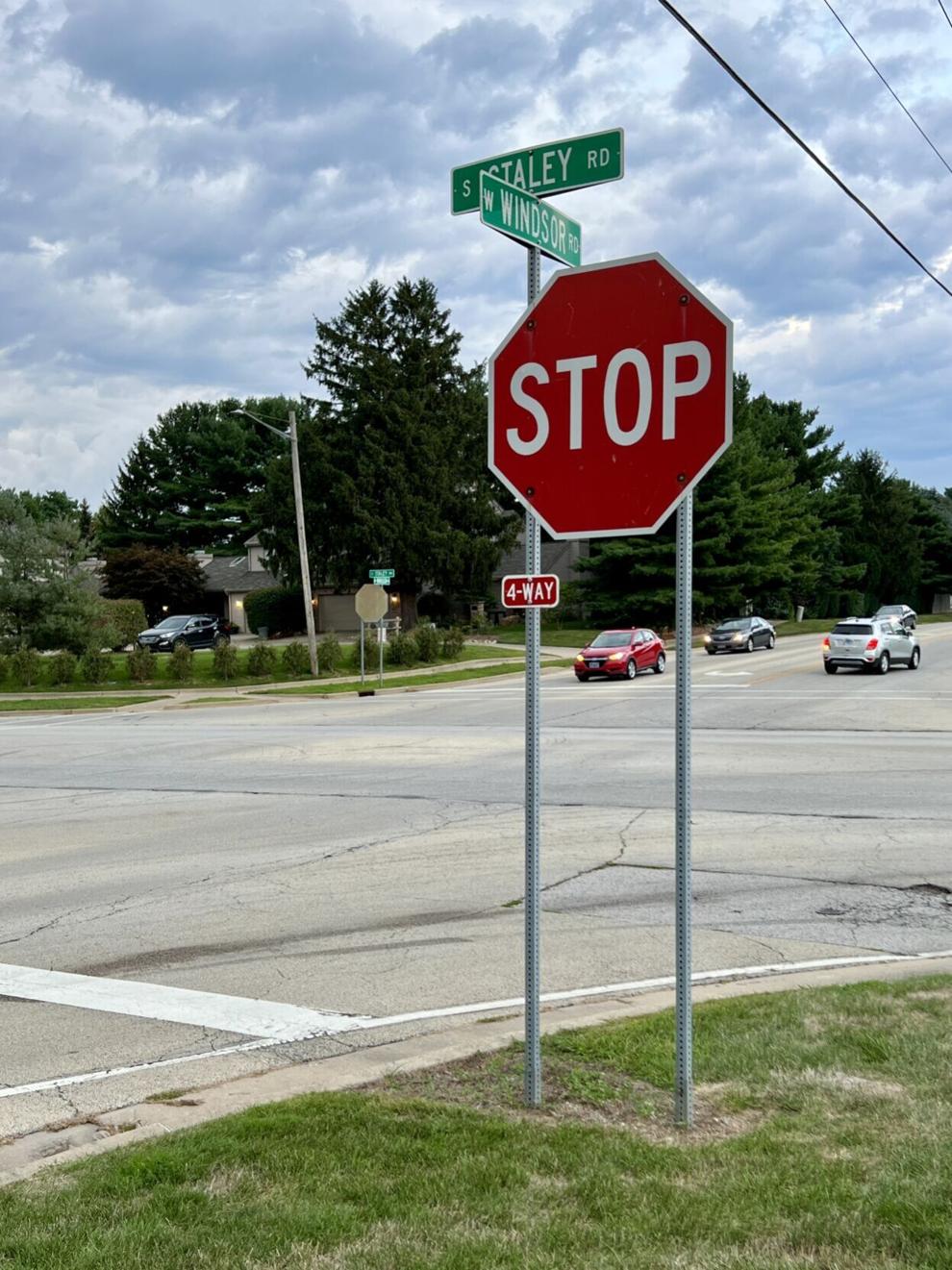 Buy Now
Kathy Reiser/The News-Gazette
More LED-framed Stop signs needed
"Could Stop signs with blinking lights be installed at Staley and Windsor, like they were at Prospect and Devonshire? It's a very dark intersection, and dangerous since they changed the flow pattern."
The latest from Champaign Public Works' Kris Koester: "We are in the process of doing an inventory of streets/intersections that may benefit from the flashing LED stop sign. They will typically be considered on arterial streets, with multiple/wide lanes. Once we have the inventory reviewed, we will then order the materials we need to install them. This will take several weeks, depending on supply and availability."