Sign up for our new Kathy's Mailbag newsletter here
Drop in a question of your very own BY CLICKING HERE or by emailing Kathy Reiser at [email protected].
An eclectic mix in this week's Mailbag — just the way we (hope you) like it! Colorful giraffes on First Street … a new e-bike-share company around town … what actually happens to glass that's put out for recycling … and whether some of the water we take from the Mahomet Aquifer ends up back in the aquifer. Oh, and "Doggy Bag" dumpsters. (Yes, you read that right.)
Also, we're now offering a Mailbag newsletter. Have it emailed to your inbox every Friday by signing up here.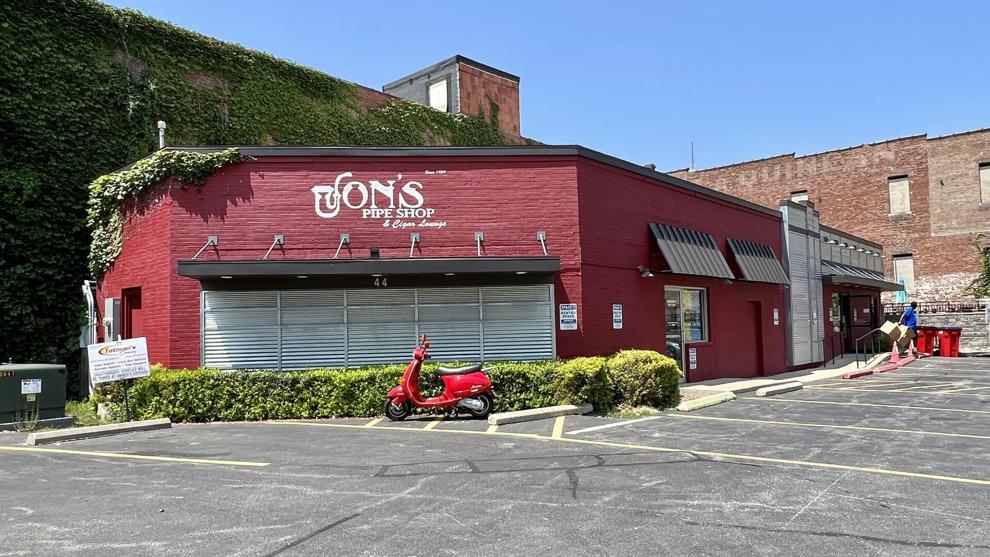 Buy Now
Kathy Reiser/The News-Gazette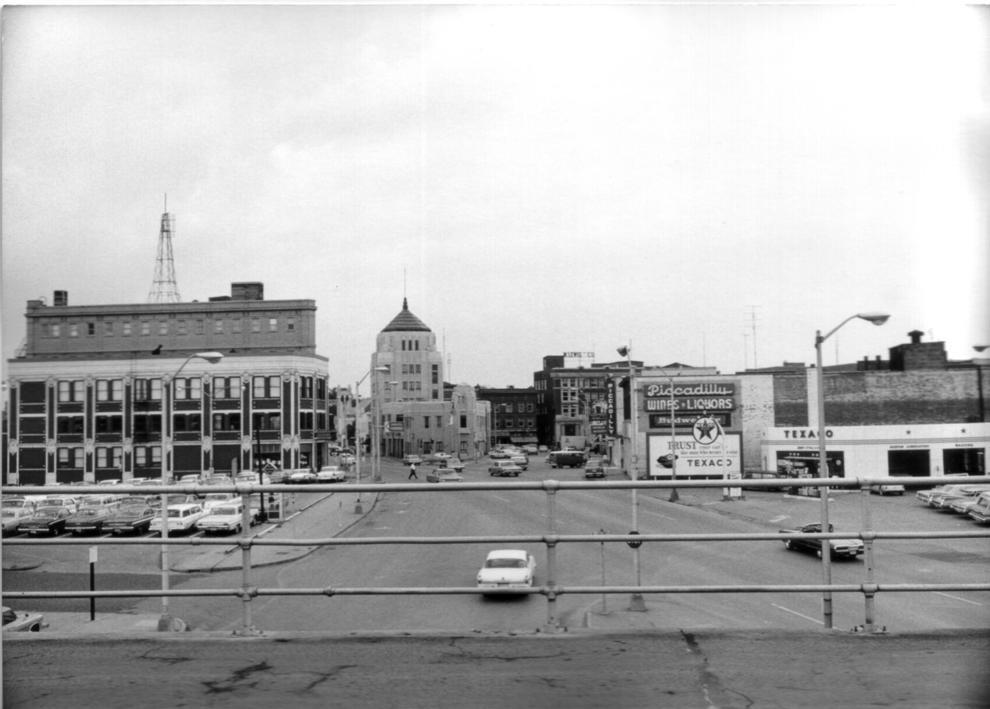 T.J. Blakeman/provided
NOW & THEN: Jon's Pipe Shop & Cigar Lounge
The latest in our series featuring a local commercial building that used to house one or more businesses other than its current occupant. Earlier this week, we posted a picture of today's building on Facebook and Instagram — along with an invitation for readers to share their memories of it: Jon's Pipe Shop & Cigar Lounge.
Townies of a certain age are likely to remember this building at 44 E. University in Champaign as a photo-finishing lab from the late 1960s through about 2011 (give or take). Old city directories show the Techni-Print & Film Lab was there first, with Jon's Color Film Lab spending more than two decades in that spot, and Better Image Photo Lab there from 1998 until about 2011.
Older old-timers may recall it as a place where "you can trust your car to the man who wears the star: A big, bright Texaco sta-a-a-r!" A 1946 city directory listing shows it as Jerry's Texaco, and some listings through the mid-'60s tell us it was the "Jerry Stull gas station."
This 1965 photo, from the collection of T.J. Blakeman, shows Jerry's Texaco station on the right. If you squint a little, you may be able to make out Piccadilly Liquors right behind the filling station. The picture was taken from the Illinois Central Railroad overpass, and shows a view of University Avenue looking west.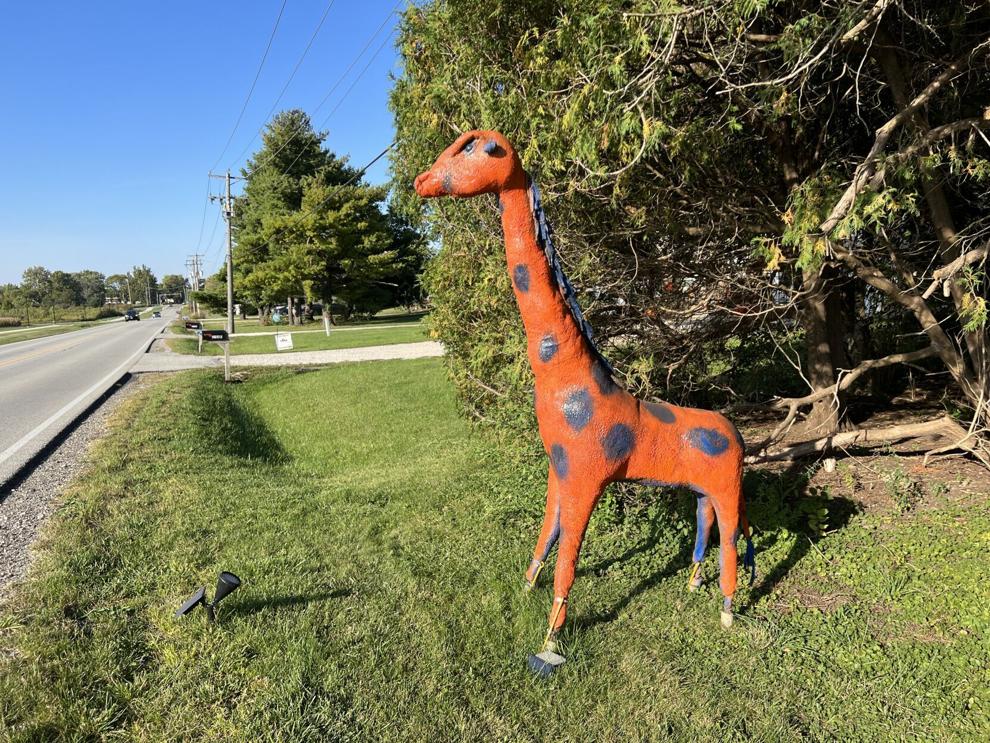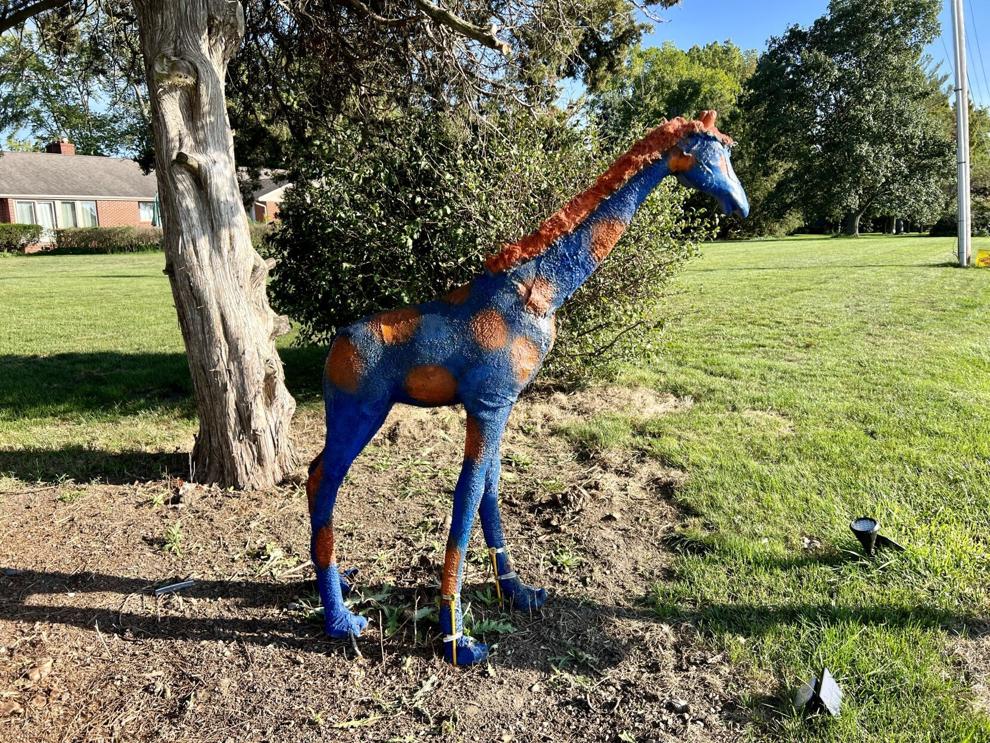 Buy Now
Kathy Reiser/The News-Gazette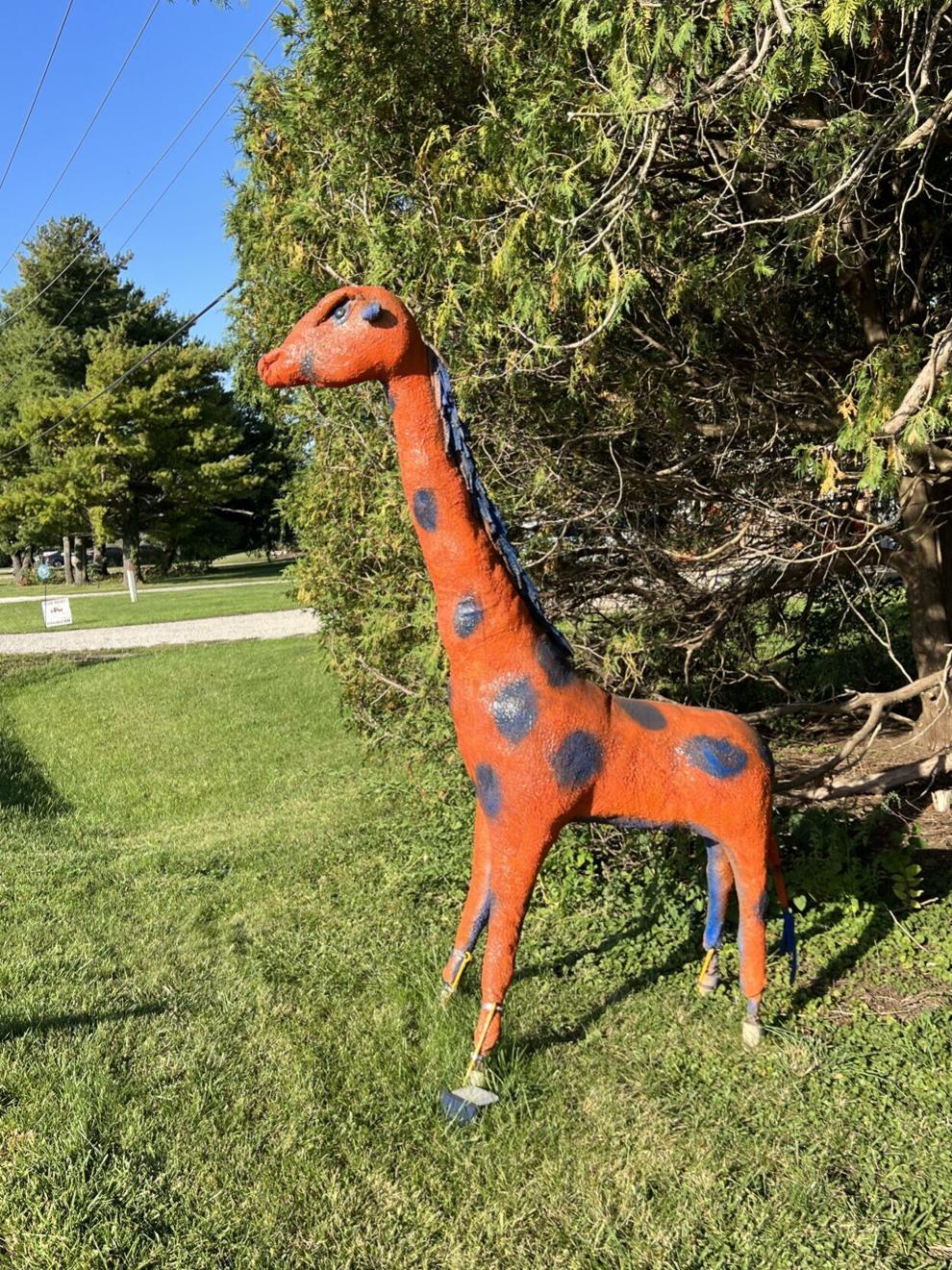 Buy Now
Kathy Reiser photos/The News-Gazette
Giraffes on First Street
"What's the story behind the orange and blue giraffes on First Street, just a little south of Windsor Road?"
"I love giraffes; I've been collecting them since I was 16," said Lena Sacco of the giraffe statues she and Jonathon McFarland placed at the end of their driveway. "I found these two giraffes about five years ago on Facebook Marketplace and had them in our basement for a while."
She is a fifth grade dual-language teacher in Urbana District 116, and she said her students "weren't really able to enjoy them because they're fabric." Early in the COVID-19 pandemic, before much was known about the virus, carpets and other fabric items were removed from some classrooms as a precaution.
When Sacco and McFarland bought their current home in May, they wanted something to let visitors "know where we're at — to draw people's eye," she said. In what became a summer-long project, she applied many coats of resin to make the giraffes weatherproof.
The orange and blue colors were a natural choice for McFarland and Sacco. They are season ticket holders for Fighting Illini football, men's and women's basketball, and volleyball.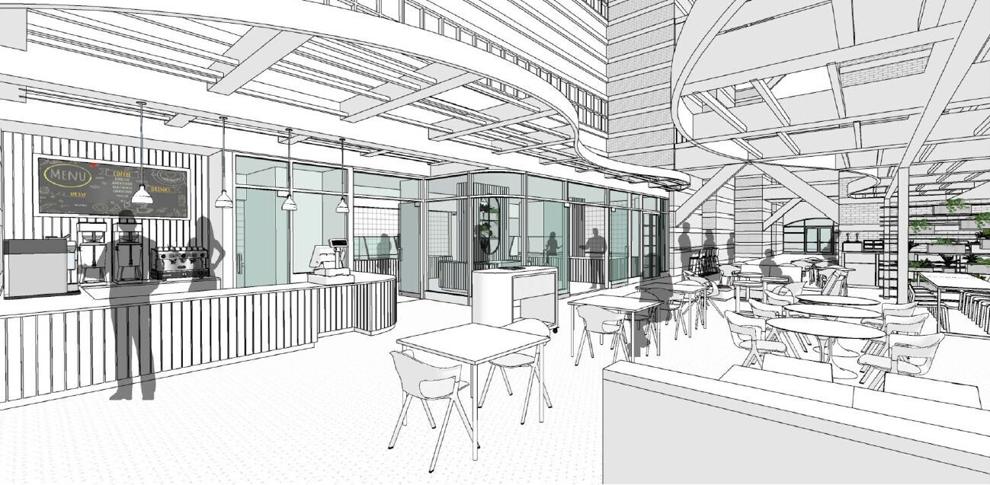 Provided
When will the Beckman Café reopen?
"Why did the Beckman Café close, and when will it be open again?"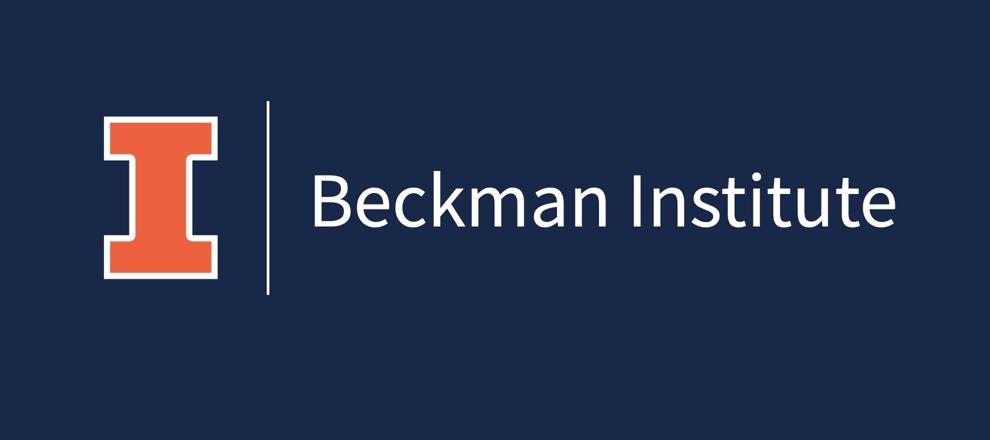 UI Beckman Institute spokesperson Meg Dickinson said the café is closed for a full renovation, which will begin later this fall. She expects it to reopen in late 2024.
According to the Beckman Institute website, the renovated café will feature glass walls, bright and welcoming décor, and a stand-alone coffee shop. The café is adding a dining room that may be reserved for a larger, more formal group. A chef will join the current café management team and will help update the menu.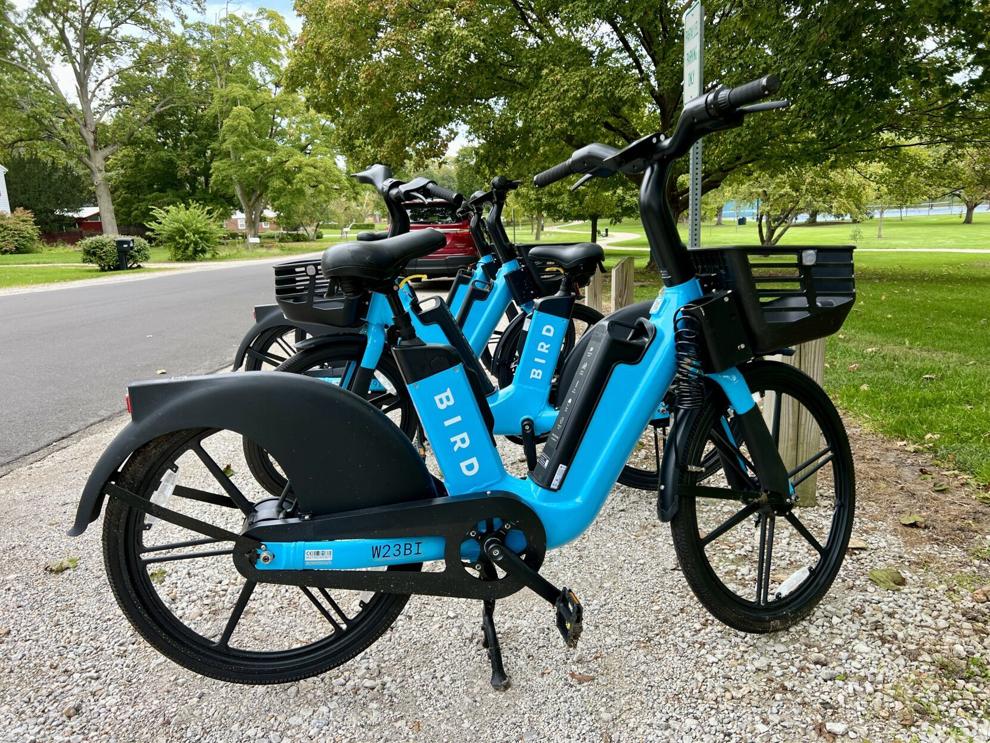 Kathy Reiser/The News-Gazette
New bike-share company around town
"I've noticed e-bikes/scooters around town from a company called Bird. Has Bird bought VeoRide … or vice-versa? Or are there multiple bike-sharing companies operating in Champaign and Urbana now?"
No word yet from Urbana officials, but City of Champaign spokesperson Jeff Hamilton tells us Bird is a bike-share company that was recently approved to operate in Champaign. "As a new vendor under the rules of the City of Champaign's bike-share program, Bird is allowed to use up to 500 class two e-bikes. Veo continues to also provide bike-share services in Champaign."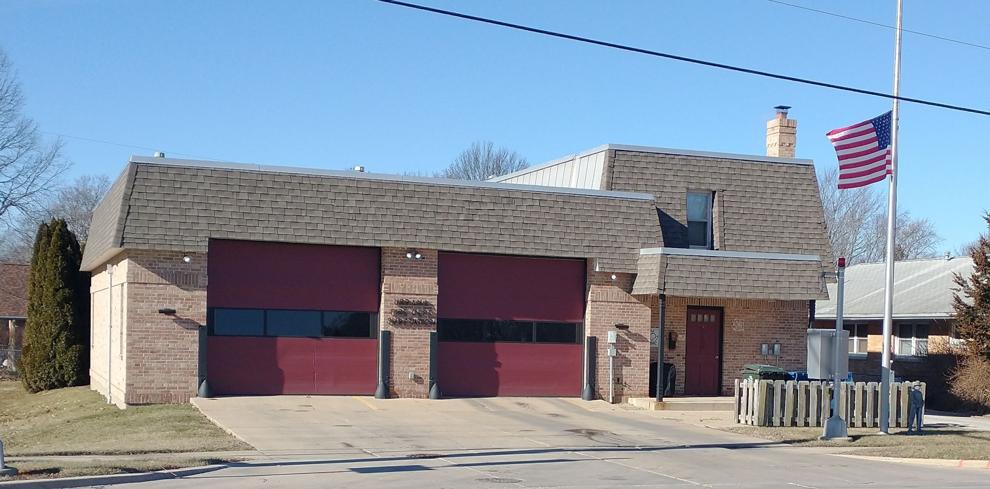 Southeast Urbana fire station to be replaced.
Tom Kacich/The News-Gazette
Construction of Urbana fire stations
"I don't remember seeing a timetable for construction of Urbana' two new fire stations, funded in part with grant money. When do they expect to break ground and how long will construction take?"
Urbana Mayor Diane Marlin says both fire stations are "in the design phase. The approximate timetable is to go out for bid next February; construction would take place in 2024-25."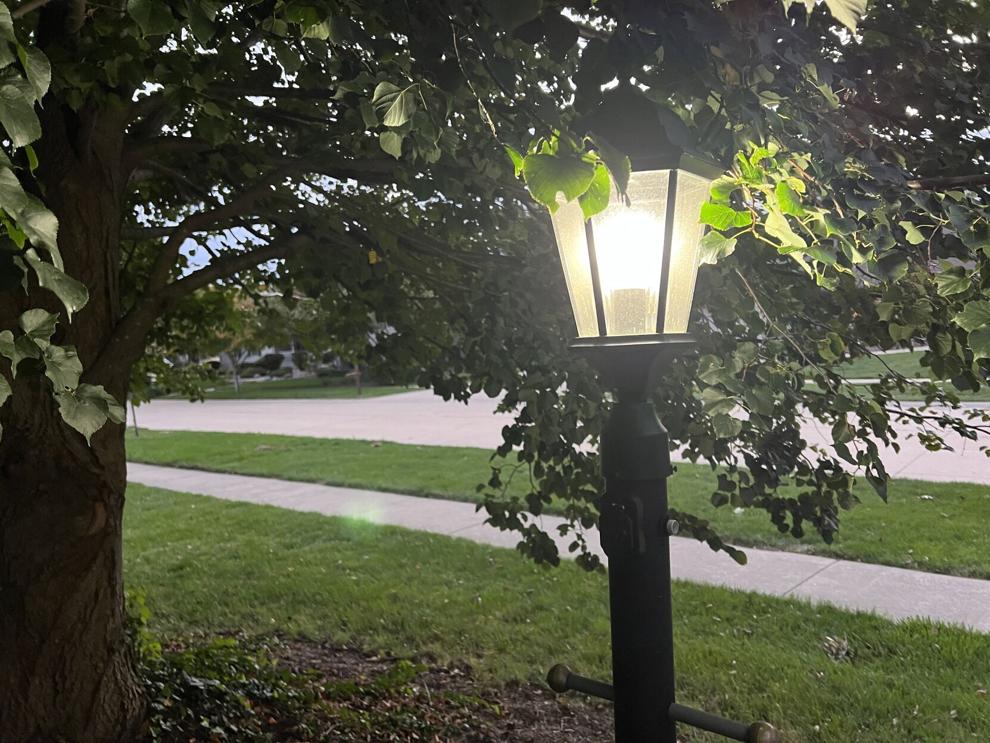 Kathy Reiser/The News-Gazette
Dark streets in Mahomet
"Why are streetlights located only in the older parts of Mahomet? Many newer homes have post lamps, but that doesn't help with safety at dark corners. What are the minimum lighting requirements for municipal streets?"
Over the past 30-plus years, most subdivisions and their homeowners' associations have required homeowners to provide illumination in their yards, said village administrator Patrick Brown.
"During that same period, there has been more pressure on communities to reduce light pollution, which is why Mahomet's commercial lighting standards are 'dark-sky compliance.' Streetlights used to be installed and paid for, including electricity, by the utility companies. That went away as franchise agreement framework changed in the last 20 or so years.
"In general, we require streetlights to be installed by the developer at major intersections in those new residential areas. That would mean a street that (intersects) with maybe U.S. Route 47 or U.S. Route 150 or another higher classification of roadway," Brown said.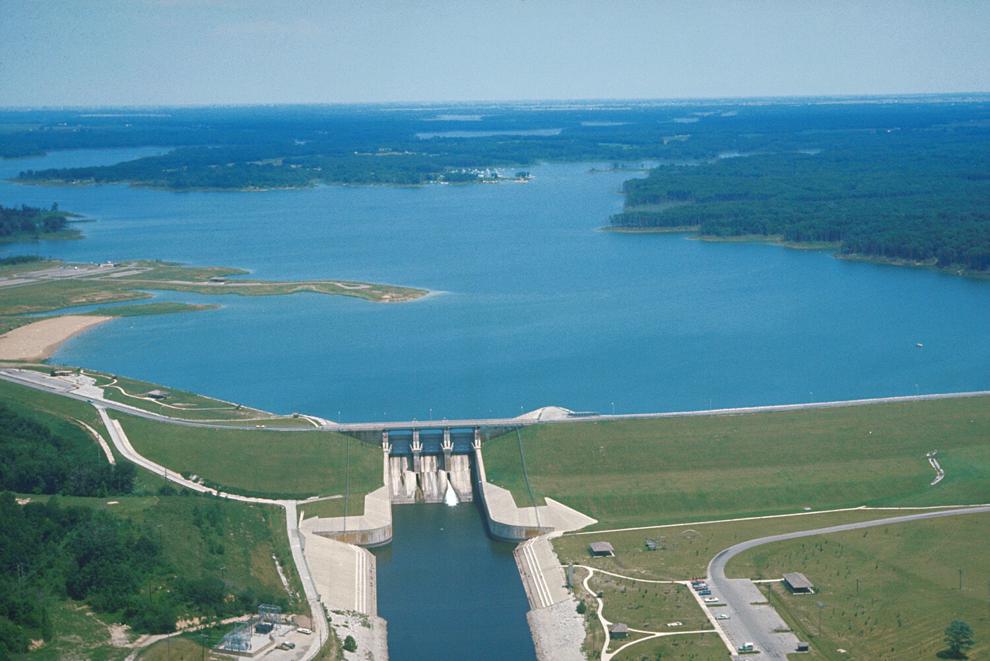 U.S. Army Corps of Engineers/courtesy
Release of water from Lake Shelbyville
"I notice that Lake Shelbyville is still at its normal pool height. Why isn't the Army Corps of Engineers releasing water from Shelbyville and other dams in the Missouri and Ohio River basin to raise the Mississippi to help with barge traffic for farmers and drinking water south of New Orleans?"
"Currently, our reservoirs are within their target guide curve bands or lower," said Joan Stemler, the U.S. Army Corps of Engineers' Chief of Water Control Operations. "There is not additional water to release and the amount of water to help New Orleans far exceeds what we could contribute due to their large channel capacity."
It's pretty much the same story when it comes to releasing water to aid Mississippi River barge traffic, according to Janet Meredith, Corps of Engineers public affairs specialist. "Right, not enough to impact the 9-foot-deep navigation channel between the last dam on the Upper Mississippi and the stretch down to New Orleans. We need rain; that will make the most significant difference," Meredith said.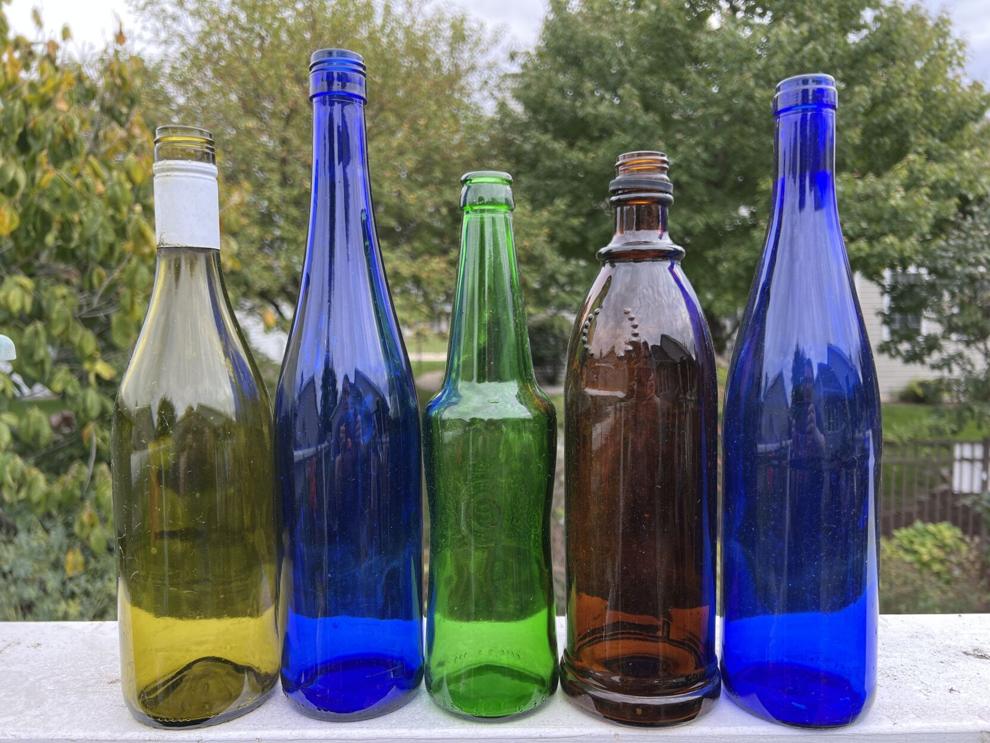 Kathy Reiser/The News-Gazette
Glass recycling in Urbana
"I have been told by several people that no one is buying recycled glass anymore. Yet, Urbana still collects it in their weekly pickups at the curb. If it is true that it cannot be resold, then what happens to all that glass?"
Courtney Kwong, the City of Urbana's recycling coordinator, said the city's U-Cycle program does recycle the glass it collects. It ends up being sold to recyclers and manufacturers here in the Midwest.
Mixed color glass is collected curbside or at apartment complexes in Urbana. From there, Kwong said it is taken to the city's recycling contractor, ABC Sanitary in Champaign, and sorted from the other recyclables at ABC's materials recovery facility (MRF).
Once sorted, the glass is stored until ABC Sanitary can find a buyer for it. The glass is then sent to a recycling processing facility where the glass is cleaned (labels removed), sorted by color (by a machine called an optical sorter), and crushed to serve as a "feedstock" for the manufacture of new products.
In recent years, recycled glass cullet from Urbana has been made into fiberglass insulation. Cullet is recycled broken or waste glass that is used in glassmaking.
"Recycled glass cullet can also be used for roadway applications and for the manufacture of new glass bottles. Most glass is transported to a large recycling processing facility in Chicago, where it is processed into the glass cullet used for the manufacture of new products (such as fiberglass insulation). ABC Sanitary also works with a local artist to provide glass for glass installation art projects," Kwong said.
"U-Cycle has collected less glass than in the past due to more food and beverage products being placed into aluminum, plastic, or paperboard containers in more recent decades. Glass is a heavier material, and more breakable and more costly to transport, so many companies are looking at alternatives such as aluminum and plastic containers."
Does water go back into Mahomet Aquifer?
"Of the millions of gallons of water Champaign-Urbana draws from the Mahomet Aquifer each day, how much finds its way back?"
Walt Kelly, head of the Groundwater Science section at the Illinois State Water Survey, said Illinois American Water pumps "on the order of 20-million gallons of water per day from the Mahomet Aquifer for the greater Champaign-Urbana area. Almost none of that water returns to the aquifer.
"The Mahomet Aquifer is confined in our region; That is, there are about 200 feet of low-permeability geologic units that sit atop the Mahomet sand and gravel deposits. As a result, very little of the water pumped in our area is returned to the aquifer. The good news is that low-permeability units protect the aquifer from surface contamination."
Kathy Reiser/The News-Gazette
Temporary 'Doggy Bag' dumpsters in Champaign
"An apartment building just north of Hessel Park has had a single-use dumpster bag out front for a month or two, instead of a real dumpster. I would think that might attract rodents. Is there a city ordinance about such bags?"
This type of dumpster — or "Doggy Bag," as a local hauler calls it — may be used temporarily at properties in the City of Champaign for construction debris and other similar types of refuse, according to city code-compliance officer Tim Spear.
He says these 6-cubic-yard bags are used in place of larger and more expensive roll-off dumpsters when there is a smaller amount of refuse. They are meant to contain dry waste, such as household goods, small pieces of furniture, flooring, insulation, roof shingles, carpet, packing materials, etc.
Dumpster bags are not allowed for use as the permanent trash container. The City requires trash containers to be leak-proof and be equipped with tight-fitting lids. A city staff member will visit the property, see what's in the doggy bag, and follow up if needed.
Spear reminds readers that if they have questions about anything on private property in the City of Champaign, "we welcome them to contact the Neighborhood Services Department at (217) 403-7070 or online at Submit a Nuisance Complaint – City of Champaign (champaignil.gov)."
Local King Tut exhibit in the 1970s
"When I was a very young child, I remember going to an exhibit of ancient Egyptian art/artifacts, most likely replicas, in Champaign. I think it was at Market Place Mall in the mid-1970s. I can remember staring at a gold mask replica. Can you find out what this event was?"
I'm old enough to remember when King Tutankhamun became a pop-culture phenomenon in the mid- to late-1970s. The boy king even inspired the King Tut novelty song by Steve Martin and the Toot Uncommons, who may or may not have been members of the Nitty Gritty Dirt Band. (And I may or may not have just implanted an earworm that will be playing in your head for the rest of the day.)
But back to the reader's question. Chicago's Field Museum of Natural History was one of the sites for the worldwide Treasures of Tutankhamun tour. To promote the main exhibit in Chicago, the museum also sponsored a traveling pictorial display that made it to Champaign in August of 1977.
Thanks to Champaign County Historical Archives apprentice Adam Beaty for digging up an Urbana Courier article that described this event. It said an "authentic King Tutankhamun exhibit" would be at Market Place Mall from August 10-14, 1977, displaying photographs, posters, King Tut's treasures, and a replica of his bronze burial mask.
The local exhibit also included a 30-minute slide show that played throughout the day. The attention spans of passers-by must have been a little longer back then.
Are clinic vaccines subject to extra fees?
"A recent article about COVID-19 vaccines explained that Carle and Christie Clinic patients can schedule appointments for vaccines in October. But what fees will be incurred if the vaccine is received in a clinic? Any random other fees, such as a 'facility fee'?"
I asked representatives of both clinics about that. The answers may not have been as … direct … as the questions were.
From Brittany Simon at Carle: "With the shift from government purchase to the commercial market, Carle Health's process for acquiring and administering the COVID-19 vaccines has changed. However, patients can rely on quality care when receiving a COVID-19 vaccine at any Carle Health facility, just as they would schedule any needed immunization.
"While coverage will depend on an individual's insurance coverage, most insurers are required to cover the updated vaccines without cost-sharing. For questions about your coverage, check with your insurance provider before scheduling an appointment," Simon suggested.
Over at Christie, Michelle Antonacci said COVID-19 vaccines are available from their Departments of Pediatrics, Family Medicine, Internal Medicine, OB/GYN and Pulmonology "at provider appointments only." She encourages patients to contact their provider to confirm availability and to discuss copays and insurance coverage regarding appointments and vaccines.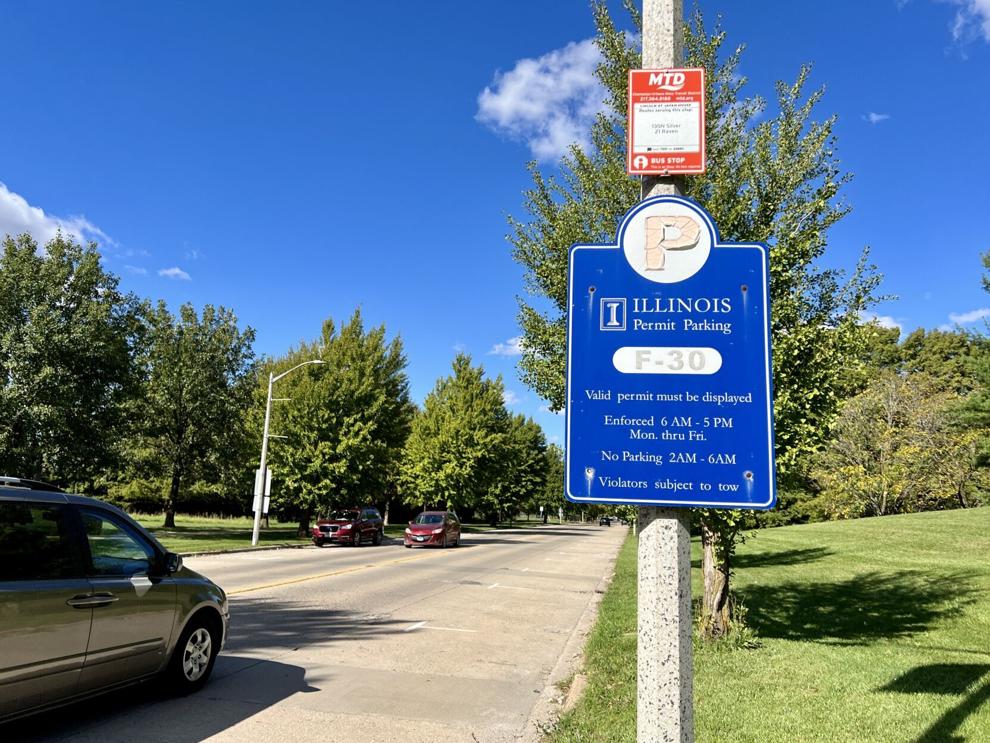 Kathy Reiser/The News-Gazette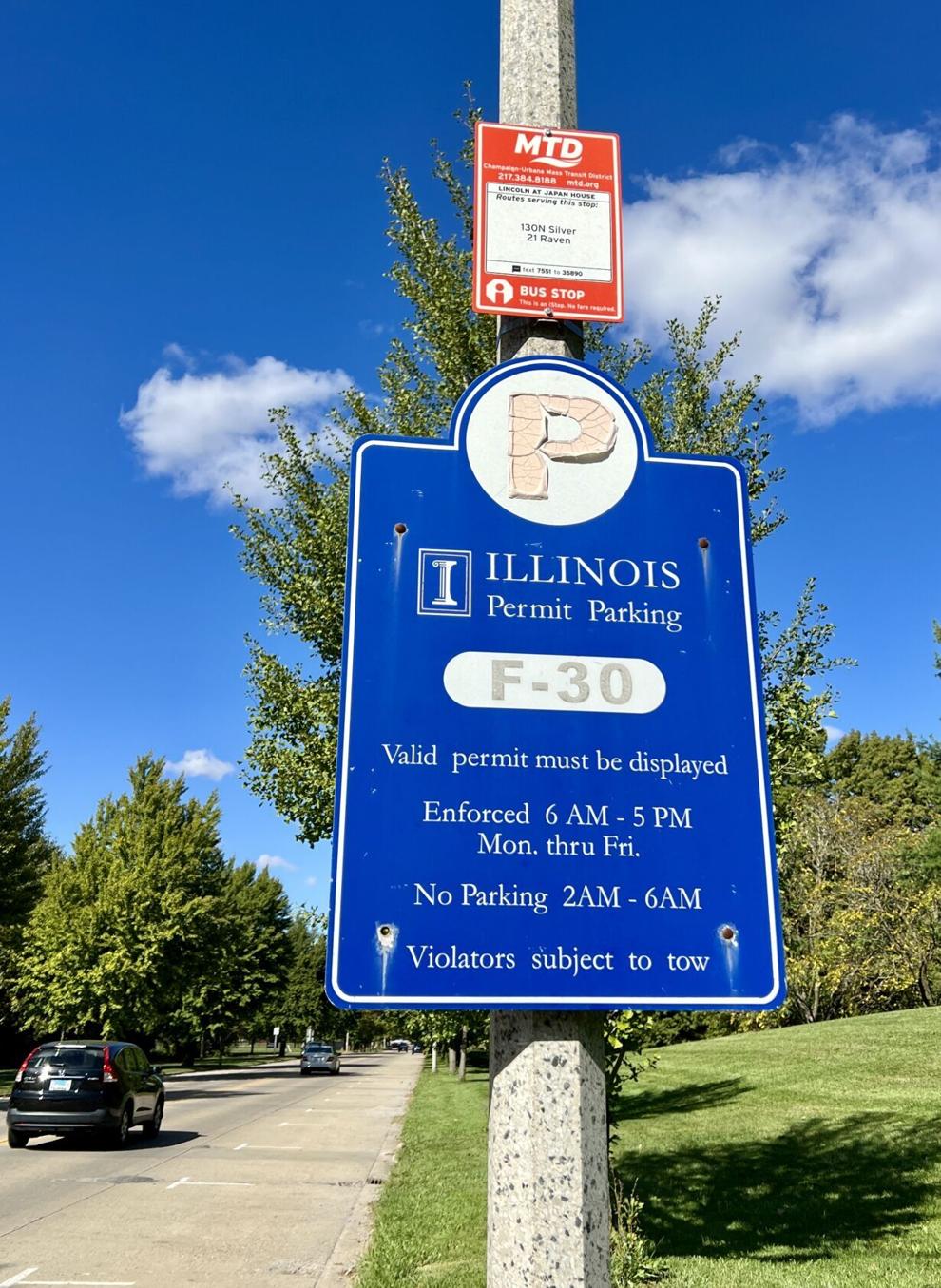 UI parking lot on Lincoln Avenue
"Lincoln Avenue has four travel lanes from Windsor Road to Hazelwood, then it tapers to two travel lanes with the other two becoming a permitted parking lot for the U of I (Lot F-30). How did those two lanes of a public street become a UI parking lot?"
Welp … the portion of Lincoln Avenue from Florida Avenue on south functions as a public street, but it is not a City of Urbana street. Rather, it is owned and maintained by the UI. So I guess it's the university's prerogative to decide whether those outer two lanes are best-used as a parking lot or as travel lanes at this time.
Here's the official answer from UI Facilities & Services' Steve Breitwieser: "Based on the existing transportation volume in the area, on-street permit parking and public parking access along Lincoln Avenue (Lot F-30) are necessary for supporting activities at the College of Veterinary Medicine, UI Arboretum, Japan House, Campus Recreation fields and other close locations. F&S is presently updating street project planning for this and nearby road segments that balance parking needs with future complete street improvements.
"Those efforts will strive to strengthen the transportation network for this section of south campus and all modes of travel, especially with the forthcoming construction of the Doris Kelley Christopher Illinois Extension Center at the intersection of Lincoln Avenue and Hazelwood Drive."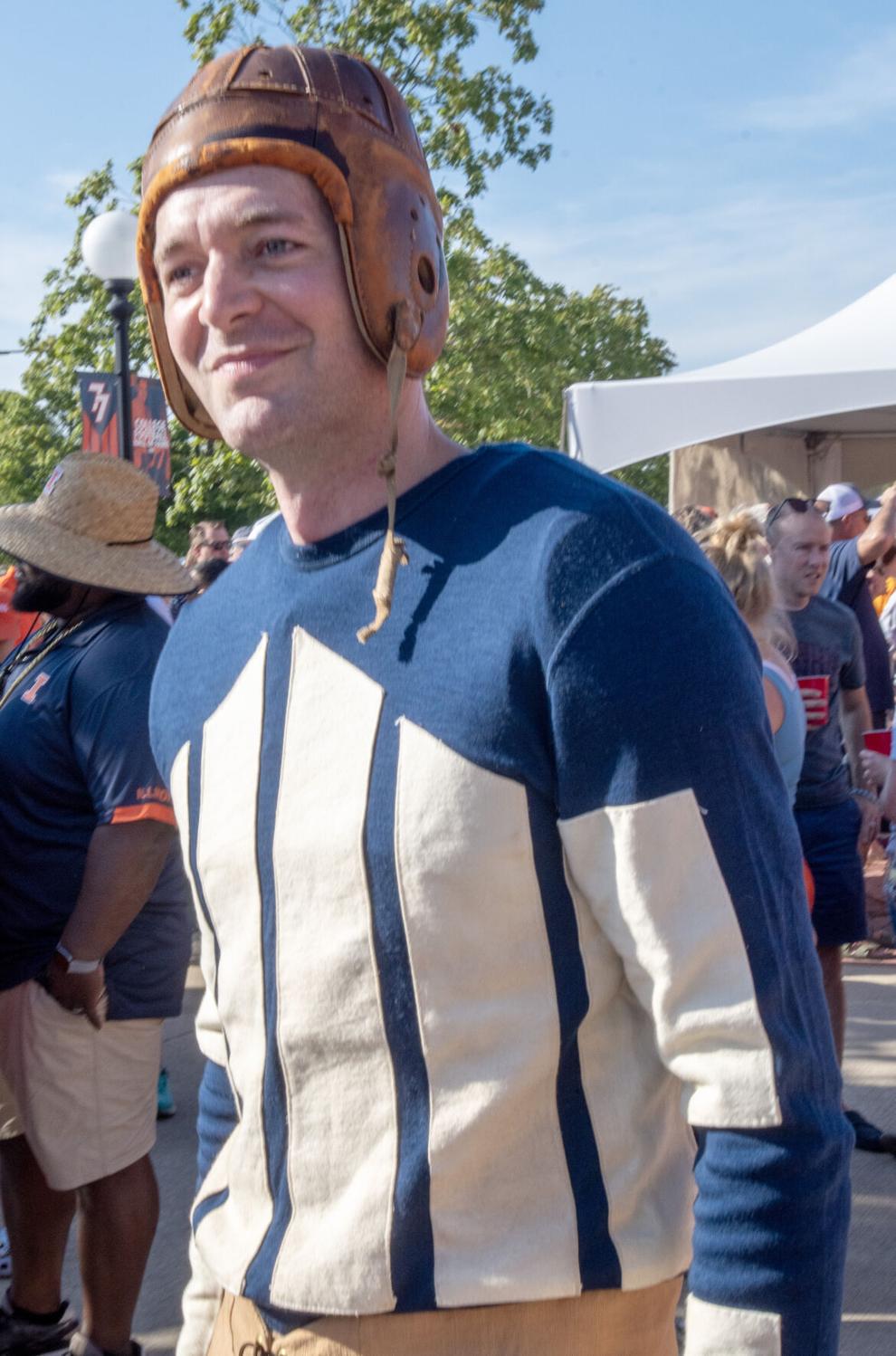 Buy Now
Wearing authentic clothing,"Red Grange", the Galloping Ghost, wanders the crowd during activities prior to the opening Illini football game at Memorial Stadium in Champaign on Saturday, Sept. 2, 2023.
Robin Scholz
Red Grange, man of mystery
"What is the name and age of the man who runs the 77-yard dash at Memorial Stadium as part of the Jimmy John's promotion at the end of the third quarter? And will he always be the Red Grange runner? He is super-fast!"
The answer, from the UI's Cassie Arner, turned out to be shorter than the question: "We are not disclosing the name or personal information about the individual personifying Red Grange."
We do know this: The fleet-footed Red Grange is different than the Galloping Ghost who roams — where else? — Grange Grove and mingles with tailgaters before each home game.
Could PD entryway be more welcoming?
"I was at the Champaign Police Department on a recent morning, and noticed that the lobby is dark and they buzz visitors in. Could they do something to make it feel less intimidating?"
I posed that question to Joe Lamberson at CPD, and he said the city "strives to make all its facilities welcoming to members of the public who come in to do business with the city.
"In addition to supplemental lighting, the Police Department's lobby also includes large two-story windows which pour lots of natural light into the building. CPD's lobby is open to the public and staffed 24 hours per day, seven days per week, 365 days per year. It is maintained as a safe environment for anyone who enters, regardless of when they arrive or under what circumstances," he said.
"Our friendly and professional police service representatives staff the facility and provide excellent customer service to our residents, visitors, police officers and law enforcement partners. CPD staff works diligently to ensure that the varied needs of all walk-in visitors are met in an efficient and helpful manner.
"Their duties also include fielding approximately 62,000 calls per year, monitoring radio traffic to assist our officers, along with processing police reports, vehicle tows, and providing fingerprint services. We welcome the public to stop by the Champaign Police Station at 82 E. University Avenue anytime they need assistance, day or night."
Fishing in retention pond
"Is the retention pond at Illini Plaza stocked with fish? I saw someone fishing there the other day…."
No word on that from the plaza's manager, Ramshaw Real Estate. But Land of Lincoln Legal Assistance attorney Brett Kepley says anglers should never assume they'd be welcome to fish on privately owned property — even if they see someone else doing it.
"Here the issue indeed is, 'who owns the property a pond is on — and if (it's) private, do the fisher persons have permission to fish?'"
And if someone does have the owner's permission to fish in a lake or pond, including a retention pond…? Kepley said Illinois law "does not require a fishing license to fish on private property, except for fishing on club-owned land or land owned by lake development organizations. Otherwise, (on) all public property you generally do need a license."
The ifishillinois.org website offers a partial listing of area lakes and other places that welcome anglers.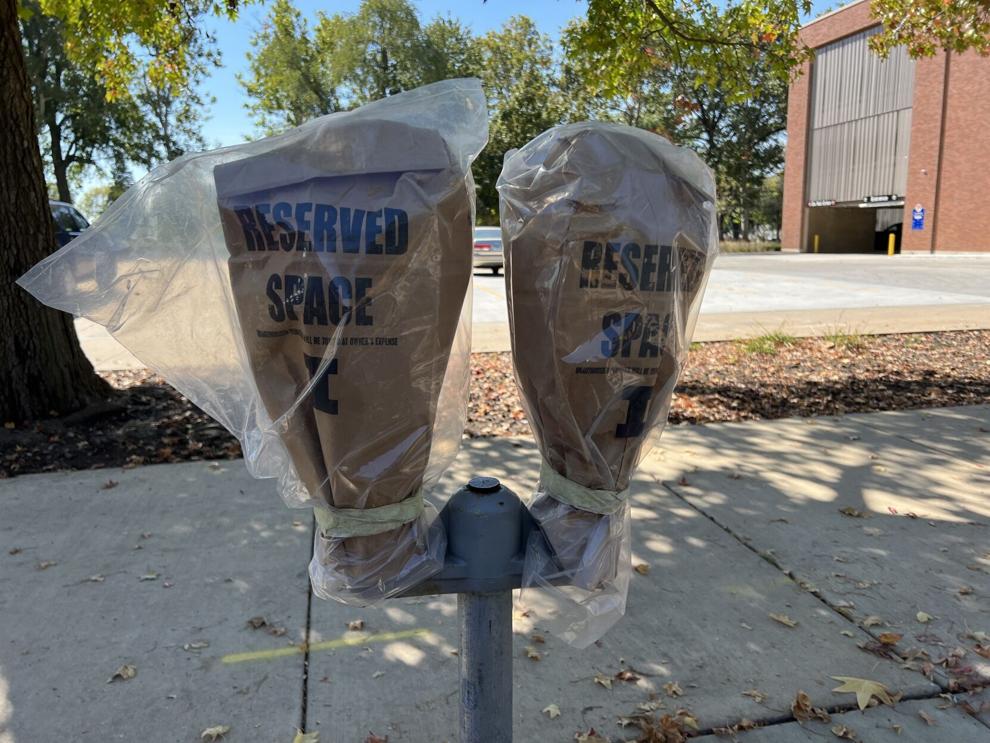 Kathy Reiser/The News-Gazette
Bagged meters on Campus
"Why are 13 parking meters bagged-off on the south side of Pennsylvania Avenue in front of the new parking garage?"
The bagged meters on Pennsylvania Avenue are for work related to the Lot E-15 parking structure, said UI Facilities & Services spokesperson Steve Breitwieser. "Substantial completion was achieved in August, and the meters should return to regular service later this semester," he said.