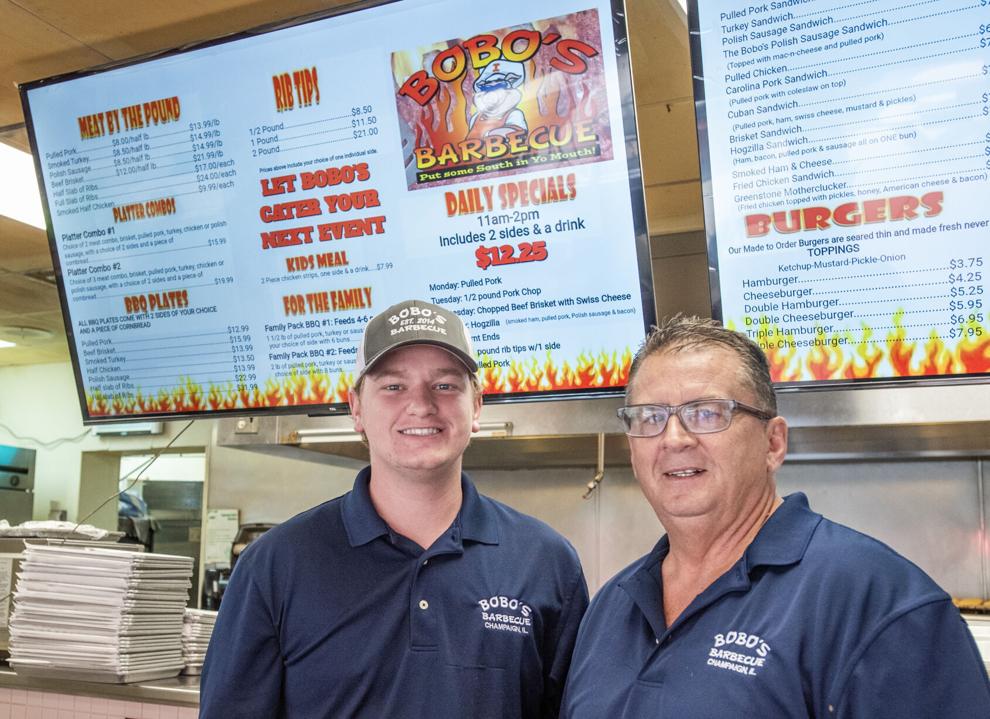 Buy Now
Owner George Dries, right, and manager Alden Summitt at Bobo's Barbeque in Champaign.
Robin Scholz/The News-Gazette
At 2 p.m. Fridays, our Kathy Reiser answers reader questions. Put her to the test by clicking here or email [email protected].
***
You'll have to wait a bit for this, but Bobo's Barbecue restaurant in Champaign plans to add fried chicken its menu.
It will take about a month to get the equipment and get it installed, said owner George Dries. Being added will be fried chicken, chicken wings and chicken nuggets, plus a hot chicken sandwich seasoned with hot sauce, he said.
Dries, who has been in business at 1511 W. Springfield for a decade, said it's been about that long since he made a change to the menu.
"I just like fried chicken," he said.
Bobo's features meats that are hand-rubbed with more than a dozen herbs and spices before they go into the smoker, according to the website.
The menu includes burgers, pulled pork, beef brisket, smoked turkey, Polish sausage and other sandwiches, plus rib tips and sides. It has daily specials and also offers catering.
Celebrate Oktoberfest
Horsch Radish, a German restaurant in Gibson City, will be celebrating Oktoberfest over the next two weekends.
Owner Sam Horsch said there will be both indoor service with the full menu available and outdoor service with a more limited service and an outdoor bar Sept. 29-30.
For the weekend of Oct. 6-7, there will be both full service at the restaurant at 209 N. Sangamon Ave. and an outdoor menu served with bar service at Countryside Campground, 403 E 200N Road, Gibson City.
Featured along with the food will be some bands playing and German beers, he said.
Reservations are recommended, but not required, Horsch said.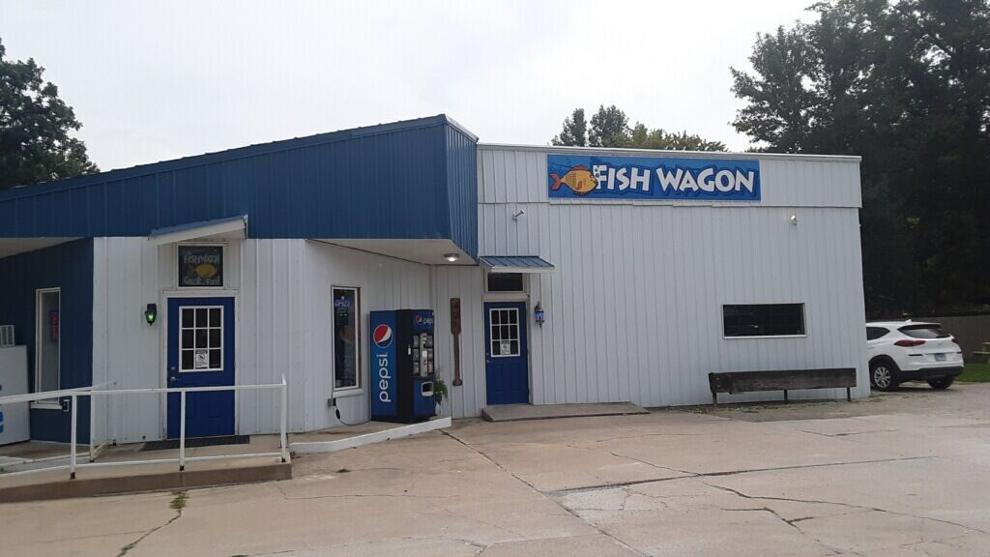 The Fish Wagon restaurant in Farmer City
For sale
Wanted: A buyer to take over the Fish Wagon in Farmer City so its longtime owners can retire.
Hope and Kevin Castle have operated the restaurant at 401 W. Clinton Ave. for eight years at that location, and before that ran it as a mobile unit starting in 1999, said Hope Castle.
The Fish Wagon, listed at $190,000, has been on the market for more than a year and Hope Castle said she and her husband are willing to give it another year or year-and-a-half to find a buyer.
"We knew it would take some time, especially during COVID," she said.
The restaurant specializes in fish, but also has burgers and other sandwiches and sides on the menu.
Hope Castle said they hope to find a buyer to continue operating the restaurant.
Their retirement plans, she said: "We have a grandson we'd like to spend some time with."
Comedy in Monticello
3R Squared Coffee and Events at 106 S. Charter St., Monticello has released the details for six performers coming up for its comedy series starting next month.
The series will open Oct. 12-14 with Francisco Ramos, a finalist on NBC's "Last Comic Standing." Other acts in upcoming months will include Sam Miller from Olympia,Wash.; another "Last Comic Standing" finalist, Joe Machi; Matthew Broussard; J.B. Ball and J. Chris Newberg.
Co-owners Brandon and Beth Taylor also operate 3 Ravens Food and Spirits, an Irish-American blended restaurant next door.
They began offering shows at 3R Squared in April last year, said Brandon Taylor.
"This year, we've stepped it up as far as talent goes," he said.
This venue offers a chance to enjoy comedians performing in a small, intimate setting that holds up to 80 people, he said.
Admission varies, but it's typically $25 per person for most performers, he said.
Brandon Taylor, a talent buyer, was working on the comedy series this past week from the Middle East, where he's currently stationed as an Army National Guard reservist.
To buy tickets: https://3ravens.pub
New owner
Beringer Realty, which describes itself as Urbana's only woman-owned boutique real estate brokerage, has a new owner.
The new owner and managing broker is Megan Gillette. She succeeds retiring owner Debbie Hensleigh.
Gillette is an Urbana native who has been investing in local real estate since 2005. She has founded two property holding companies and a property management company.
Beringer Realty was relaunched as a boutique residential brokerage by Hensleigh in 2010.Under her leadership, the firm says, it assisted clients with more than 450 properties.
Beringer is planning to recruit experienced real estate professionals representing the linguistic, cultural and socio-economic diversity of Champaign-Urbana.
Bid approved
The Parkland College board has approved a $5.4 million bid from Petry-Kuhne Co. of Champaign to build its planned AGCO Training Center.
The new 18,000-square-foot training center is is being made possible by a $5 million donation from Georgia-based agricultural machinery and precision-ag company AGCO Corp.
The facility will house a new AGCO Agriculture Service Technician degree program, for which graduates will earn an associate's degree in applied science.