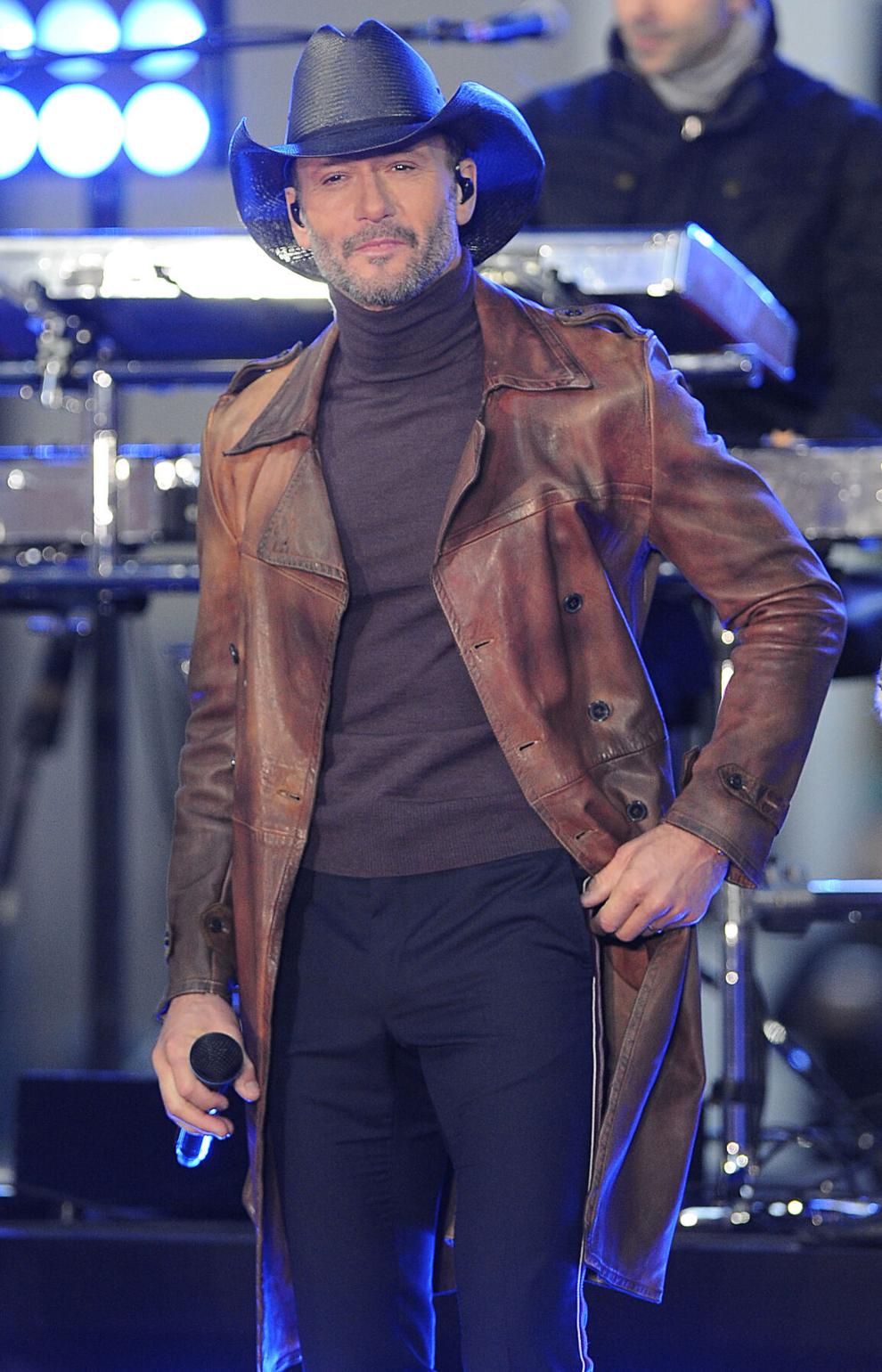 Tim McGraw performing on NBC's 'Today' at Rockefeller Plaza in New York City.
Kristin Callahan/Ace Pictures/ Zuma Press/TNS
He's one half of one of country music's leading power couples, joining bride Faith Hill on a 2000 tour that included a stop in Champaign and stood as the genre's highest-grossing string of concerts of all time … until Taylor Swift came along.
But these days, TIM McGRAW is flying solo, playing before packed houses at venues of all shapes and sizes, from the Whisky a Go Go in West Hollywood to the Illinois State Fairgrounds in Springfield.
Seller of 80 million-plus records, winner of 14 Academy of Country Music awards and actor with 10 movie roles in his filmography, McGraw is the focus of Part 39 of Editor Jeff D'Alessio's ongoing series digging into the details of entertainers' tour riders.
McGraw's rider was obtained from the Illinois Department of Agriculture via open-records request following his Aug. 11 fair show. Like those of other fair performers, it was heavily edited, with the state scratching out the many items it doesn't spring for, no matter who's asking for the fancy transportation, post-show food or gourmet coffee.
— The state can do: The tour's demand for 60 pre-washed shower towels and access to a same-day fluff-and-fold professional laundry service that offers bulk rates.
— No can do: The "local wardrobe person" who must sign a confidentiality agreement, have "professional tailoring capabilities" and come with a steamer, iron, ironing board, sewing machine and full sewing kit.
— Can do: Four of the tour's no-nos — no dishes with alcohol in the recipes; no smoking anywhere where food is being prepped or eaten; no autographs or photos backstage; and no Dasani-brand water.
— No can do: The self-service panini press, espresso machine, large bottles of Purell in the dining room and packs of Wet Ones on every table.
— Can do: 14 of the 20 items in the star dressing room's portion of the rider, including four Muscle Milk Pro Series Mega Protein shakes ("intense vanilla flavor"), a container of Honey Bear raw honey and a can or bag of raw, unsalted almonds.
— No can do: Six individual ginger shots, eight cans of Red Bull and a cutting board with a sharp knife.
— Can do: About half of the items in the band dressing-room rider — the organic fruit tray for eight, the package of low-fat mozzarella string cheese and the eight Harmless Harvest coconut waters.
— No can do: The pound of Allegro whole bean organic coffee, the two boxes of Rise protein bars (cacao banana or almond honey) and the four Green & Black's brand organic dark chocolate bars.
— Can do: Everything on the extensive breakfast menu, including bacon ("crispy please"), assorted cereals (Frosted Flakes and Cinnamon Toast Crunch are among the touring party's favorites) and vegetarian/vegan options.
— No can do: After-show food, which should include New York-style pizza ("thin crust and preferably not from a chain"), grilled chicken or good grub from a local restaurant with a kitchen that stays open beyond 10 p.m. on show night.
— Can do: Both the self-serve sandwich bar (with turkey, ham, roast beef, three kinds of cheese, four kinds of bread, chicken salad, tuna salad and absolutely, positively no onion relish) and extensive salad bar (with at least three kinds of lettuce, seven kinds of dressing, all the traditional toppings, a soft cheese and grilled chicken).
— No can do: Clearing out the venue for the tour's technical setup at least 16 hours prior to the doors opening, with "no scheduled or unscheduled activities" from load in to load out. This being a state fair, the grandstand doesn't stay empty for long — on Aug. 11, McGraw shared the venue spotlight with harness racing.
— Can do: Five green Gatorades for the stage coolers, four new masks with an oxygen tank just in case, three lockable dressing rooms, two boxes of medical-grade masks and the name and contact info for one "fully licensed and available physician with privileges of admission to the closest, full-service hospital or clinic."
— No can do: The "new, large, black SUV such as a Suburban or Expedition," for one of the three required runners to get around in.
— Can do: Everything on the tour's dinner menu, including three hot dishes. Among the tour's suggested options: something southern-inspired with fried chicken as the centerpiece, a made-to-order stir fry station, meatloaf and Mexican.
— No can do: keeping any and all "signs, placards, banners or any advertising material" at least 50 feet from the stage. The 2023 grandstand lineup was brought to you by the Illinois State Lottery, and "signage will be hanging from (the) stage," it's written above that lined-out portion of McGraw's rider. "No artist endorsement shall be implied," the state adds.