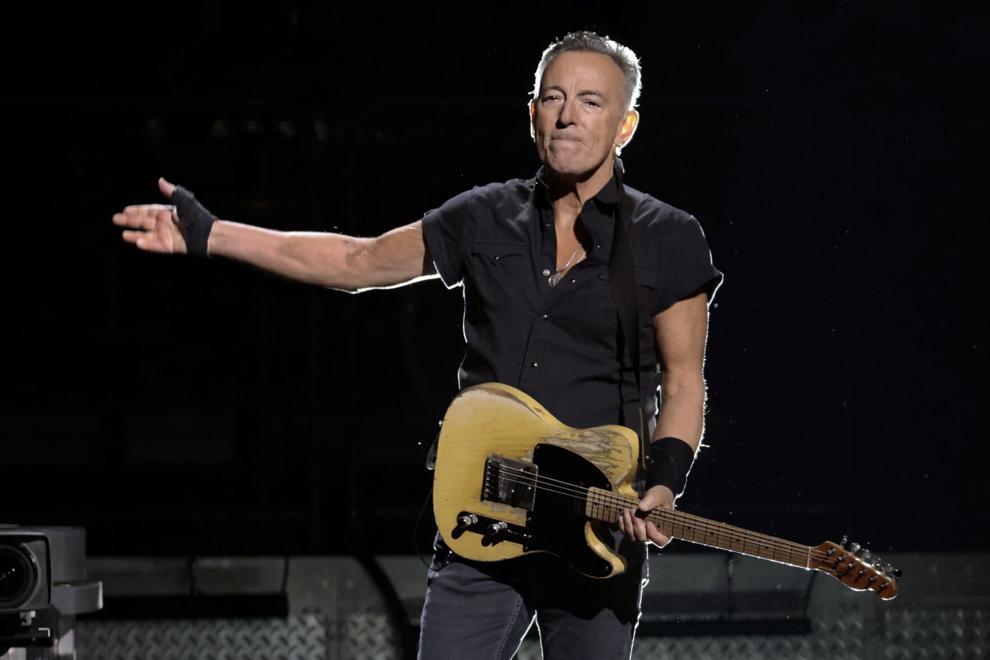 Bruce Springsteen announced Thursday that the E Street Band is putting off touring until 2024.
Elizabeth Robertson/The Philadelphia Inquirer/TNS
A few things even the most devout of fans might not know about the Grammy, Oscar, Emmy, Tony, Golden Globe, AMA and VMA award-winning subject of 46 books, 7.1 million YouTube videos and umpteen covers: BRUCE SPRINGSTEEN's pre-show go-to meal is on the simple side (chicken soup — "with lots of broth"), his after-show order is 16 cold, large, fresh shrimp ("with homemade seafood sauce") and his dressing room demands include two 99-cent bags of Rold Gold pretzels ("no substitutions"). 
This, according to his official tour rider from concert No. 3,455 of the 74-year-old icon's career — a 26-song, one-encore, two-and-a-half-hour set in March at North Carolina's Greensboro Coliseum. ¶ As with the 39 previous installments in Editor Jeff D'Alessio's series digging into the details of entertainers' tour riders, Springsteen's was obtained via open records request.
In the wake of Thursday's news that the Boss will postpone 2023 tour dates to recover from peptic ulcer disease, here's a sampling of what's in his 37-page rider.
— Springsteen is a cinch to shop for compared to his wife/E Street Band guitarist, Patti Scialfa. Among the 44 items to be left in her dressing room when the tour rolls into town: three "high-fashion magazines — Vogue, Elle, Vanity Fair" ("no Cosmopolitan-type magazines please"); one "quality vase of white roses with no filler" ("no baby's breath, greens, etc."); one small container of martini olives, "FRESH from a gourmet shop"; one fresh fruit basket "to include only bananas, seedless white grapes, green apples, pears"; and bottles of Belvedere vodka (750 ml) and Santa Margherita Pinot Grigio.
— And this: "All tables must have clean white linen tablecloths with no wrinkles. Please do not add extra 'sparkle.'"
(1/5) Bruce Springsteen has continued to recover steadily from peptic ulcer disease over the past few weeks and will continue treatment through the rest of the year on doctor's advice. pic.twitter.com/rMgZZsKcfo
— Bruce Springsteen (@springsteen) September 27, 2023
— Someone in the catering crew on every stop is going to be able to brag to their friends about the time they hand-squeezed the fruit and strained the pulp that produced the 16-ounce bottle of lemon juice left in the dressing room of the Boss.
— Other must-haves for the star's dressing room, for which the tour will provide a blender, toaster oven and electric tea kettle: six hardboiled eggs, peeled with the yolks removed; one medium plastic container of peeled sliced apples; another medium plastic container of seedless watermelon cut into cubes; and 12 bottles of three kinds of Bai 5-brand beverages: Congo Pear, Costa Rica Clementine and Kula Watermelon.
— TBD: Whether the manicurist, who must be pre-booked for the venue on show day, will be needed to "do a man's and a woman's acrylic nail." Not just any nail technician from the strip mall down the street will suffice. "This is more than a regular manicure," tour management writes.
— Ditto for the massage therapist, who must be on stand-by on show day for "deep tissue/sports massage" at the venue.
— Needed to transport the talent from the airport to the hotel to the venue and back: four "American-style SUVs" (one with SiriusXM radio installed) or Mercedes-Benz Viano vans with tinted windows and the rear seats removed for luggage storage, plus four more Viano vans and one town car.
— "All vehicles must have English-speaking, nonsmoking, COVID-vaccinated drivers," the rider notes. "Drivers shall remain masked with a mask covering their nose and mouth while Artist's personnel are in their vehicle. Proof of recent negative COVID test may be required."
— The tablecloths should be linen, the utensils metal, the plates and cups stoneware and the food and drink "of top quality" and "served and presented in the most appetizing manner possible" when the band and crew are seated for a group dinner. Bruce and Patti will be dining in their dressing rooms — him on soup, her on grilled skinless chicken breast, salmon or tuna (well done) and veggies (no zucchini) "sautéed in a little bit of olive oil."
— This is not a one-stop-at-the-grocery-store kind of rider: The checklist for the E Street Band Food Room alone — not to be confused with the E Street Lounge Hospitality Area — is 46 items long, with brands ranging from St. Dalfour wild blueberry fruit spread to Rice Dream vanilla rice drink to Glutino gluten-free cinnamon raisin bread.
— If it's a "stadium show," as opposed to a smaller arena show, the tour needs 408 large white bath-sized, pre-washed towels — 180 for the staging driver showers, another 180 for the production truck drivers and 48 for the dressing rooms. Plus 38 stage rags, which "can be stained or lesser-quality towels."
— Someone with the host venue will need to make a stop at a local nursery or garden center to pick up the 16 "tall, non-flowering potted floor plants" required — six for Bruce's dressing room, six more for Patti's and four for the management office.
— Also, a furniture rental store — for the 21 required dressing room couches — including one for Bruce (neutral color) and two for Patti (white or light color); eight love seats; 10 coffee tables; 13 end tables; 27 floor lamps with bulbs and dimmers; 15 table lamps; seven full-length mirrors; three large fridges; three small fridges; 47 padded chairs; and nine rolling office chairs. Among the six types of adult beverages to be delivered to the tour management office at noon on show day: six bottles of "quality beer," with this one notation: "not Budweiser."
— Other tour no-nos: Craisins in place of dried cranberries, "military-style" uniforms on security guards, buffet-style meals, instant oatmeal for the crew's breakfast and "farm-raised" fish for guitarist Steven Van Zandt's pre-show meal ("the flounder, shrimp, sole, tilapia or Alaskan — not Atlantic — halibut" must be "wild caught," the rider specifies).