Raising a child has never been cheap, but a new study shows that it's only becoming more expensive.
Loan company LendingTree looked at data at the national and state levels to determine the cost of raising a small child. They collected information from multiple categories including rent, food, child care, apparel, transportation, health insurance premiums and state tax exemptions or credits.
The company found that the average annual essential cost to raise a kid rose nearly 20% (19.3% nationally) between 2016 and 2021, the latest year for which complete data was available.
According to the study, Families are projected to spend $237,482 over 18 years to raise a child.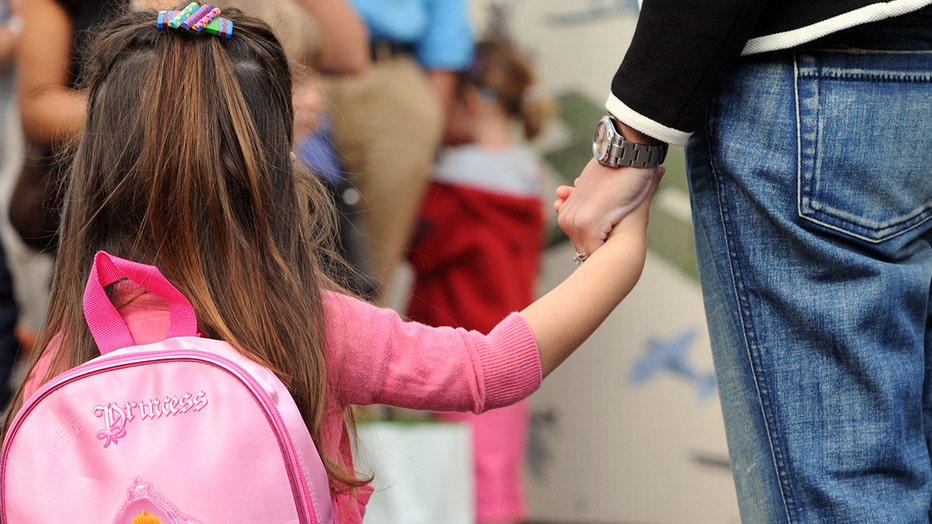 A girll holds the hand of her mother in the courtyard at school. (Credit: Anne-Christine POUJOULAT / AFP via Getty Images)
"There is so much that goes into providing even the basics for that little person," Matt Schulz, LendingTree's chief credit analyst, said, adding, "Those things you need aren't getting any cheaper these days."
Hawaii is most expensive state to raise child
Basic annual expenses to raise a small child in 2021 equaled $30,506 in Hawaii, more than any other state. The District of Columbia and the state of Washington followed at $30,097 and $28,116, respectively. 
Annual cost to raise a small child:
Families in Hawaii spent an average of 23.9% of their income in 2021 on the basic annual expenses to raise a small child. 
The Aloha State's cost, in large part, is parents paying a whopping $4,176 more a year in rent than their child-free counterparts. Aloha State parents can also expect to pay an additional $4,010 annually in health insurance premiums. 
The South revealed as cheapest region to raise child
In contrast, annual costs to raise a kid were lowest in Mississippi at $15,555, Alabama at $16,192 and Arkansas at $16,284. The states with the smallest expenses paid among the lowest for infant day care at less than $8,000 a year.
18-year costs of the essentials to raise a child:
Despite this, parents in Mississippi, Alabama and Arkansas still pay more than $1,000 more a year in rent than nonparents, and have food, transportation and health care premium cost increases comparable to more expensive regions. 
Full rankings: Costs to raise a small child in each state
Hawaii – $30,506

District of Columbia – $30,097

Washingon – $28,166

Massachusetts – $27,535

Maryland – $27,317

New York – $26,017

California – $25,680

Oregon – $25,432

New Jersey – $25,390

Nebraska – $25,280

Colorado – $25,169

Connecticut – $25,099

Virginia – $24,317

Minnesota – $24,242

Alaska – $23,545

Kansas – $23,327

Vermont – $23,021

Nevada – $22,436

Illinois – $22,310

New Hampshire – $22,060

Oklahoma – $21,290

Arizona – $21,179

Rhode Island – $21,087

Montana – $20,727

Wisconsin – $20,612

Maine – $20,474

Pennsylvania – $20,405

North Carolina – $20,156

New Mexico – $20,078

Utah – $19,946

Texas – $19,921

North Dakota – $19,710

Delaware – $19,521

West Virginia – $19,509

Missouri – $19,498

Michigan – $19,411

Idaho – $19,329

Indiana – $19,150

Florida – $18,914

Iowa – $18,779

Tennessee – $18,474

Wyoming – $18,261

Ohio – $17,657

Kentucky- $17,607

South Carolina – $17,085

Louisiana – $16,869

Georgia – $16,477

South Dakota – $16,395

Arkansas – $16,284

Alabama – $16,192

Mississippi – $15,555
LendingTree says it may be worthwhile to see if there are accessible ways to lower your proportional child-related spending. 
"It makes sense to take a hard look at your budget to see how much you can afford to spend each month and if perhaps there might be some moves you could make within that budget to free up some extra cash, if necessary," Schulz continued. 
LendingTree suggests saving ahead of time if possible.
"If you can put some money away and build up some savings in the early going, it can help you significantly as your kids get older," Schulz said. "Even a few dollars per paycheck consistently added over 15 to 20 years can add up to some very real money. Having that cushion means that you don't necessarily need to put that new big-girl bed on your credit card."
This story was reported from Los Angeles.