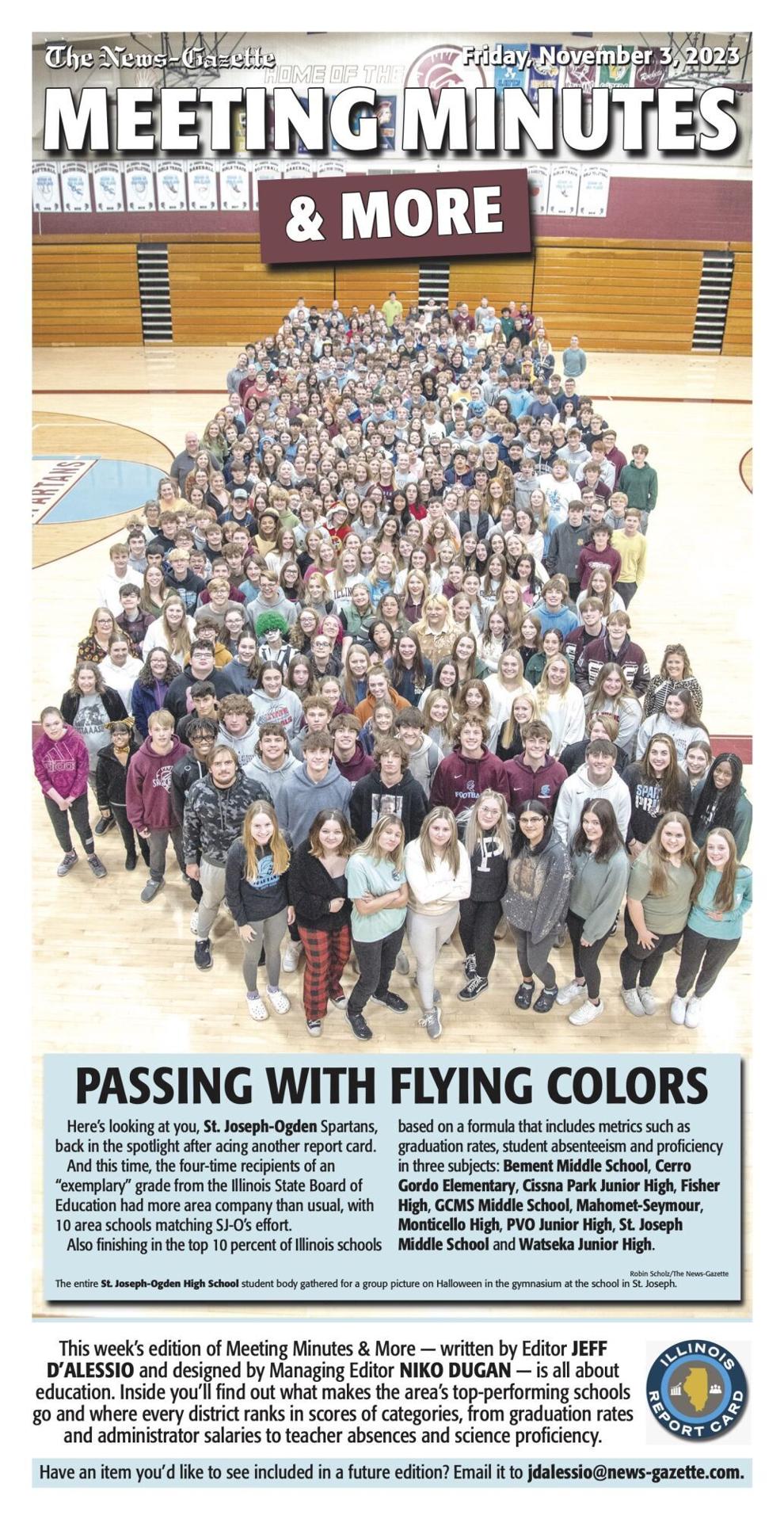 This story appeared in a special education-themed edition 'Meeting Minutes & More,' a weekly, six-page section in the print editions of Friday's News-Gazette reported and written by Editor Jeff D'Alessio and designed by Managing Editor Niko Dugan. Click here to read an electronic version of this week's section. Click here to subscribe to The News-Gazette.
This is the first time in the 10 years ISBE has been tracking administrator pay that area leader Unity topped the state average pf $116,908. The district's rate jumped by $8,545 from last year's report card to this one.
Four other area districts also exceeded the state average.
1. Unity: $124,5502. Rossville-Alvin: $123,1303. Cerro Gordo: $122,0394. Ludlow: $121,9005. Urbana: $121,5616. Tuscola: $113,6577. St. Joseph-Ogden: $113,1248. GCMS: $112,968
9. St. Joseph Grade School: $110,95610. Bement: $110,27411. Clinton: $109,51212. Heritage: $108,88013. Champaign: $108,41514. Arcola: $107,61615. Mahomet-Seymour: $106,41616. Blue Ridge: $104,495
17. Milford: $103,75818. Bismarck-Henning: $101,63519. Danville: $101,63320. Rantoul City Schools: $99,93421. Gifford: $98,52522. Oakland: $98,45623. Monticello: $96,85524. LeRoy: $96,420
25. Armstrong High: $96,26226. Cissna Park: $95,97727. Sullivan: $95,15128. Iroquois County: $94,63129. Westville: $92,05730. Shiloh: $91,50031. Georgetown-Ridge Farm: $90,52832. Salt For: $90,000
33. Arthur: $89,70334. PBL: $89,22235. Potomac: $88,40836. Thomasboro: $87,51937. Fisher: $86,91838. Prairieview-Ogden: $86,55339. Iroquois West: $85,70440. Rantoul Township High: $83,393
41. Oakwood: $82,39642. Villa Grove: $81,72443. Armstrong-Ellis: $81,66244. DeLand-Weldon: $81,49845. Edgar County: $78,27746. Hoopeston Area: $77,83047. Kansas: $75,643