Jury finds David DePape guilty
It took the jury about seven hours to reach their verdict in the case of David DePape, the man who broke into Nancy Pelosis San Francisco home and attacked her husband with a hammer when he realized she was not home. He was found guilty of attempting to kidnap the former Speaker of the House and beating her husband with a hammer.
SAN FRANCISCO – A federal court jury on Thursday convicted the man who broke into the San Francisco home of Nancy Pelosi and attacked her husband with a hammer on charges of attempted kidnapping and assault.
The jury deliberated for about eight hours before finding David DePape, 43, guilty of attempted kidnapping of a federal official and assault on the immediate family member of a federal official. He faces up to 50 years in prison.
A spokesperson for Nancy Pelosi released a statement on behalf of the family, expressing deep gratitude for the overwhelming support and well-wishes they have received.
"The Pelosi family is very proud of their Pop, who demonstrated extraordinary composure and courage on the night of the attack a year ago and in the courtroom this week. Thankfully, Mr. Pelosi continues to make progress in his recovery," the family said in a joint statement.
The attack on then-82-year-old Paul Pelosi that was captured on police body camera video just days before last year's midterm elections sent shockwaves through the political world.
David DePape convicted on charges from attacking Nancy Pelosi's husband
A jury has convicted the man who broke into the San Francisco home of Nancy Pelosi and attacked her husband with a hammer.
DaPape admitted to carrying out the attack on October 28, and said his plan was to end what he viewed as government corruption.
He expressed remorse during his testimony on Tuesday for hitting Pelosi in the head with a hammer, fracturing his skull.
Pelosi's skull fracture had to be mended with plates and screws. He also needed stitches on injuries to his right arm and hand.
DePape testified that his plan was to get Nancy Pelosi and other targets to admit to their corruption. He said he bludgeoned Paul Pelosi after realizing his larger plan might be unraveling.
Paul Pelosi video shows moment of brutal hammer attack and suspect entering Pacific Heights home
The body camera footage of the attack of Paul Pelosi in his San Francisco home was released on Friday – the first time the public has been able to witness the home invasion that left the former House Speaker's 82-year-old husband with a fractured skull. Evan Sernoffsky reports
"He was never my target, and I'm sorry that he got hurt," DePape said.
Over the course of the four-day trial, prosecutors painted a picture of a man who knew full well what he was doing and targeted the prominent Democrat and her family.
David Levine from the University of California San Francisco School of Law said that was a winning argument.
"The vast amount of evidence was that he was going after her because she was the Speaker of the House and a very prominent federal official, not just a randomly famous person," said Levine.
Sentencing is in the hands of the judge in the case, DePape could face decades in prison. He's due back in federal court for a hearing next month.
DePape still faces a trial in San Francisco Superior Court for attempted murder and assault. His next scheduled court appearance in Superior Court to face those charges is also set for later this month.
The Associated Press contributed to this report.
Featured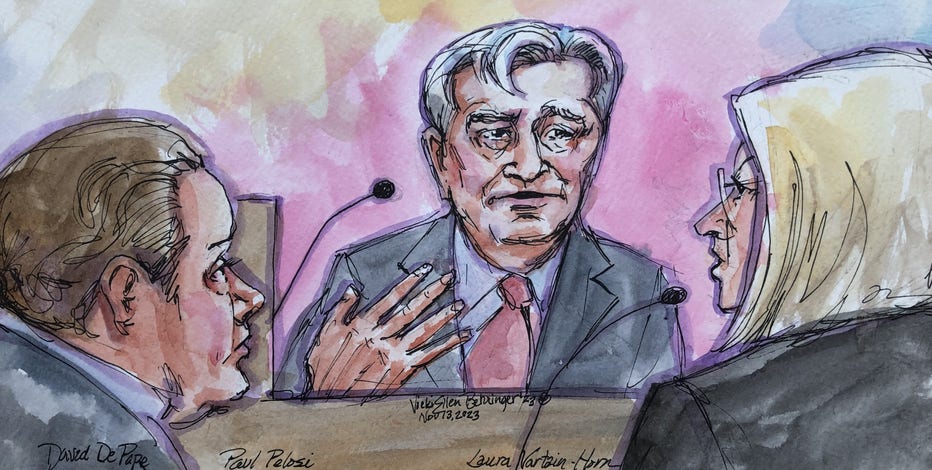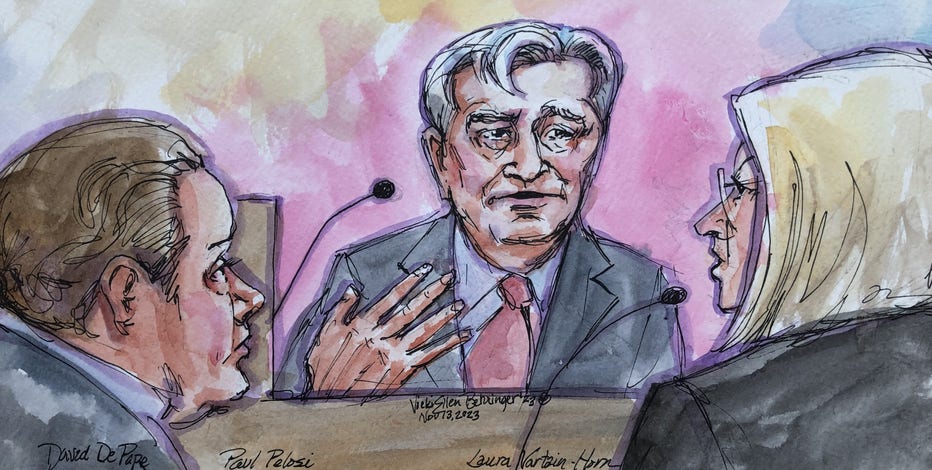 article
Paul Pelosi testifies about brutal hammer attack at San Francisco home
Paul Pelosi recounted publicly for the first time Monday what happened the night he was attacked by a man in the San Francisco home he shares with former U.S. House Speaker Nancy Pelosi, recalling how shocking it was to see a man standing at his bedroom door, then how the man whacked him in the head with a hammer.
The post David DePape convicted on charges from attacking Nancy Pelosi's husband appeared first on Chicago Popular.