LAKE BUENA VISTA, Fla. – An adult black bear that found its way into a tree near Walt Disney World's Magic Kingdom, forcing more than a dozen attractions, rides, and lands to temporarily close, has been captured, according to the Florida Fish and Wildlife Conservation Commission.
In an updated statement Monday afternoon, the FWC said biologists and law enforcement had "safely captured" the bear – an adult, female bear.
No additional details were immediately released on where the bear was captured, its condition, or how it wandered onto Walt Disney World's property.
The FWC said the bear would be relocated in or around the Ocala National Forest in Marion County, Florida, which is about 90 minutes north of the Walt Disney World Resort. 
The bear was reportedly spotted Monday morning in a tree near Magic Kingdom, according to an earlier statement by the FWC. Several areas and rides on the west side of Magic Kingdom were temporarily closed, including parts of Adventureland, Frontierland, and Liberty Square.
Several popular rides were also briefly closed, including Big Thunder Mountain Railroad, Haunted Mansion, and Pirates of the Caribbean.
Those areas and rides have since reopened.
MORE THEME PARK NEWS
"The Florida Fish and Wildlife Conservation Commission (FWC) is aware of a black bear reported in a tree on Walt Disney World property at the Magic Kingdom. Biologists with the FWC's Bear Management Program, as well as FWC Law Enforcement officers, are on scene," FWC said in a statement early Monday.
"In most cases, it is best for bears to be given space and to move along on their own, but given this situation, staff are working on capturing and relocating the bear."
Walt Disney World confirmed it as working with the FWC in its own statement:
"We are working with the Florida Fish & Wildlife Conservation Commission and have made the decision to reopen Frontierland, Liberty Square and Adventureland at Magic Kingdom Park."
What rides are closed at Disney's Magic Kingdom due to bear stuck in tree?
While it's not unusual for an attraction or ride to go down unexpectedly throughout the day – whether for maintenance, weather, refurbishment or some other reason – it is unusual for so many attractions to be closed at once – and shortly after the theme park had opened for the day.
Several attractions and rides at Magic Kingdom were closed initially, most located within Disney's Adventureland, Frontierland, and Liberty Square, according to the "My Disney Experience" app.
Most of those rides and attractions began to reopen shortly after 1 p.m. As of 3 p.m. all rides were open, except for the Walt Disney World Railroad. It remained closed.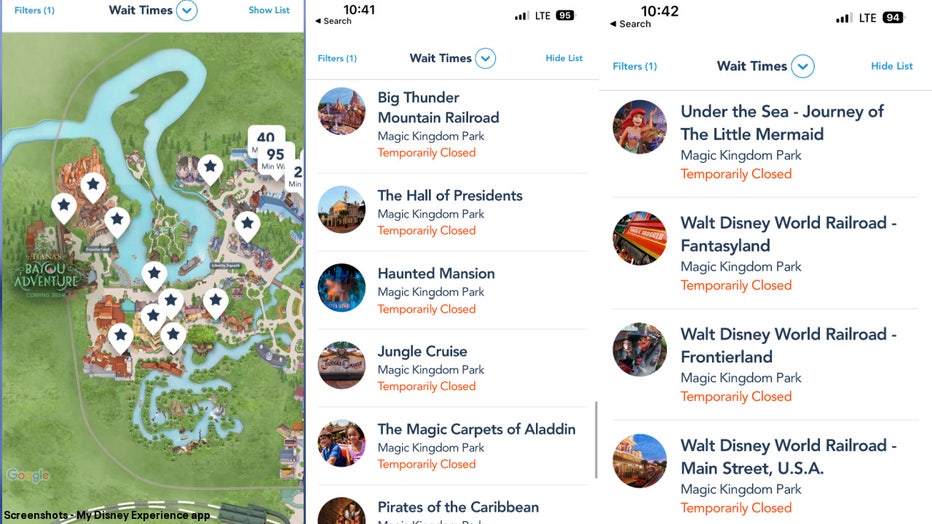 Screenshots from Walt Disney World's "My Disney Experience" app showing multiple attraction and rides listed as temporarily closed.
Bears in Florida: Tips to know
Just last week, the FWC issued a news release reminding residents and visitors that black bears become more active as fall approaches. During the fall, black bears eat more to increase their fat storage before winter.
Adult bears need to eat nearly 20,000 calories each day in the fall, the FWC said. Bears can be opportunistic and can find easily accessible food, such as bird feeders, unsecured trash cans, or outdoor pet food.
"Any accessible food source, such as unsecured garbage, pet food or bird seed, can be enticing to a hungry bear preparing for the winter, potentially drawing them into conflict with people," said FWC Bear Management Program Coordinator, Mike Orlando, in a prepared statement. "However, if bears don't find a food source in a neighborhood, they'll move on."
Here are some tips to remember:
Never feed or approach bears

Secure food and garbage

Remove or secure bird feeders

Never let pet food outside

Clean and store grills

Alert your neighbors if you see a bear
FOX 35 News has been reporting on what seems like an increase in bear sightings this year, and according to FWC, the numbers prove it. So far this year, the agency has received more than 531 bear calls in Orange County. That's more than all of last year, which saw 490 calls.
While the numbers for 2021 and 2020 weren't available on FWC's website, there were 373 bear calls all of 2019 and just under 200 in 2018. See more at FWC's interactive public bear map.