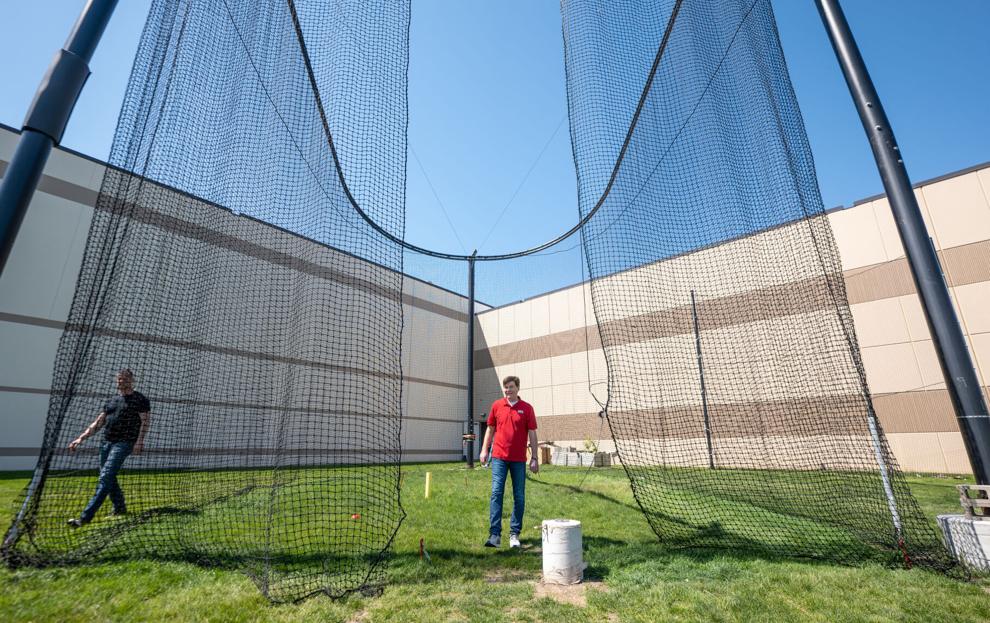 Buy Now
Litania Sports Group CEO David Hodge stands inside a model of subsidiary Gill Athletics' newly designed hammer-throw cage on the side of the company's headquarters in north Champaign.
Anthony Zilis/The News-Gazette
Want to purchase today's print edition? Here's a map of single-copy locations.
Sign up for our daily newsletter here
Thirty-eight years later, he still has a spot in the Baylor Bears track and field record book, one page over from iconic Olympic sprinter Michael Johnson: "Top pole vault performers: DAVID HODGE, 18 feet, 4.5 inches, Stockholm, Sweden."
Though it's been decades since Hodge took his last competitive leap, the grandfather of eight is still in the pole vault business, as the owner of a north Champaign business that makes about 10,000 of them a month, in addition to precision-crafted hurdles, javelins, goal posts, pitching rubbers, soccer nets, basketball backboards and dozens of other sports equipment staples.
The Mount Vernon native is the owner, president and CEO of Litania Sports Group, the parent company of two of the top brands in the sports equipment market — Porter Athletic and Gill Athletics, the company founded in 1918 by legendary Illini track and field coach Harry Gill, which Hodge worked his way up in: from controller in 1990 to CEO in 1992 to owner 10 years later.
Amy's husband, a three-time NCAA All-American vaulter and father of five, took time out to answer questions from Editor Jeff D'Alessio in the 199th installment of our weekly speed read spotlighting leaders of organizations big and small.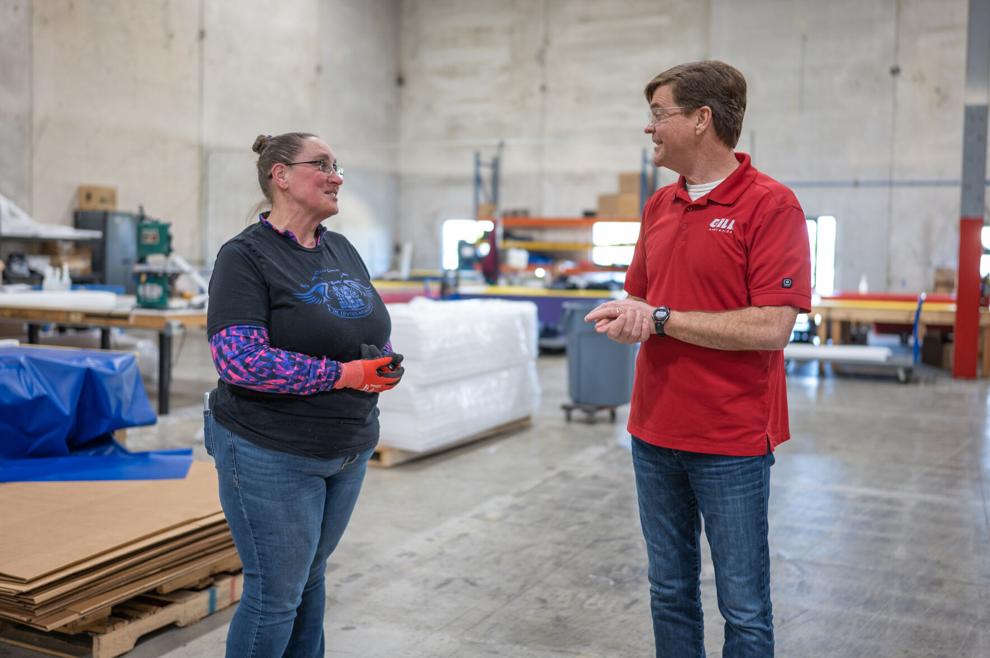 Buy Now
Litania Sports Group CEO and owner David Hodge stops to chat with employee April Zettler at the company's headquarters in north Champaign.
Anthony Zilis/The News-Gazette
If I could trade places for a week with anyone else in town, I wouldn't mind switching with … a Champaign police detective. I love detective shows.
My philosophy on meetings is … they should be concise and meaningful.
My leaders make fun of me because they say I stand up and start heading for the door at the 17-minute mark.
The hardest thing about being a leader is … remaining humble. Discerning when to press on or back off on a bad decision.
My professional role model is … Jesus.
My single favorite moment of all-time in this line of work was … negotiating with Nike execs to land the new track and field stadium in Eugene, Oregon.
(Nike founder) Phil Knight was funding the new stadium and wanted only the best. Gill got it.
The three adjectives I hope my staff would use to describe me are … humble, honest and fair.
I can't live without my … daily read of the Bible and time with God. Without Him, I could not do what I do. He makes life make sense.
My one unbreakable rule of the workplace is … be on time and treat others the way you want to be treated.
I'm frugal in that … I hate to spend money. I rarely shop for clothes or shoes.
My wife says it is a little embarrassing at times.
When it comes to decorating my office walls … Litania means "list of prayers" in Latin. Those prayers are listed on my dry erase board.
The first thing I do when I get to work most days is … pray.
At lunchtime, I … eat in most days. Pretty much the same thing every day — tuna salad and crackers.
I wind down after work by … watching "The Andy Griffith Show."
The single-most important question I ask job candidates during interviews is … tell me about a time you were wrong and what you did about it.
As far as the last luxury in which I indulged goes … Litania Sports Group owned a piece of a jet at one time. It was amazing.
Only problem is that when I wanted to use it, my fellow jet owners had it in another part of the country.
The most beneficial college class I took was … Statistics at Baylor University with Dr. Dean Smith. I learned that most decisions can be supported by data.
I'm up and at 'em every day by … 5 a.m.
The last good book I read was … "Church History in Plain Language."
My exercise routine consists of … either riding a bike, lifting weights or working on my core five days a week.
When it comes to my career path … my mom says I always wanted to do what I do. I think I figured it out after they made me CEO at 29.
The first job I ever had was … mowing yards at 10 years old.
My first job out of MBA school was controller of a fitness software startup in Eugene, Oregon. It was later purchased by Nike and became the basis of the Nike Watch.
The worst job I ever had was … doing yard work for a real estate developer on Fridays in Texas during grad school.
We started at sunup because it was 105 by noon.