Want to purchase today's print edition? Here's a map of single-copy locations.
Sign up for our daily newsletter here
***
Welcome to Year 8 of High School Confidential, powered by Danville Area Community College. It's an award-winning project made possible by aspiring student journalists from every corner of our circulation area. Each Thursday through April, they'll tell us what's happening in their hallways at news-gazette.com.
At least once a week, we'll also hand over our Snapchat account (News-Gazette) to our correspondents for behind-the-scenes tours.
Feedback? Email N-G/VP Jim Rossow at [email protected].
On to this week's report: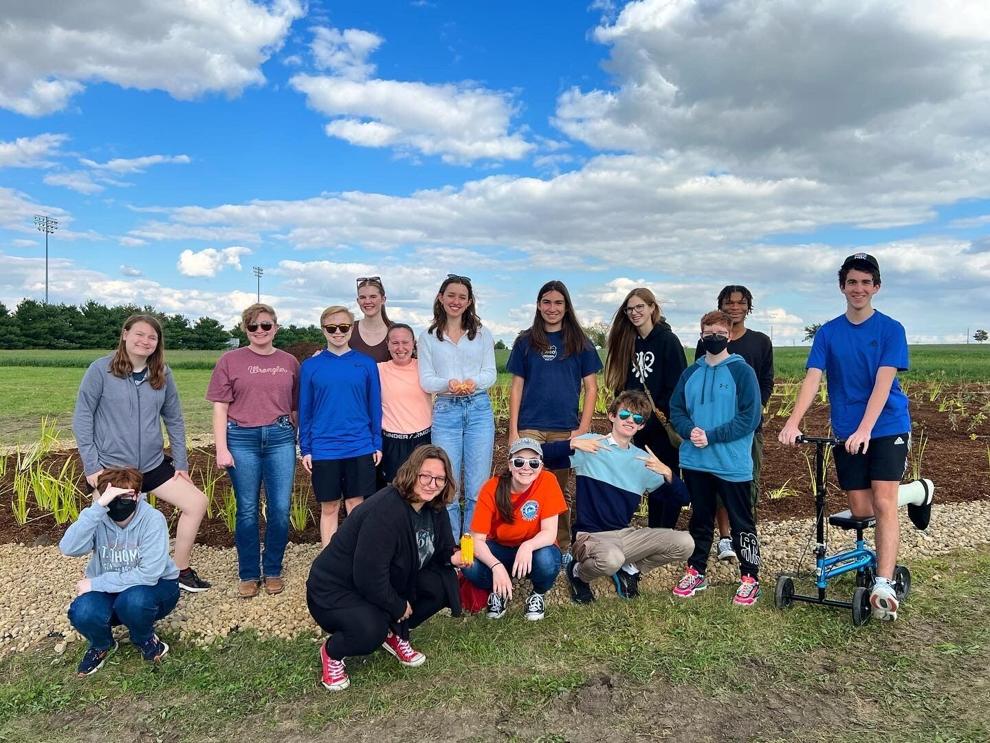 Academy High
The senior class went on a field trip to Clearview Farms in north Champaign as part of their Environmental Studies class. They learned about regenerative agriculture and other advancements in the farming industry, as well as how community engagement is crucial to raising public awareness about ecological issues. Pictured (courtesy Laura Miller): Edith Angelo, Cassidie Patten, Julia Stanford, Max Libman, Hadley Siena, Sophia Libman, Phoenix Langley, Eleanor Laufenberg, Aurora Johnston, Porter Milling, Ray Scifres, Emma Rypka, Zoe Angelo, Jamari Story and Eli Hess.
— Cassidie Patten and Eleanor Laufenberg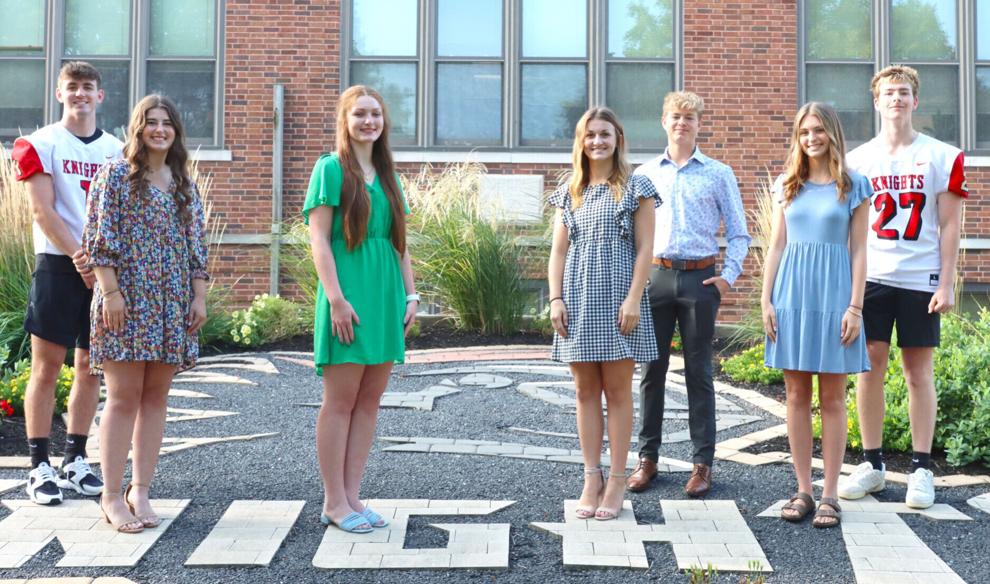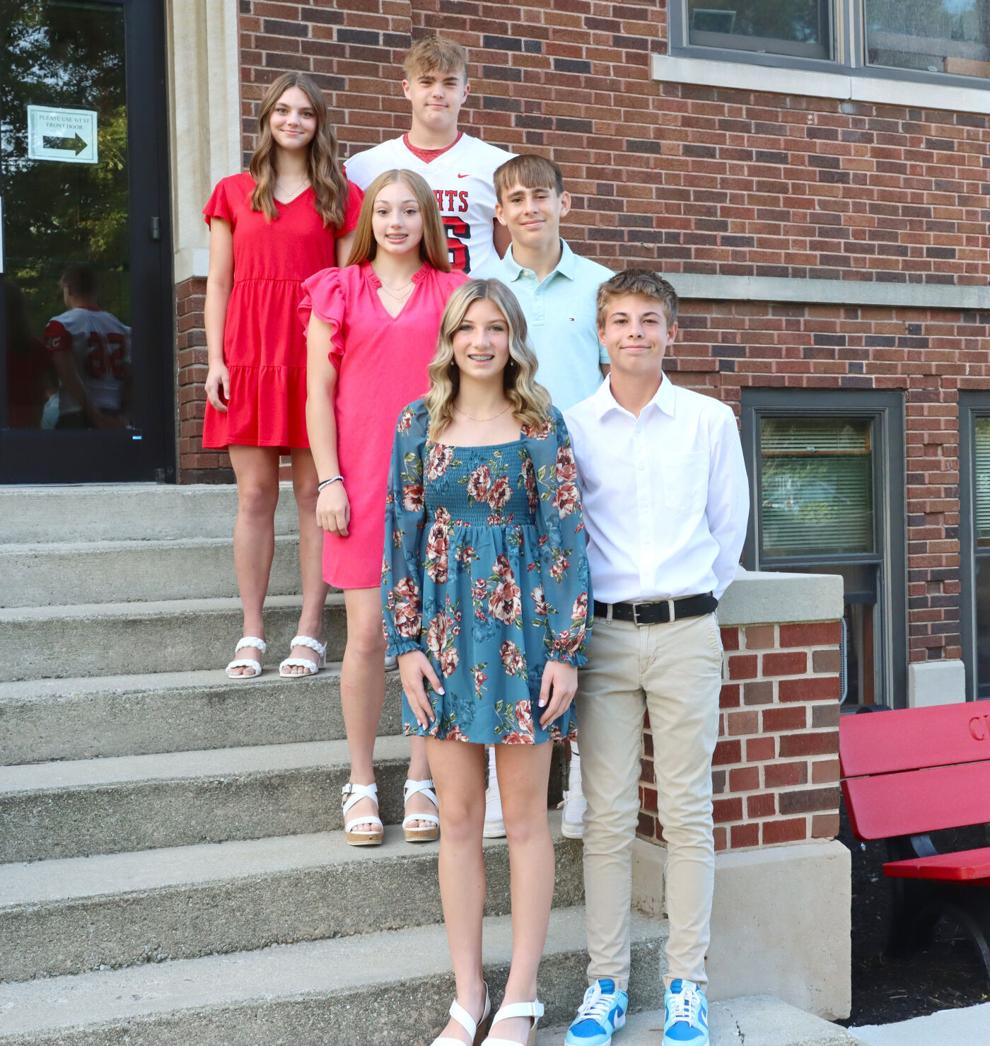 ALAH
Homecoming is Saturday, a day after the Knights play Nokomis for the homecoming football game.The theme this year is Hawaiian Luau. Attendants are freshmen Morgan Casteel and Cody Burdick, sophomores Summer Melton and Cash Hale and juniors Mackenzie Condall and Colin Smith. Queen candidates for the senior class are Kendall Burdick, Claire Seal, Kaylee Thompson and Lucy Wilber. King candidates are Garrett Casteel, Hunter Grant, Connor Nettles and Jayce Parsons. Pictured, left to right: Jayce Parsons, Kendall Burdick, Claire Seal, Kaylee Thompson, Hunter Grant, Lucy Wilber and Garett Casteel (not pictured: Connor Nettles). Attendants: (front row) Morgan Casteel and Cody Burdick; (middle) Summer Melton and Cash Hale; and (back) Mackenzie Condall and Colin Smith
— Lilian Edwards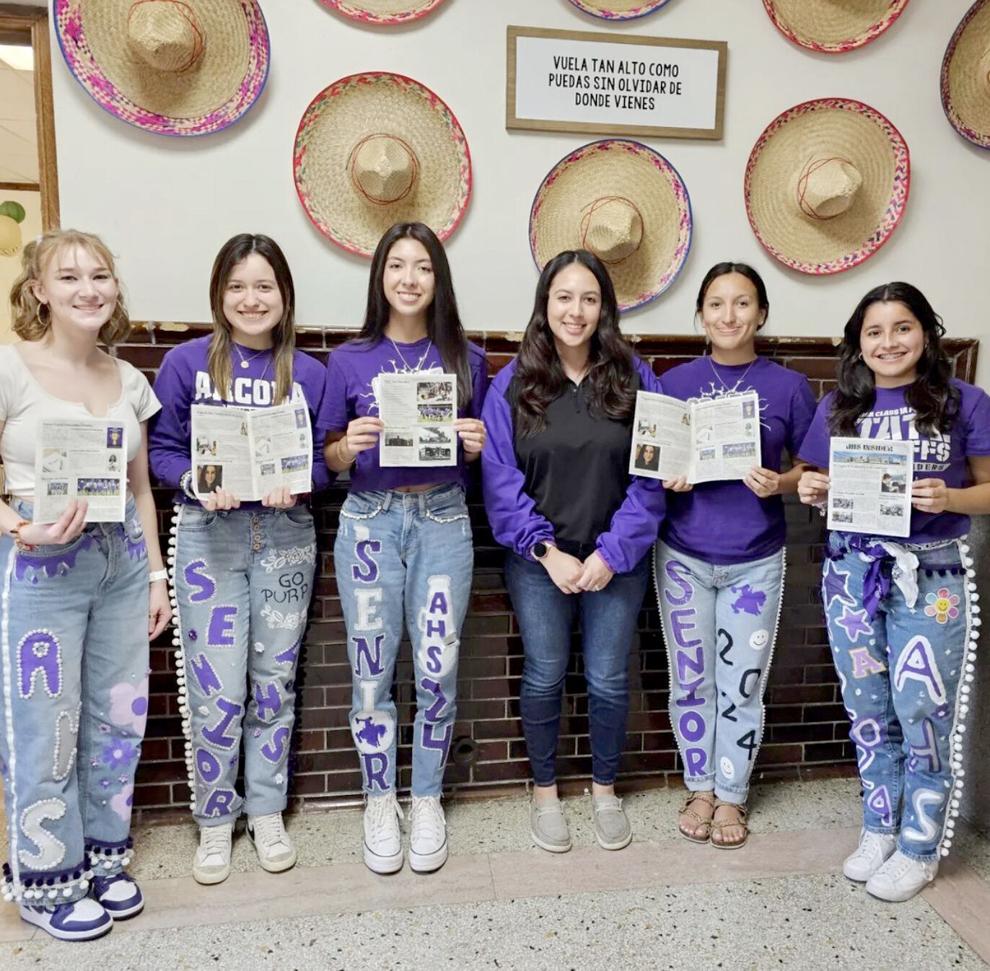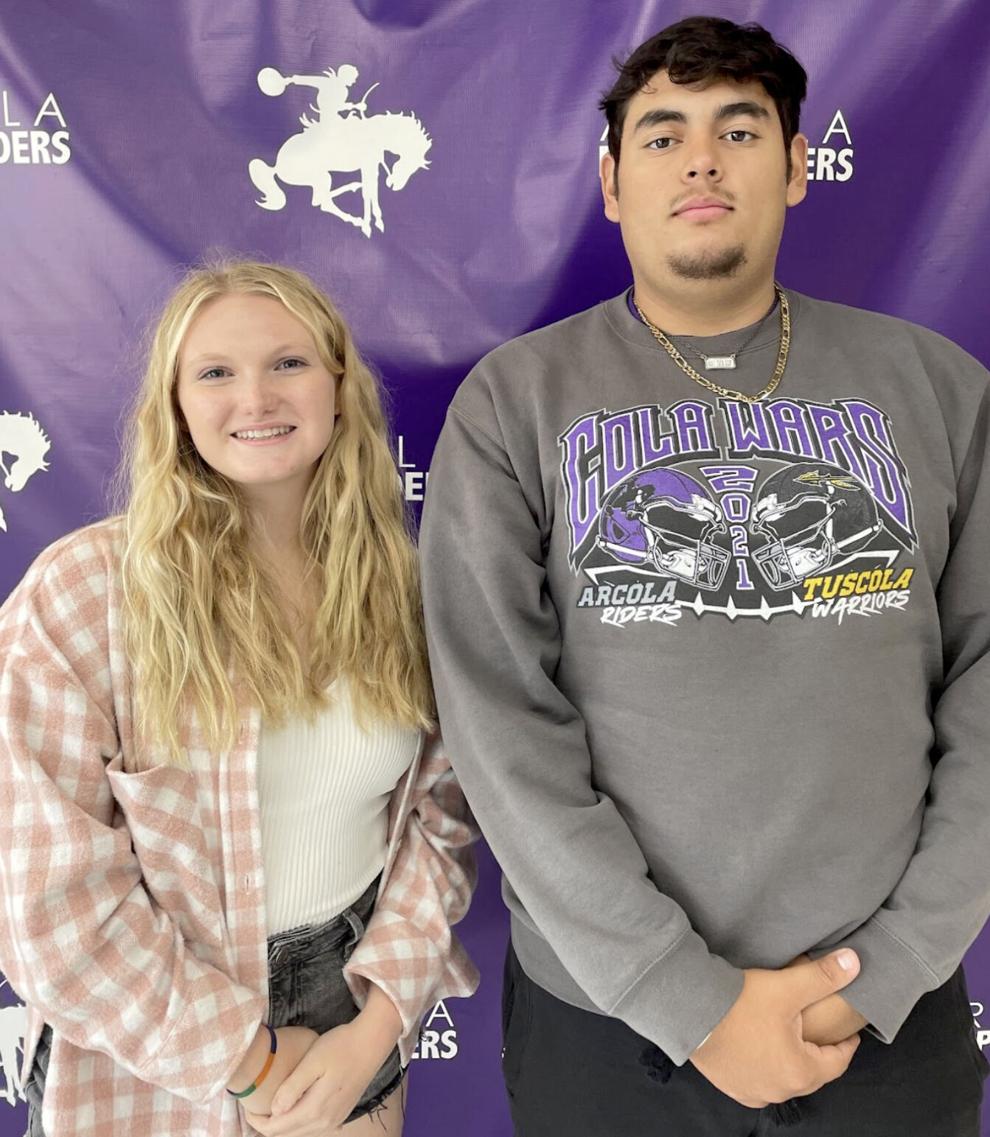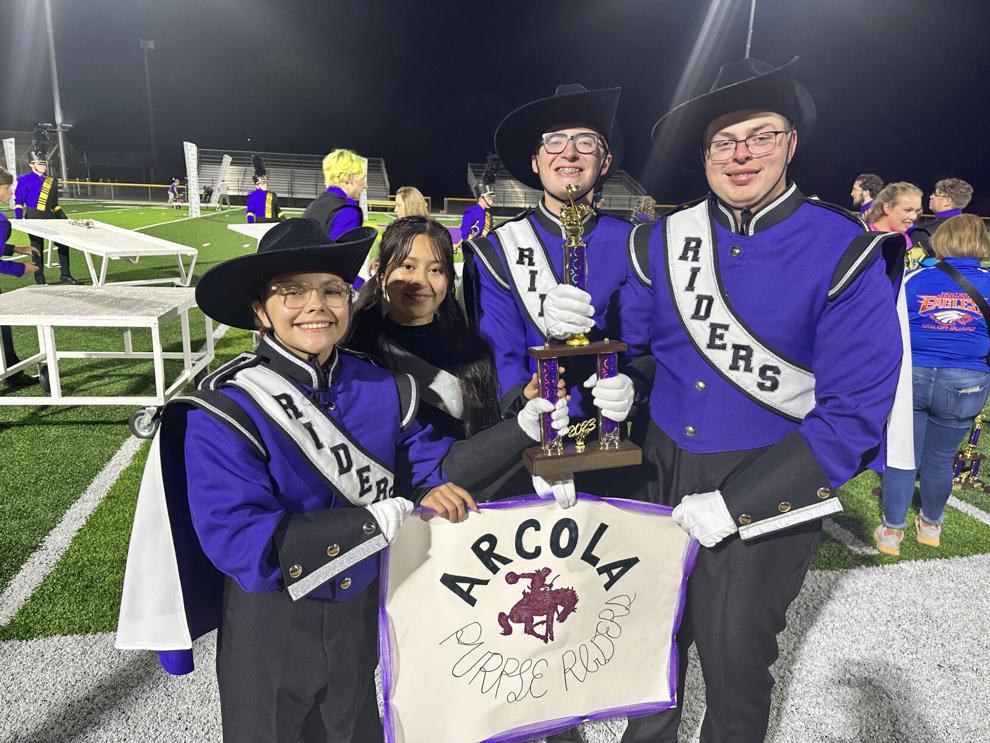 Arcola
Students in Spanish IV class recently released their first issue of AHS Insider, which is a bilingual newspaper about Arcola High School (pictured: Ashley Pullen, Yasmin Rojas, Camila Cantu, Daniela Coombe, Melanie Martinez and Cecilia Lozano). Also, marching band took home a trophy for second place in Class 1A at the Monticello Invitational (pictured: Julissa Galaviz, Carolina Torres, Alex Hawn and Jake Myers). Additionally, two choir students, Shelby Roberts-Mcgeehon and Aaron Gaona, have been accepted into the Millikin Vocal Festival.
— Bianca Arguelles
Armstrong
Cross-country runners took home three patches at the Vermilion County meet at Kickapoo State Park on Sept. 12 in Danville. Pictured: Cala Reifsteck, Kayla Crull and Eli Kennel.
— Eli Kennel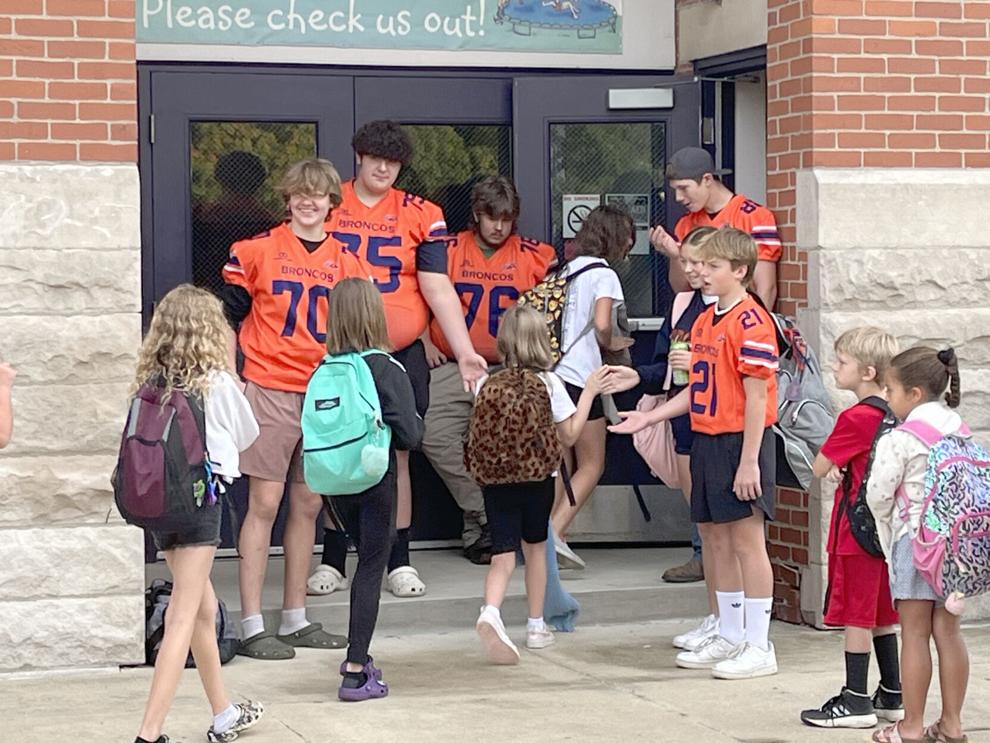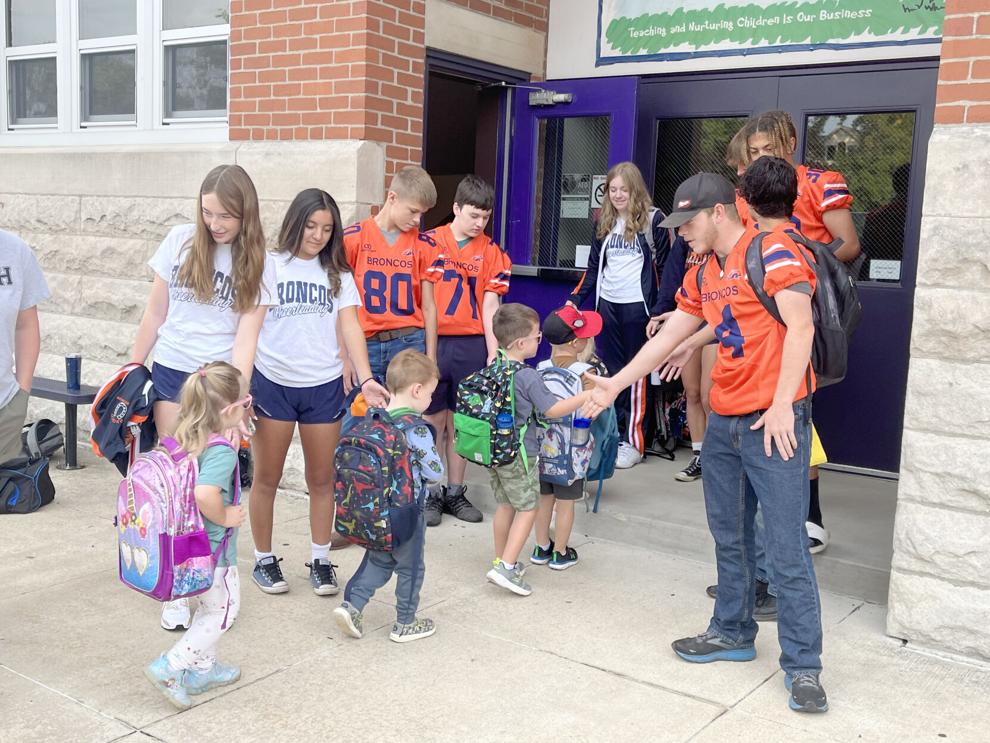 Bement
The tradition of High Five Fridays continues with Cerro Gordo-Bement football players and cheerleaders greeting elementary students at the doors as they walk inside. It is very gratifying to see the smiles on their faces as they start their day.
— Quinn Flavin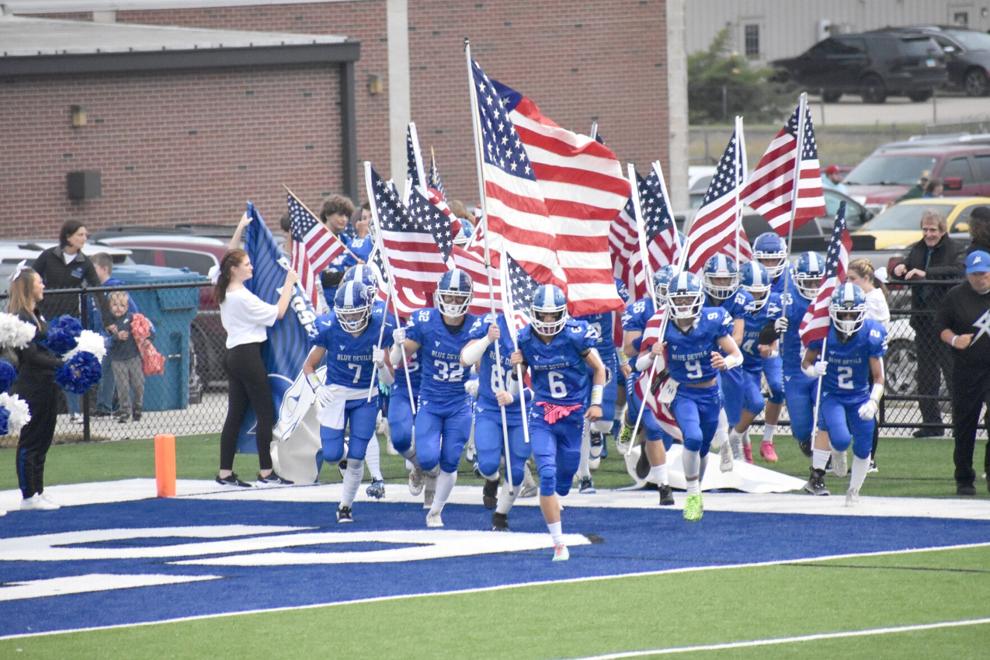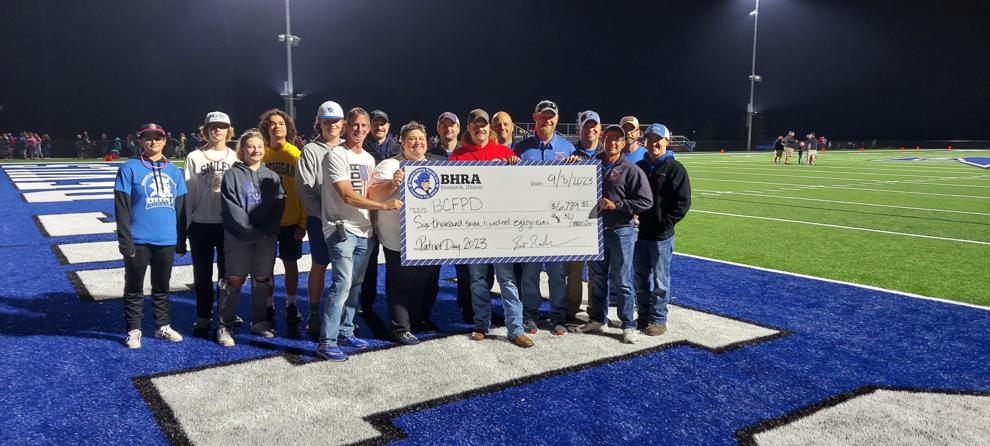 BHRA
At the school's third annual Patriot Day game on Sept. 8, a total of $7,003 was raised to donate to the Bismarck Community Fire Protection District. The Devilettes and school's Key Club were a big help in making the event a success.
— Krislynn Kizer

Blue Ridge
Marching Band performed at its first competition at Saturday's Robinson Festival. Led by their drum major A.J. Johnson, they showcased the show Dragons, Dragons, Dragons! The band won the People's Choice Award and will be performing next weekend at Eastern Illinois. Photo courtesy Jacalyn Meisner.
— Addison Warsaw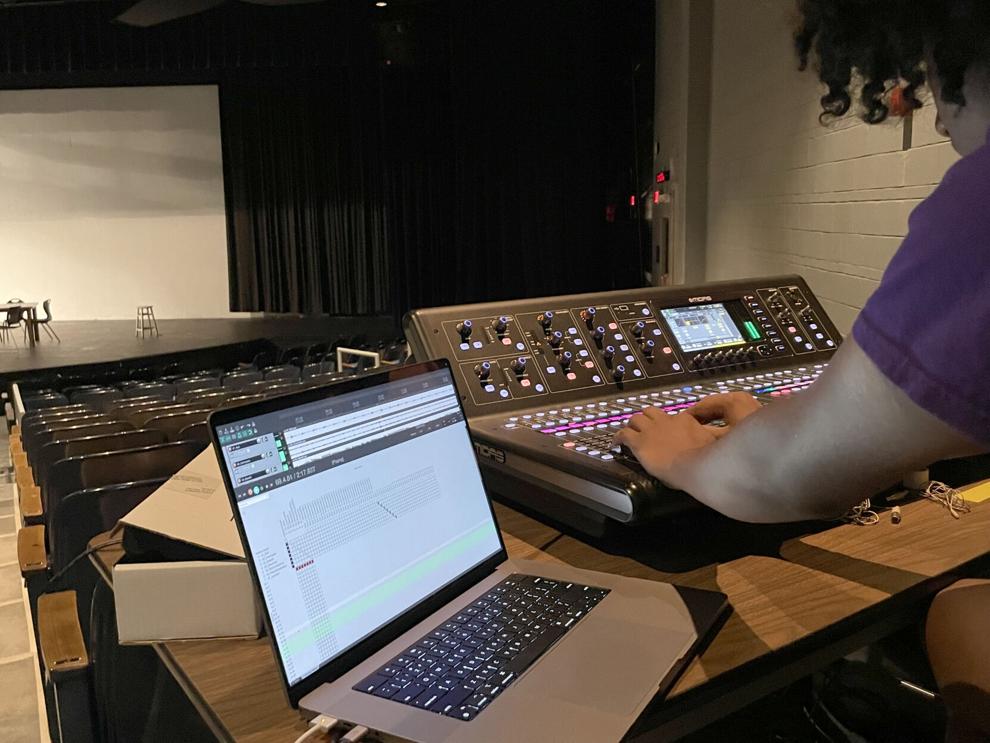 Centennial
Drama department has been working on set design for its fall play, "12 Angry Jurors," set to open in October. Drama director Caroline Kodes and assistant director Jaden Campbell have been working hard along with thespian students on Saturdays to put the show together. Pictured: Jacob Smith, Charlotte Kelts, Barbara Harrell and Claire Turner sorting props in the costume loft, and Mahillan Kalaimani on the soundboard.
— Lydia Shaw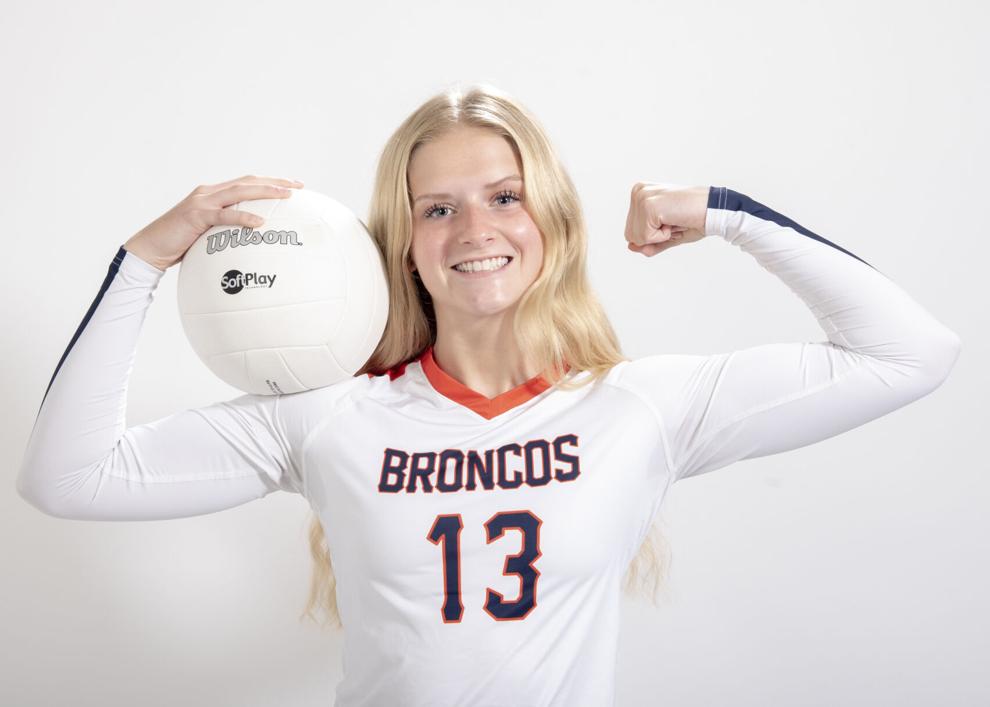 Ali Walker, Cerro Gordo/Bement, at the News-Gazette's Faces of Fall photo shoot at the News-Gazette in Champaign on Saturday, August 19, 2023.
Robin Scholz/The News-Gazette
Cerro Gordo
Not only did the volleyball team — with its all senior starting lineup — get off to a fast start, but they have also brought a crowd with them. The student section went above and beyond. Senior captain Ali Walker said: "I love our lineup and how we all get to experience our last year together," adding "…everyone on the team gets along so well and this leads to great chemistry and friendships on and off the court."
— Haylei Simpson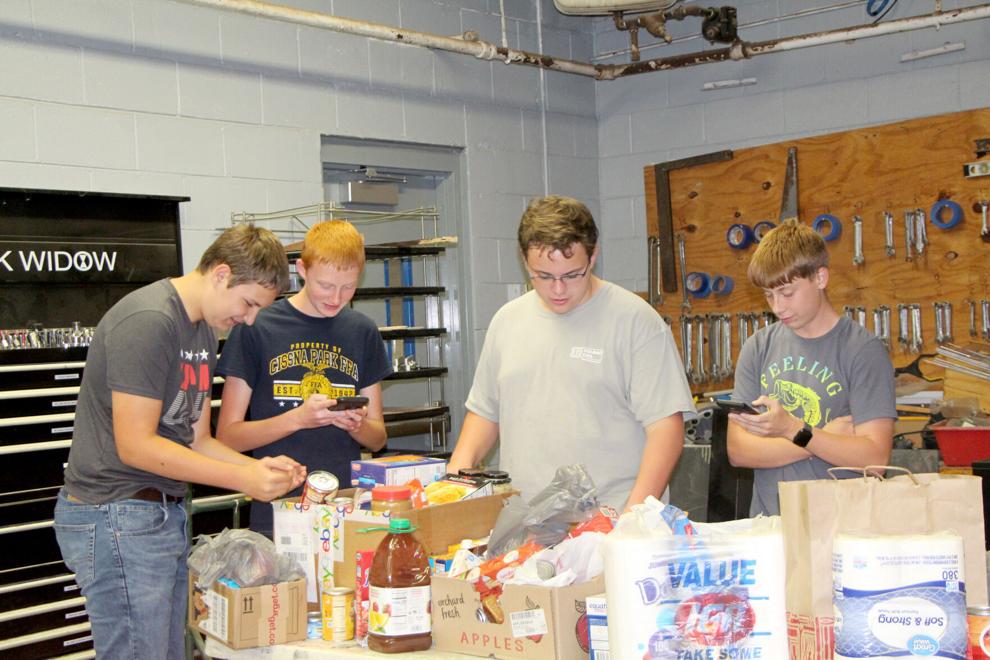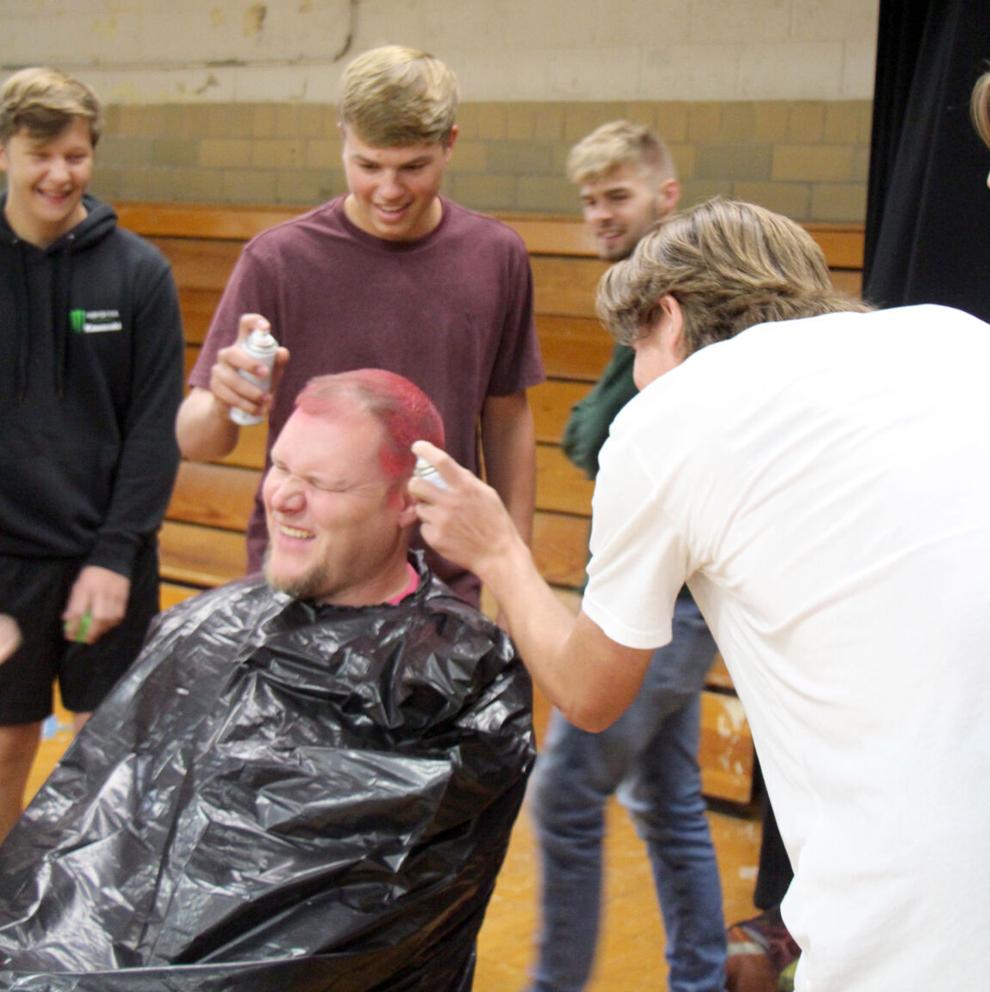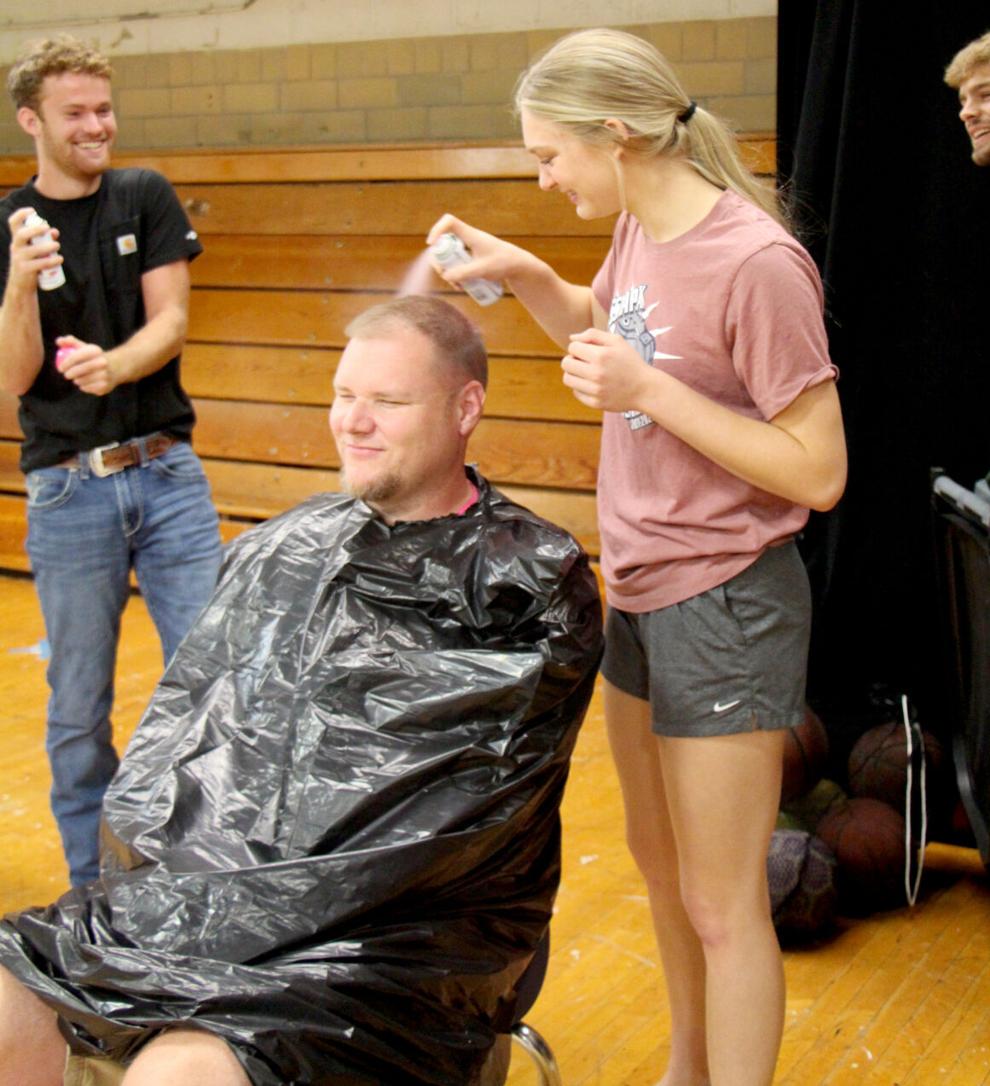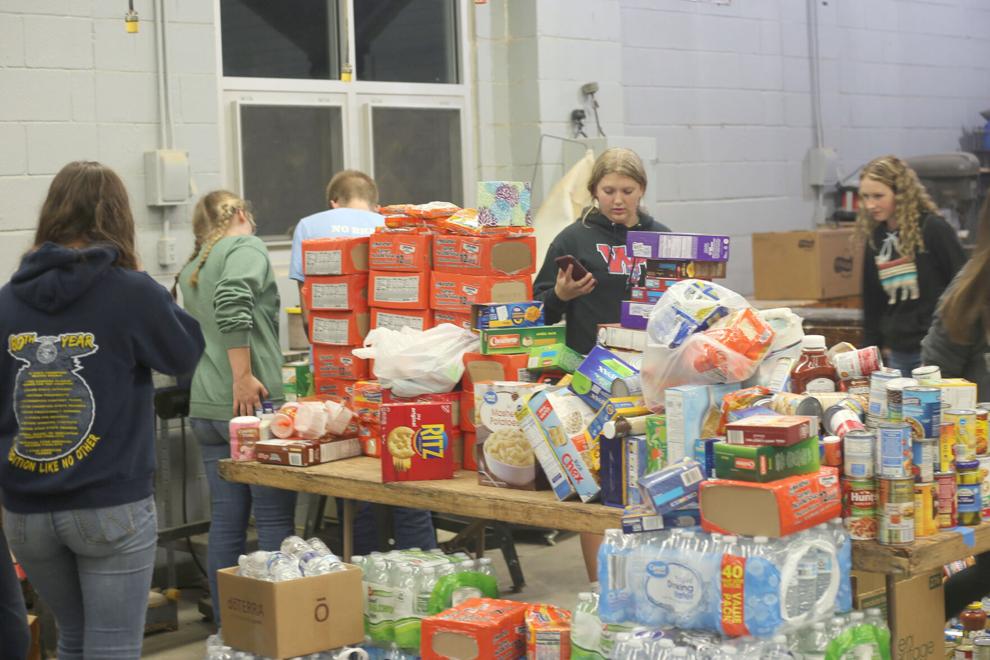 Cissna Park
FFA hosted a canned food drive last Wednesday. Members drove around the community and to surrounding areas, collecting canned food and non-perishables, etc., to donate to local food pantries. At the end of the night, students gathered to count all the cans: A total of 13,000 pounds, surpassing 19,000 servings. This completed the challenge of 18,000 servings, and the FFA seniors got the opportunity to dye their advisor's hair (Jeff Clifton). It was a very successful event and everyone had a great time. Photos courtesy Julia Edelman.
— Brooklyn Stadeli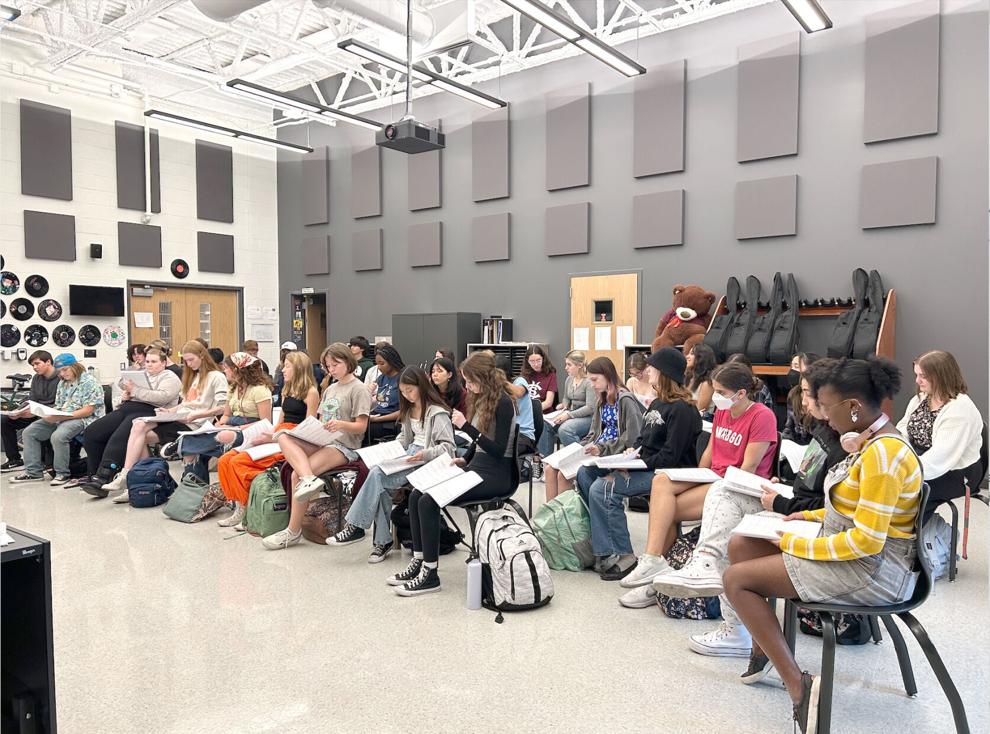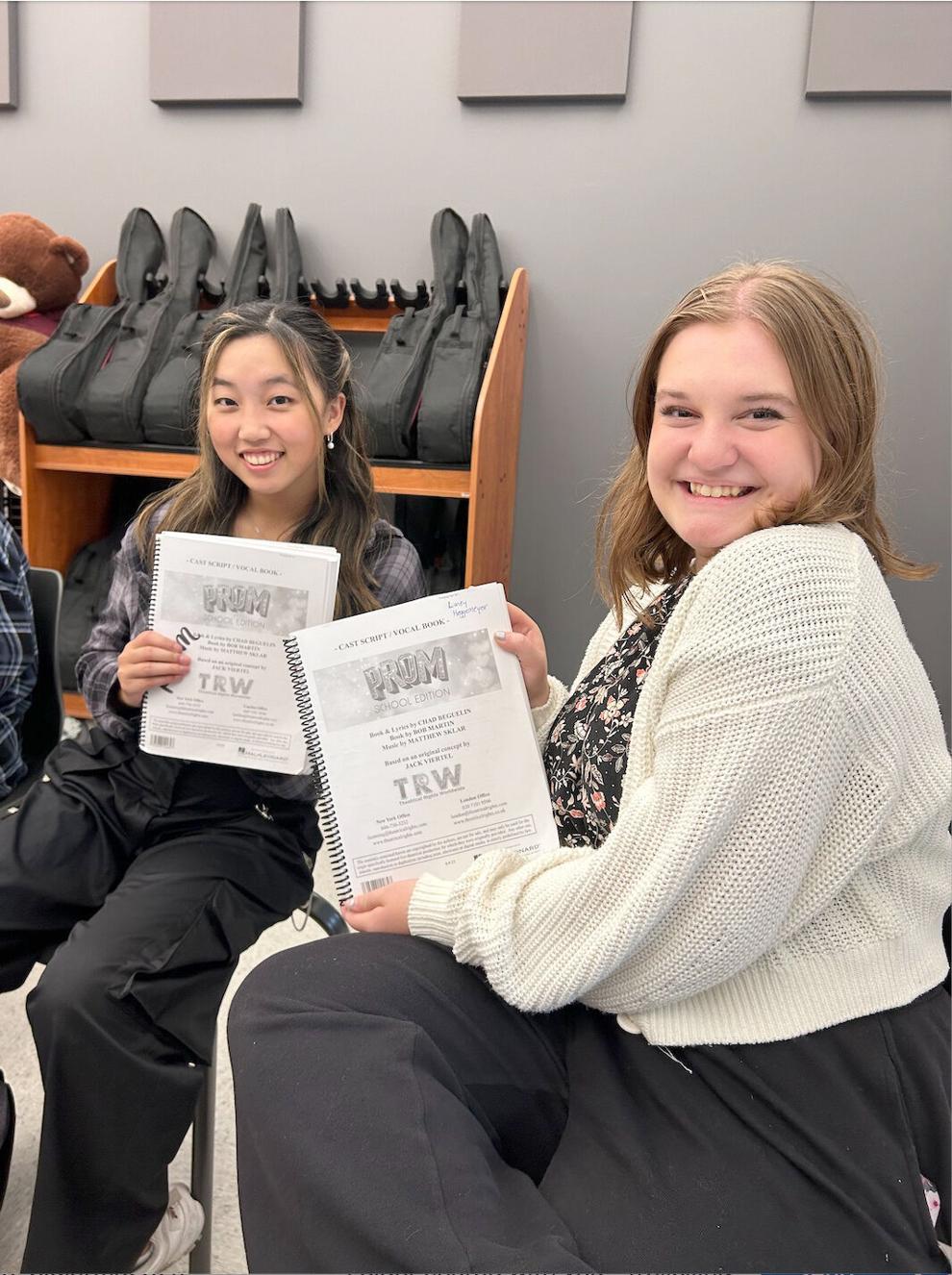 Champaign Central
Last Wednesday, the newly announced cast for the fall musical — "The Prom" — held their first music rehearsal. With drama's theme for the year being "unity," the students are thrilled to perform this fun-filled show centered around inclusivity and queer joy Nov. 9-12. Pictured: Kelly Hong (role of Alyssa Greene) and Laney Heggemeyer (role of Emma Nolan).
— Samaira Sandil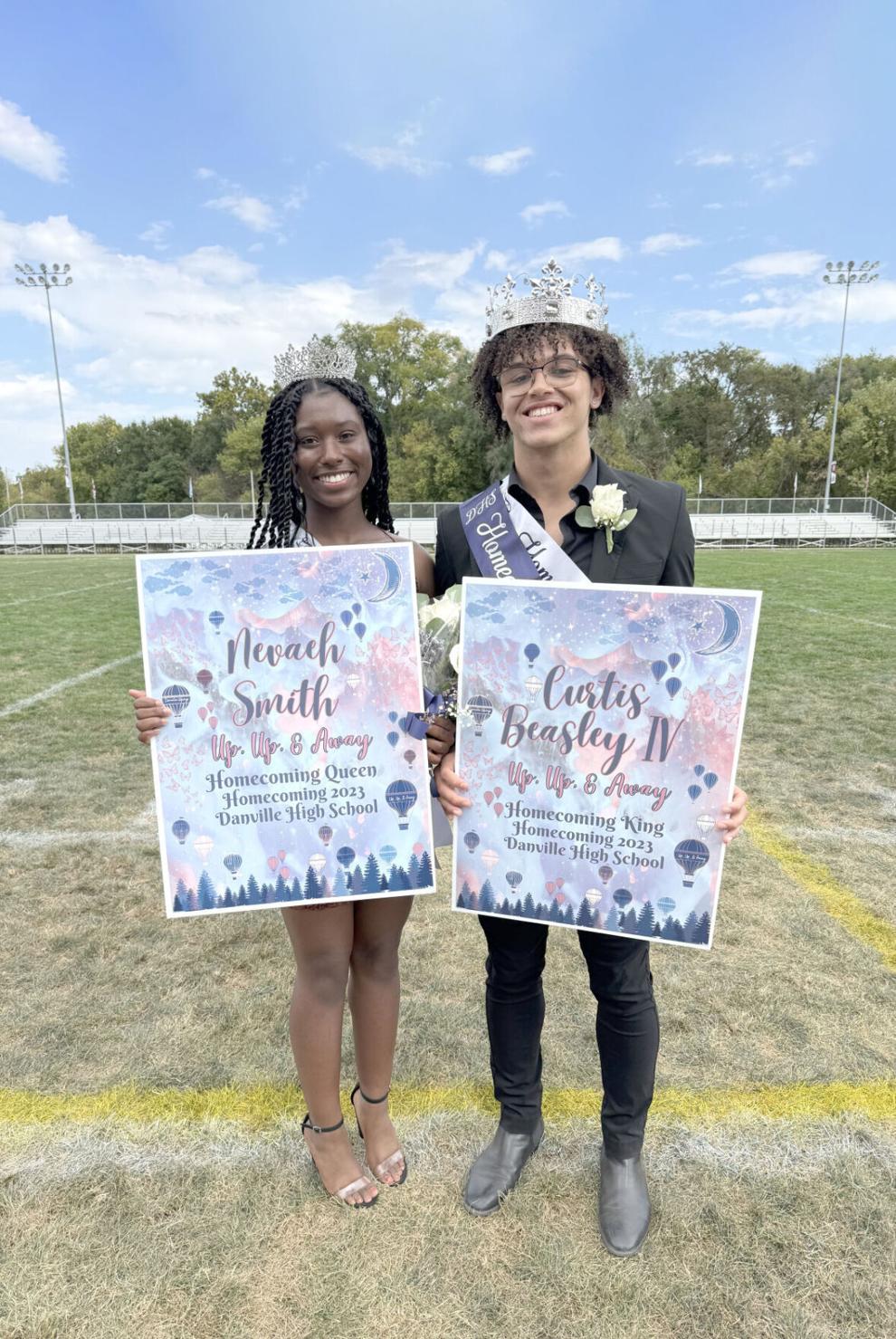 Danville
On Monday, students and staff attended the annual homecoming pep assembly and crowned the king and queen, Curtis Beasley IV and Neveah Smith. Students filled the football stands dressed in maroon and white to celebrate the onset of spirit week.
— Isaiah Easton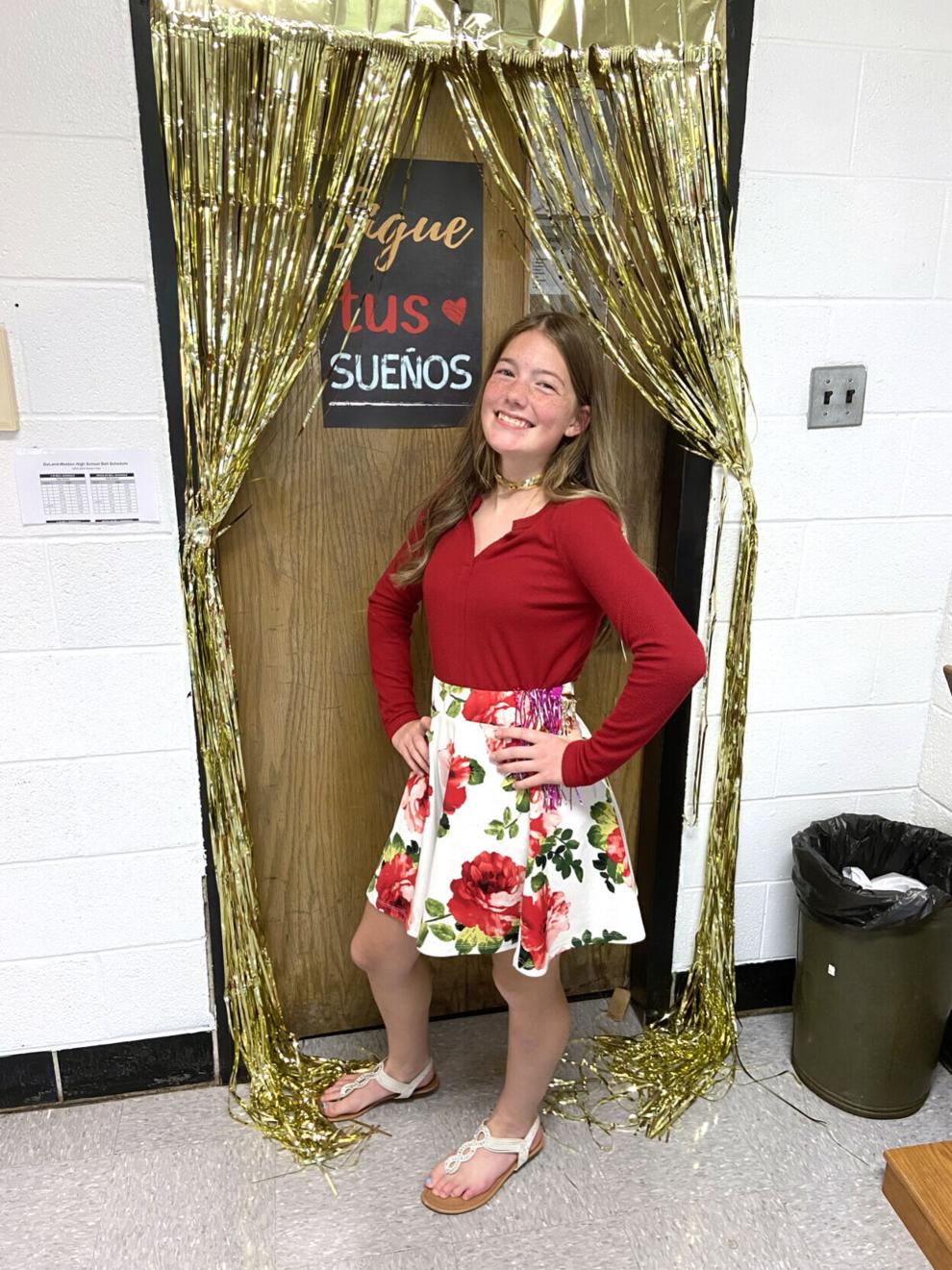 DeLand-Weldon
On Monday, Matison Keith celebrated her 14th birthday. Spanish teacher Lydia Strand decorated her classroom with balloons and streamers to mark the occasion.
— Emma Westray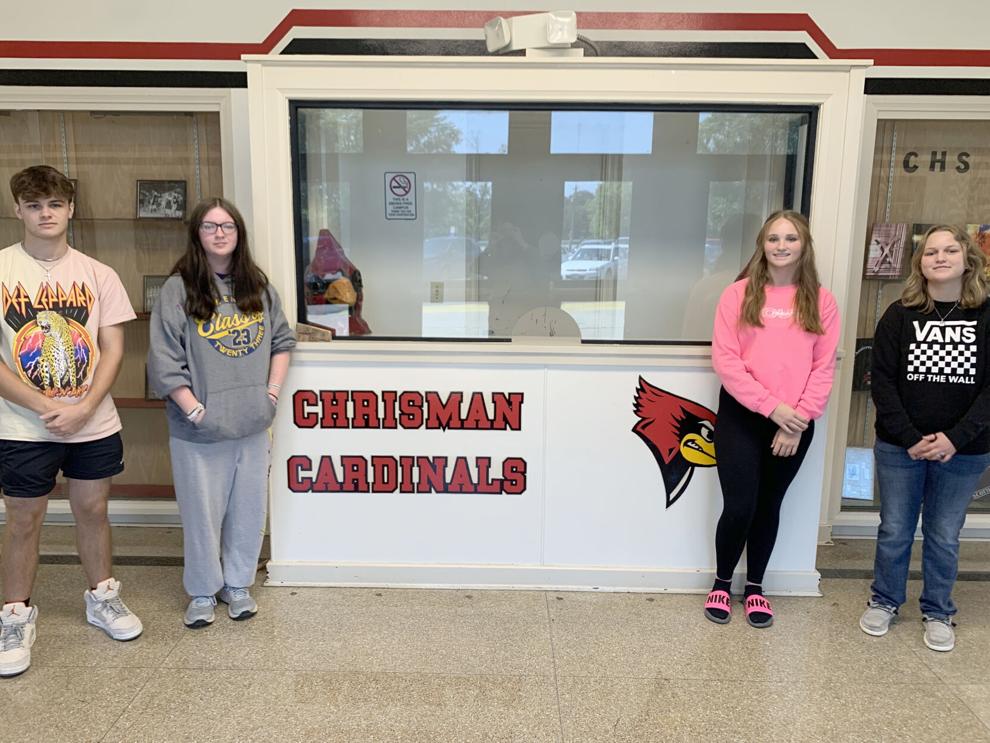 Chrisman
To kick off the school year, new student council members were elected. Every year one new representative from each class is elected to serve on the council until graduation. Pictured, left to right: senior representative Triston Lehmkuhl, junior Sara Goss, sophomore Morgan Lehmkuhl and freshman Gabby Nolen. They'll be involved in Student Council activities such as Homecoming week, the American Red Cross blood drive and Student of the Month nominations.
— Grayson Strange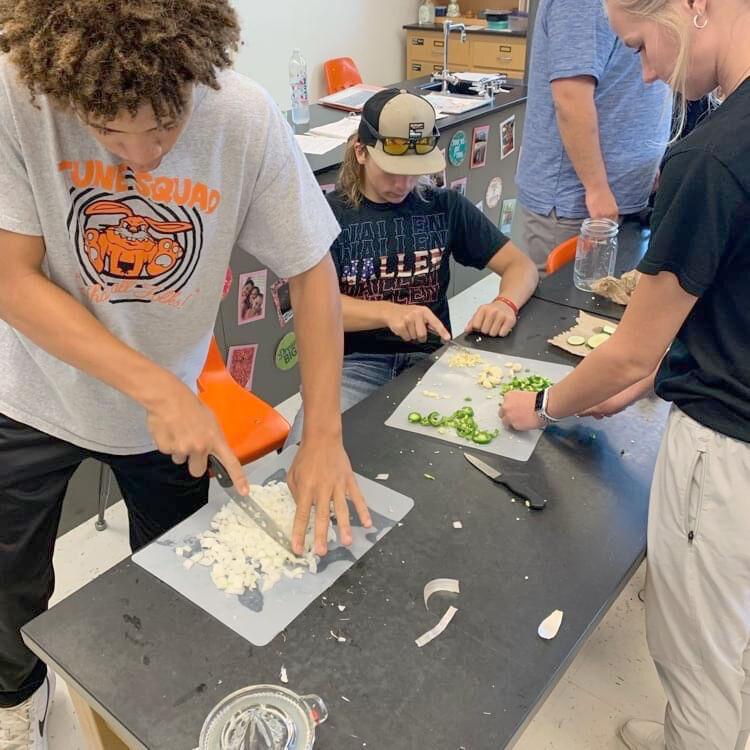 Fisher
New to school this year is a Nutritional Science class taught by Ginny Williams. In preparation, Ryan Hopkins, Blake Booth and Maylie Evans chopped ingredients for homemade salsa. Along with many other classmates, these three learned the steps to making this new dish at home.
— Jenna Clemmons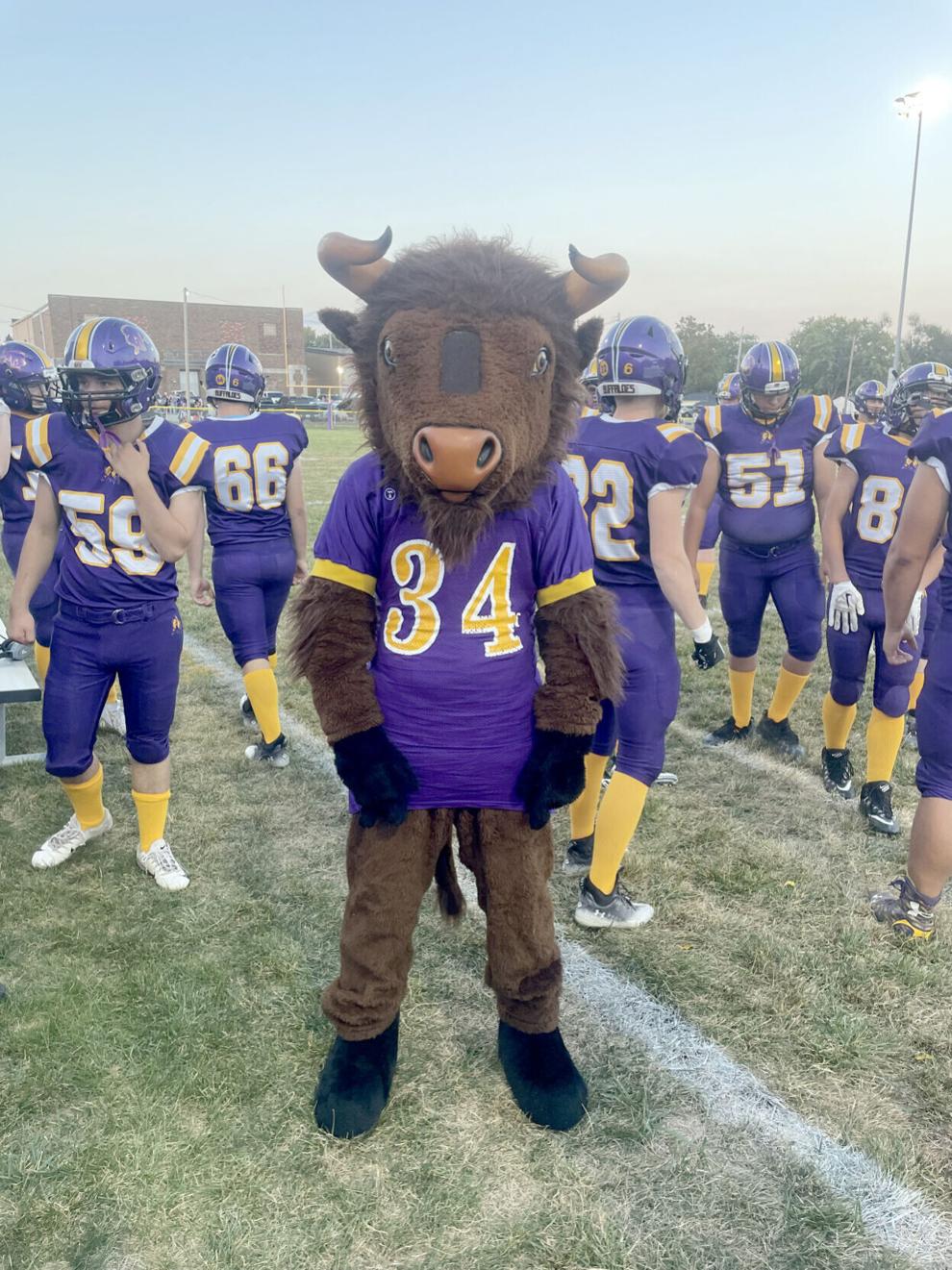 Georgetown-Ridge Farm
Using its WIXY School Spirit Showdown winnings ($1,000), the Buffaloes were able to give their mascot a new and improved look. Student Ben Vice was the man behind Ike the Buffalo, who appears at most every home game and is happy to take pictures with kids in the crownd.
— Ashlyn Spesard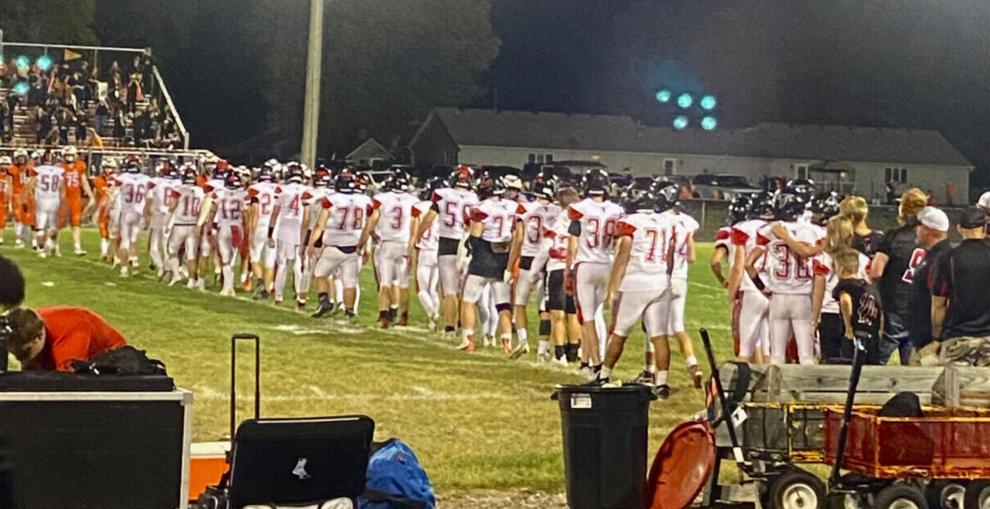 Gibson City-Melvin-Sibley
Fresh off a 42-0 win against Fisher, the 4-1 football team is looking forward to Friday's homecoming game against Fieldcrest. The week is filled with fun activities, including powderpuff football and volleyball, a parade, teepeeing and a Friday pep rally ahead of the introduction of the king and queen.
— Rylie Huls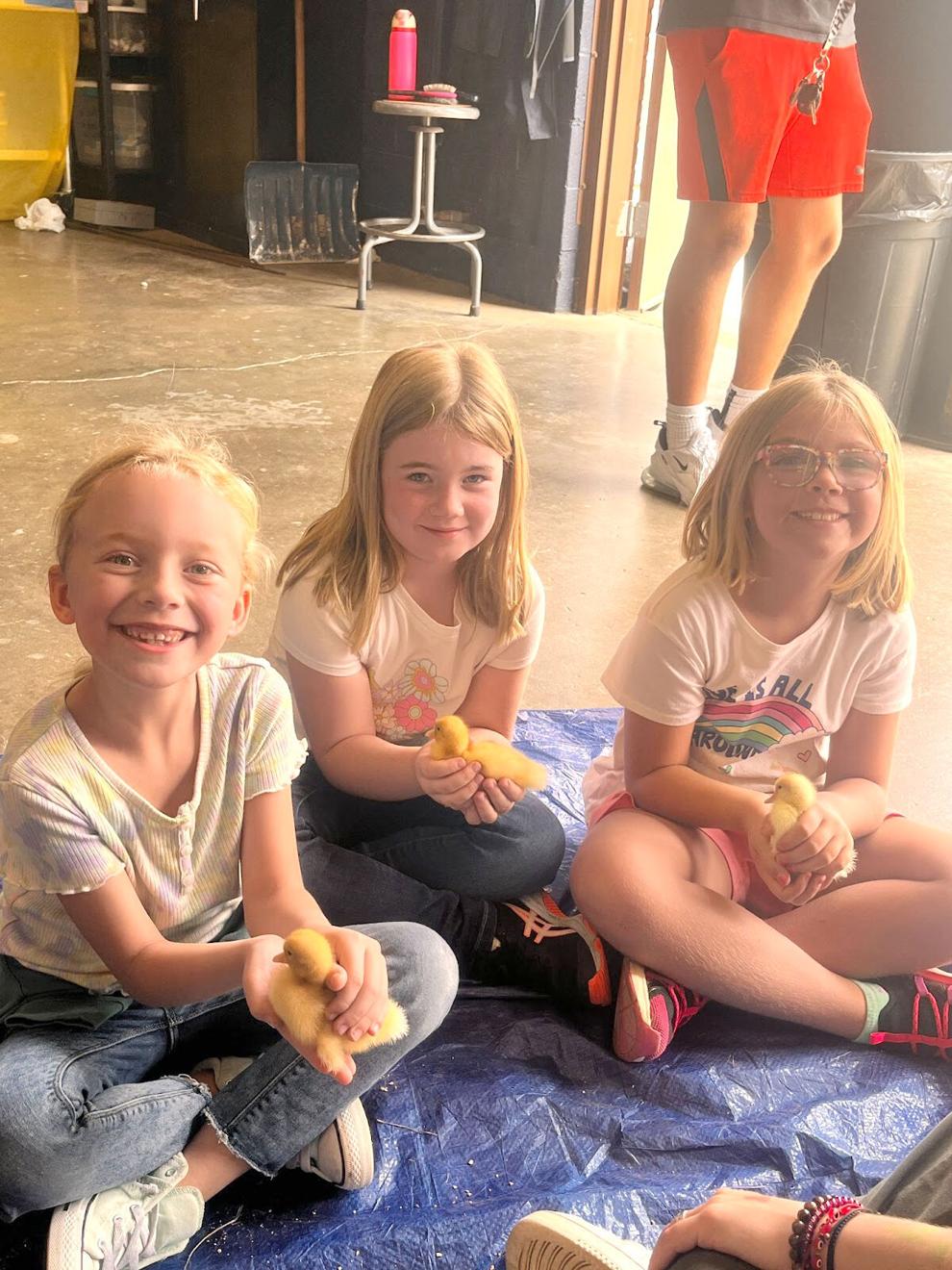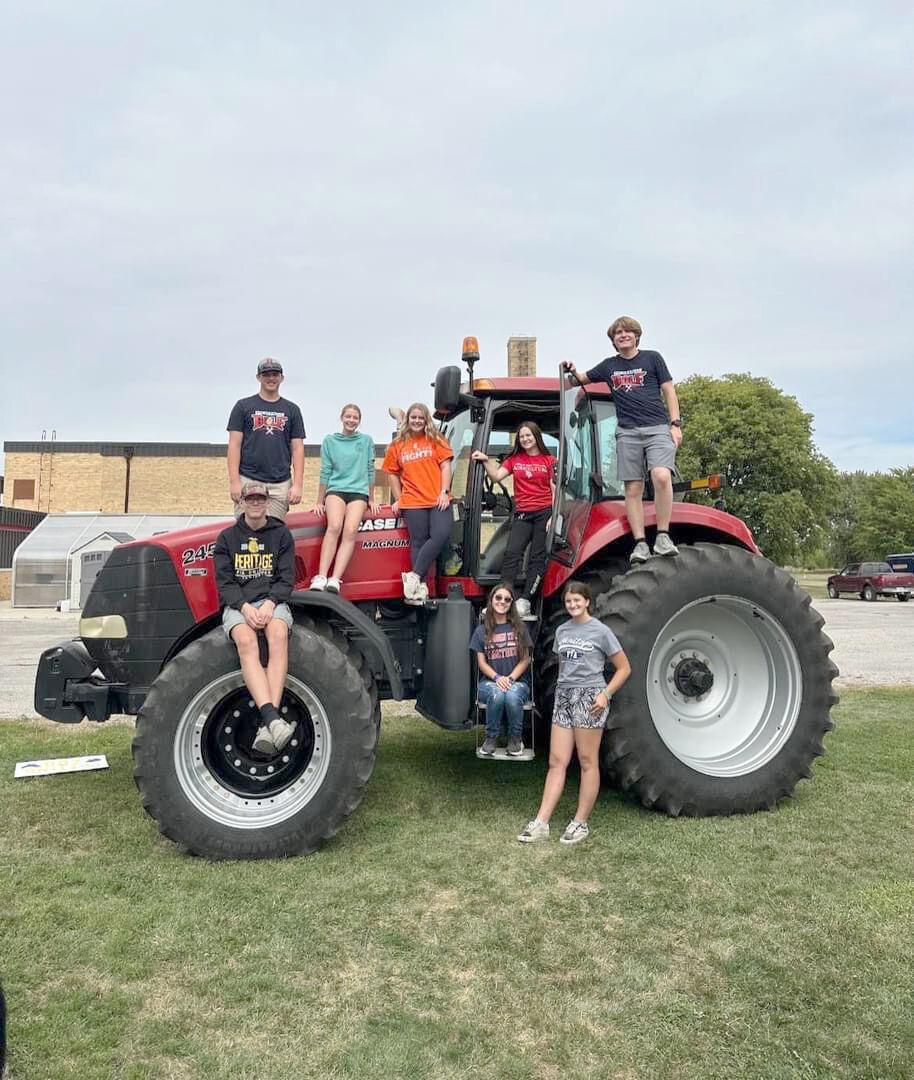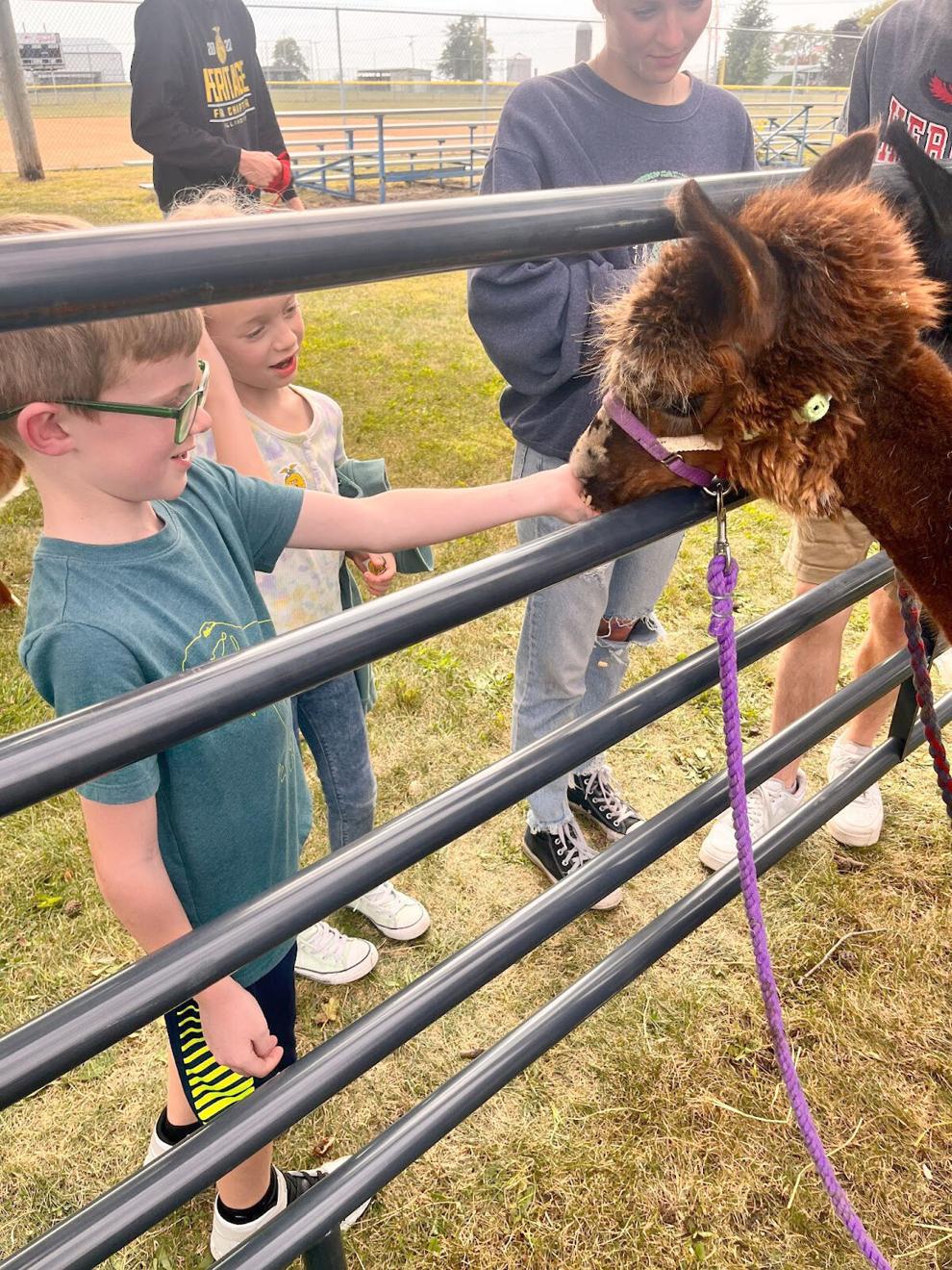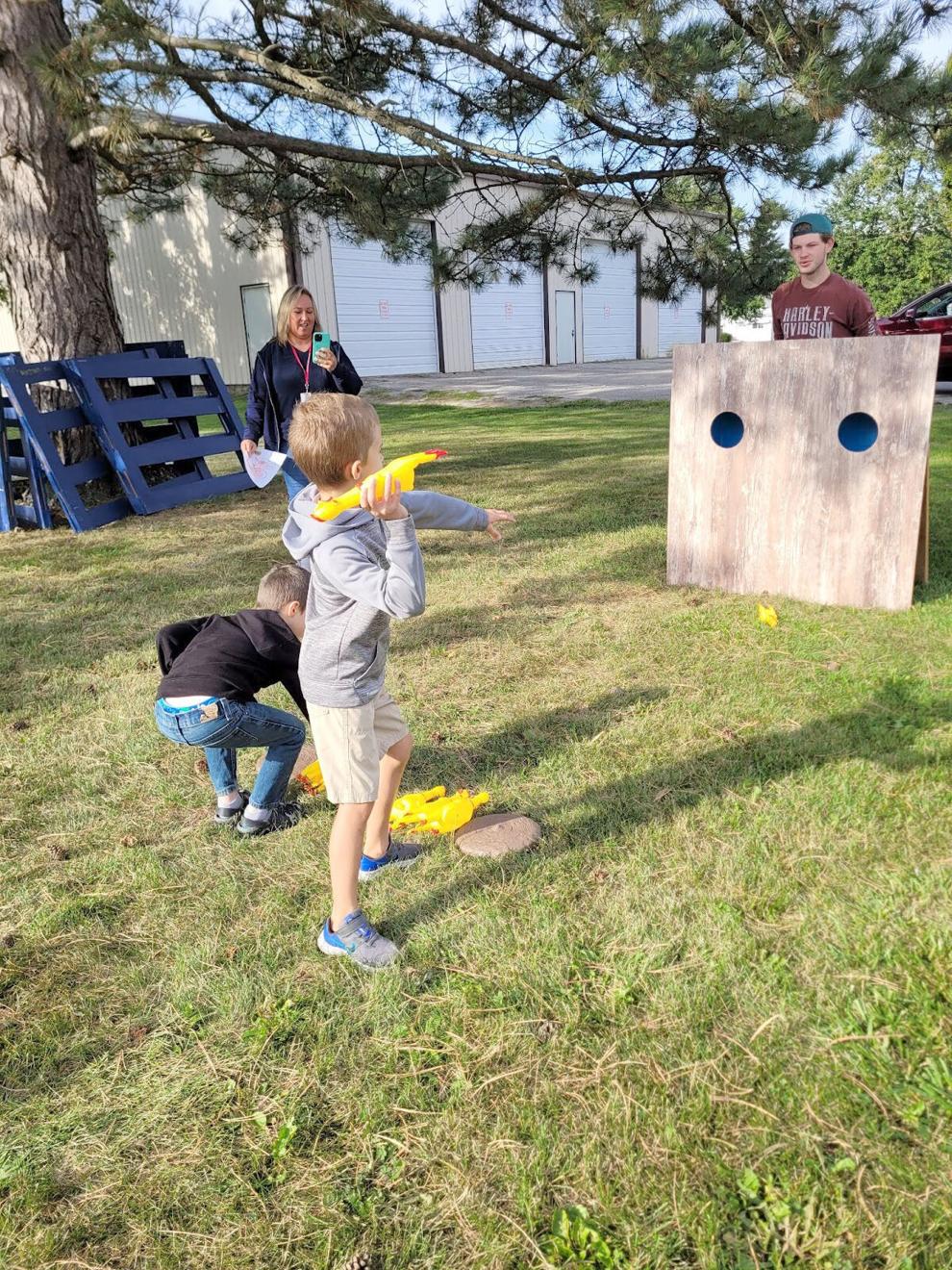 Heritage
Last Wednesday, FFA put on their annual petting zoo. This event allows kindergarteners through fifth-graders to get an inside look at what FFA is about. During the trip, kids were able to learn about and see many animals (cows, goats, chicks, alpacas, chickens, a bunny, a dog, and a bearded dragon), participate in games, get their face painted and color on coloring pages. Photos courtesy FFA advisor Emilee Magsamen and FFA reporter Alex Tatman.
— Lilli Montgomery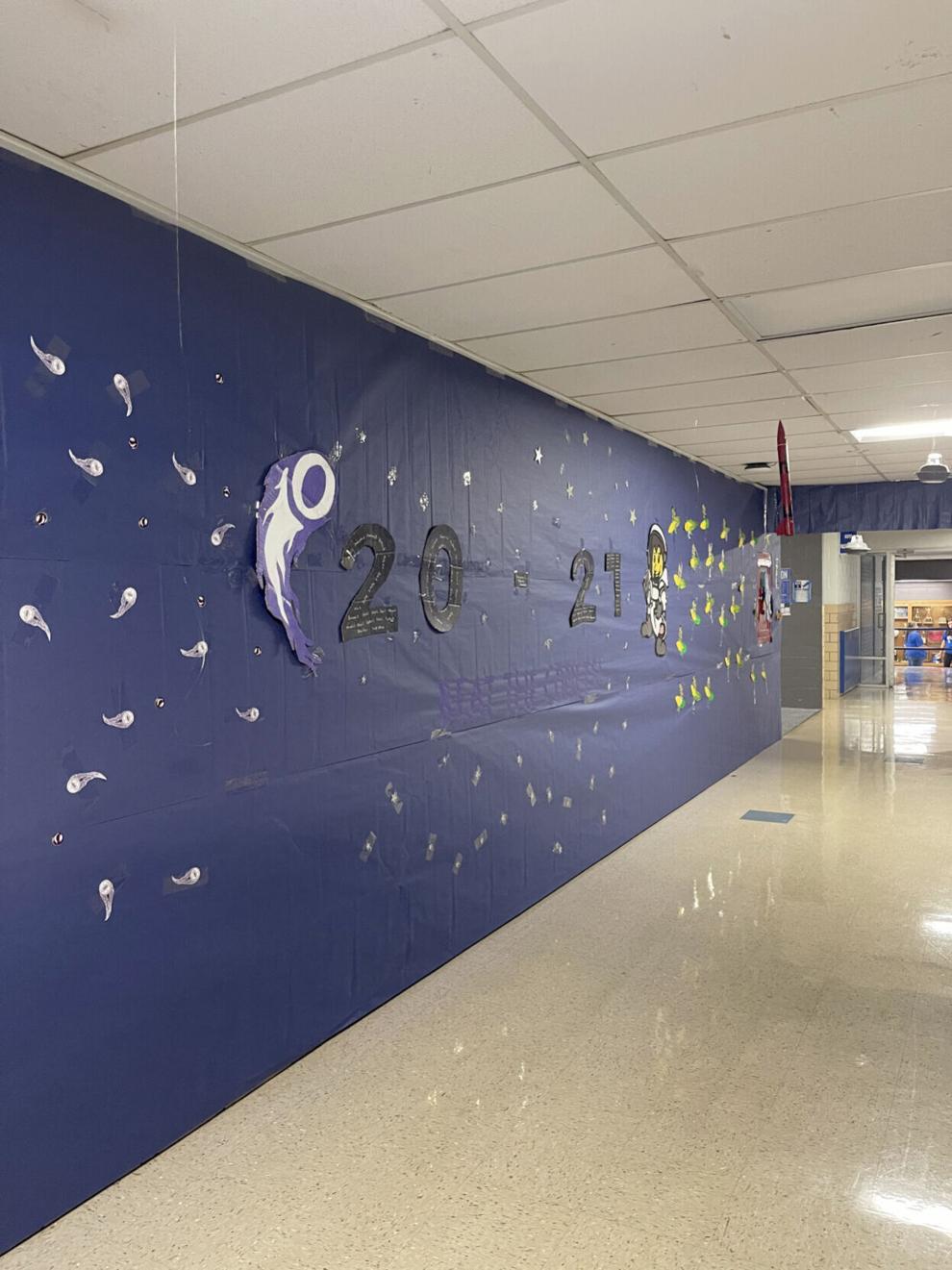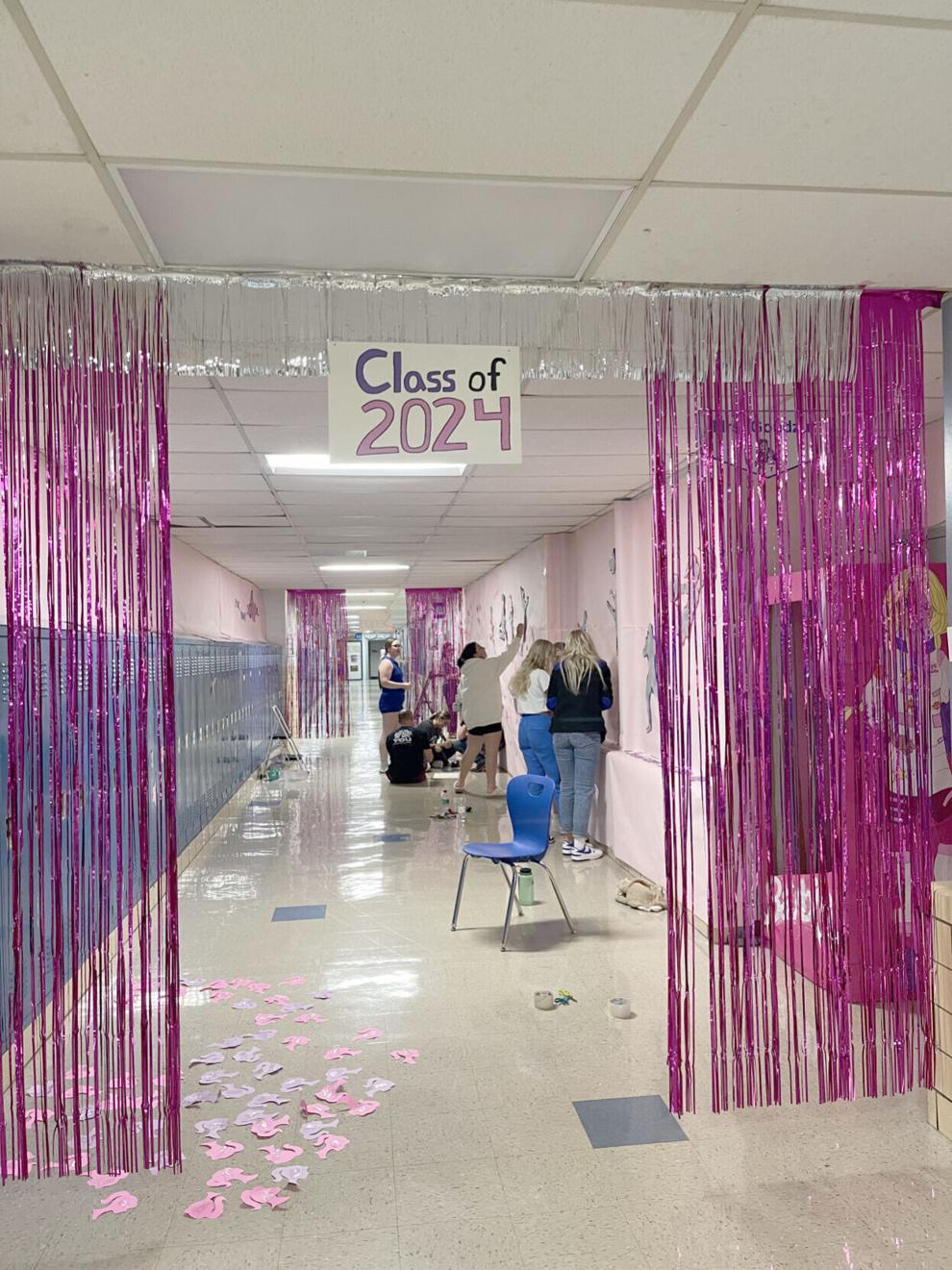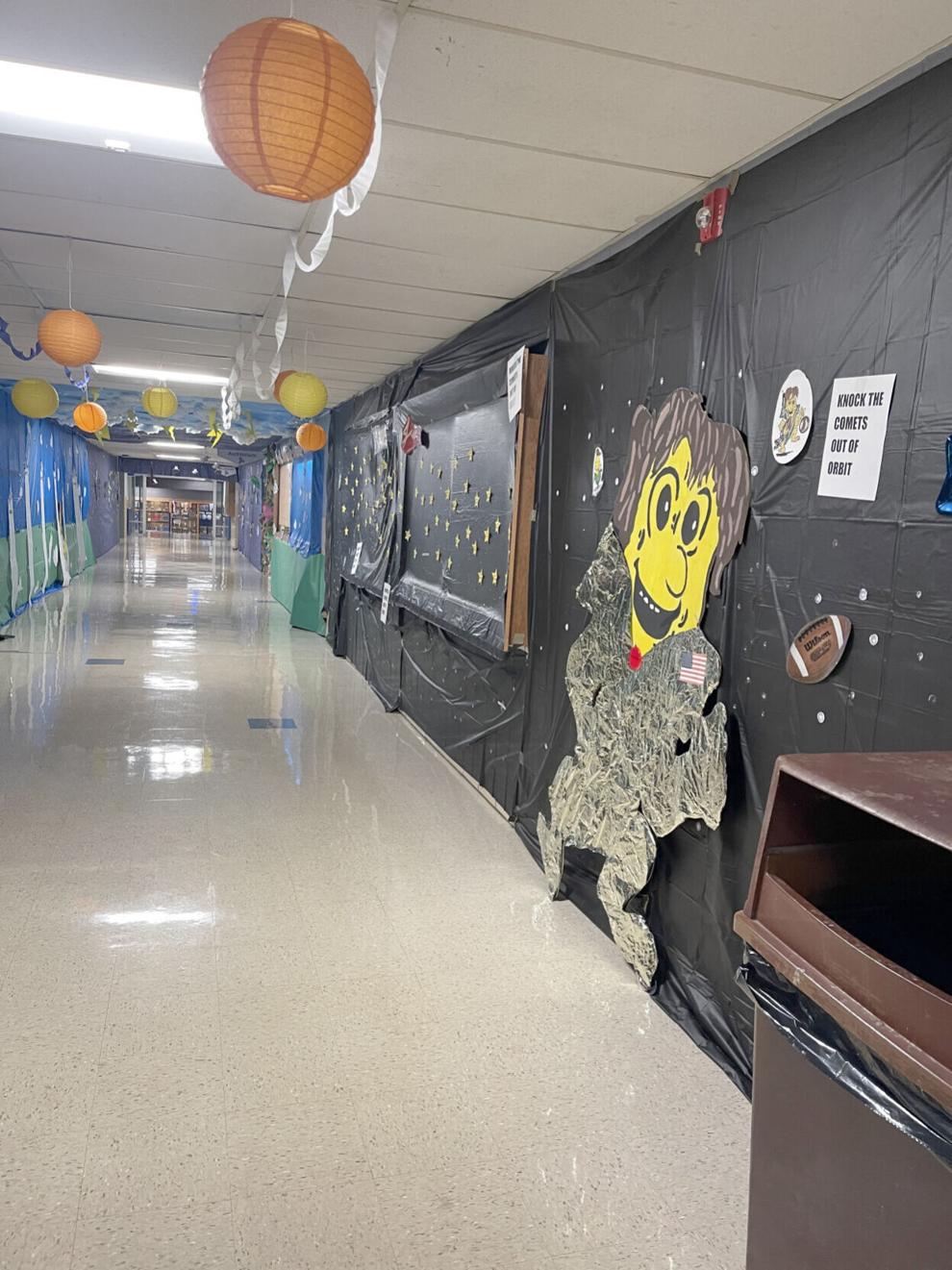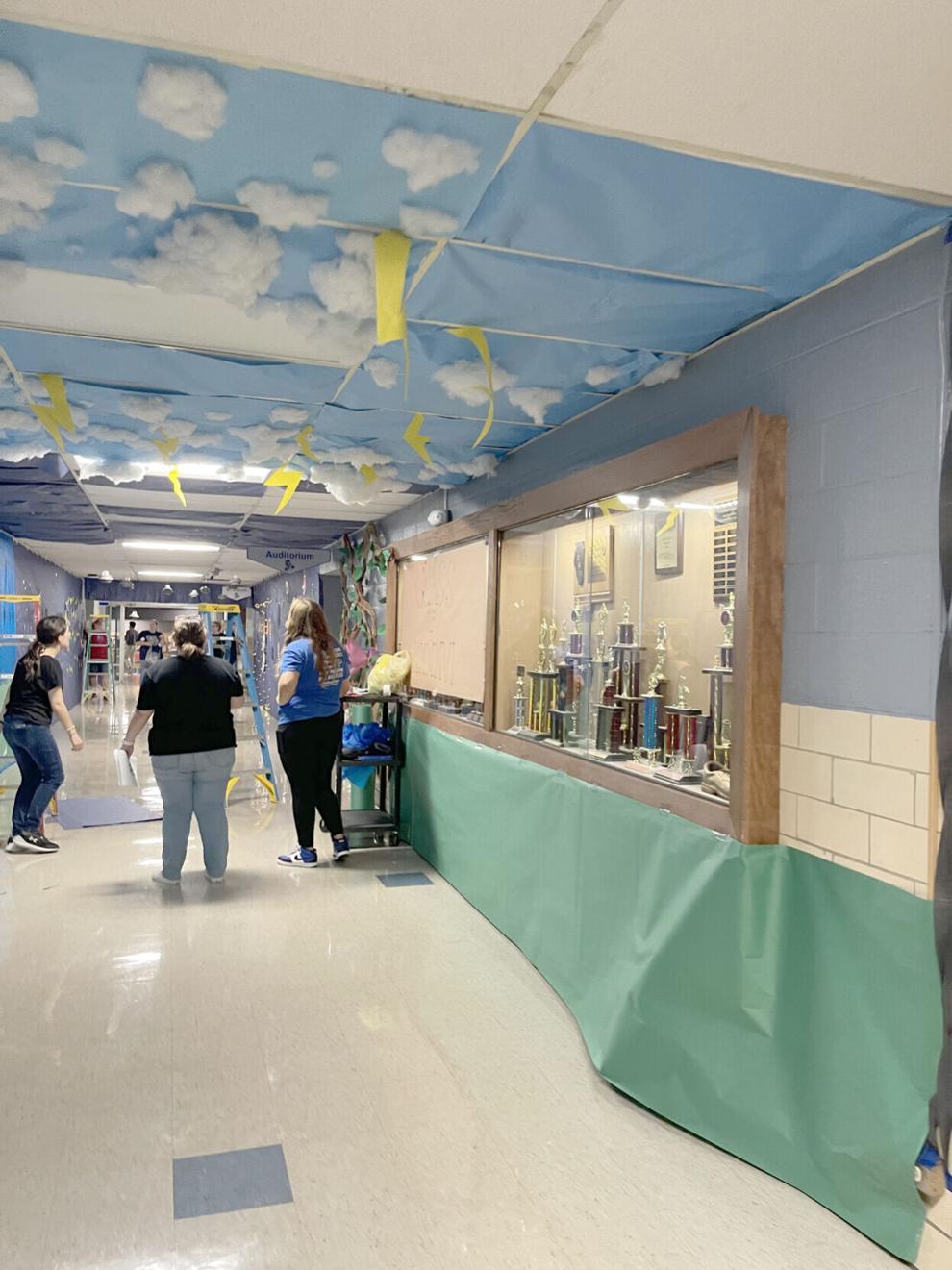 Hoopeston Area
Last Friday, students and teachers worked hard after school on hallway decorations for Homecoming. The seniors' theme was Astronaut Barbie, juniors went with Space, sophomores chose Ancient Greece and freshmen did Space as well. Students are excited for Homecoming week and ready to beat the Comets at Friday's football game.
— Emmalee Bruens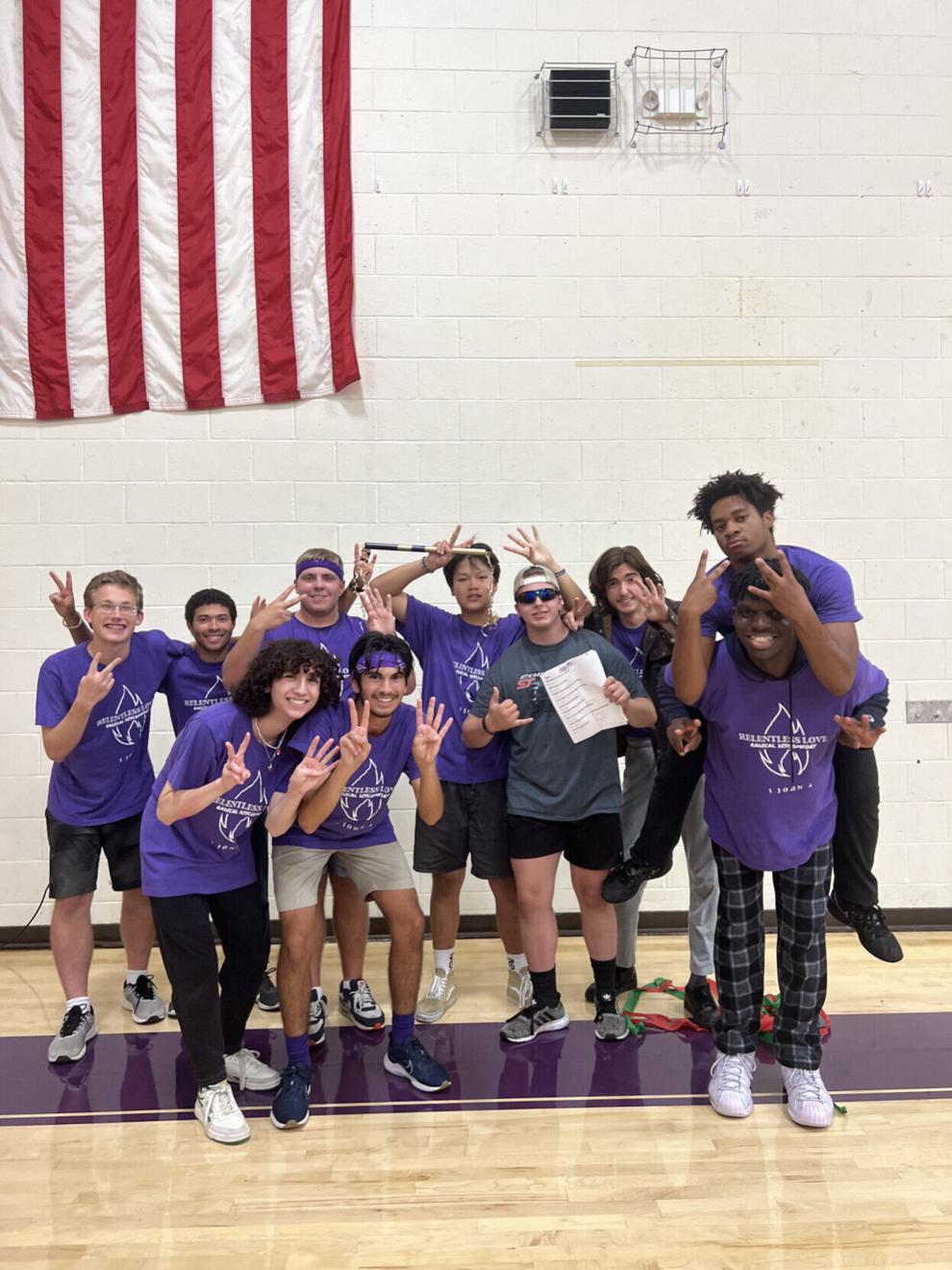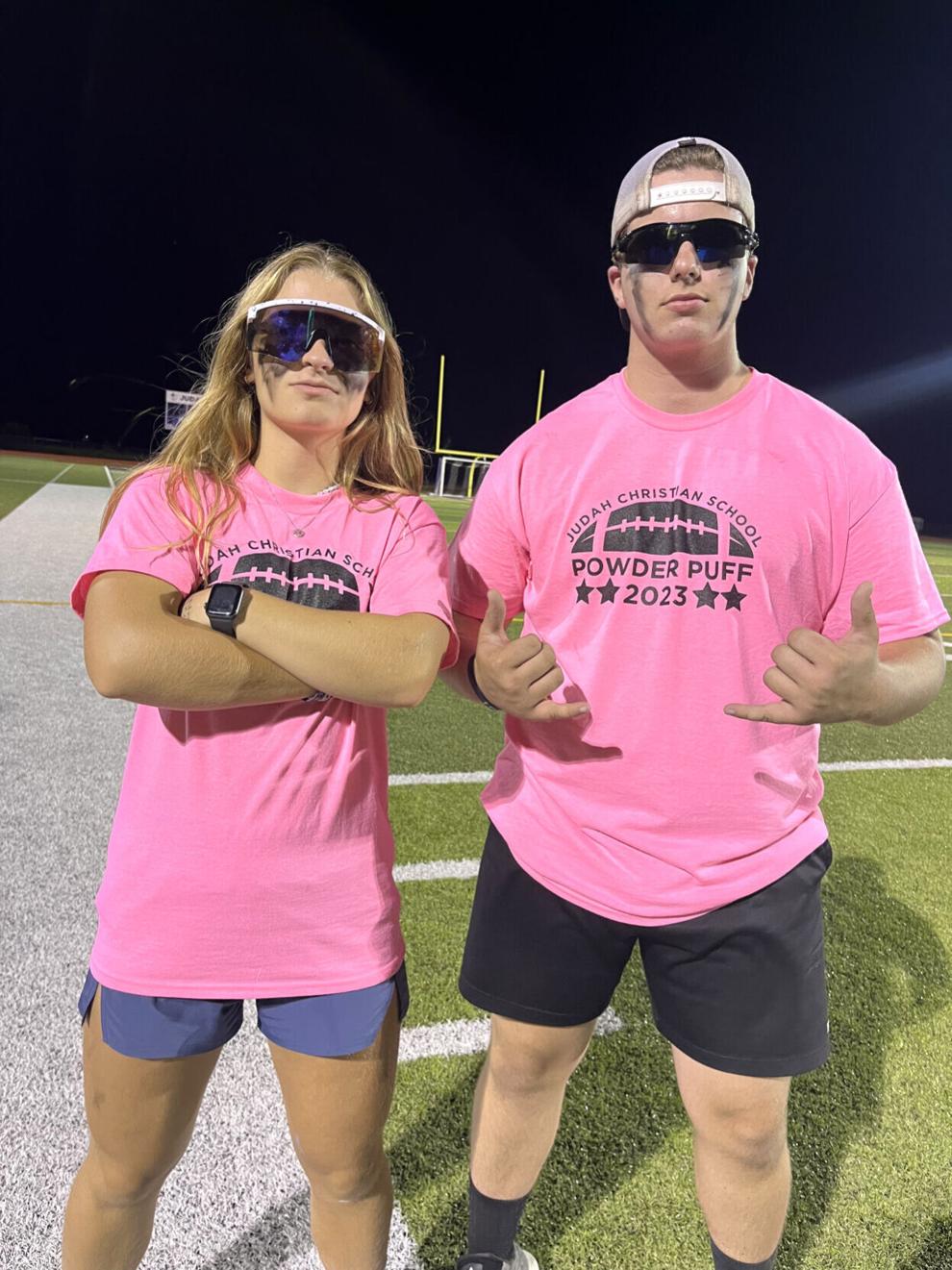 Judah Christian
Last week wrapped up with Homecoming spirit games for junior high and high school students. Seniors took home the win after a week of competing in relay games against all the participating grades. The high school had two matches of powderpuff flag football: the girls pitting 11th- and 12th-graders against 9th and 10th and the boys 10th and 12th against 9th and 11th. Pictured: senior boys with the homecoming spirit stick, and Juliana Stranberg along with Clayton Wacker posing during the powderpuff games.
— Hannah Jackson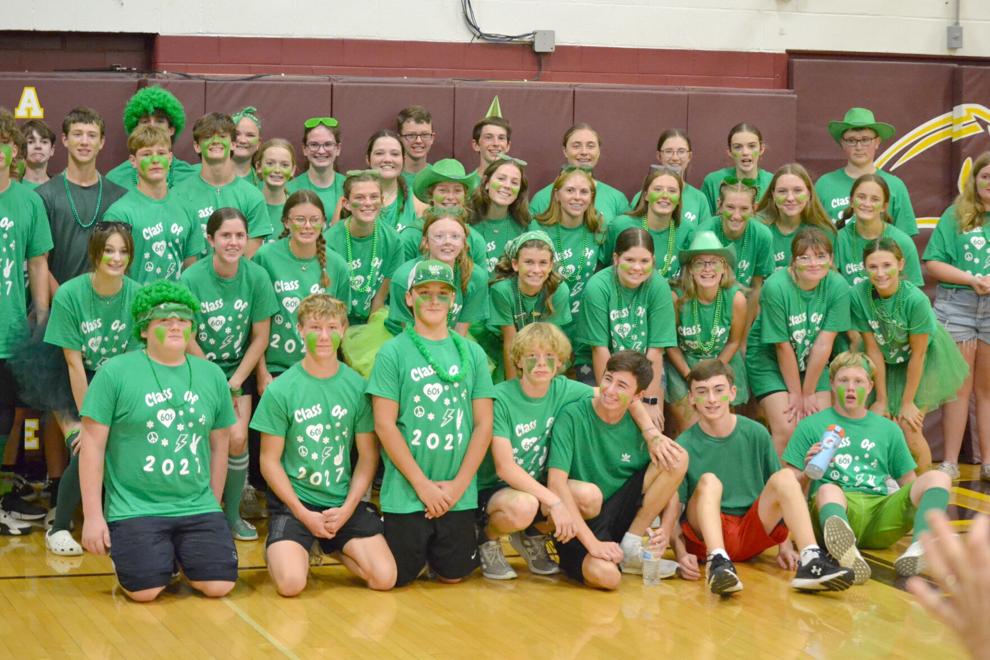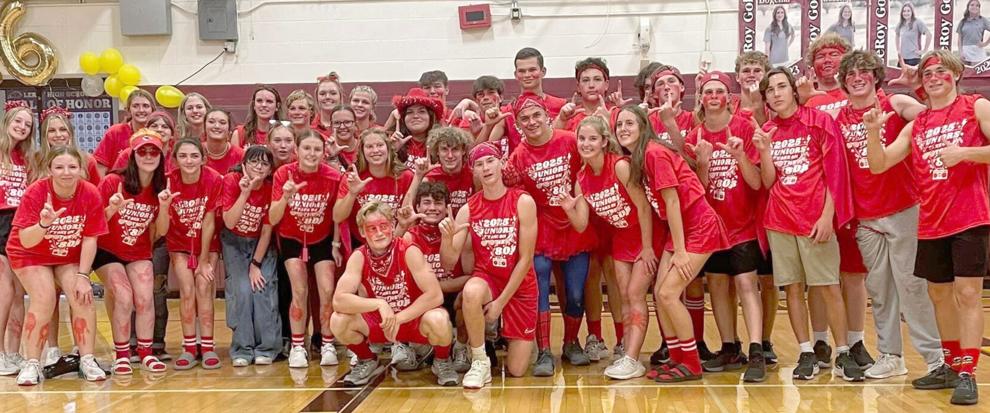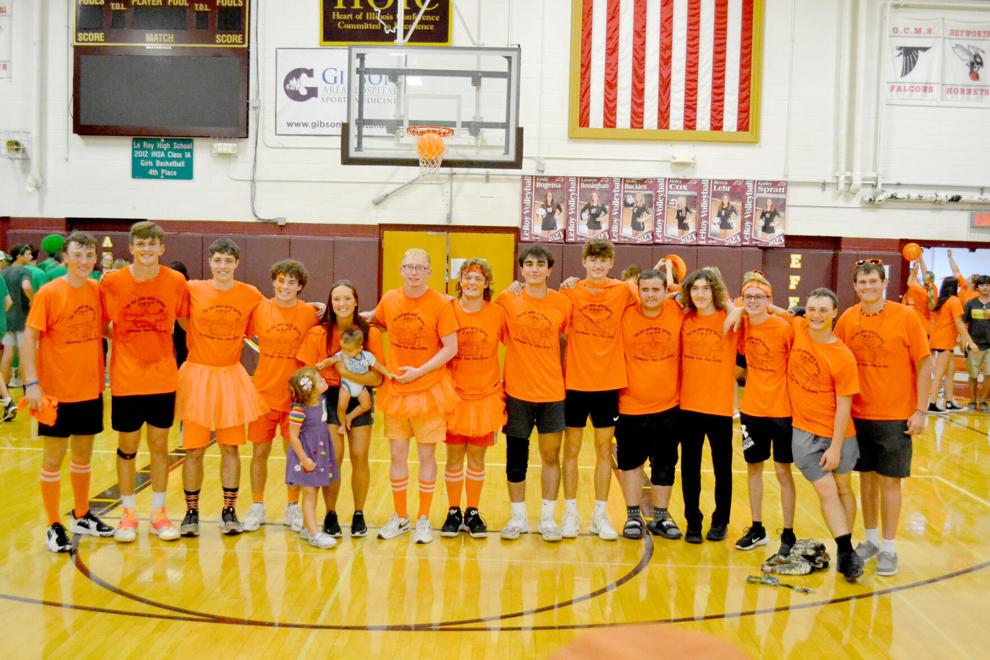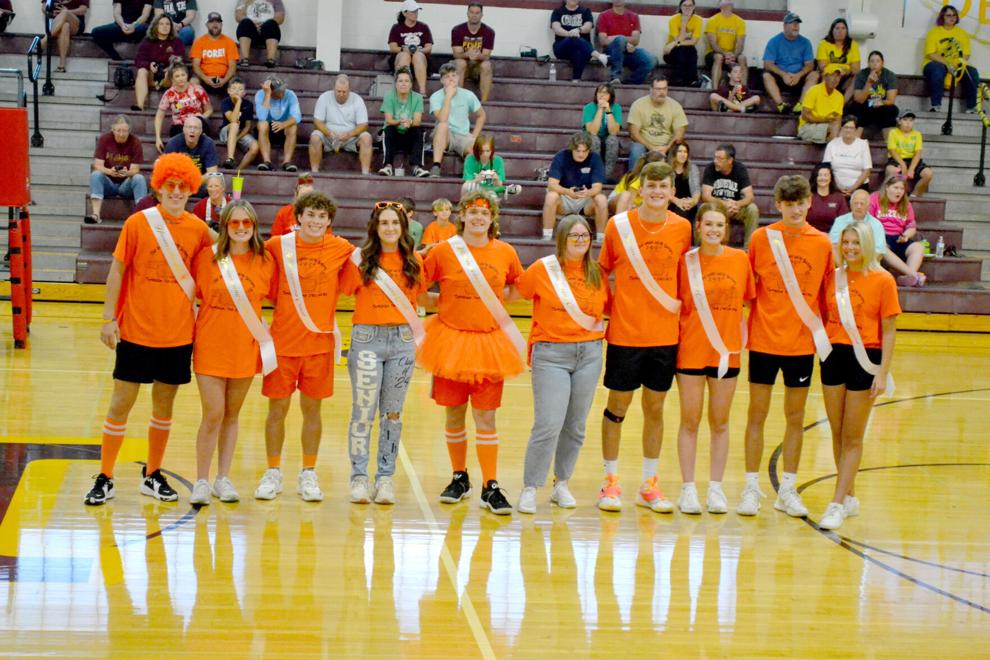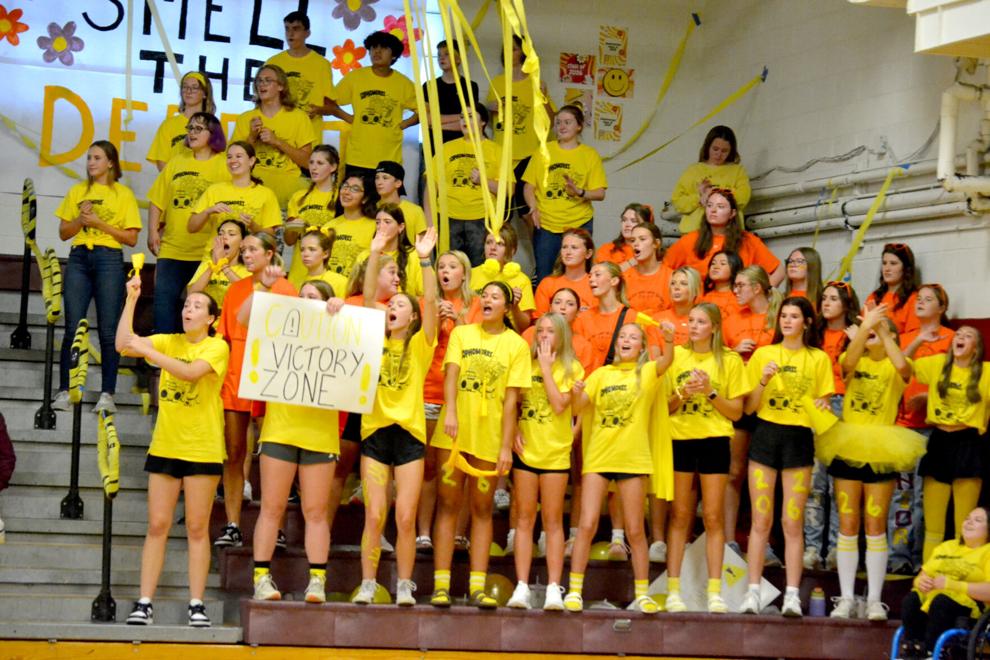 LeRoy
The Panthers held their 10th Annual Macho Volleyball Tournament on Sunday. Before the start of the tournament, this year's homecoming court was announced, which consists of 10 seniors: Nate McKnight, Lauren Bossingham, Matthew Stuepfert, Emily Bogema, Thomas Jackson, Izzy Pray, Jasper Tarr, Karley Spratt, Braden Loy and Rylee Bunn. During the tournament, the freshmen competed against the sophomores and the juniors competed against the seniors. The night ended with a win for the sophomores and seniors.
— Emily Bogema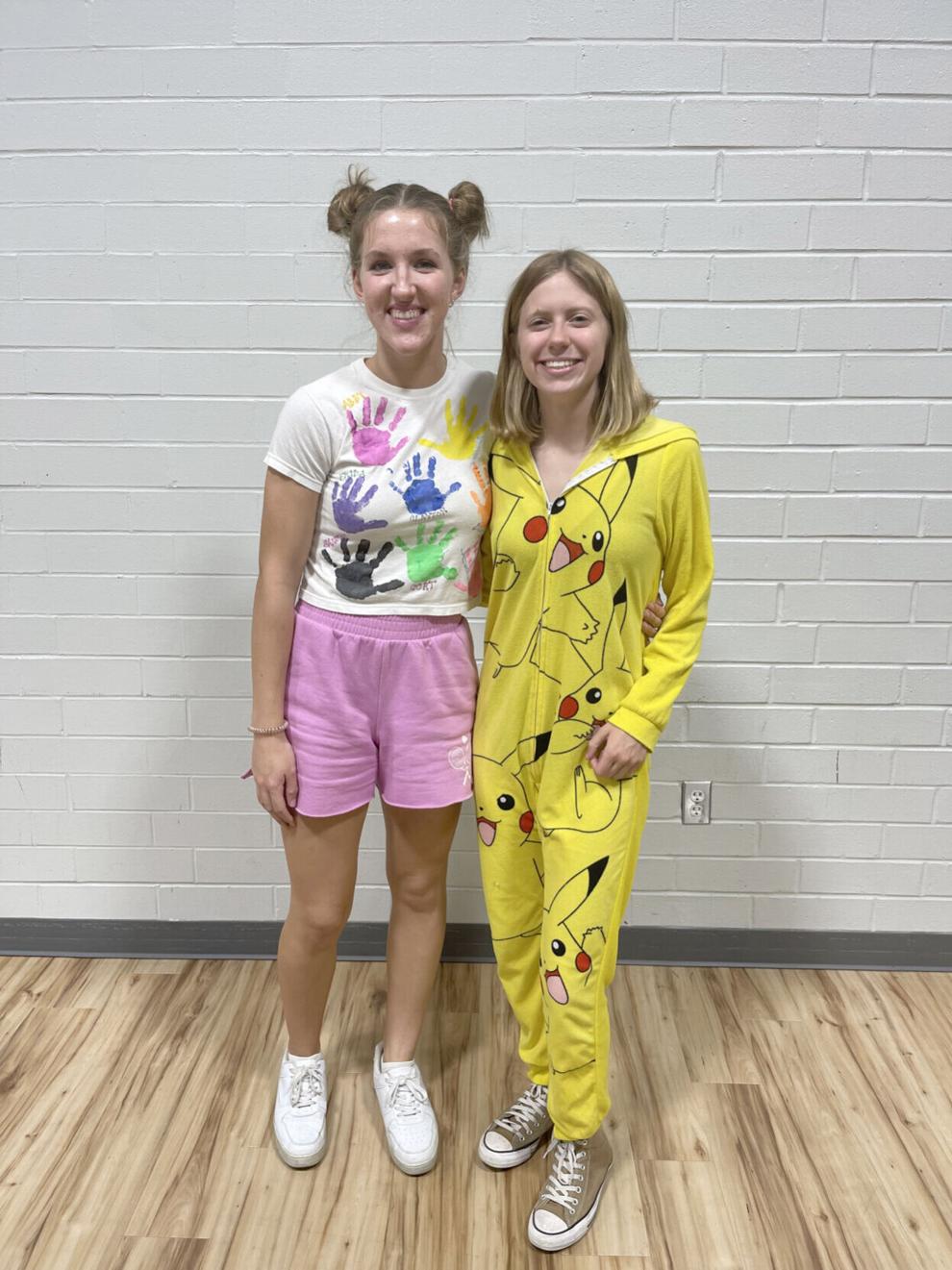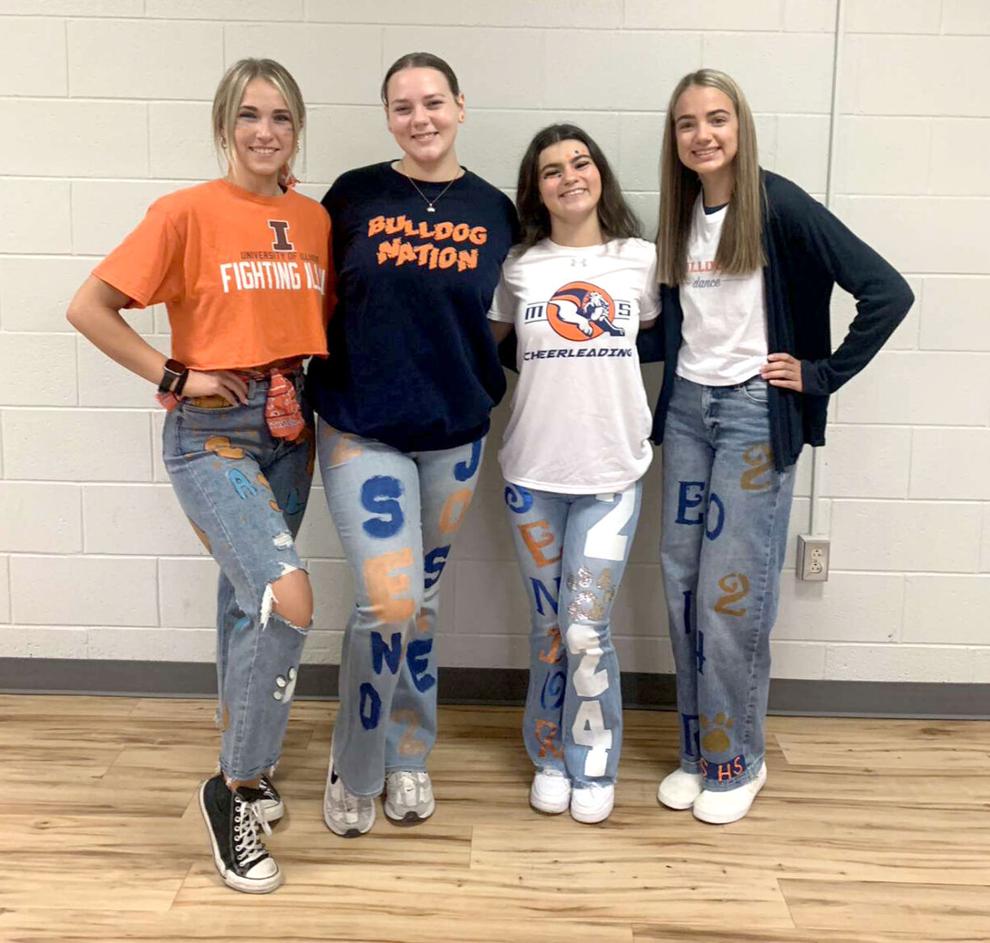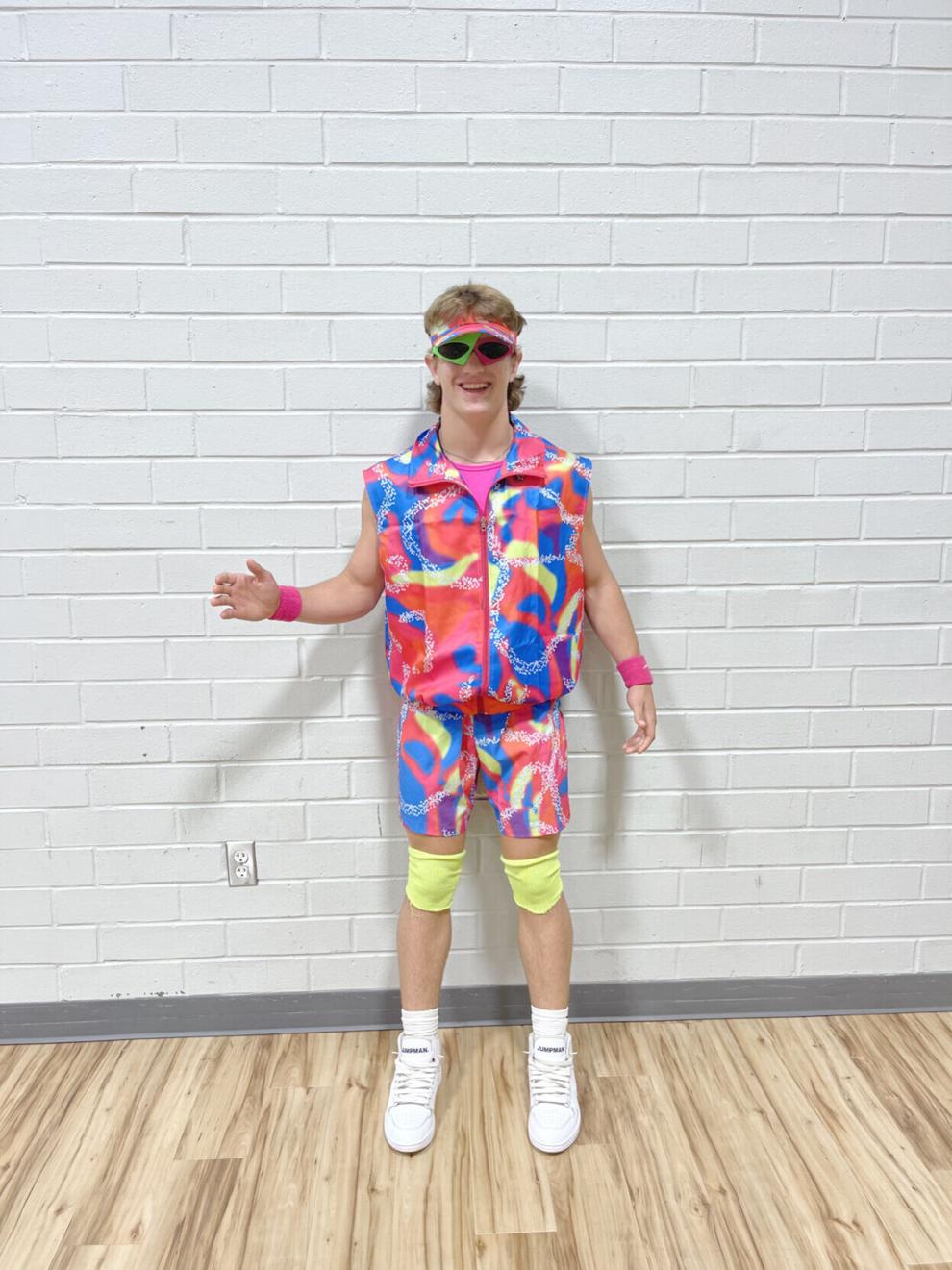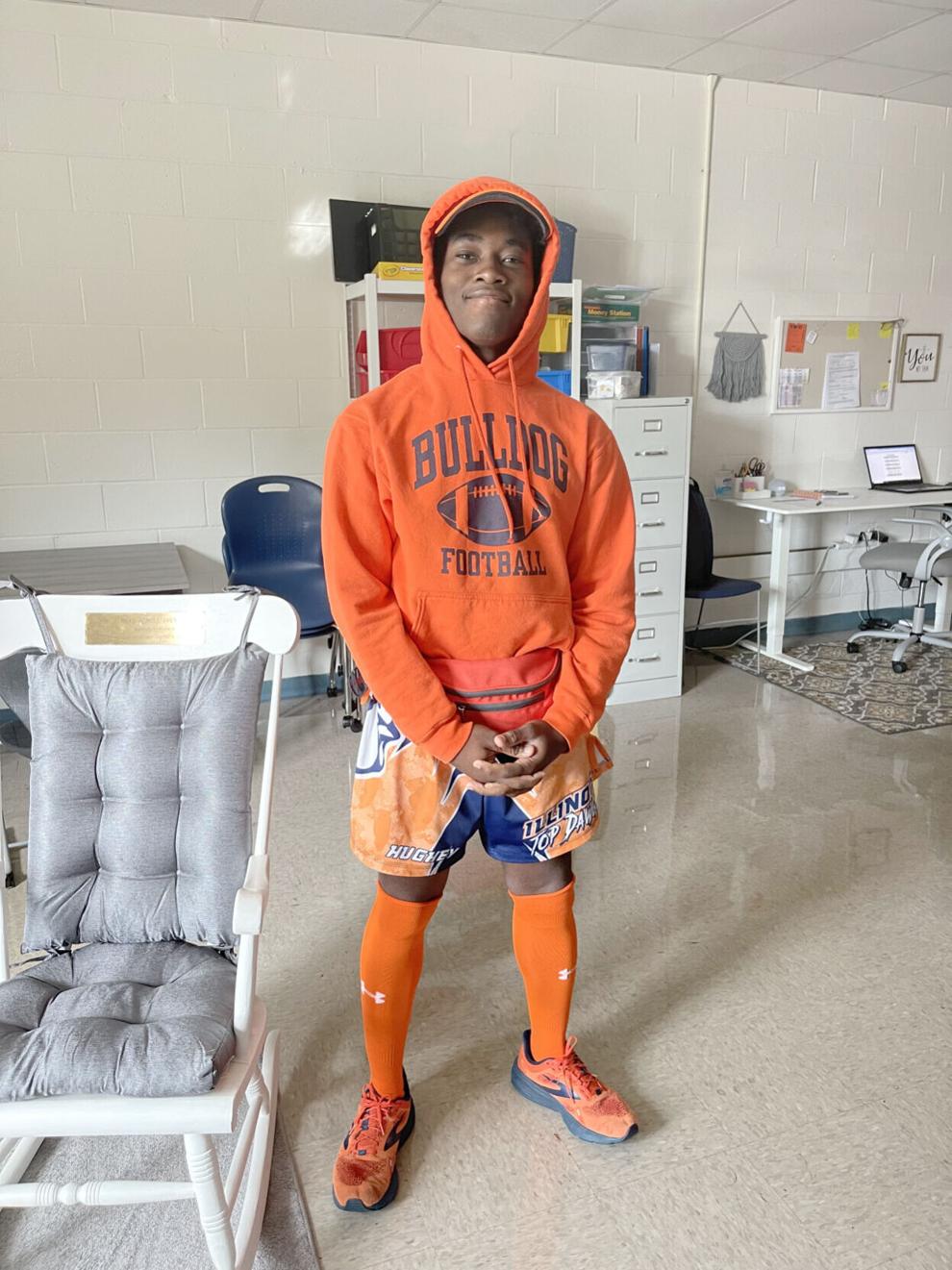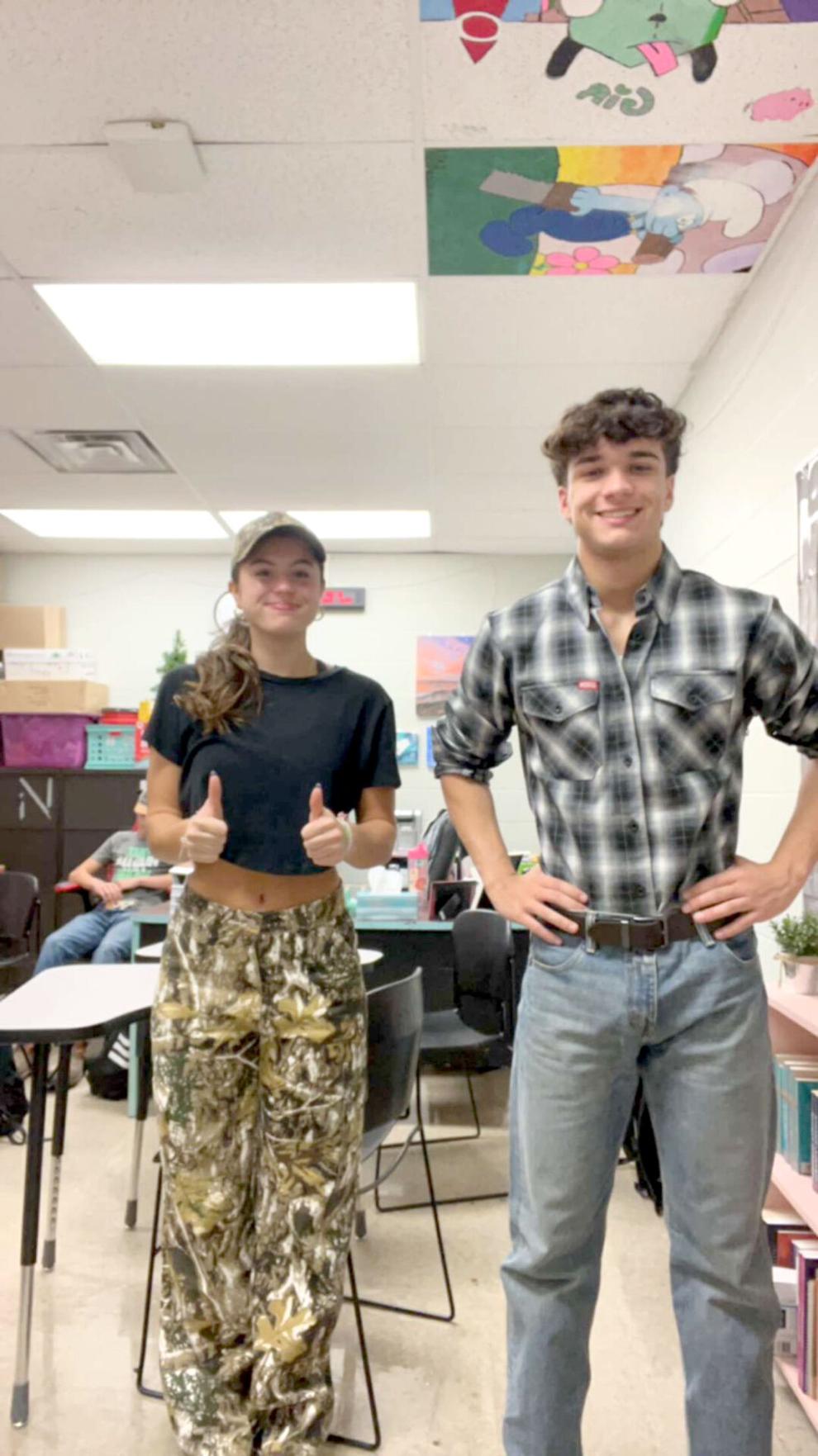 Mahomet-Seymour
Leading up to Saturday's homecoming dance, students went all out for spirit week: Monday was Country vs. Country Club (seniors Gabby Dawson and Ty Golden), Tuesday was Barbenheimer Day (pictured: senior Gage Decker), Wednesday was Class Color Day (senior DeAndre Hughey), Thursday was Dress Like Your Kindergarten Self Day (seniors Lauren Burr and Izzy Fonte). Thursday – Dress Like Your Kindergarten Self and Friday was Orange and Blue Day (junior Ella Petrie and seniors Josephine Hansen, Holly Hawes and Kylie Beard). There was a lot more participation than past years as students enjoyed powderpuff, the homecoming parade, the football game on Friday night and the dance.
— Maddie Grindley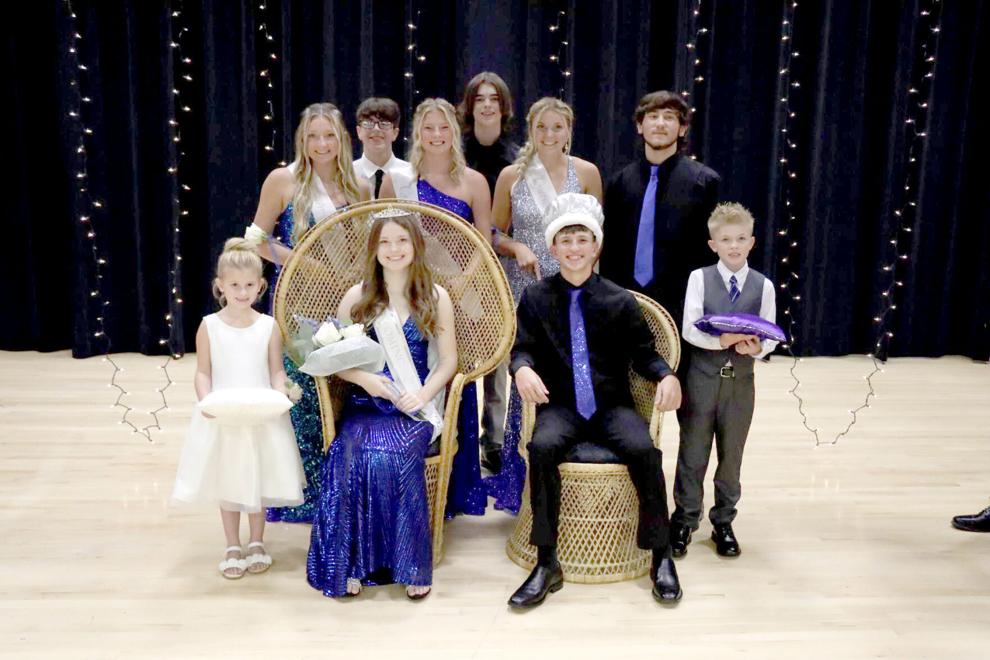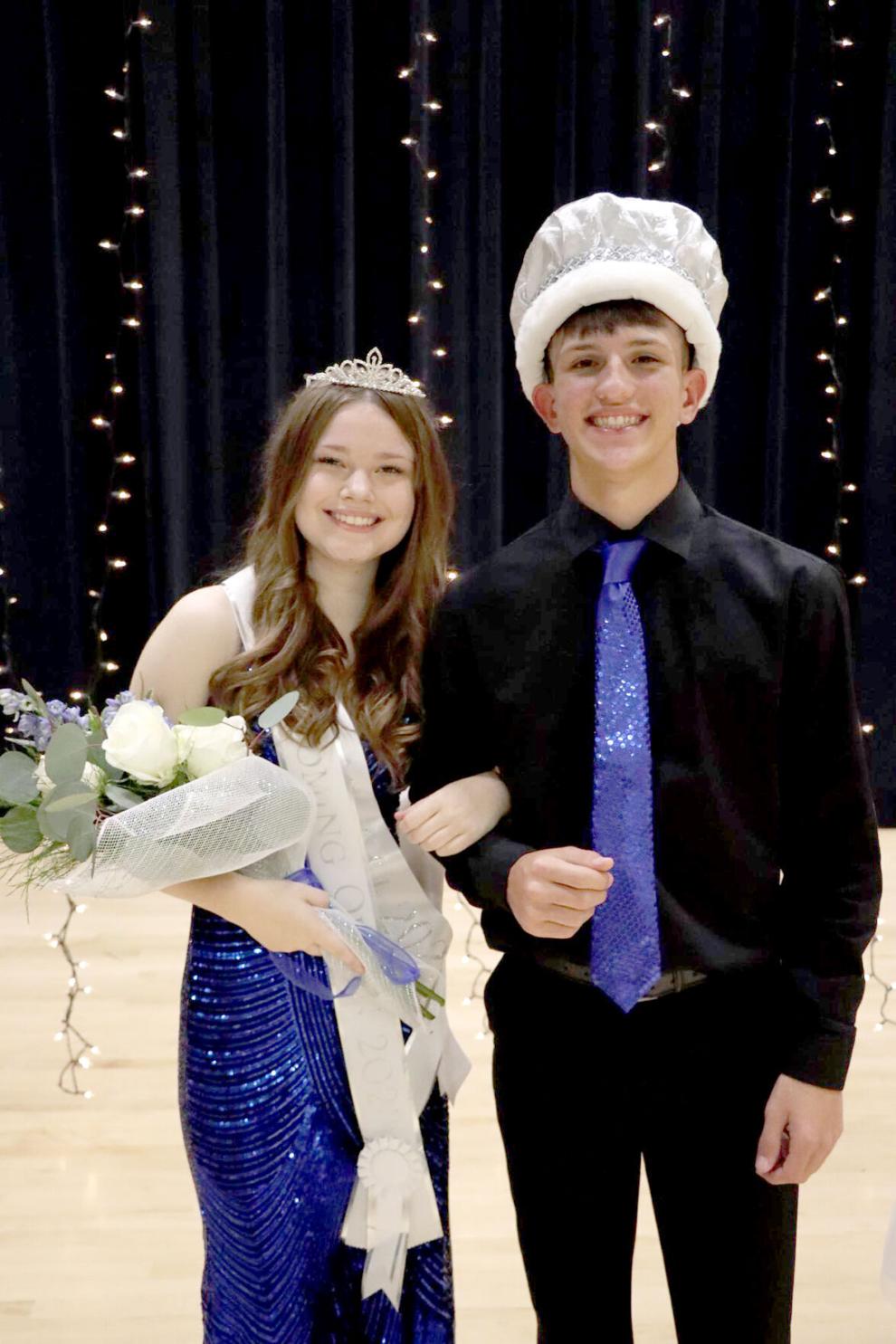 Milford
Congrats to Mattison Johnson and Gavin Schunke for being crowned Homecoming King and Queen. Also, congratulations to the queen and king candidates and crown bearers (left to right, front to back): Anna McEwen, Brayden Patlan, Emma McEwen, Jace Boyer, Hunter Mowrey, Carson Shields, Brinley Gullquist, Mattison Johnson, Gavin Schunke and Lachlan Cheever. Also, congratulations to the Freshman-Junior Attendants and their escorts (front to back, left to right): Caleb Clutteur, Preston Janssen, Coy Lucht, Bryson Crow, Mario Grimaldo, Noah Bennett, Mychelle Wood, Jossalin Lavicka, Sydney Seyfert, Emma Janssen, Alianna Ward and Brycea Brown.
— Hunter Mowrey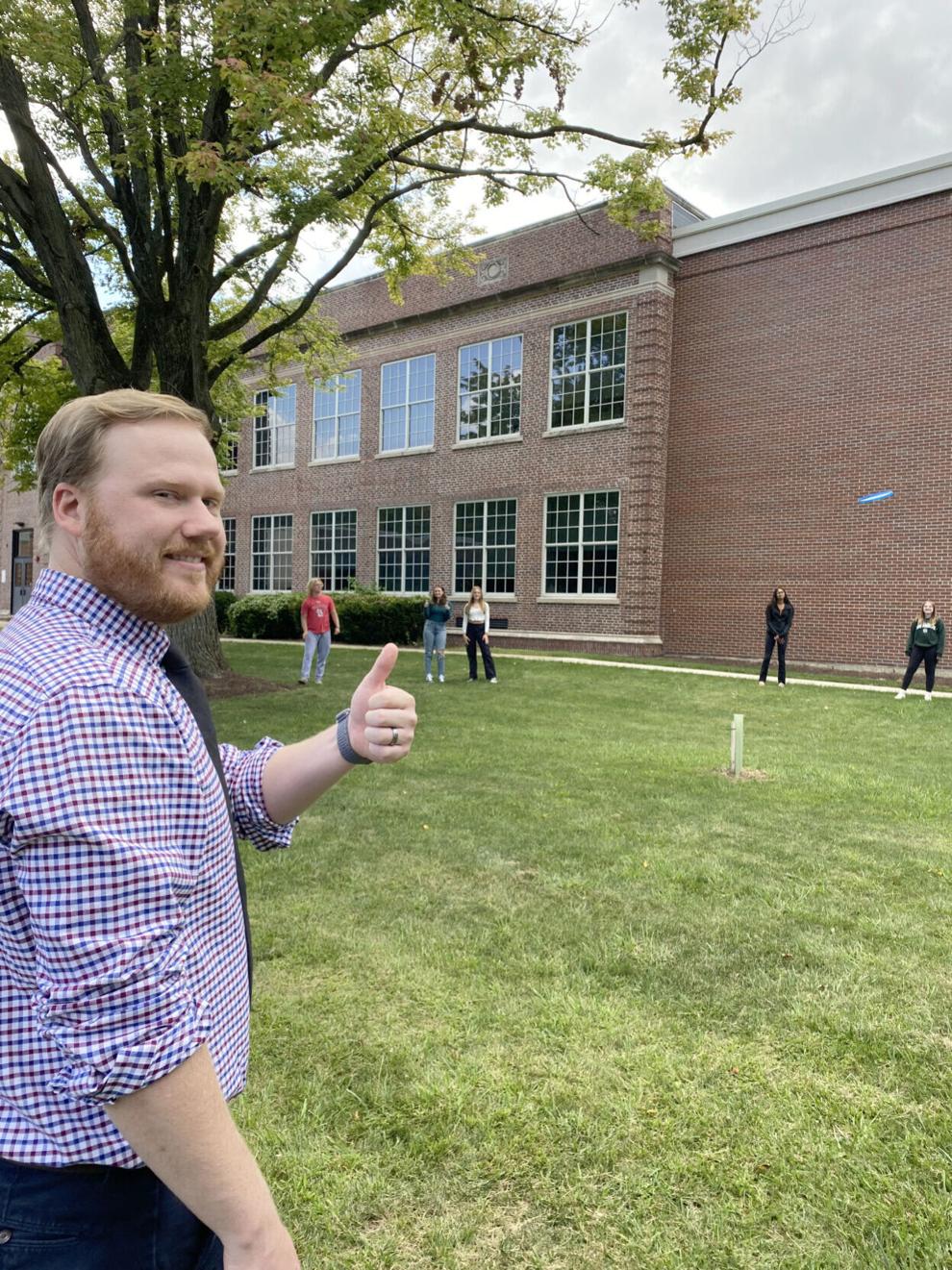 Monticello
Casey Crowhurst's senior English classes went outside for a break. In what became a competition between classes, students saw how many frisbee throws they could get in a row. The time allowed students to practice interpersonal skills with classmates. Pictured: Crowhurst, Treyden Fox, Reese Patton, Jobi Smith, Vidhi Patel and Allison Crabtree.
— Tynley Jackson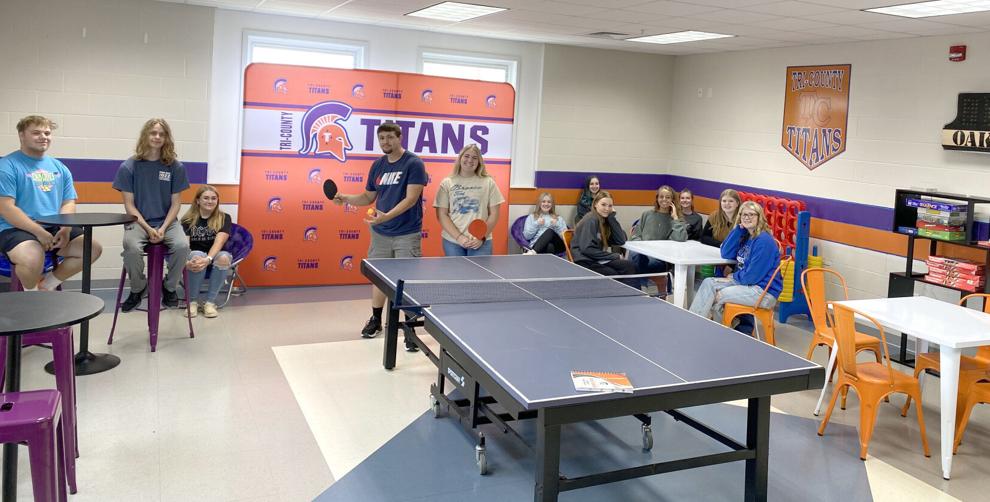 Oakland
Over the summer, student council made a goal to make school look more bright with our school colors.T hat included making the student lounge look more like a lounge and less of a lunch room for students to hang out, adding tables, chairs and board games to complement a ping pong table. Another addition: color to the hallways. New Superintendent Nathan Pugh also has also grilled food for students, who played games and mingled while eating in the lounge. Photo by Emily Meyers.
— Lucy Krabel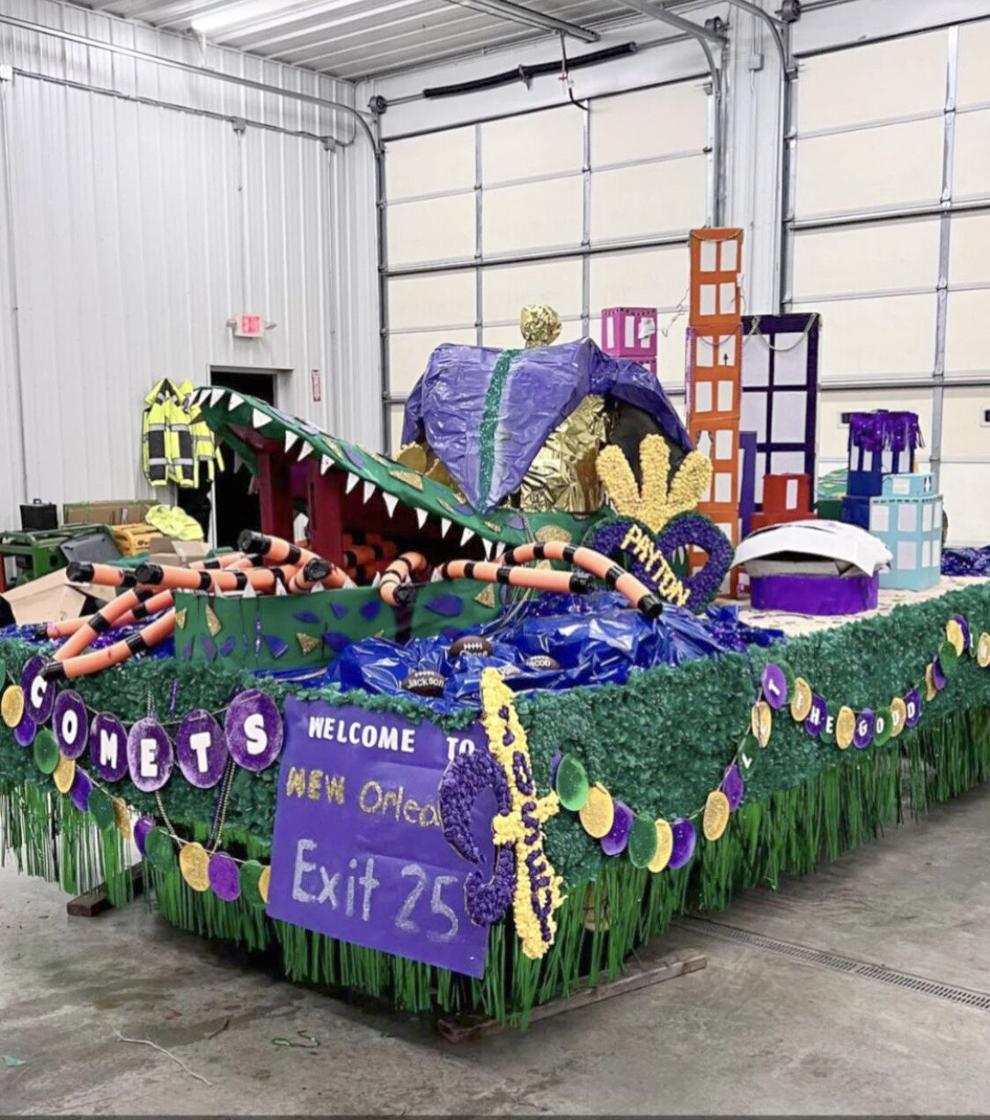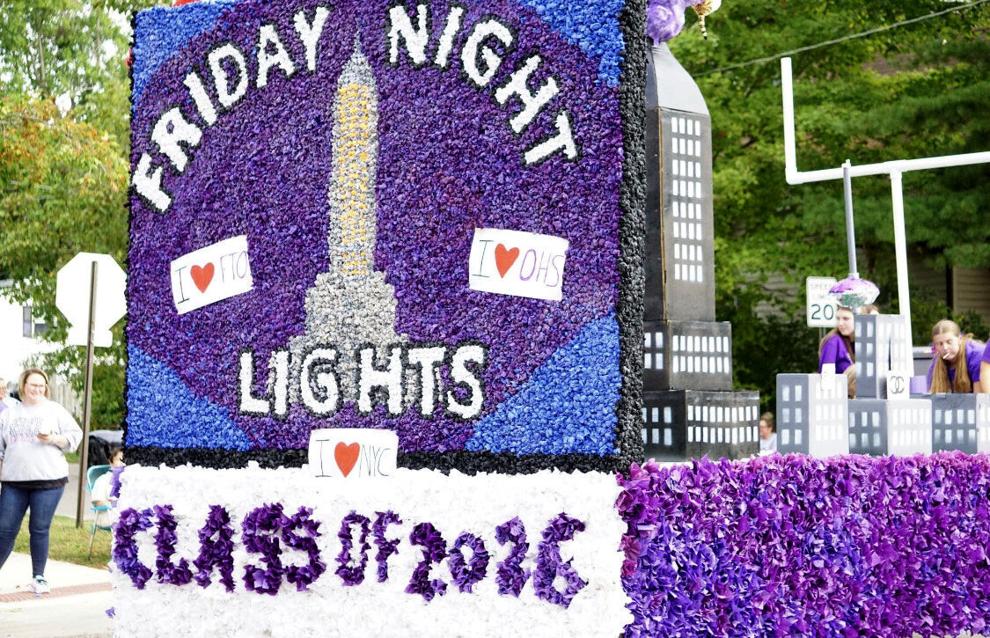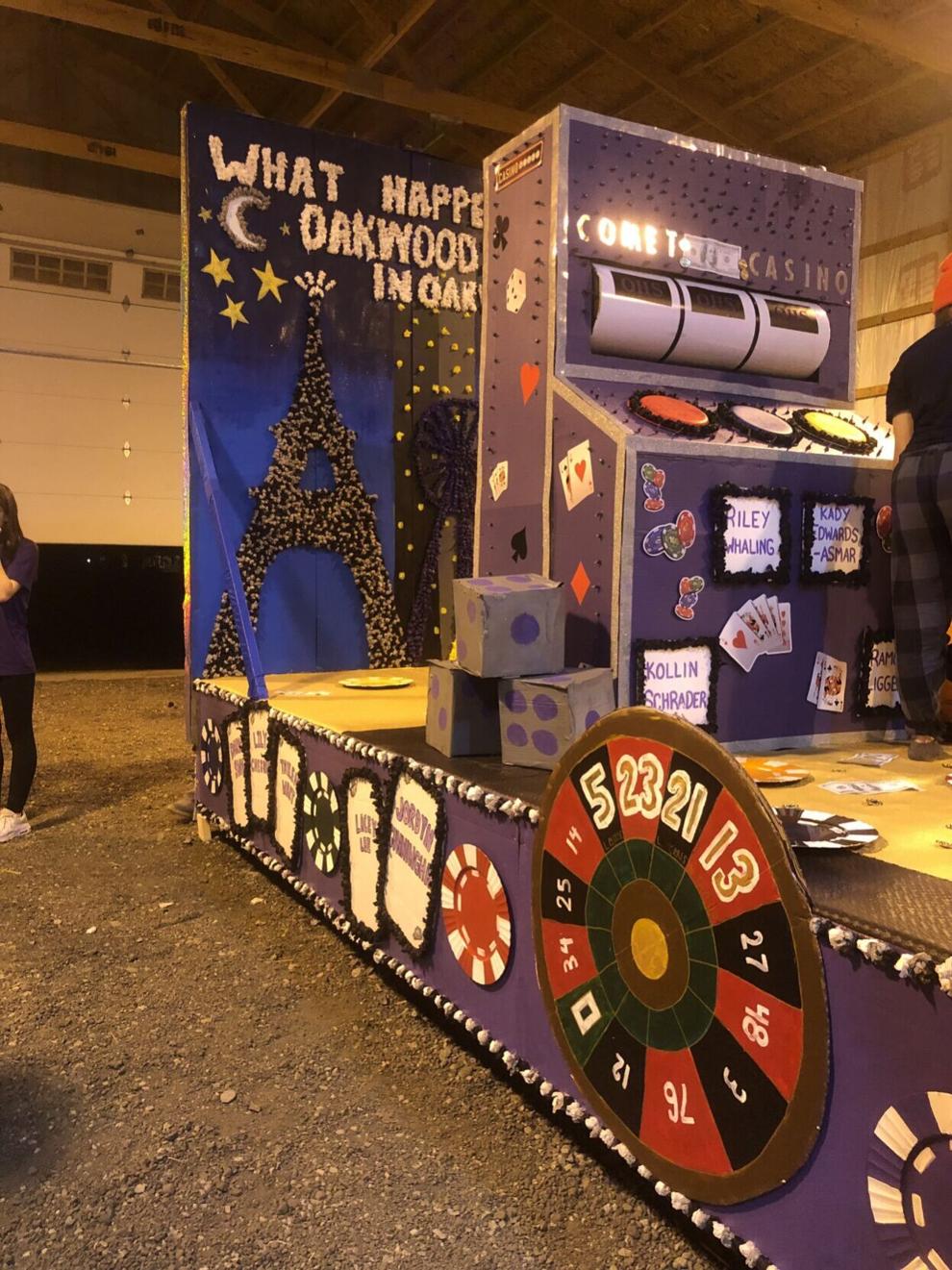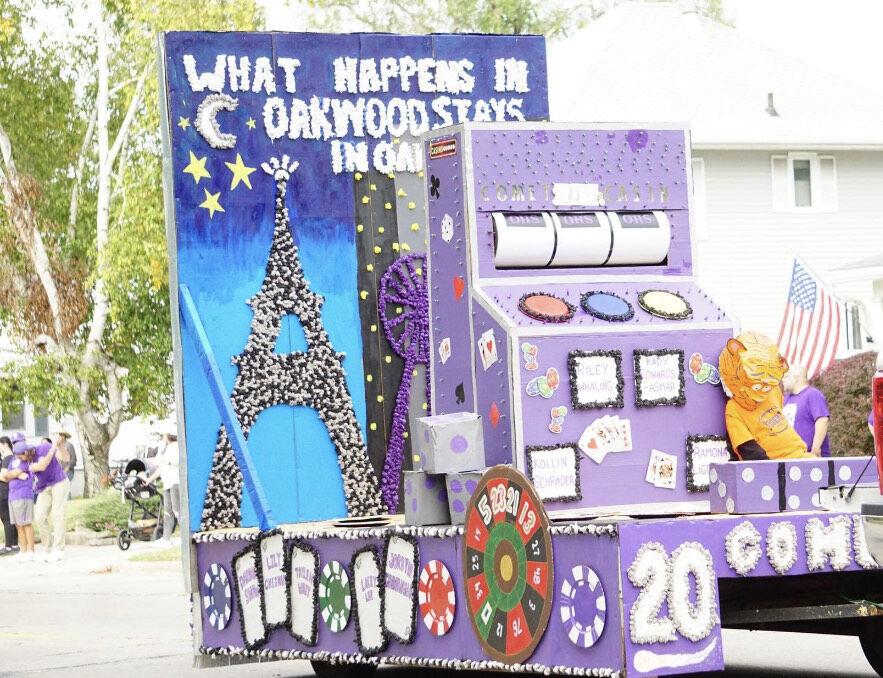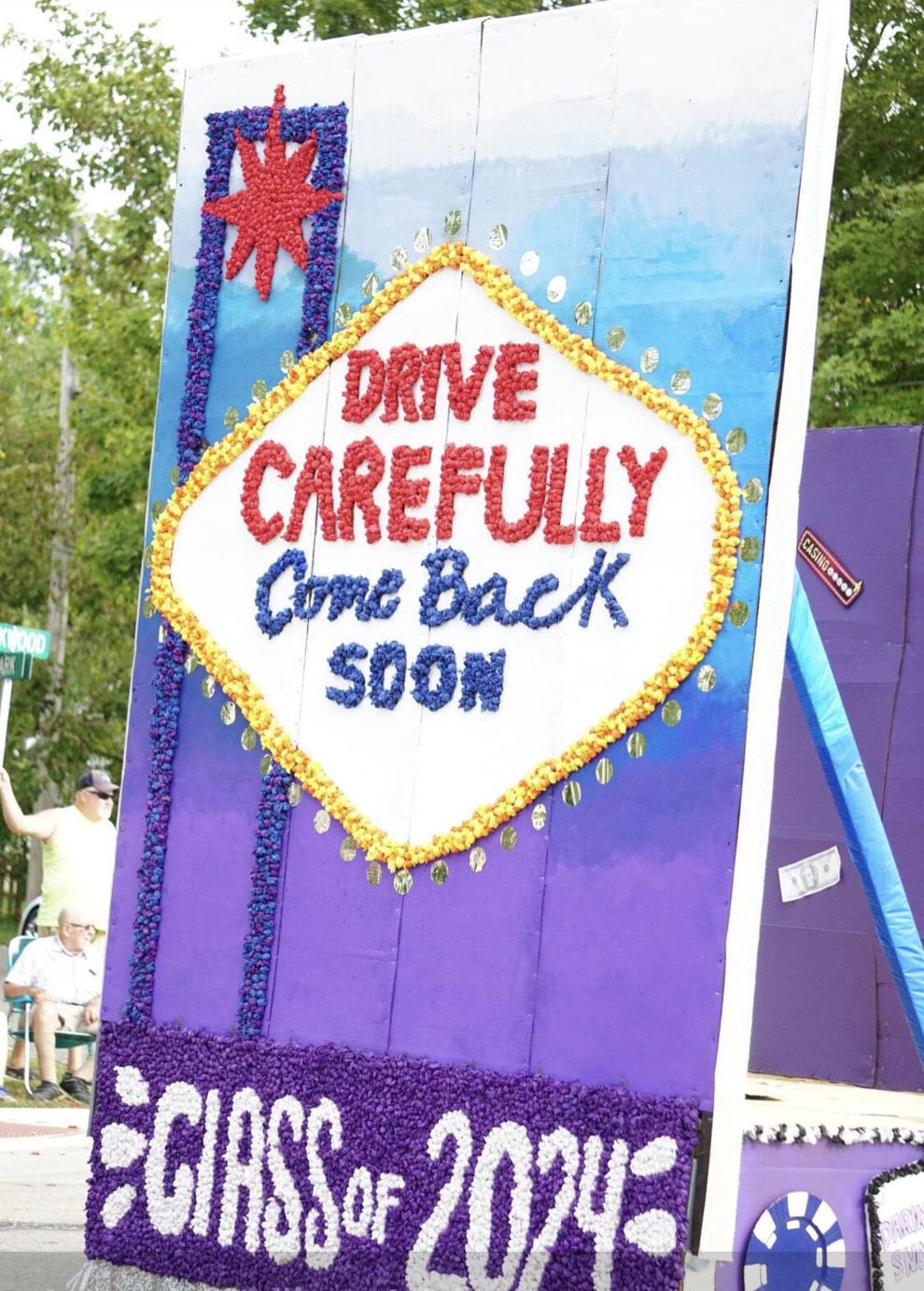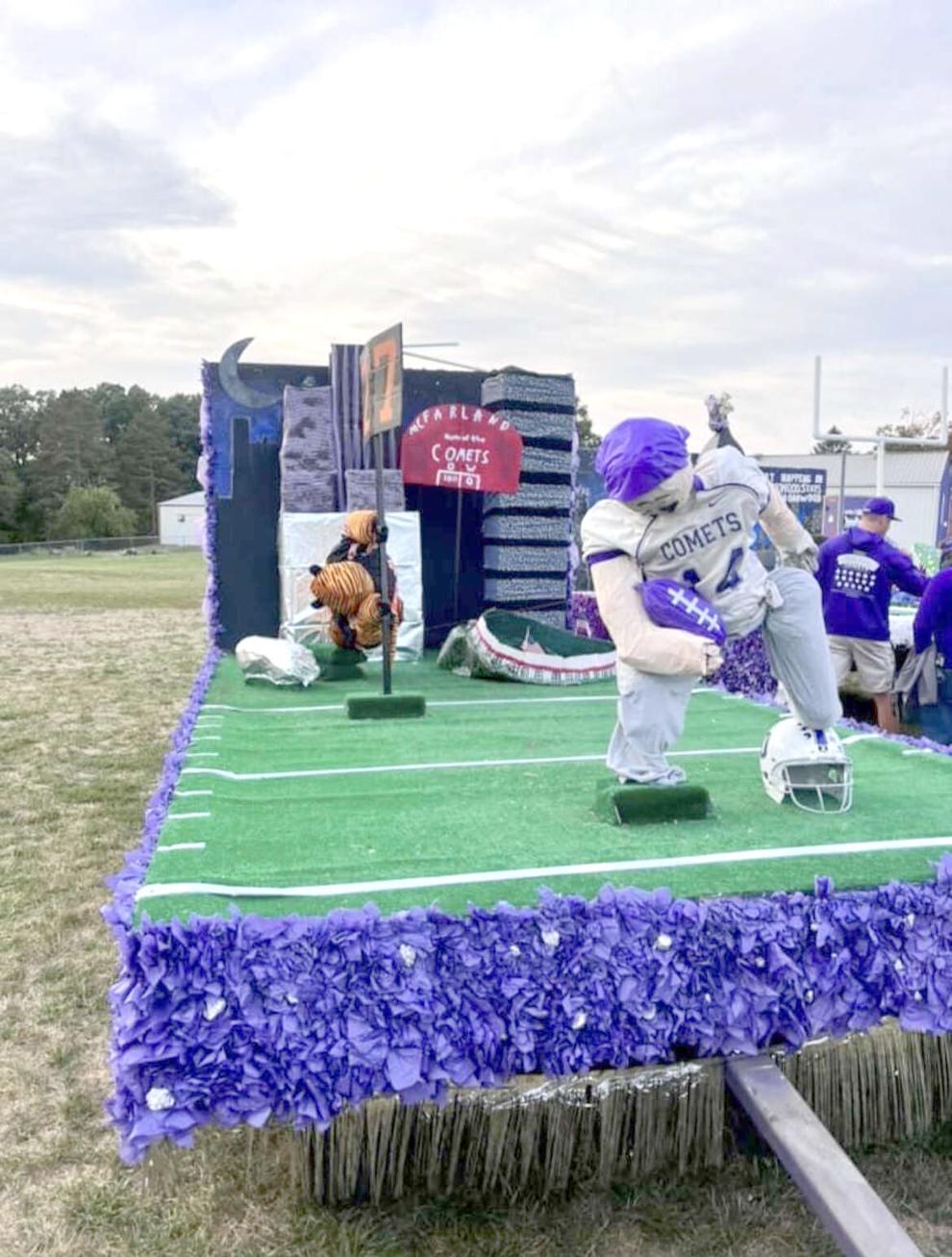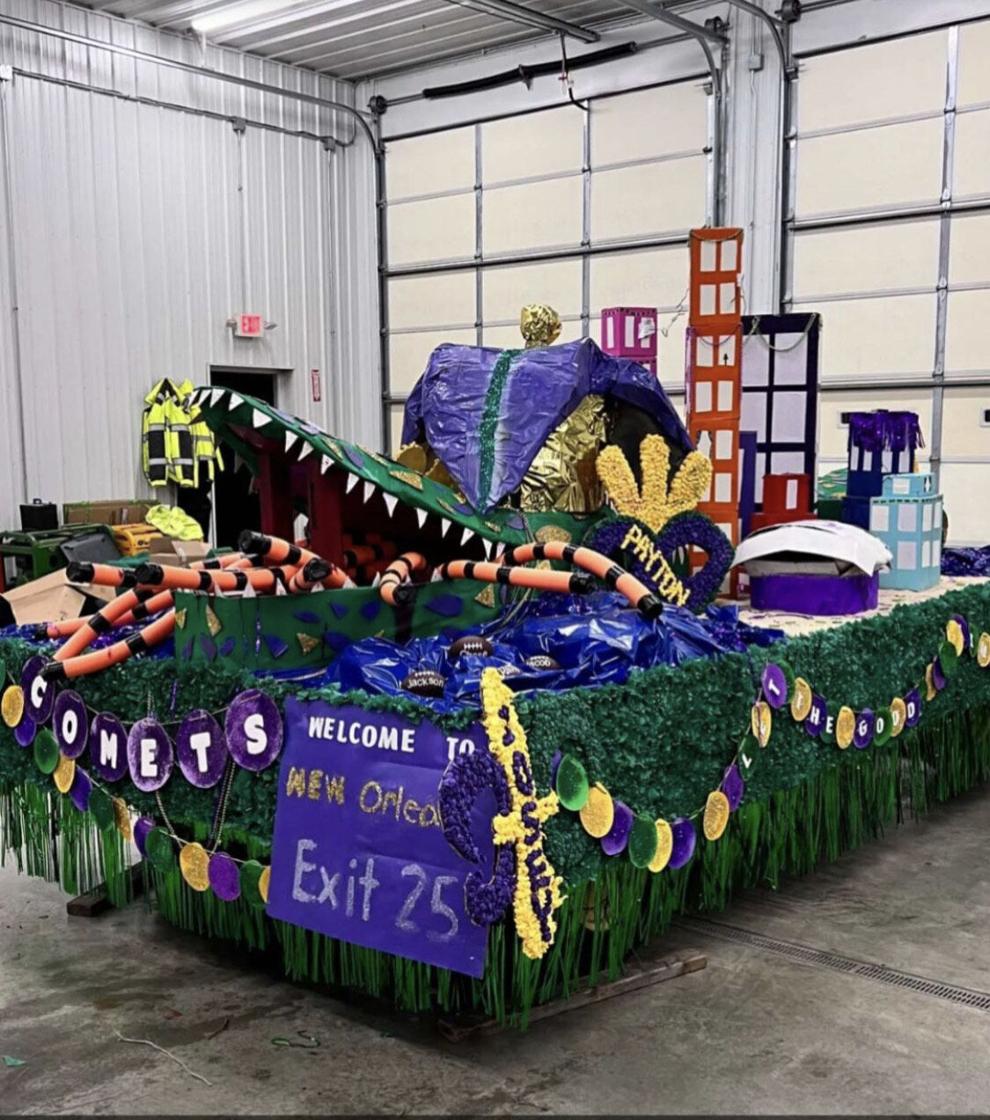 Oakwood
Leading up to Saturday's Homecoming, each class came together to decorate a float that incorporates the theme: 'A Night in the City.' Each float represented a different city, and the sophomore class won the contest. The senior class won the people's vote from the community.
— Lily Chestnut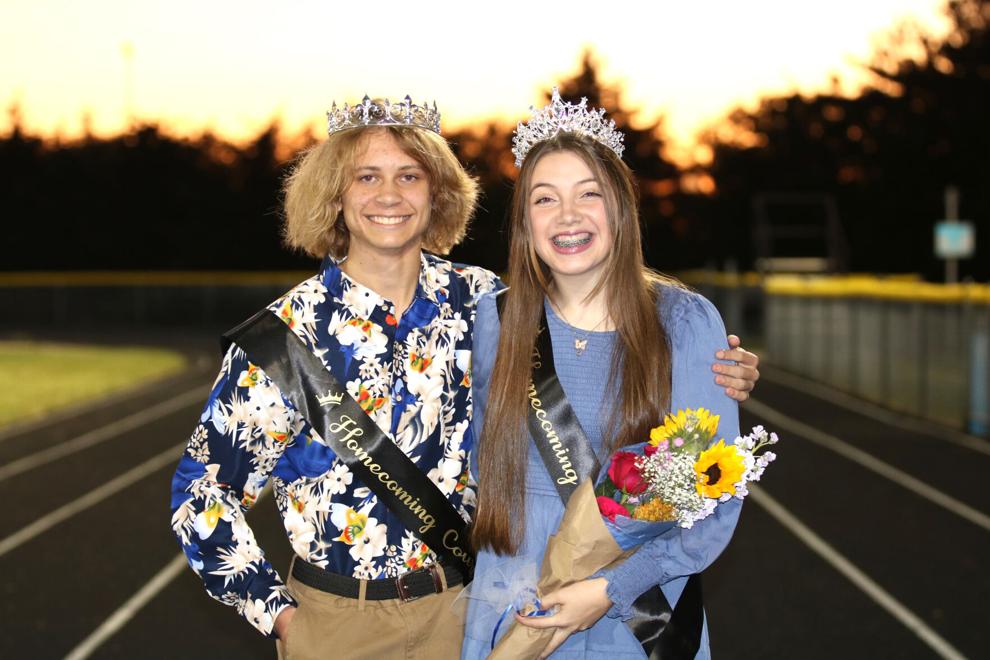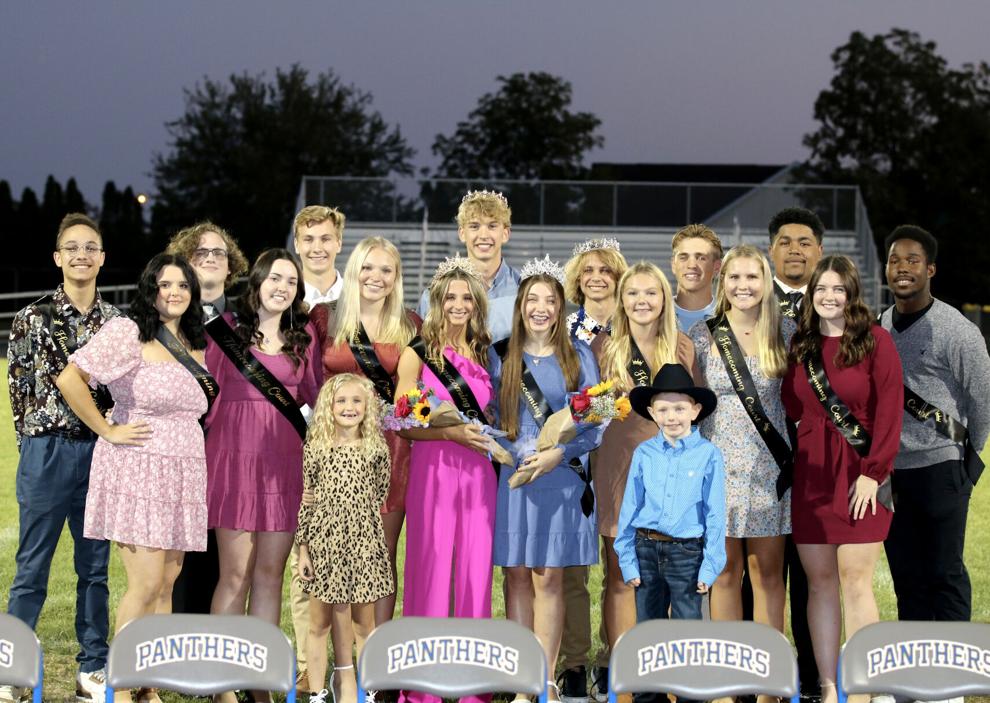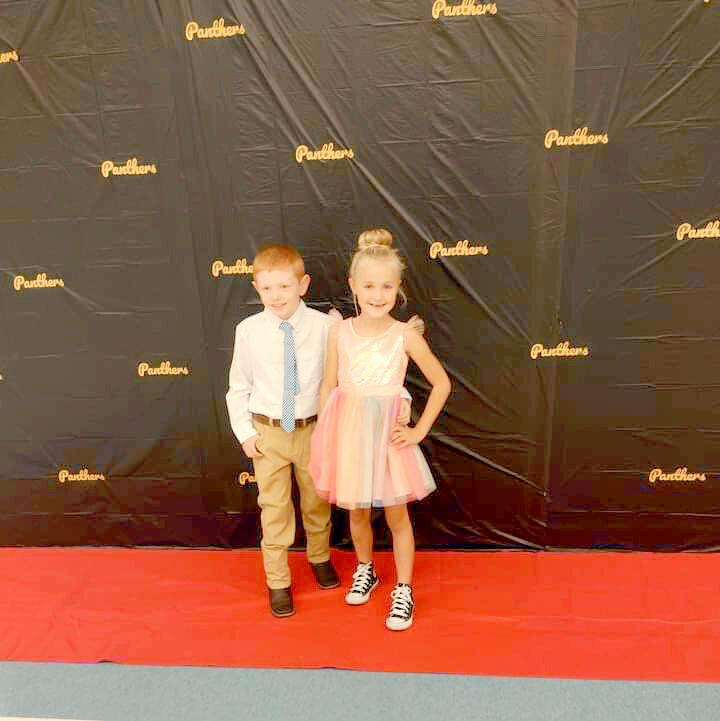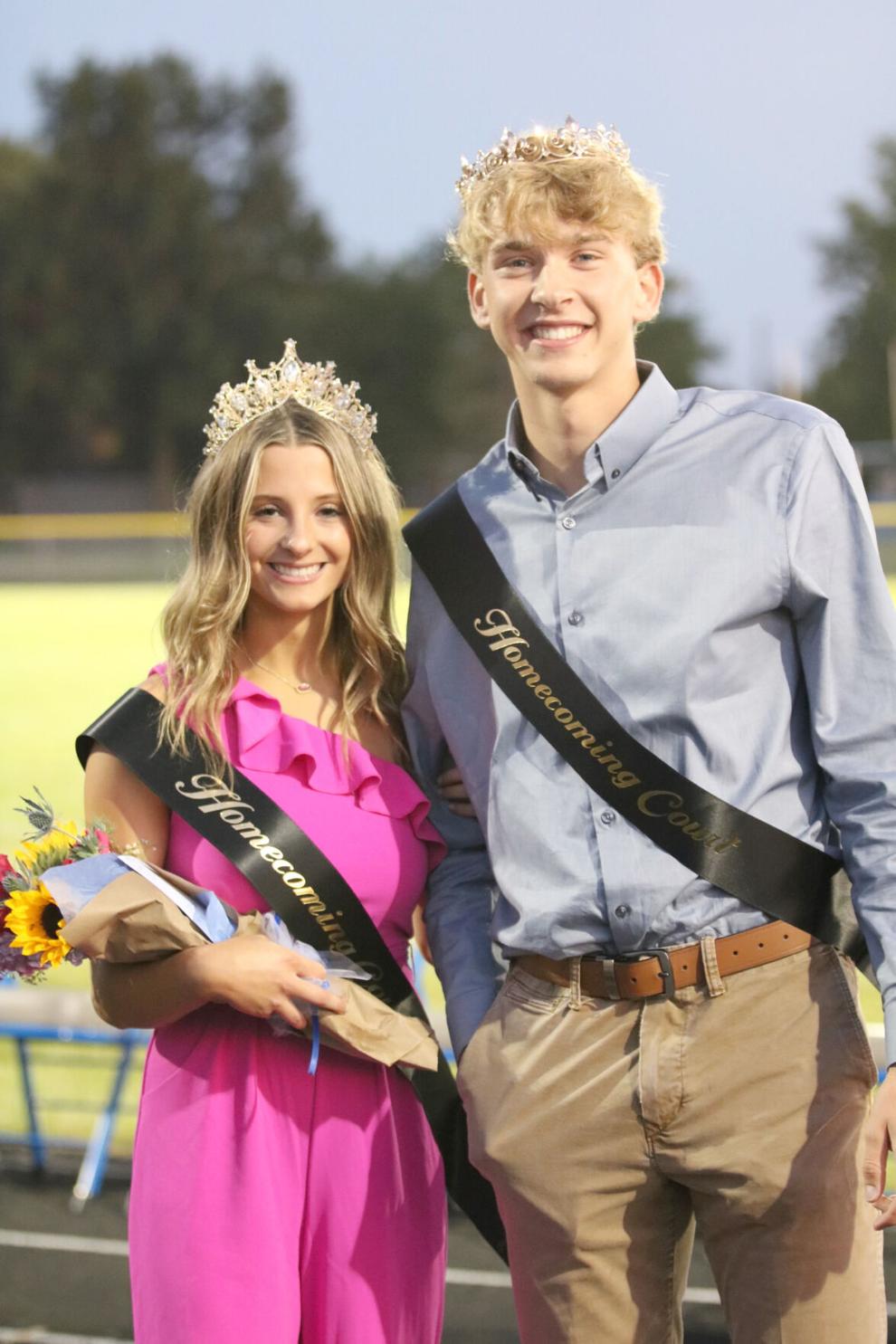 Paxton-Buckley-Loda
Homecoming was Sept, 16, the court consisting of four pairs of juniors and seniors. Of the eight juniors, one is selected as prince and another as princess; of the eight seniors, one is chosen king and anbother as queen. Junior court members included Isaiah Busby, Robert Boyd-Meents, Matthew Suaava, Bryar Cosgrove, Lauren Sawyer, Charley Ulrich, Aubrey Busboom and Tanner Graham. Senior court members included Noah Steiner, Caiden Riecks, Isaiah Geerdes, Kimarion Austin, Bailey Luebchow, Bailey Bruns, Leah Eyre and Rebecca Lackey. The homecoming royalty was announced on the track after court members rode in a parade on Sept. 14: Prince Isaiah Busby, Princess Lauren Sawyer, King Noah Steiner and Queen Bailey Luebchow.
— Rebecca Lackey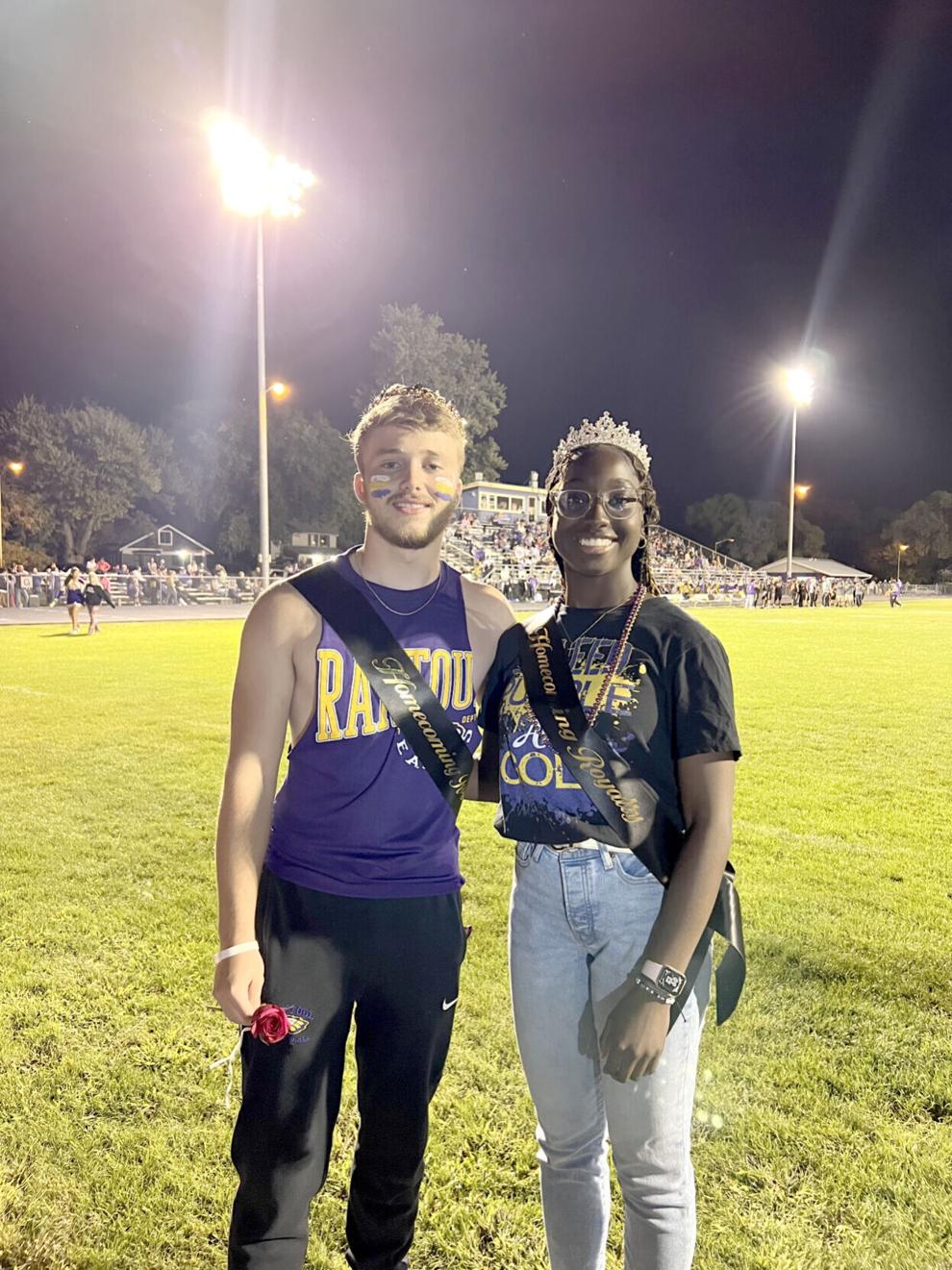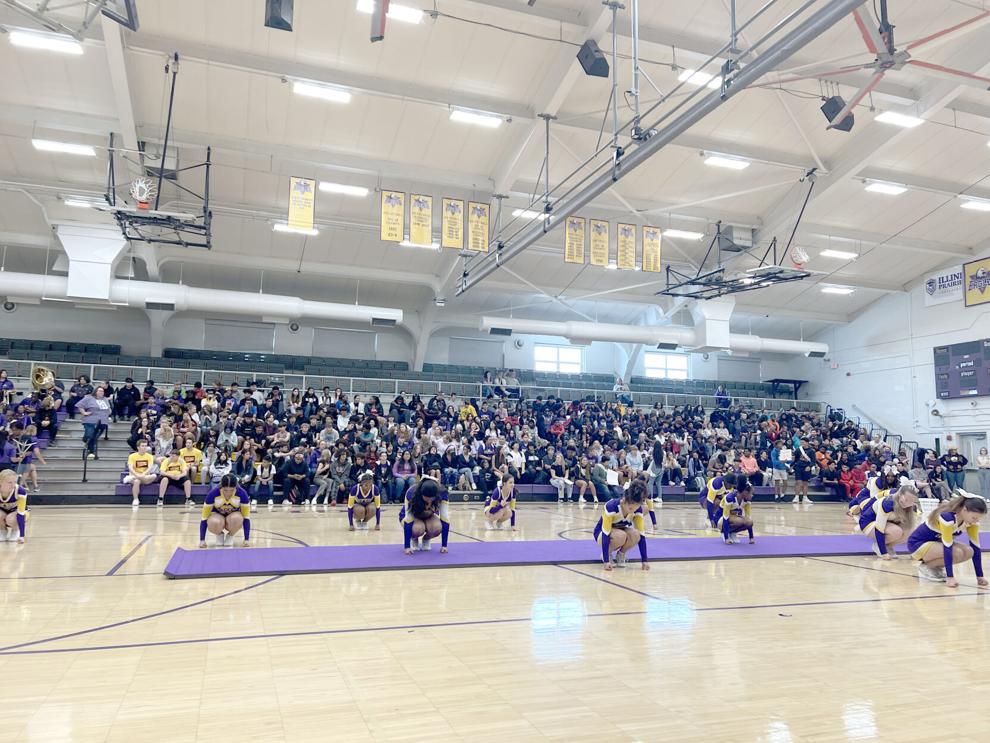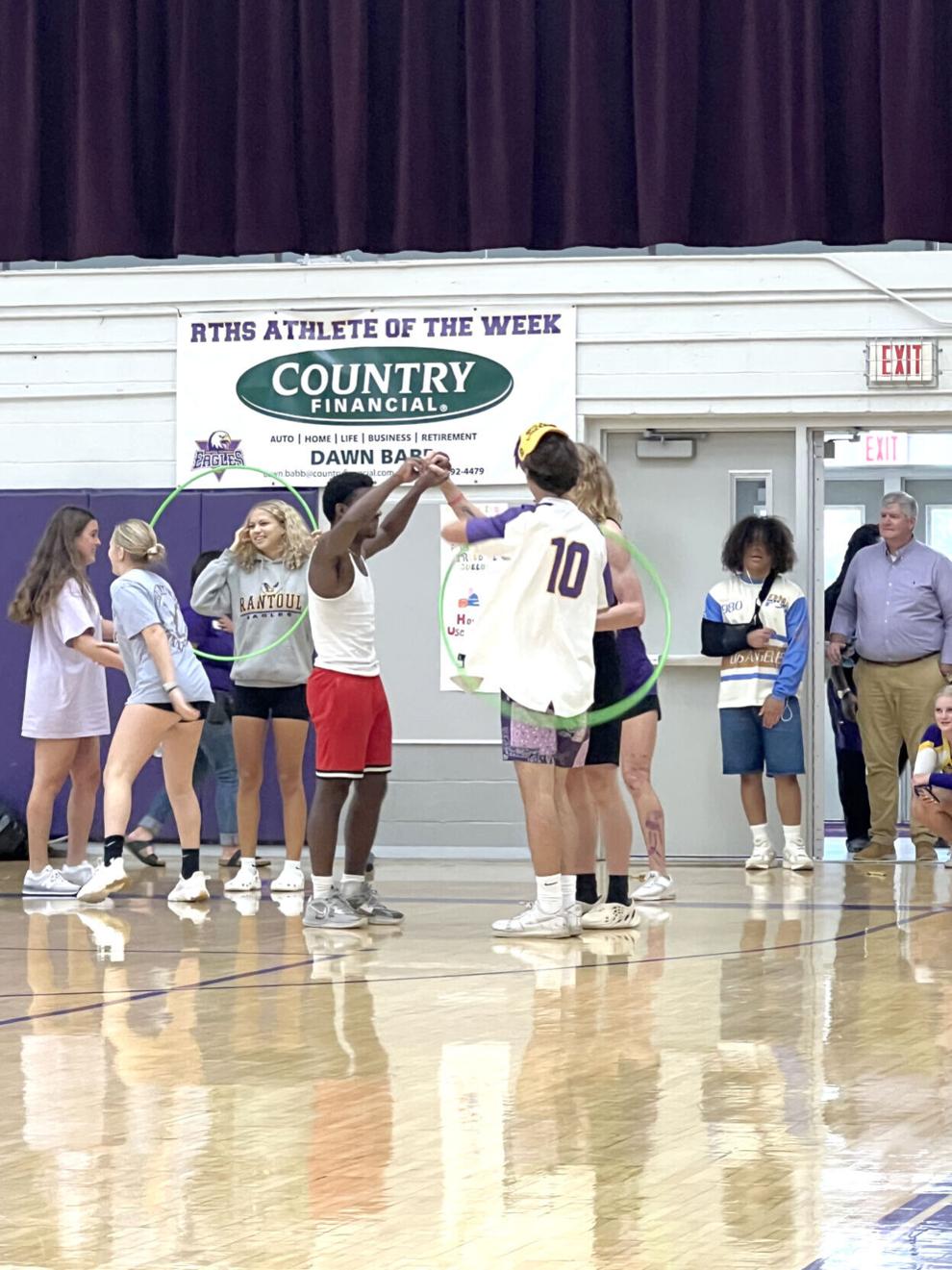 Rantoul
Homecoming week included a pep assembly put on by student council on Friday. It included games such as hungry hippo and a relay game, the singing of the school song and the announcement of homecoming royalty, with Tyler Merrill and Pascaline Phongo as king and queen.
— Ashlee Freeman

Provided by Grace Getty
St. Joseph-Ogden
Students wore Prairieview-Ogden colors to show their love and support for the family of Easton Wilsey, a 9-year-old who was struck and killed by a train Sept. 9 while riding his bike to school. The show of unity followed a Friday night tribute at the Spartans' home football game, before which PVO graduate and current junior Coy Taylor ran onto the field with a Mustangs flag.
— Mya Bott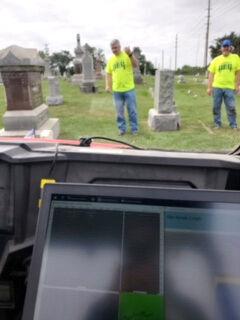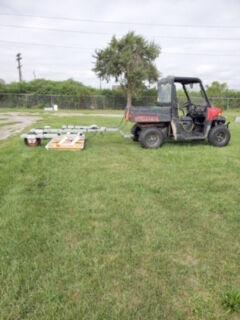 St. Thomas More
Students were introduced to the Hallow App, a Catholic-based meditation and prayer app with subscriptions generously gifted by Peoria Diocese Bishop Louis Tylka. Also, earlier this month, students Jason Ballard, Kaitlynn Ballard, Muskaan Garg, Rebekah Goebel, James Wilson and Gabriel Yallaly did extensive research at St. Mary's Cemetery, examining the area beneath the ground using radars and other technology.
— Suhani Garg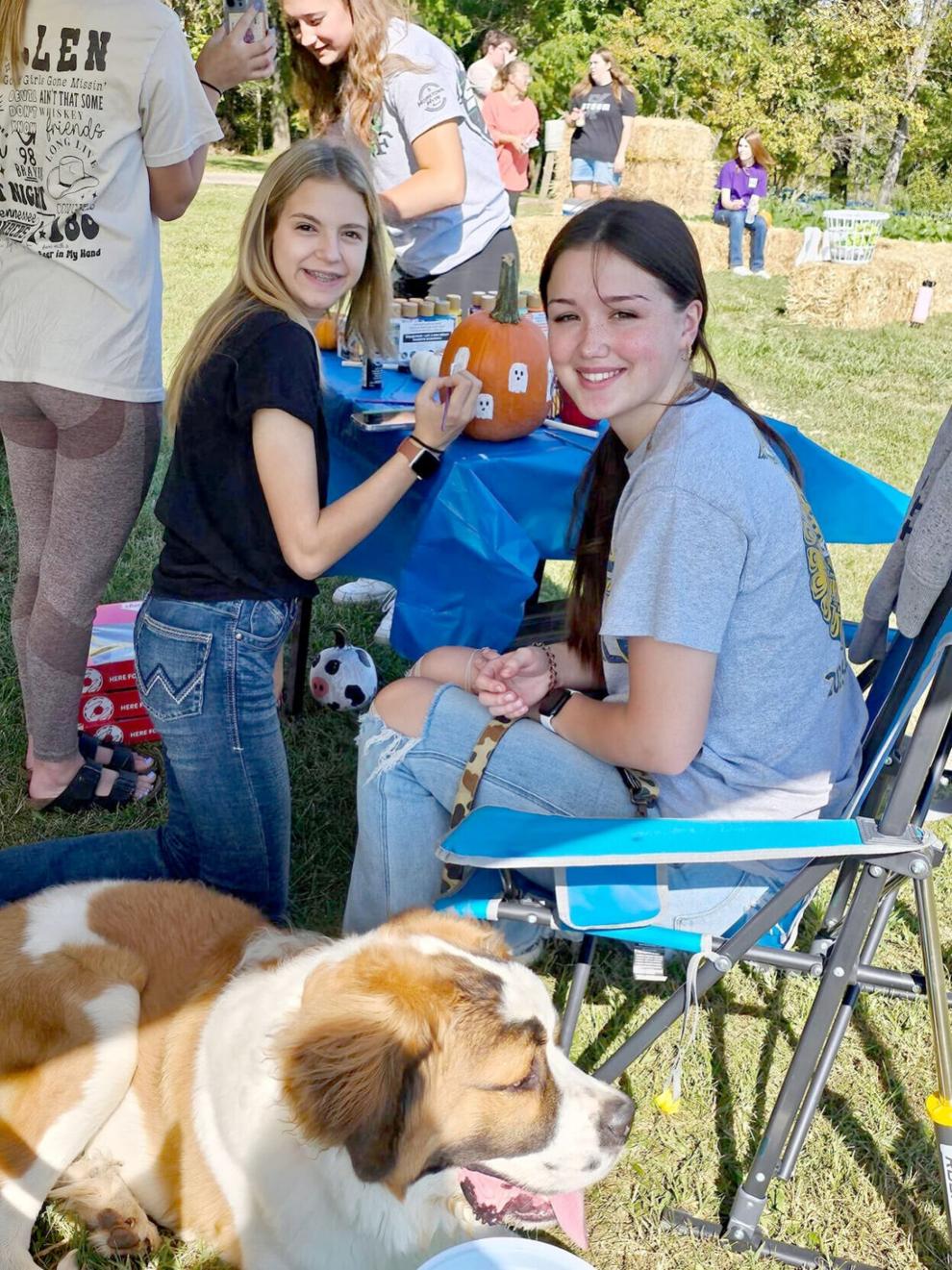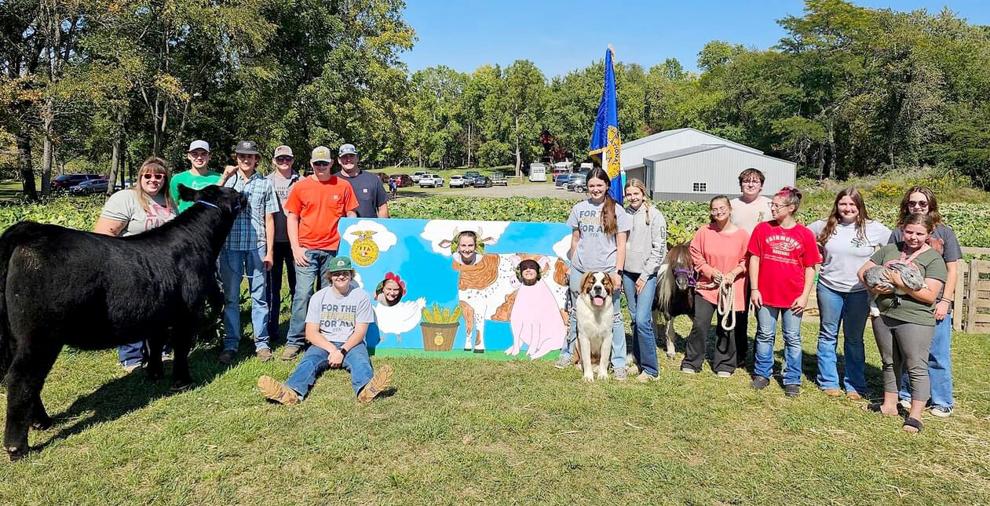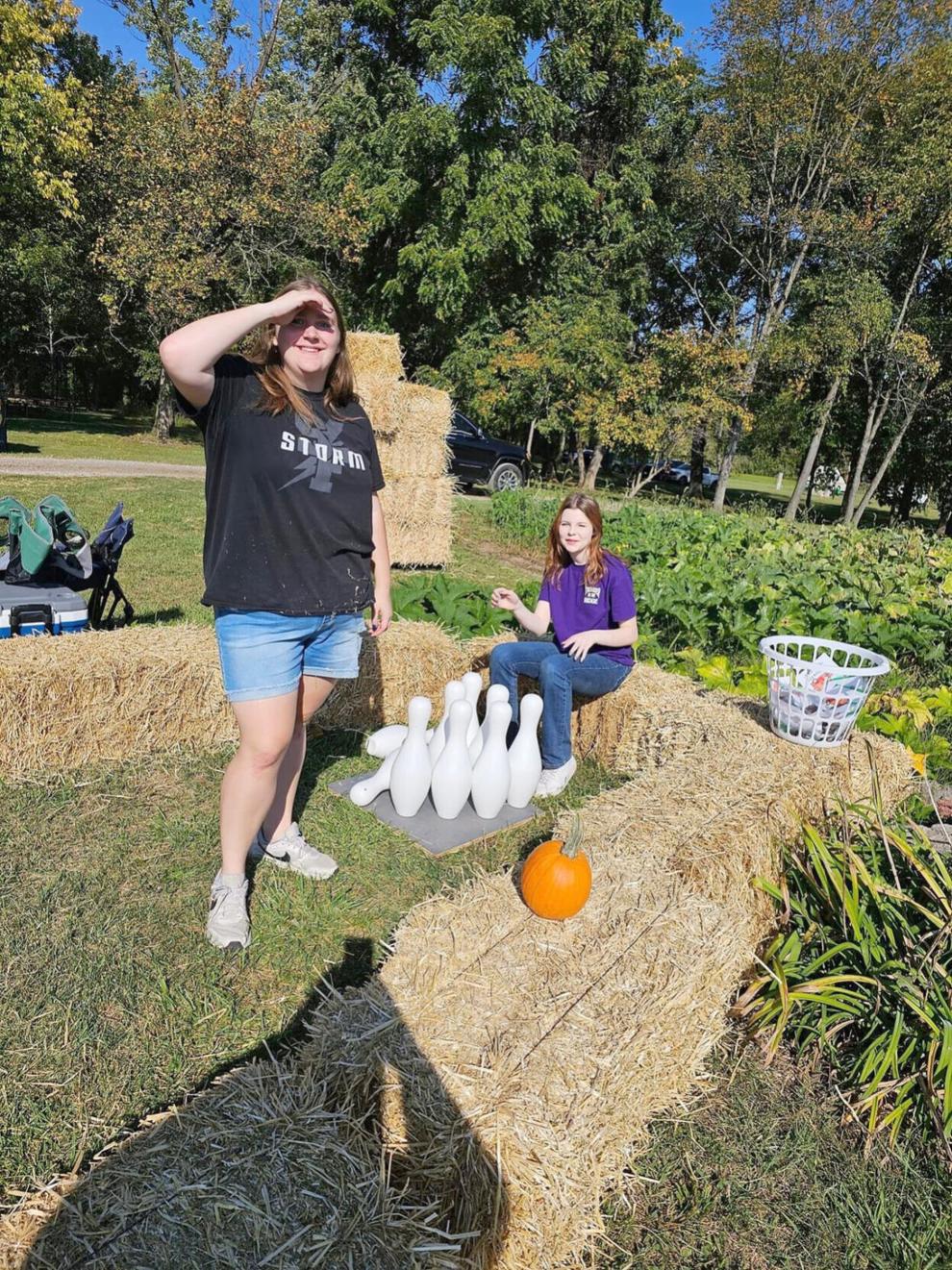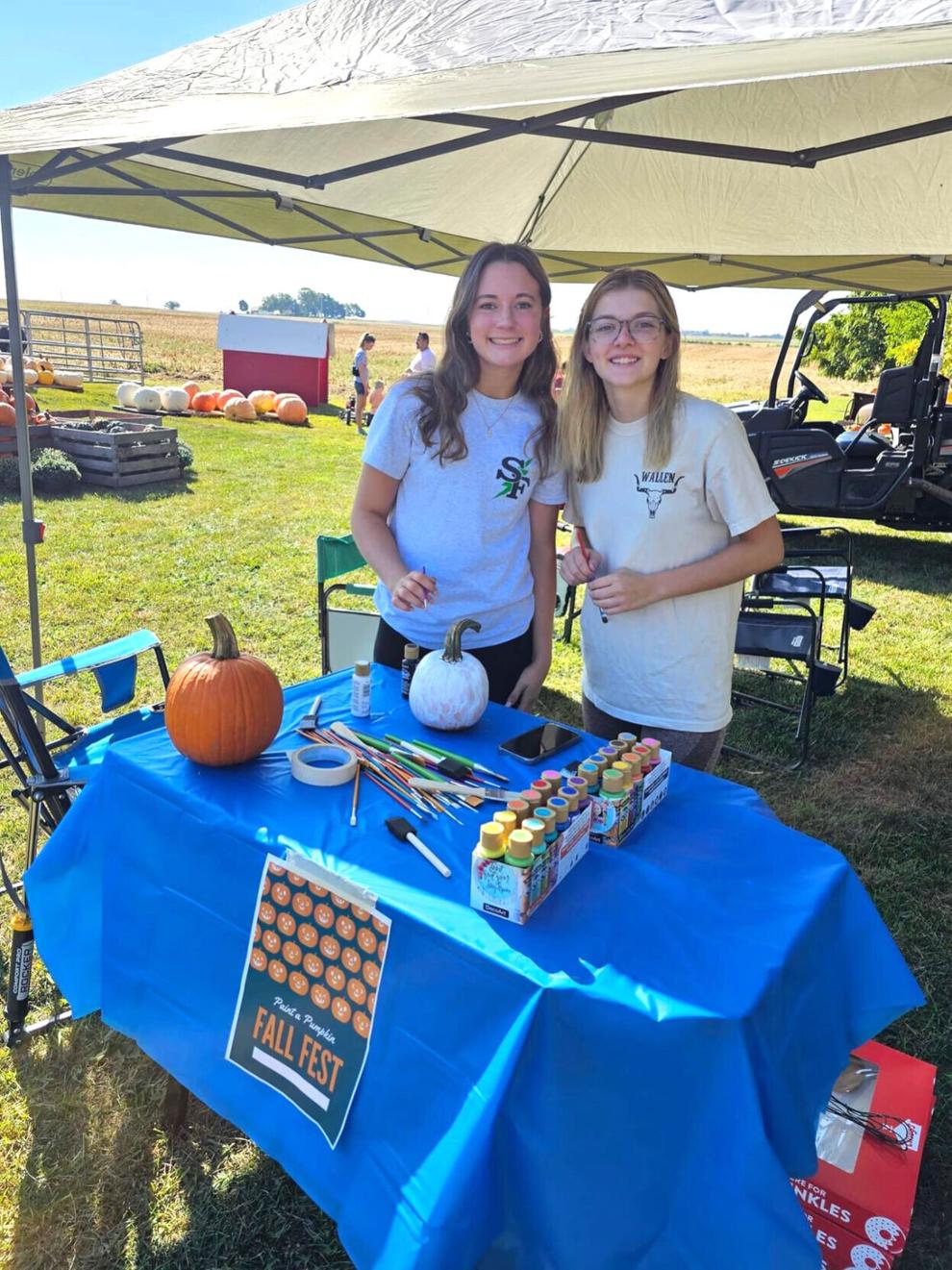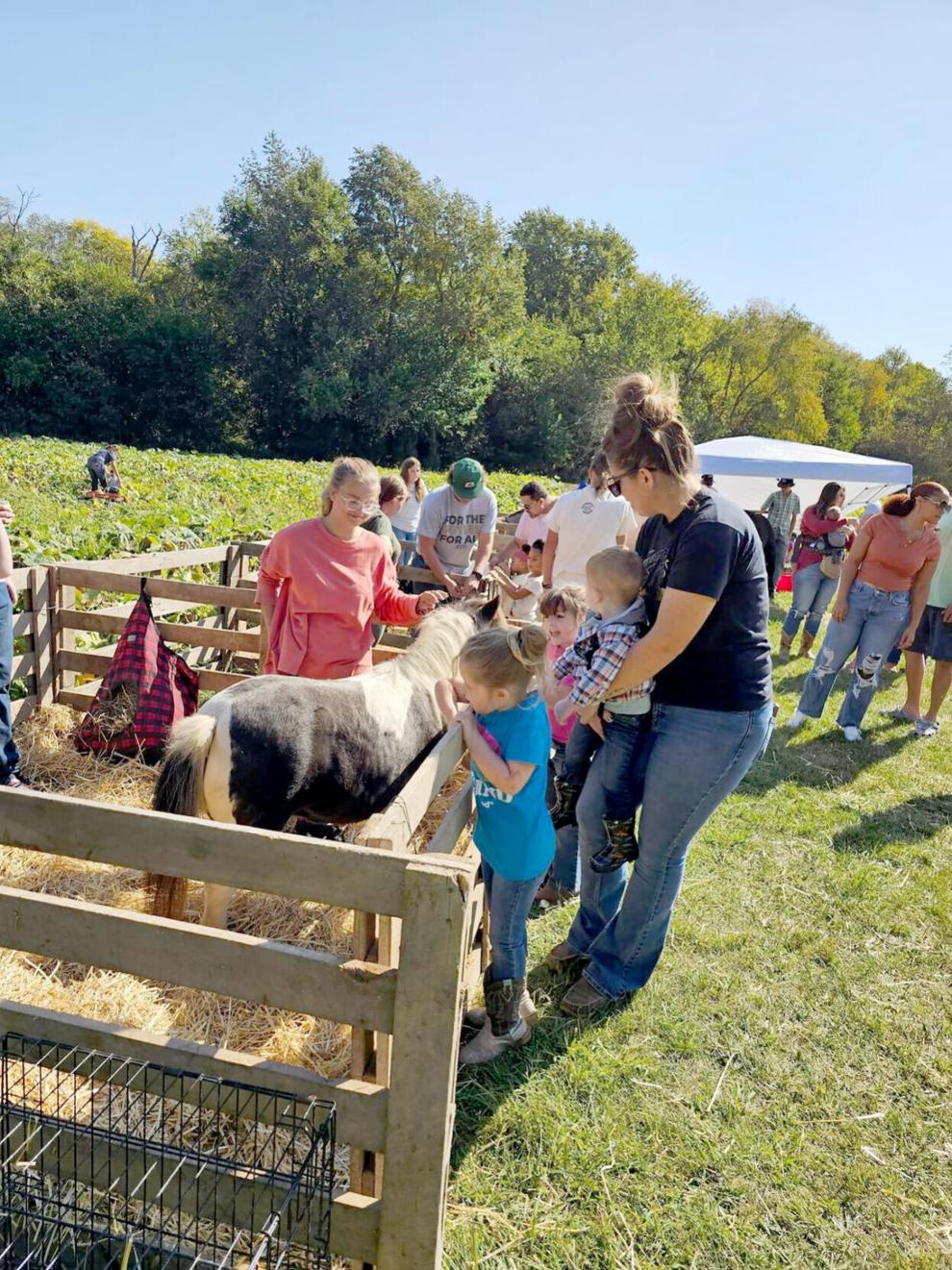 Salt Fork
FFA members had a great time Saturday volunteering at the Fall Fest located at Brooks Pumpkin Patch. Fun activities included pumpkin painting, bowling, petting animals and picking out pumpkins to take home.
— Macie Russell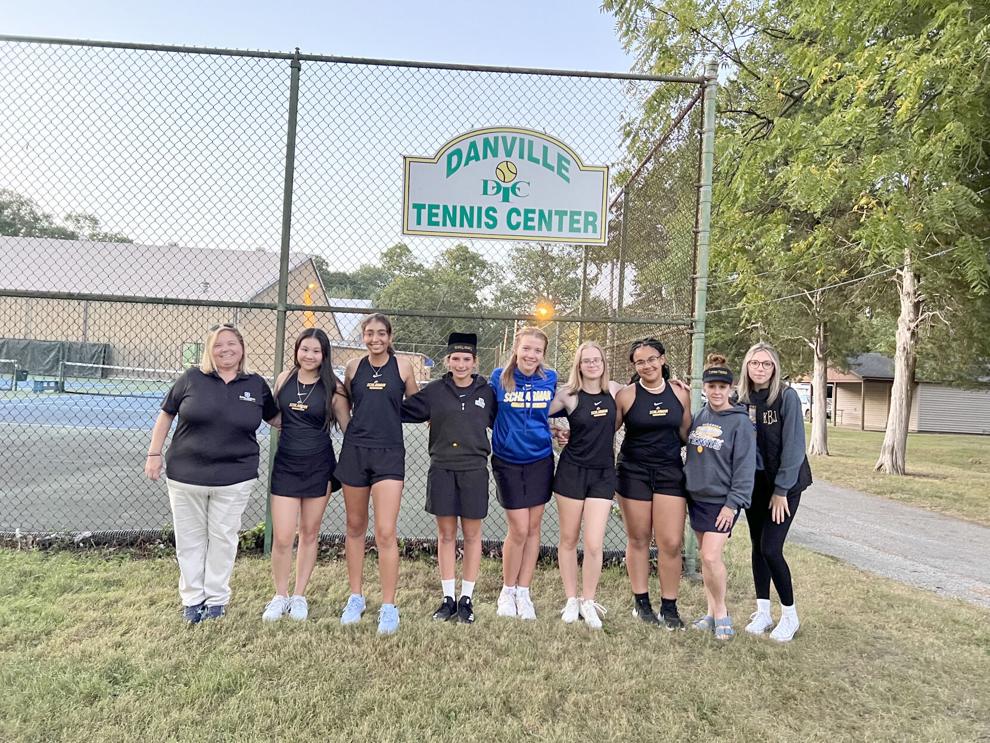 Schlarman
The boys' soccer team beat BHRA and the girls' tennis team celebrated a win against Gibson City-Melvin-Sibley. Golf and football teams celebrated Senior Nights: Congratulations to Cheyenne Lutz, Marcus Provost, William Stout, Owen Jones, Dillon Hemker and Damien Linares for completing their final golf season and football seasons!
— Anna Lehmann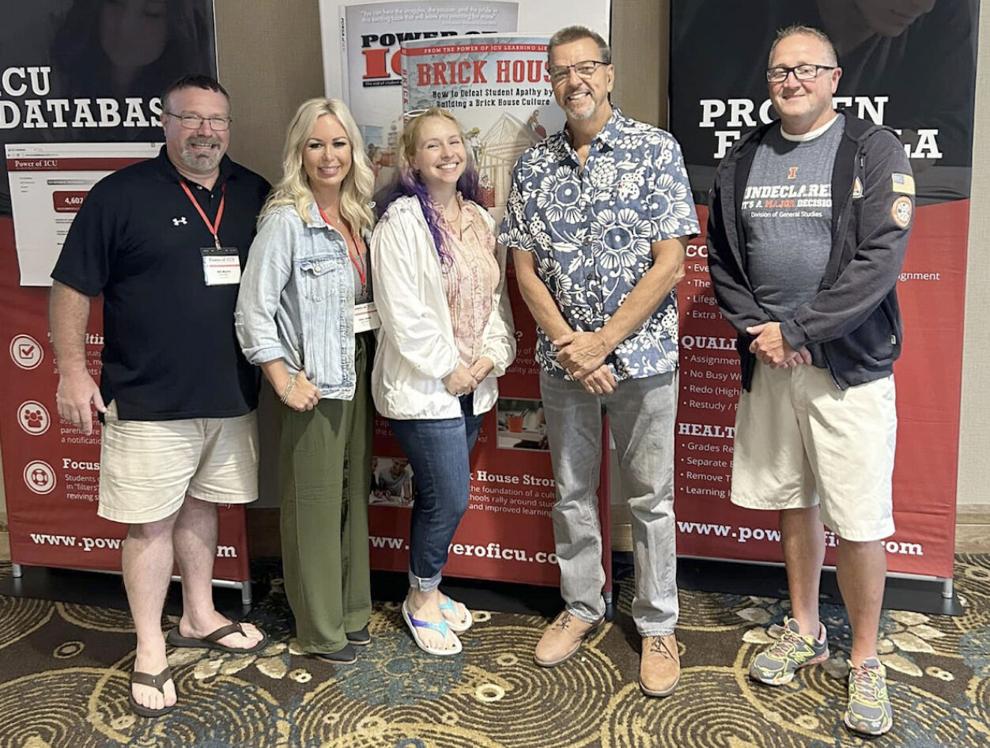 Shiloh
Superintendent, Bill Myers ushered in changes to the grading system through Power of ICU. The program stands for intensive care unit and enlists grades 5-12. Teachers input missing grades onto a list that alerts parents about their child's assignment, Myers checking the list to monitor progress. Tutoring is during and after school or on Saturdays. Once the work is completed, the student will be removed from the list. "I really believe in the program," Myers said. "The main goal is to get kids to learn and the grades are a communication tool for the students. Ninety-five percent of our school already has no missing assignments because of the program. My goal for this year is to have zero missing assignments on the list." Several teachers attended a convention in Murfreesboro, Tenn., to learn about the program, meeting Danny Hill, author of the book, "Power of ICU." Pictured, left to right: Myers, Amy Jones, Jennifer Burch, Hill and Terry Smothers.
— Lydia Richardson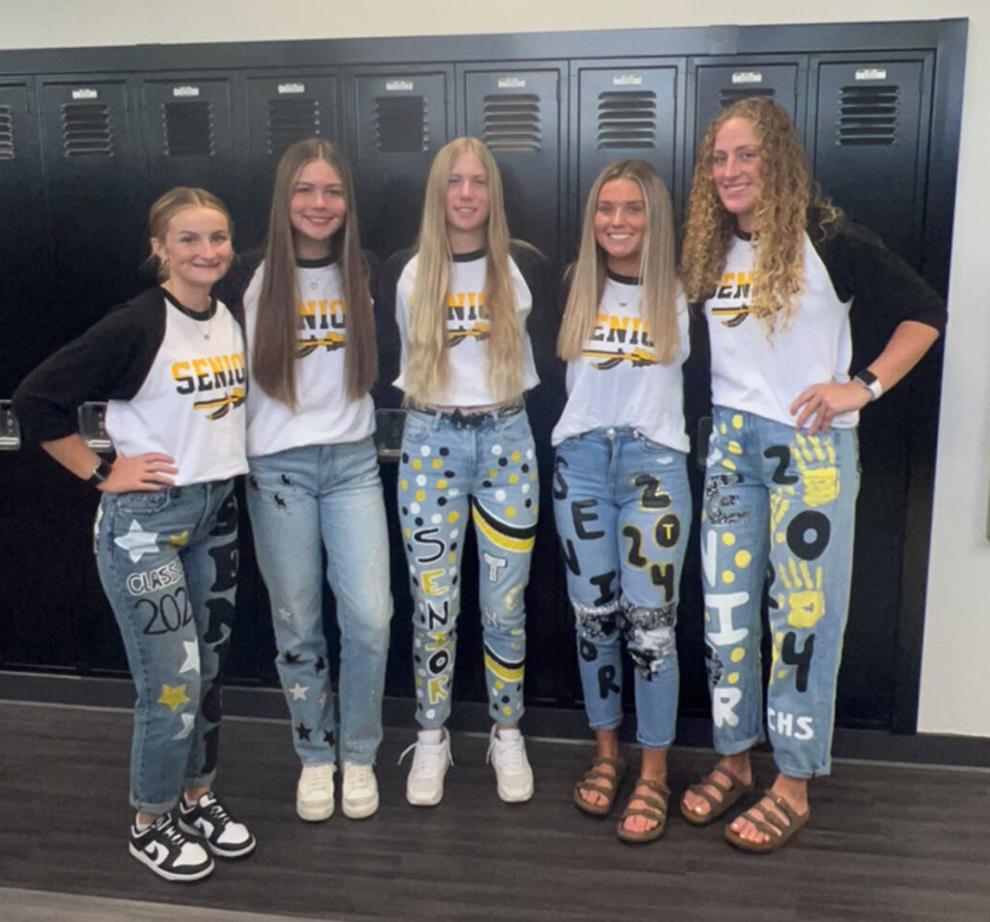 Tuscola
Homecoming week featured a lot of school spirit. Pictured: five girls sporting senior shirts and custom-made senior jeans, left to right: Addison Ring, Addisyn Pettry, Zoey Thomason, Lizzy Powell and Sydney Moss.
— Brayden Gough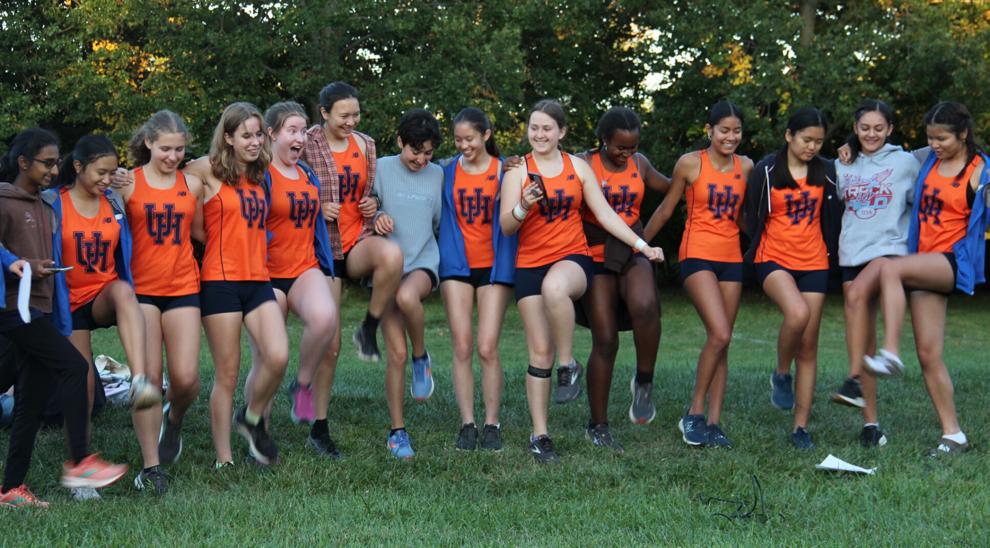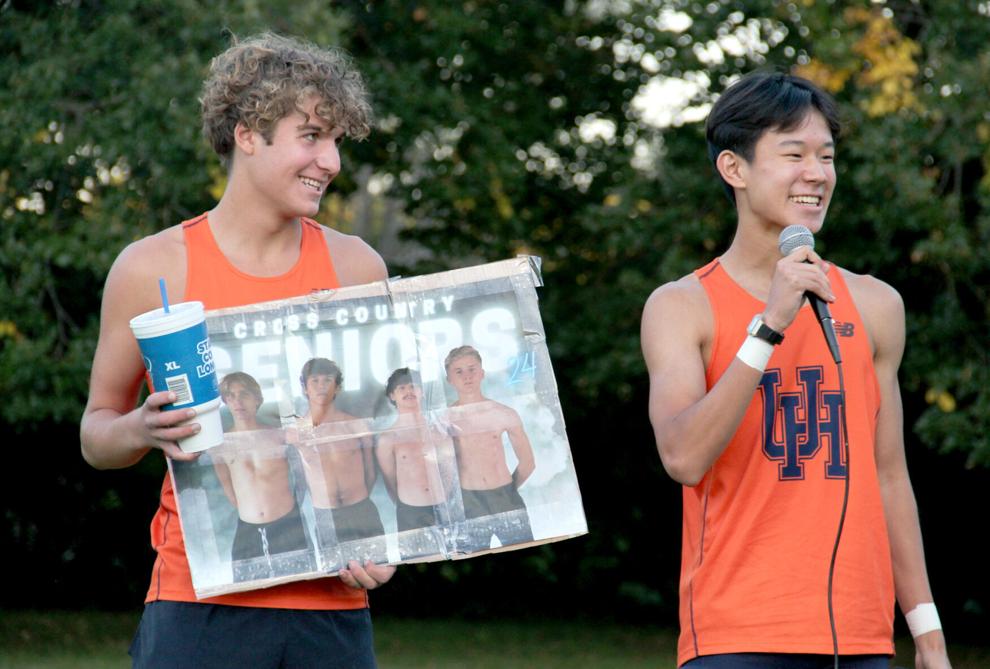 Uni High
The cross-country teams kicked off the first of many senior nights at the first home meet of the season. Lots of memories, speeches and, most importantly, food were shared. All seven seniors — Fallon McFarland, Grace To, Tessa Waldhoff, Walter Kraatz, Knox Mynatt, Kelby Svendsen and Matthew Ulozas — were surrounded by friends and family to celebrate the occasion. Pictured (courtesy Uni junior Tim Park): Underclassmen on the girls' team during their song to honor senior teammates; Ross Kimme and Bruce Tang introducing the senior boys before their speeches.
— Knox Mynatt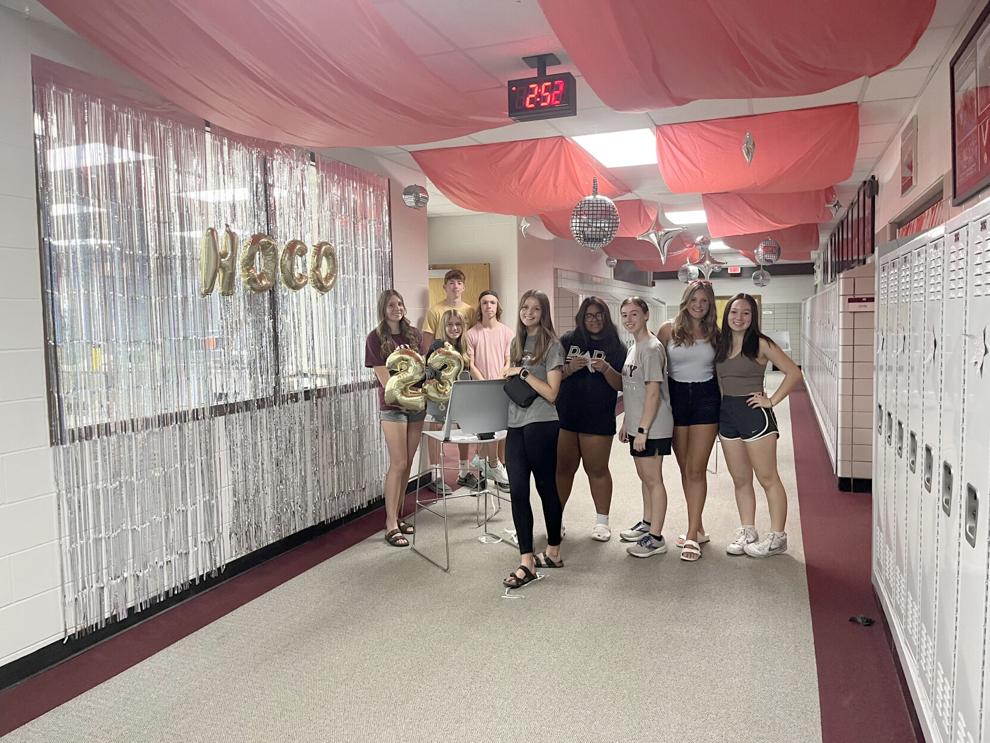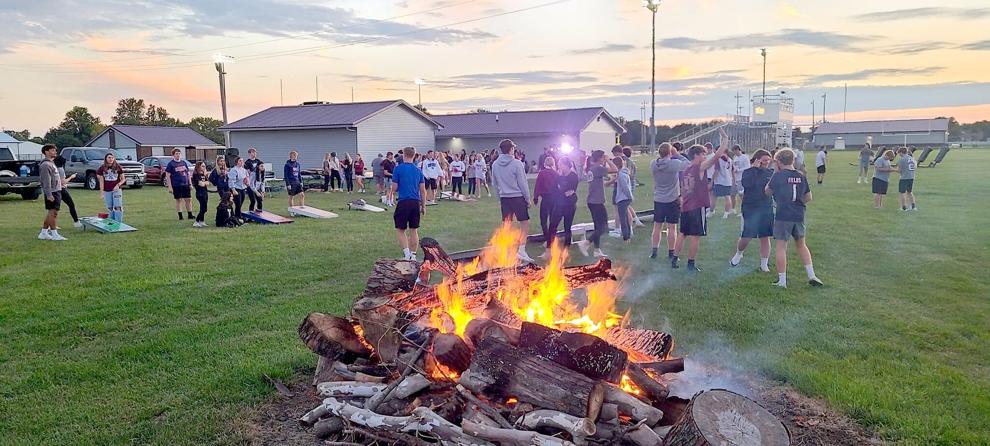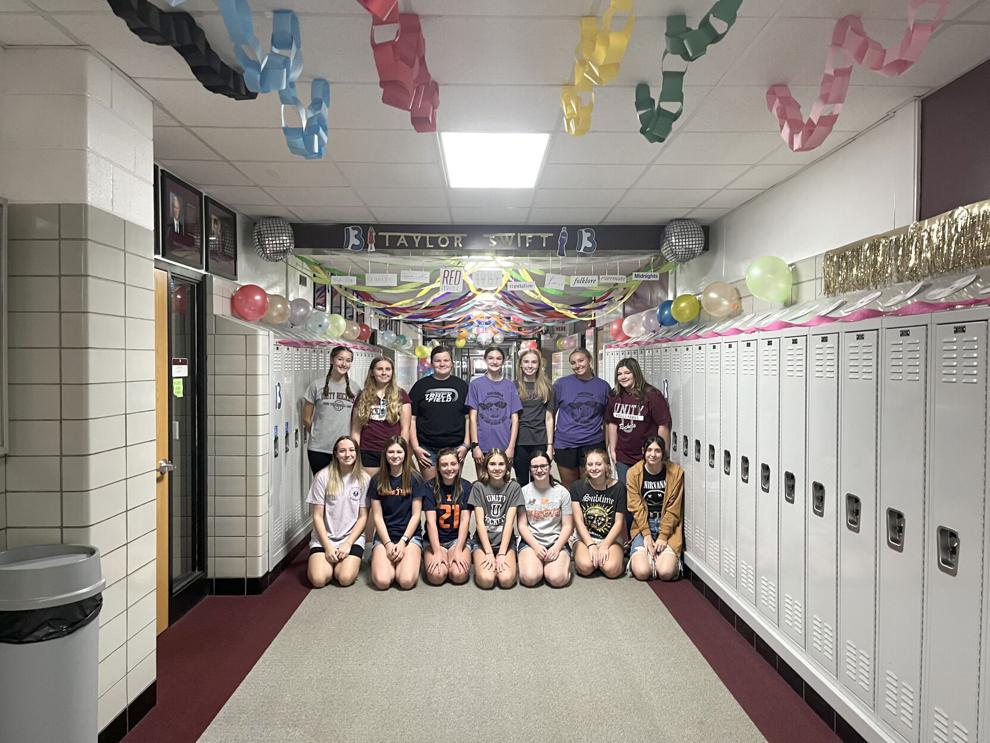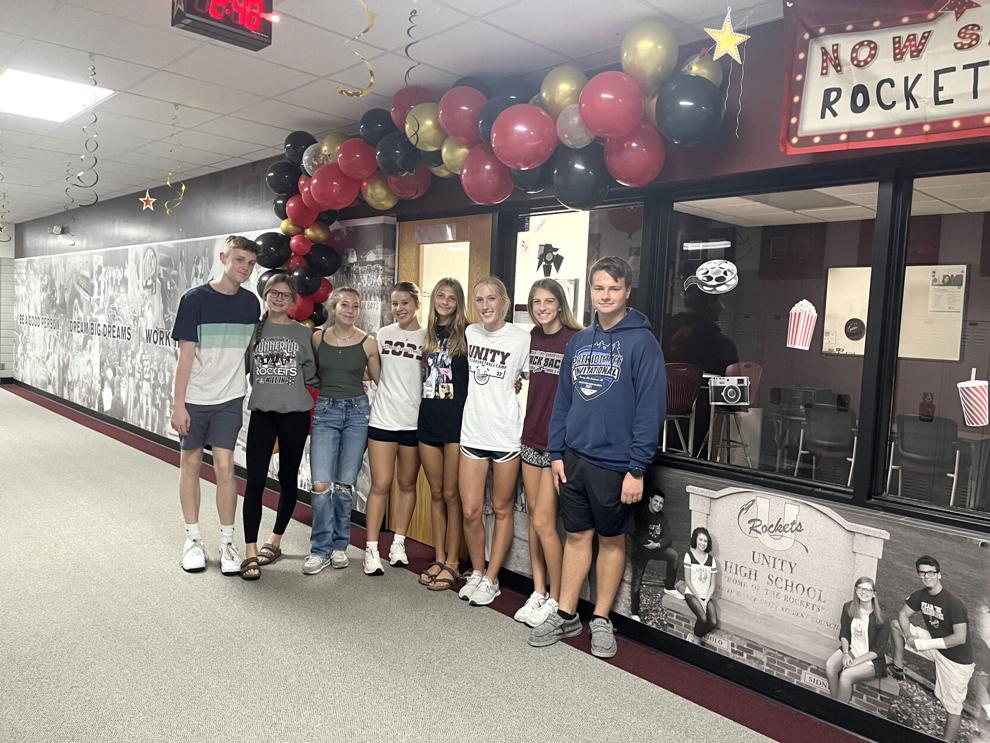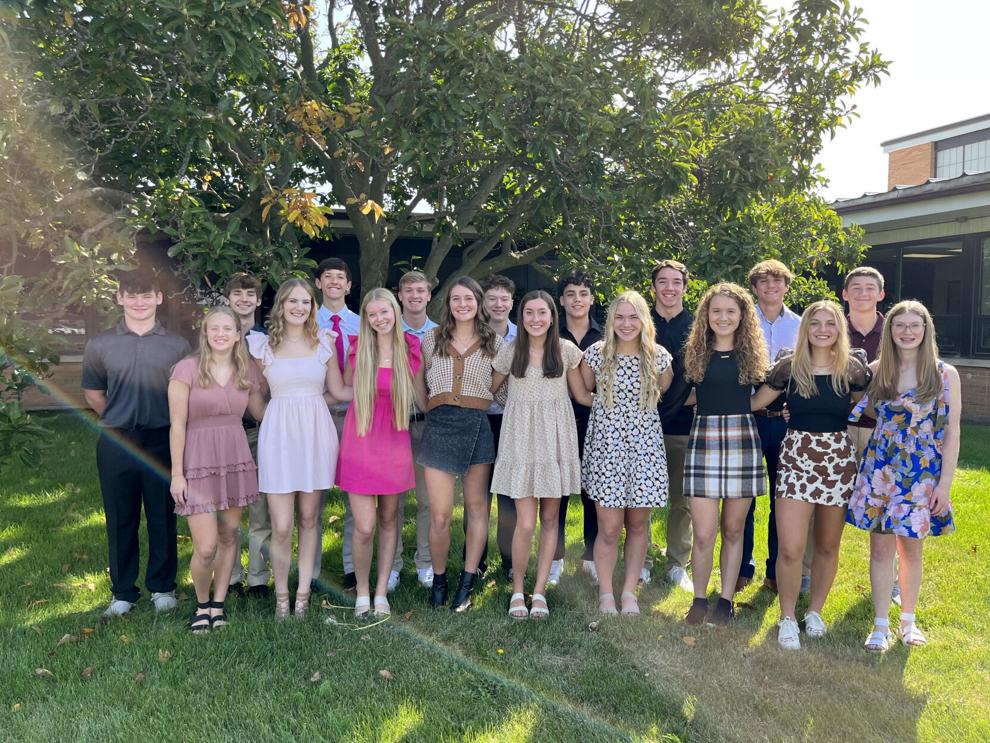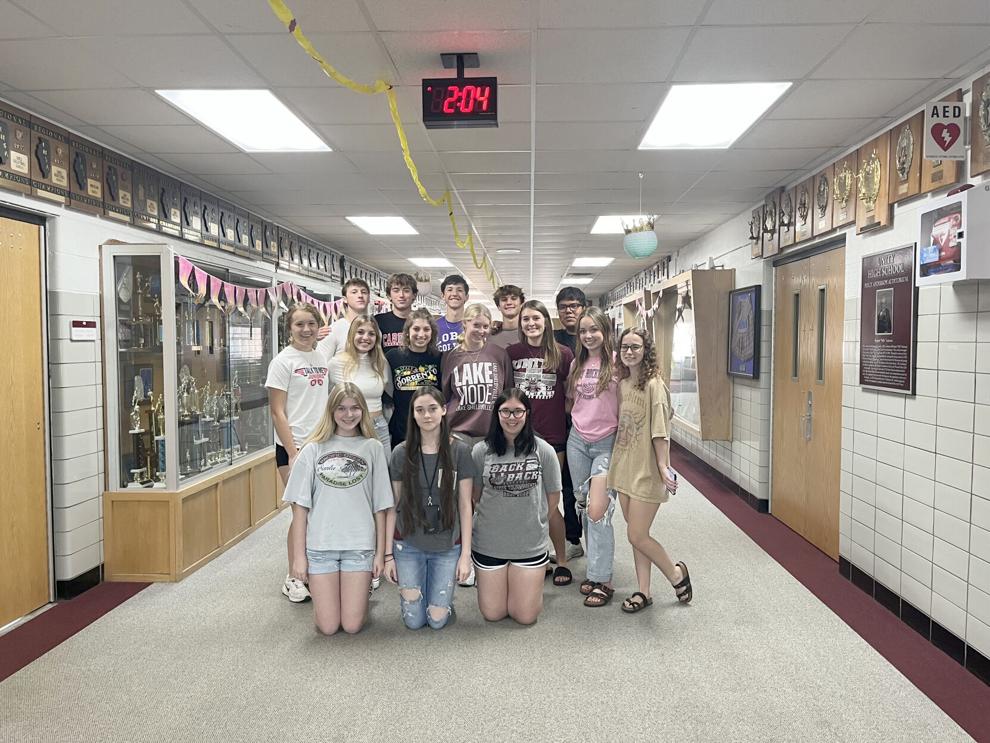 Unity
The Rockets kicked off their homecoming week by electing court candidates, decorating hallways and the annual bonfire.
— Tatum Meyer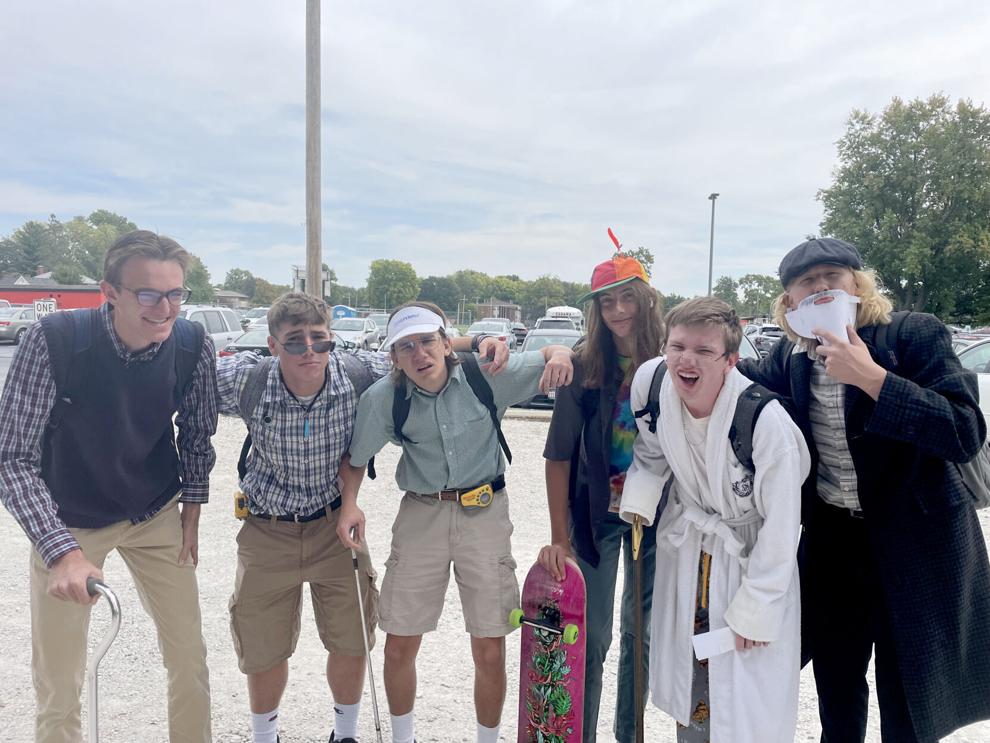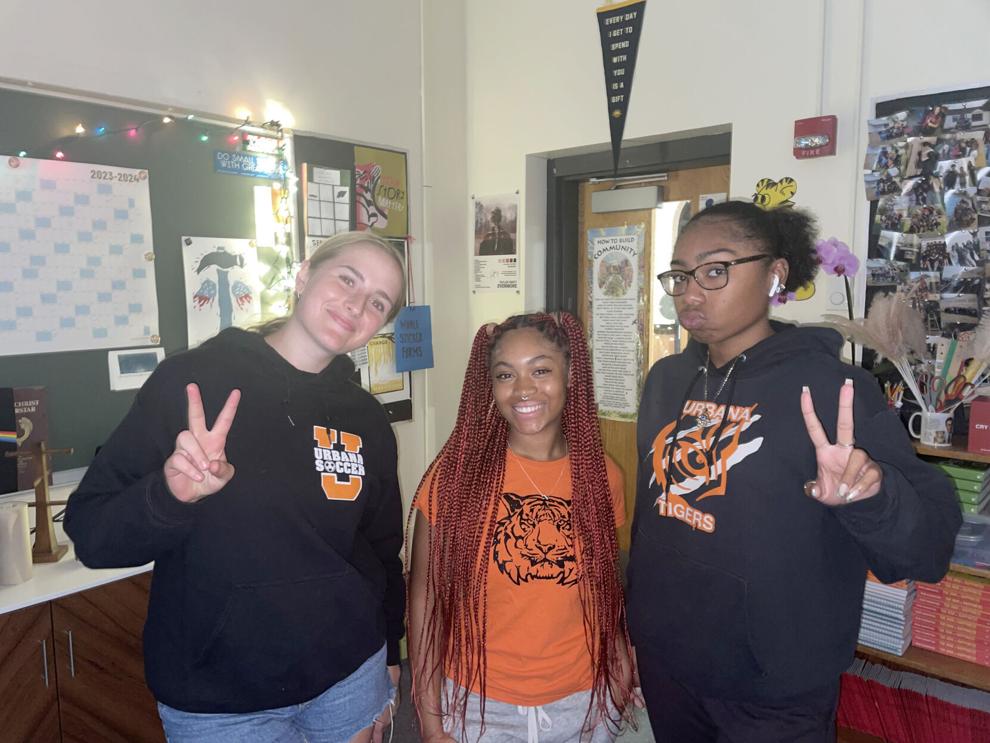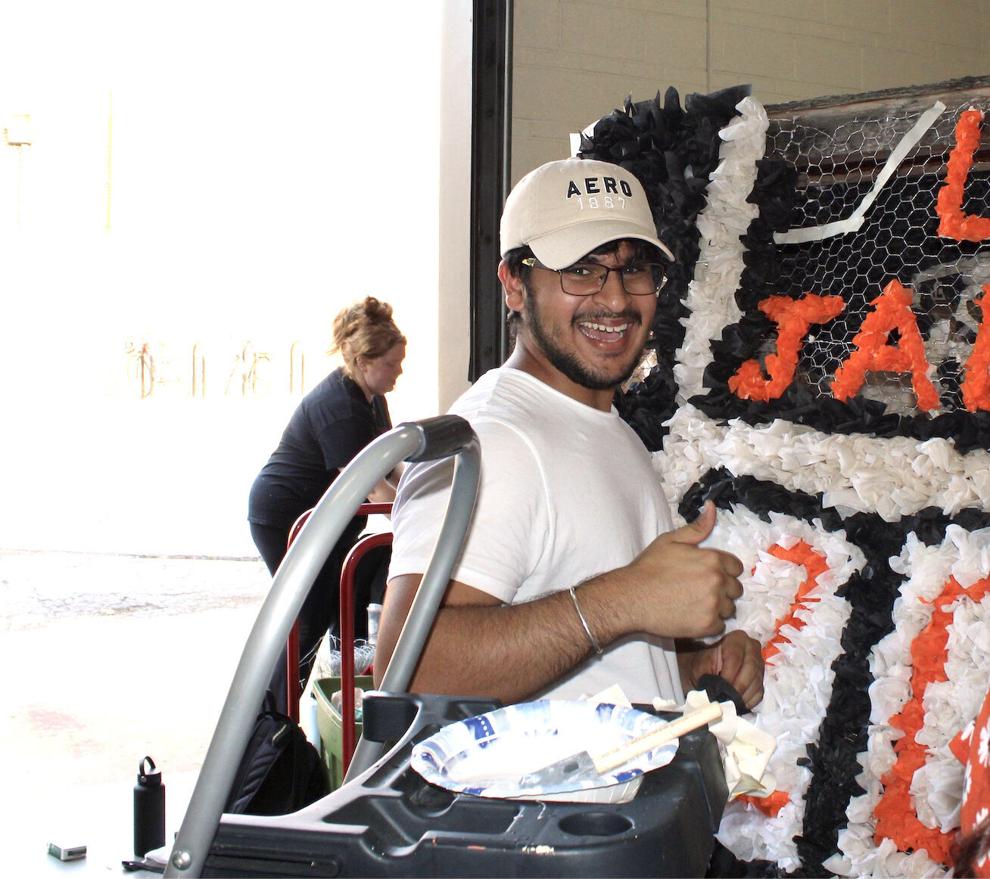 Urbana
This year's senior class went all out for Homecoming Spirit Week. Ian Peters, Lucas Pankau, Jack Perry, Dominic Urban, Joe Solava and Sam Drasgow don't dress their age for Elders vs. Kids Day. Celia Barkley, D'meneca Turner-Winston and Savannah Blanden go all out for Tiger Pride Day, while Qasim Sumbal works on the Class of 2024 parade float.
— Eisla Madigan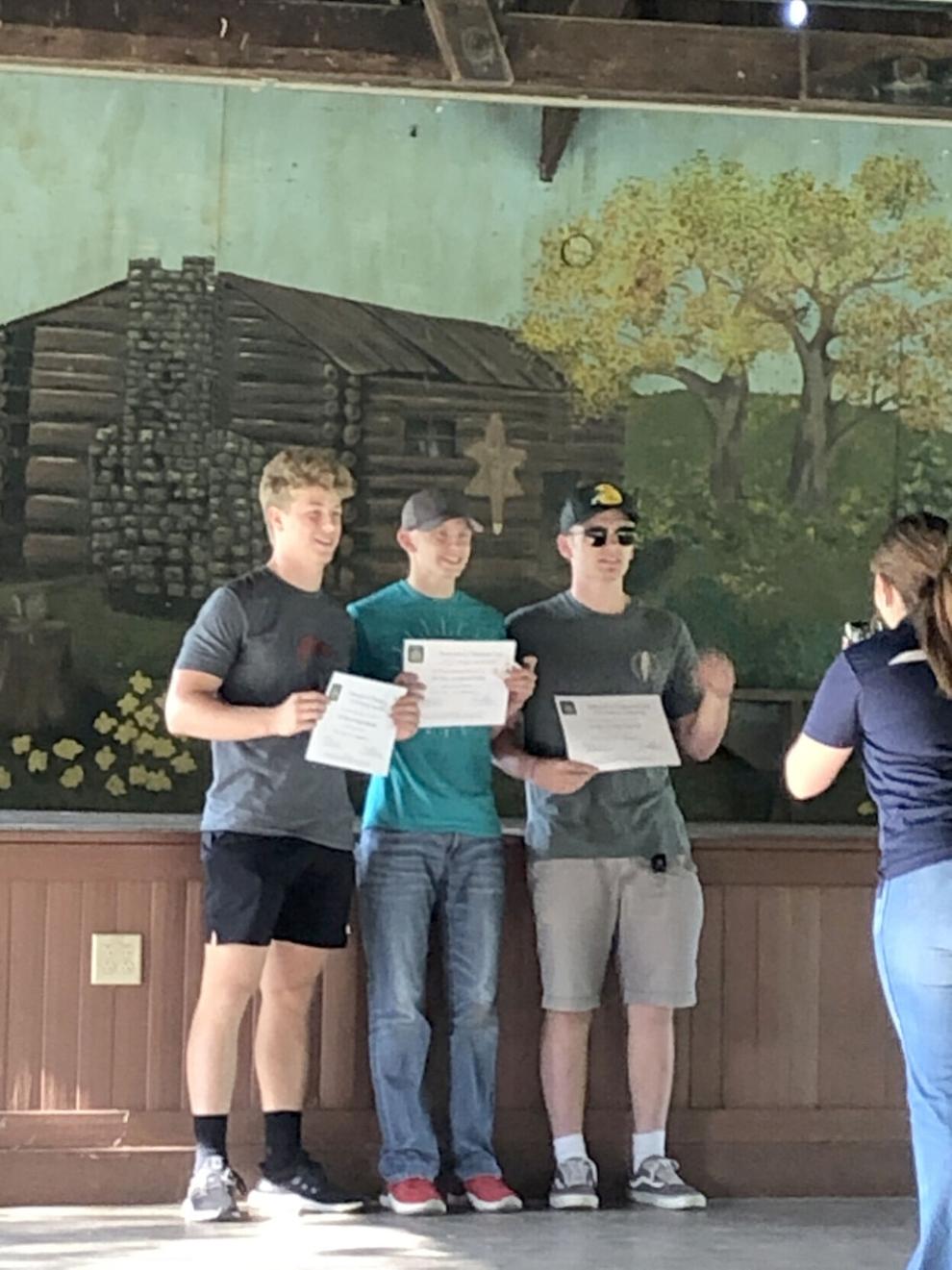 Villa Grove
FFA's forestry team fared well at Allerton Park in Monticello as junior Kurt Zimmerman placed first in his section.
— Alexandria Brown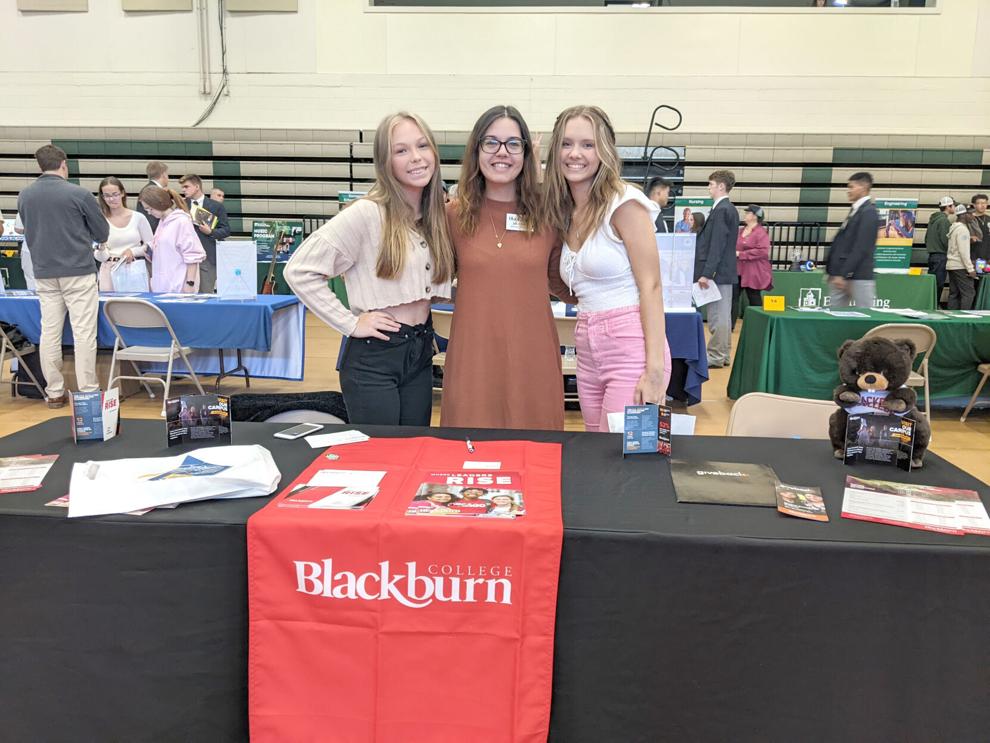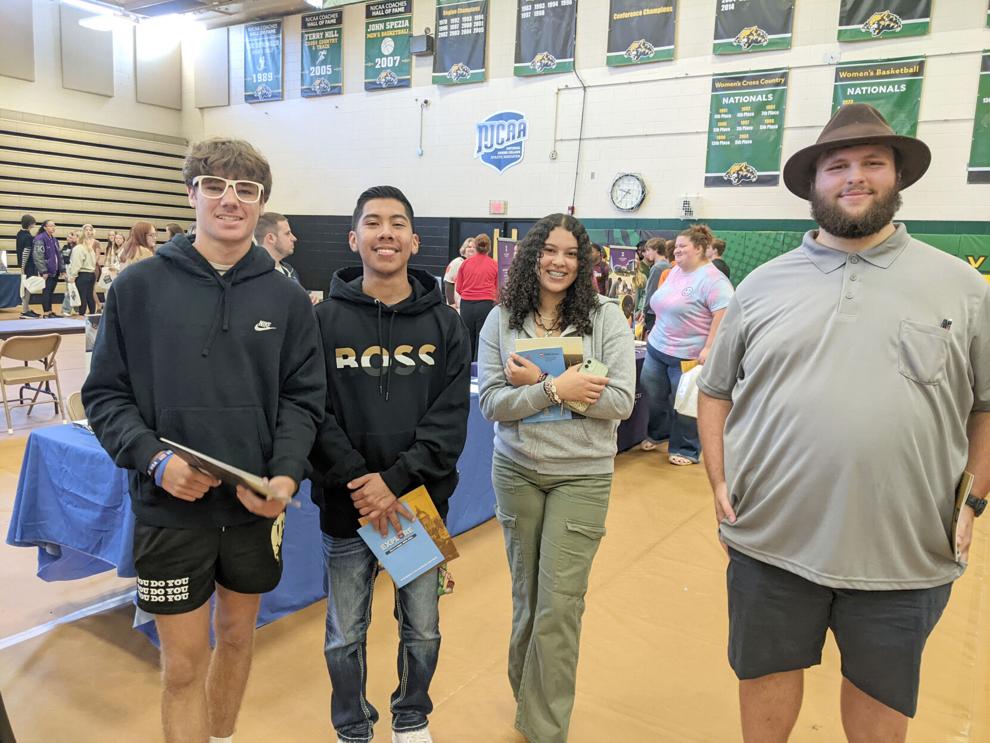 Westville
Many juniors and seniors attended the 43rd annual DACC College Days on Sept. 14. Forty-five students attended the college fair and met with over 50 in-state and out-of-state colleges and universities. Students discussed secondary options with many of the admissions representatives. Pictured: juniors Izzy Sliva and Josie Tucker with a Blackburn representative; seniors: Ashton Wright, Miguel Jeronimo, Kaitlyn Hughes and Marshall Schluter.
— Irelynn Phelps